Bluefin Cruise 10'8″ iSUP Review | 2023
Inflatable Boarder is reader-supported and may earn a commission when you buy through links on our site. Learn more
The company's most popular and affordable all-around inflatable paddle board, the 2022 Bluefin Cruise 10'8″ is an iSUP that offers outstanding versatility and value, making it a top choice for budget-conscious paddlers and beginners…
A relatively new SUP company, Bluefin SUP is headquartered in the UK and is expanding their presence in the U.S. and Canada for 2022. Having already achieved a high-level of success in the UK and European market, Bluefin SUP's major focus this year is growing their market share and continuing to improve upon their highly-rated inflatable SUP line.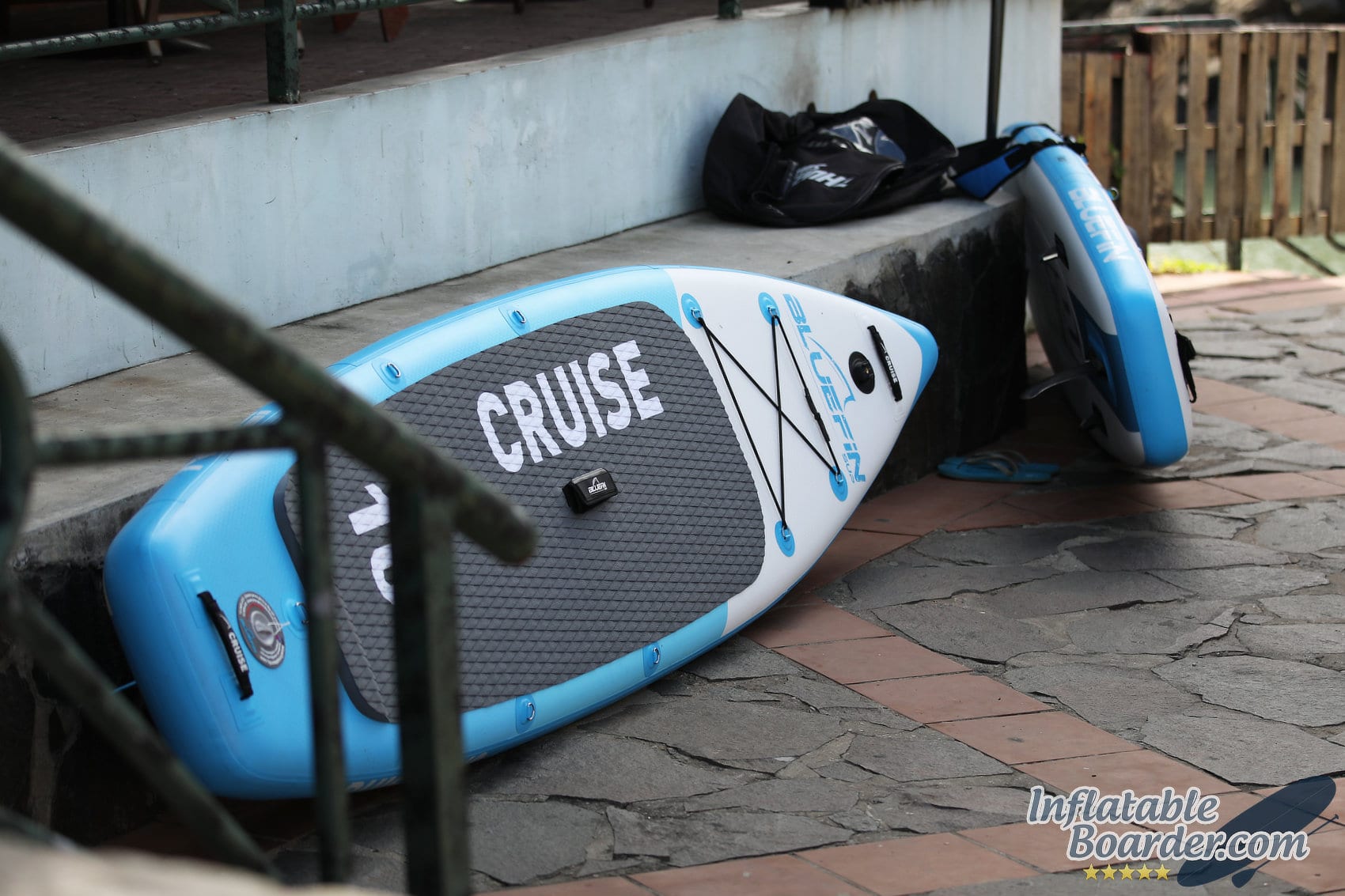 For 2022, there are a total of 12 Bluefin SUP inflatable paddle boards with models ranging in size from to 8′ to 18′ in length.
In this review of the new Bluefin Cruise 10'8″, we'll take a look at this board's standout features, construction and overall build quality, how it performs on the water, what we like and dislike about the board, what is included in the accessory bundle, and more. We'll also tell you exactly where to pick the board up for the best price.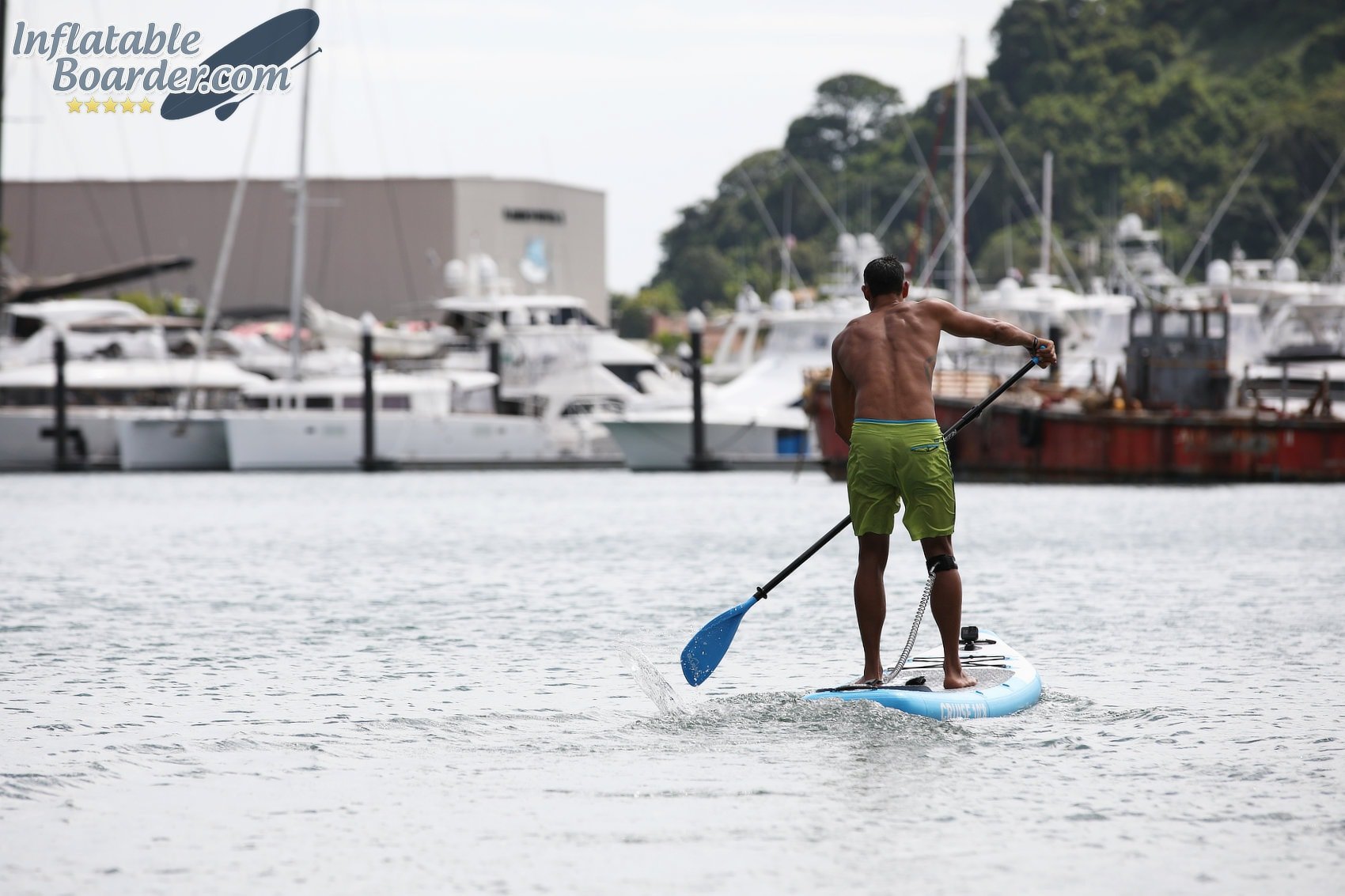 In a Hurry? Here's a Quick Summary…
Pros

Excellent overall value


The industry's best warranty (5 years)


Very stable


Well-built


Good durability


Rail attachment points for kayak seat and additional gear


Grab handles at nose and tail for easier handling


Center carrying handle doubles as paddle holder


Raised kick tail for added control


GoPro camera mount


Front bungee cargo area for securing gear


Removable center fin with convenient toolless flip lock system


Kayak seat kit included


Top-shelf customer support
Cons

Heavy
Price & Where to Buy it
Bluefin SUP Cruise 10'8″ Overview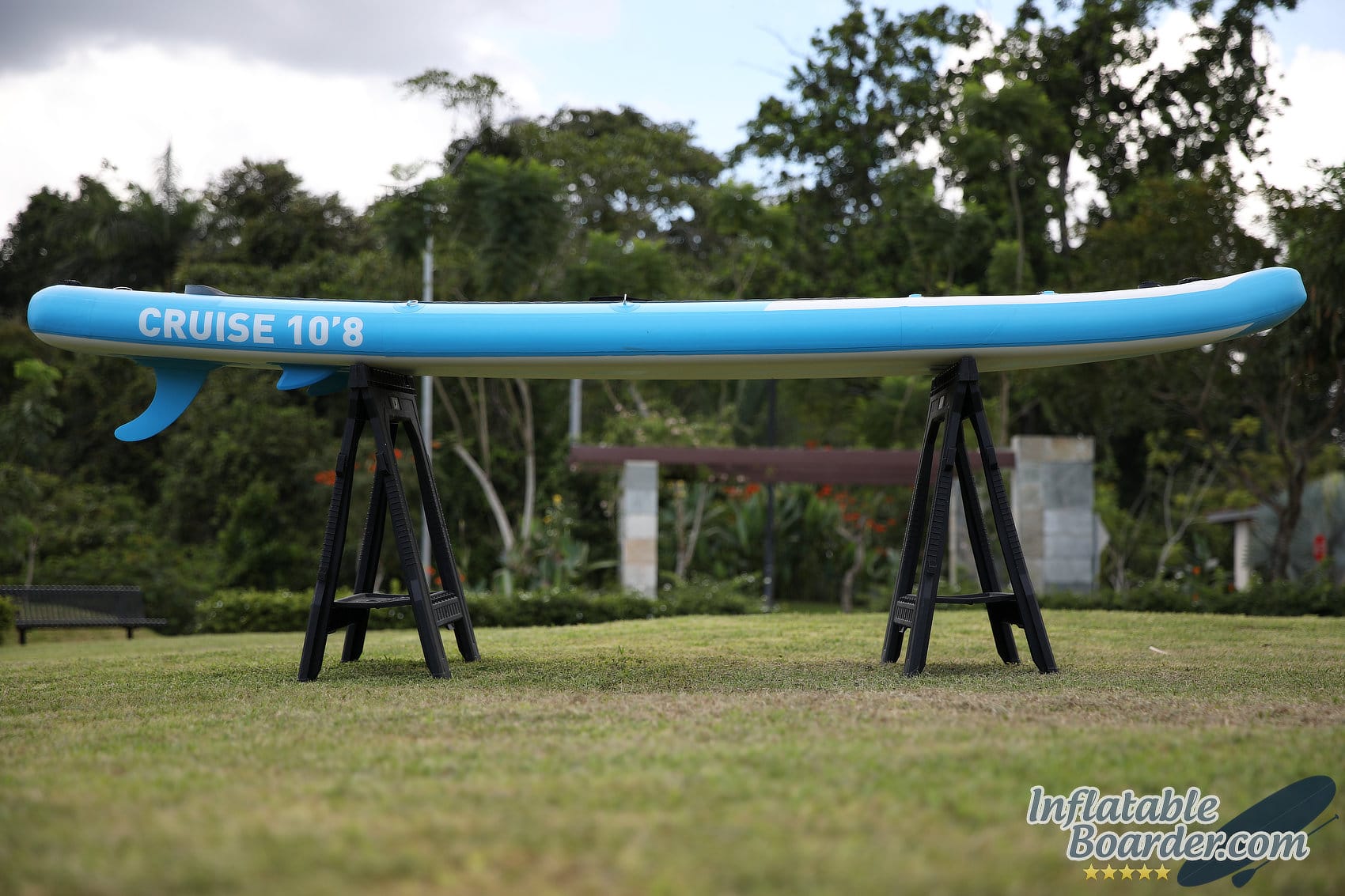 Measuring 10'8″ x 33″ x 6″ and weighing in at 33 pounds, the Bluefin SUP Cruise 10'8″ is a fun and stable board that offers outstanding versatility. A perfect option for beginners, the Cruise 10'8″ iSUP package is affordably priced and offers excellent value.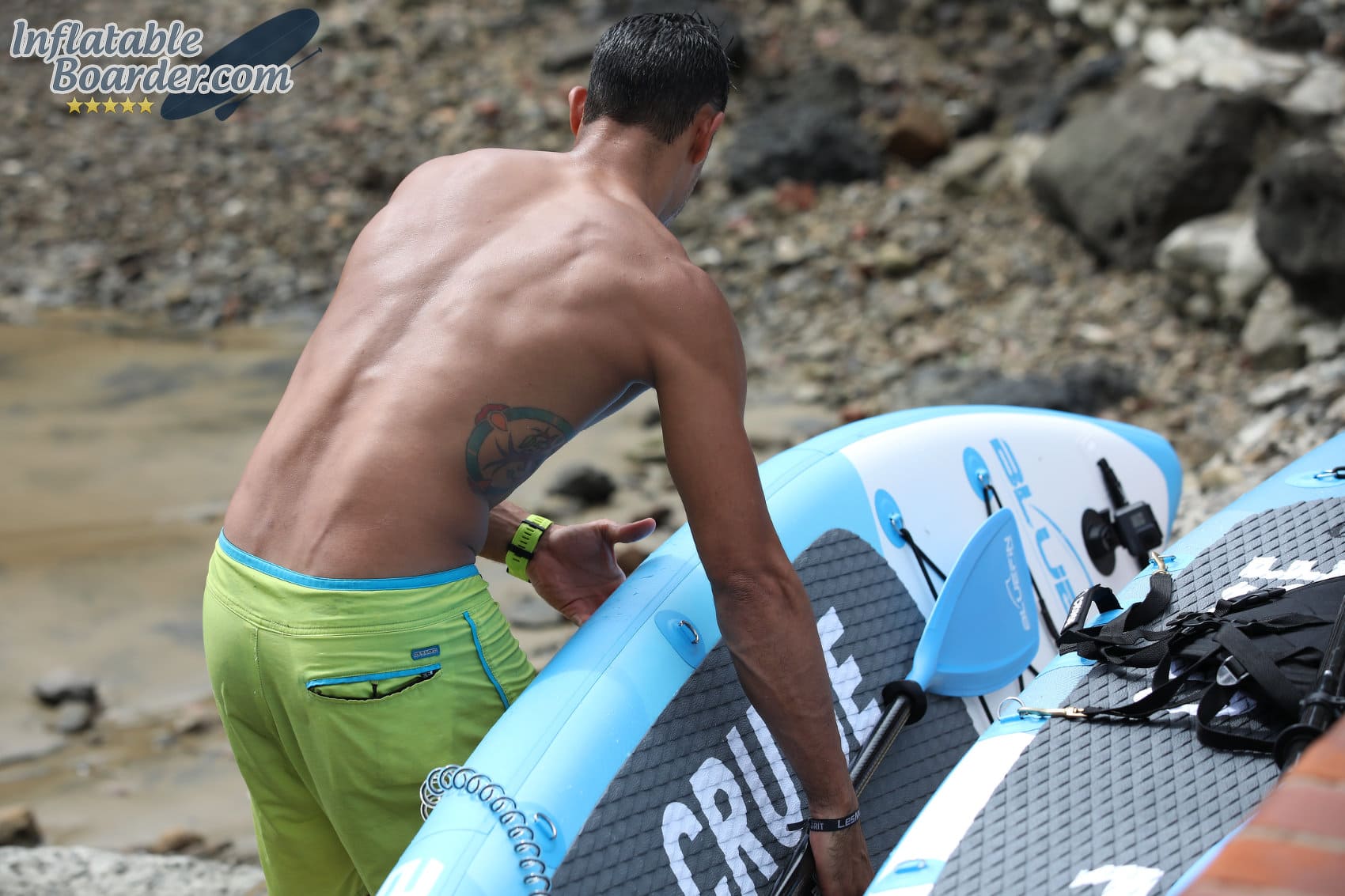 Since their launch a few seasons ago, Bluefin SUP has been focused on designing high-quality, reliable iSUPs that deliver a huge amount of bang for the buck. We feel that the company has once again accomplished that with the release of the updated version of their entry-level all-around board.
(*Drag slider below to compare the old and new boards)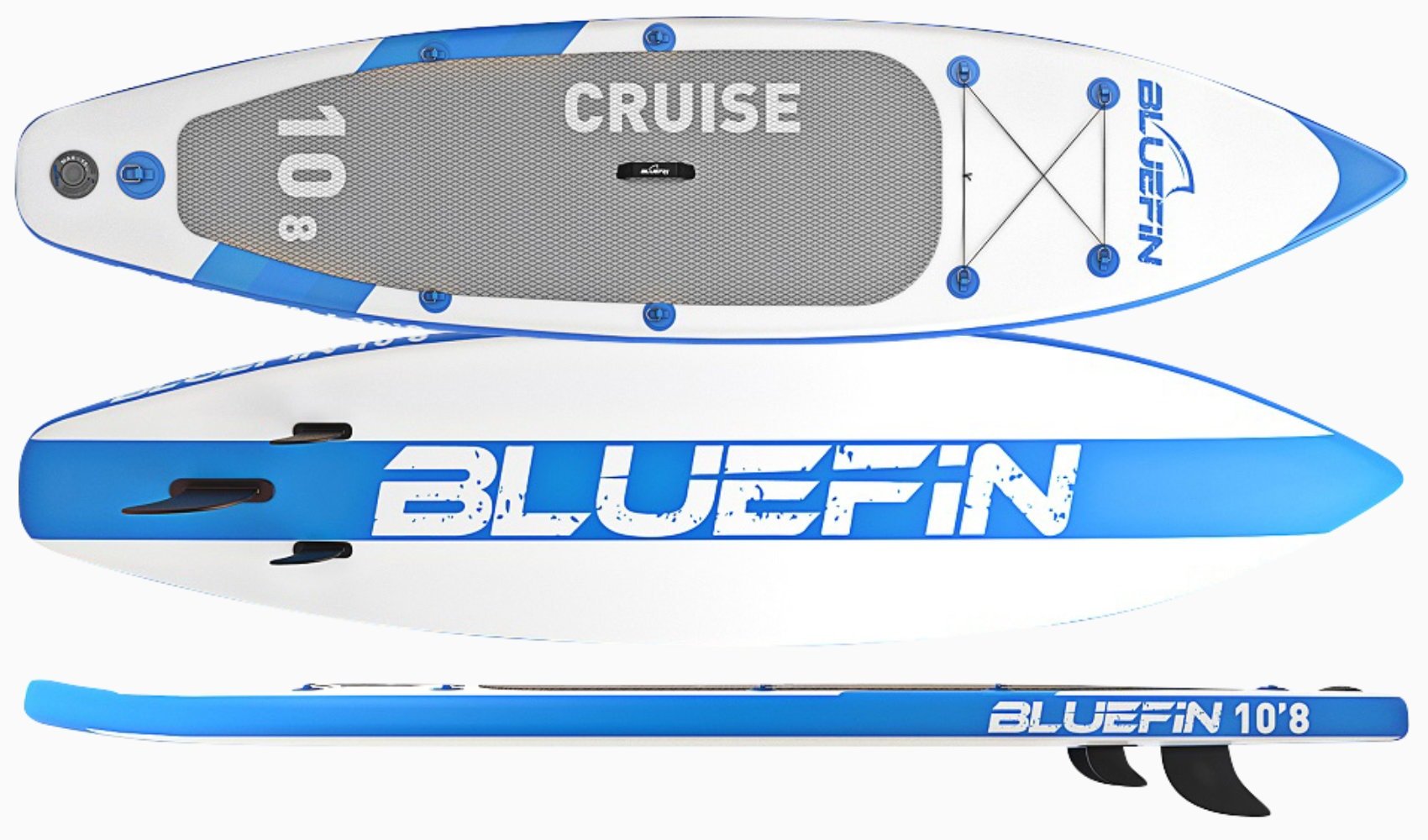 Features
While not quite as feature-rich as the Bluefin SUP Cruise Carbon 10'8″, the Cruise 10'8″ has a lot to offer. Covering the top deck of the board is a comfortable EVA foam traction pad with a diamond crocodile pattern…
(*Hover over hotspots for additional details)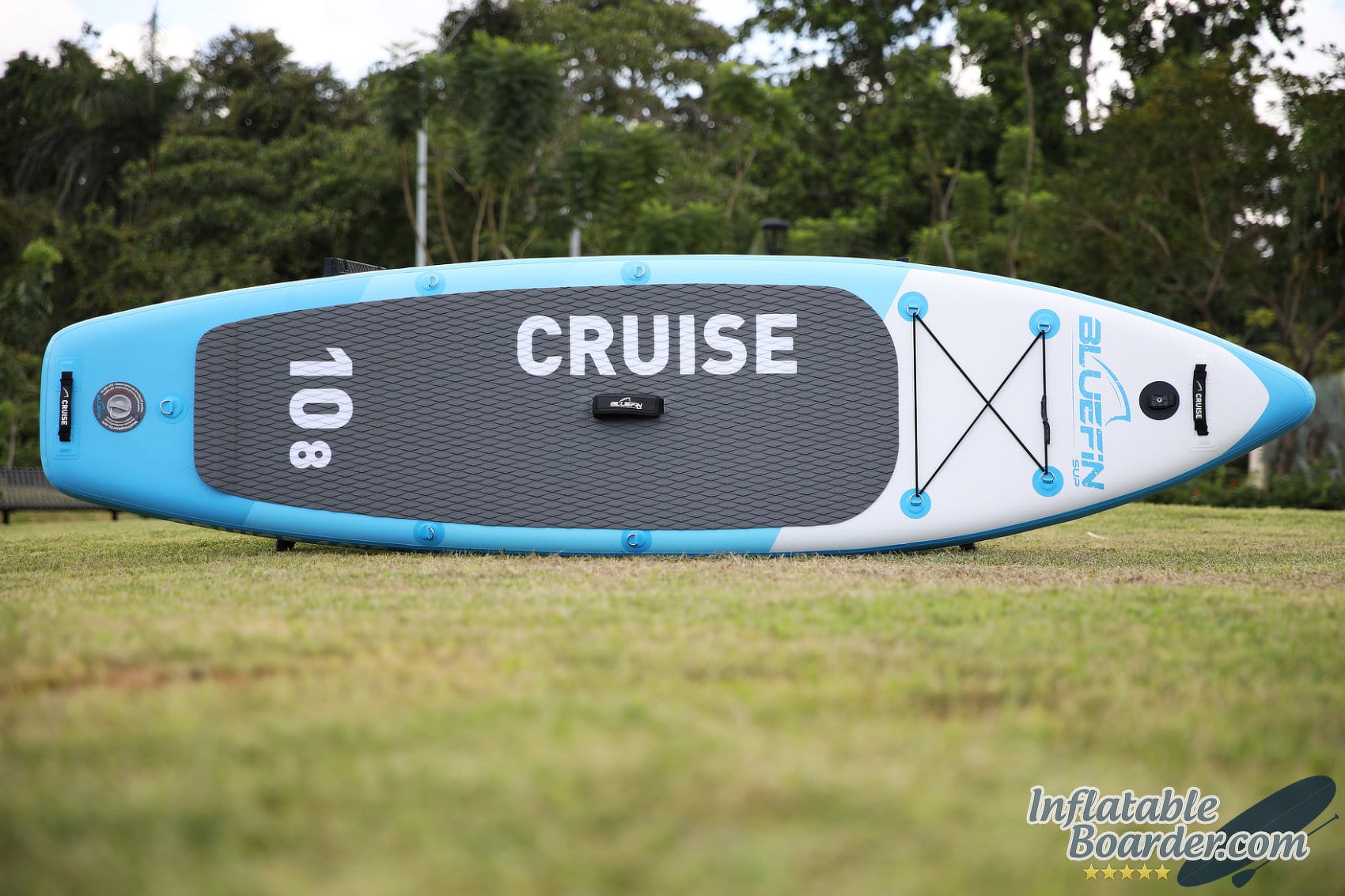 Front bungee storage area gives you a secure spot to stash your dry bag, soft-sided SUP cooler, and other paddling gear.
1 of 7
Comfy center carrying handle features a Velcro closure which acts as a paddle holder.
2 of 7
Front grab handle makes it easier to handle the Cruise 10'8″ in and around the water.
3 of 7
Rear grab handle is great for pulling the board along the beach as it lifts the fins off the ground and prevents damage caused by rocks and other hard objects.
4 of 7
Raised kick tail at the rear of the board's traction pad gives you greater control in the surf and during pivot turns.
5 of 7
D-rings along the board's rails for tying down additional gear and attaching the included SUP kayak seat kit.
6 of 7
Handy action camera mount at the nose makes it easy to capture amazing photo and video footage of your paddling adventures.
7 of 7
The deck pad offers excellent grip when wet and at the rear of the traction pad is a raised kick tail which gives you greater control in the surf and during advanced maneuvers.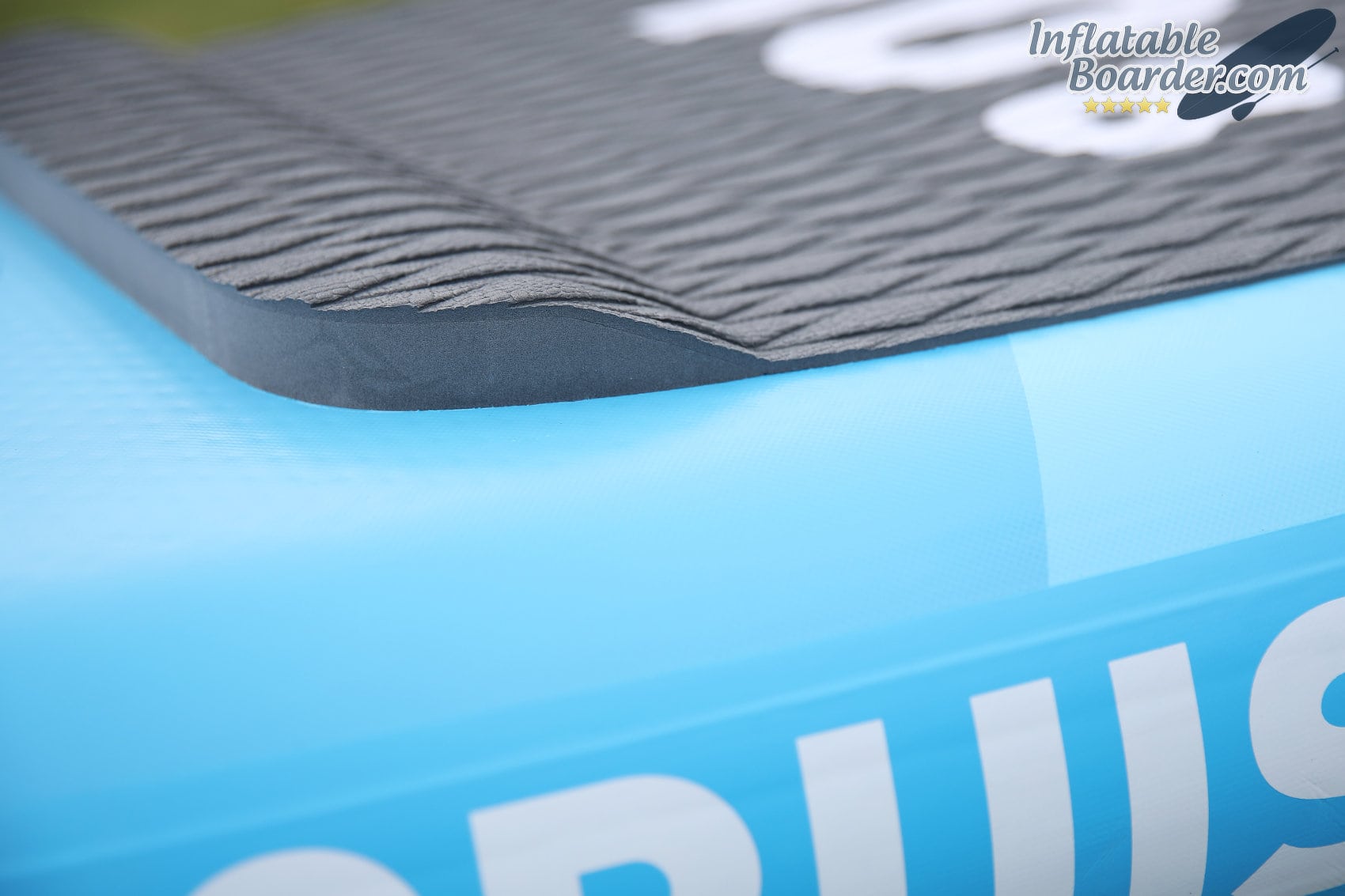 Located in the middle of the traction pad is a comfortable carry handle that features a Velcro closure that allows it to double as a paddle holder. This is a great feature for those times when you're on the water and want to take a swim, shoot some photos, or have a snack – the handle keeps your paddle securely attached to the top deck of your board so you won't lose it.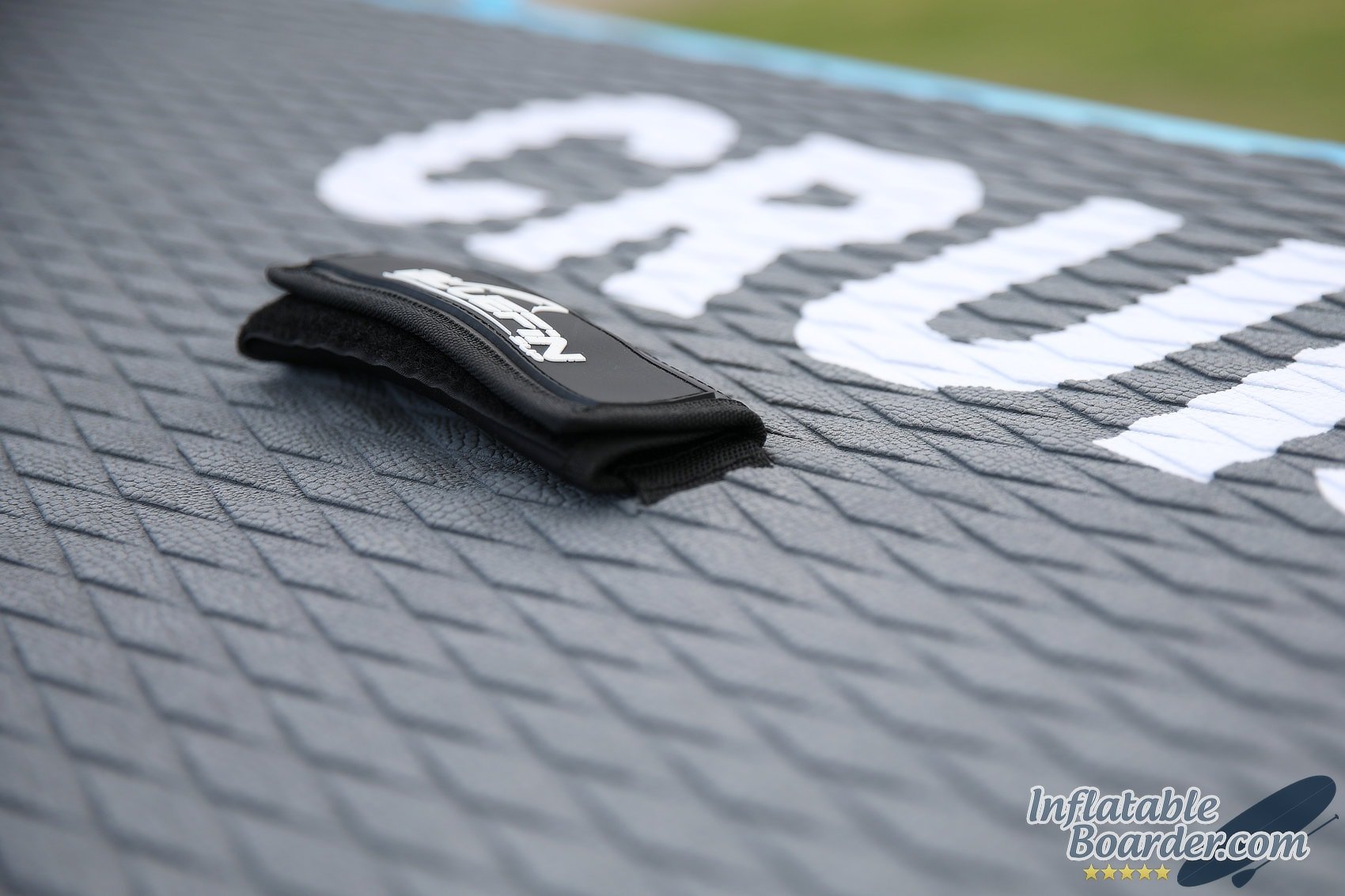 Running along both of the Cruise's rails are four stainless steel D-rings which give you the ability to tie down additional gear (like camping supplies or a SUP cooler). They can also be used to attach the included kayak seat kit…
Positioned at the nose of the board is an elastic bungee cord cargo area that provides a secure place to stash your dry bag, water shoes, and other paddleboarding gear.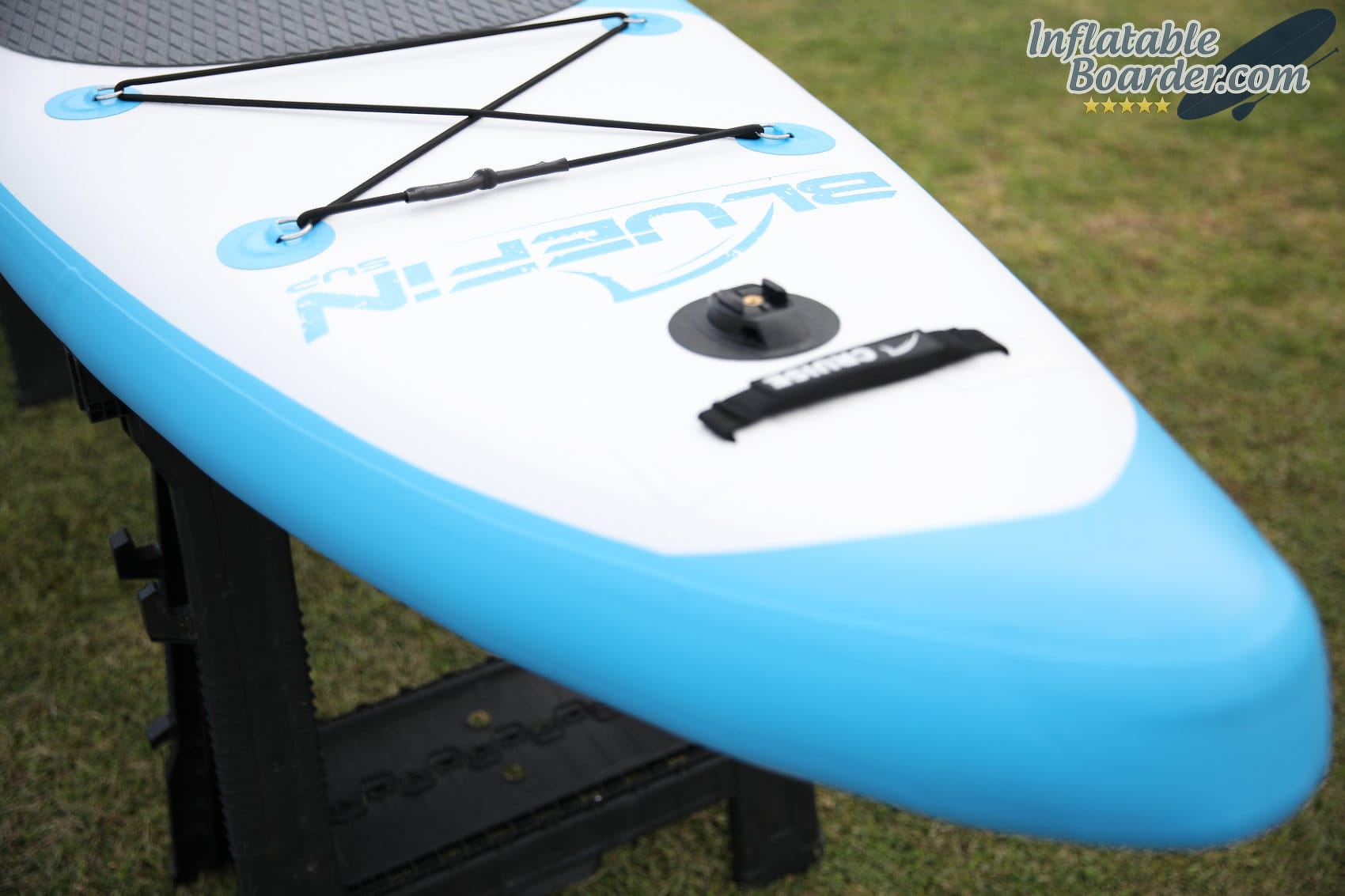 Also located at the nose of the board is a convenient grab handle and a GoPro action camera mount which makes it easy to capture amazing on-the-water photos and video footage.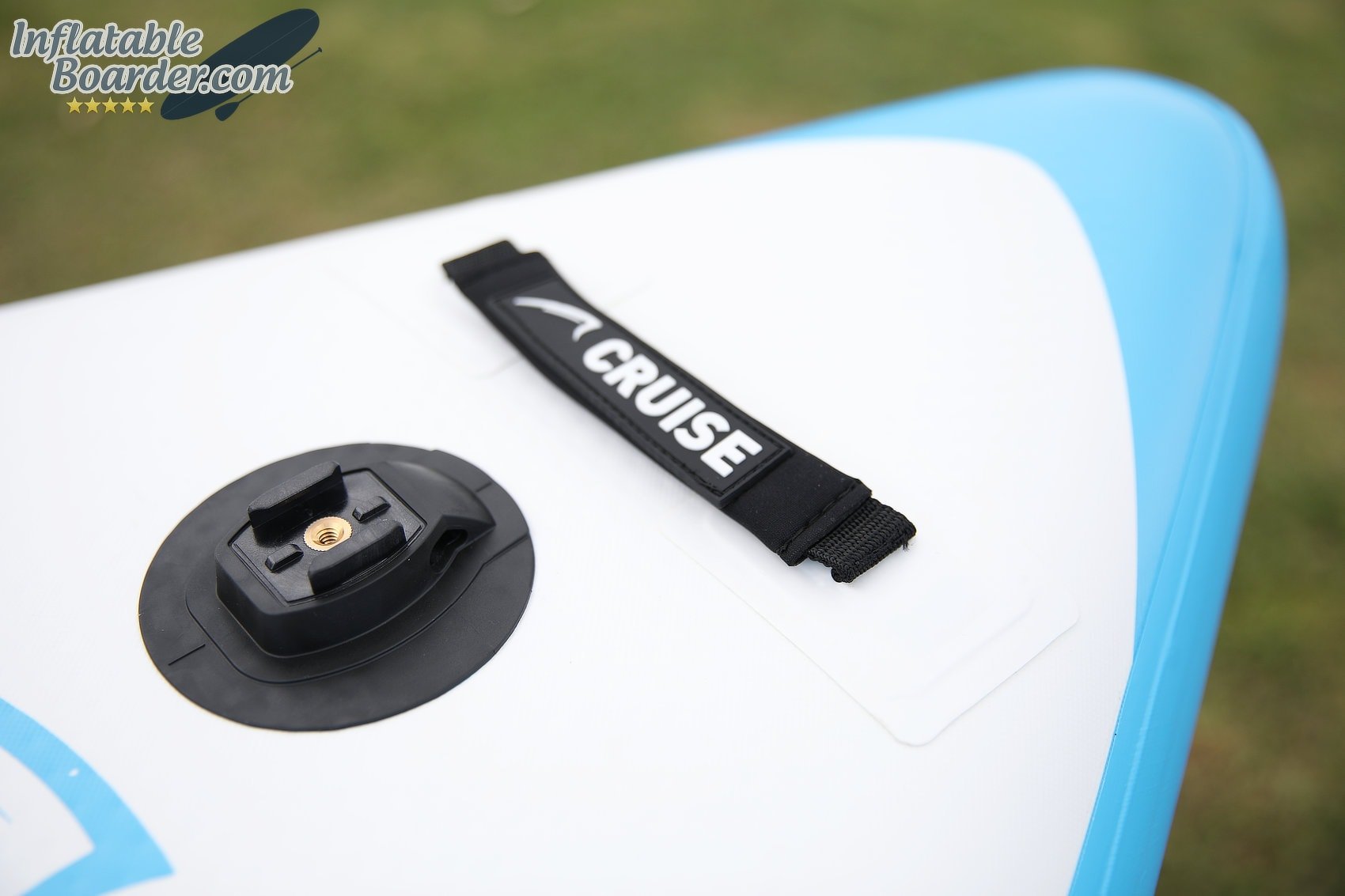 Moving to the tail, you'll find the board's inflation valve, a D-ring for attaching a SUP leash, and another grab handle which is perfect for pulling the board along the beach. Pulling the SUP with the rear handle (as opposed to the grab handle at the nose) raises the fins up off of the ground and prevents them from being damaged by rocks and other hard objects.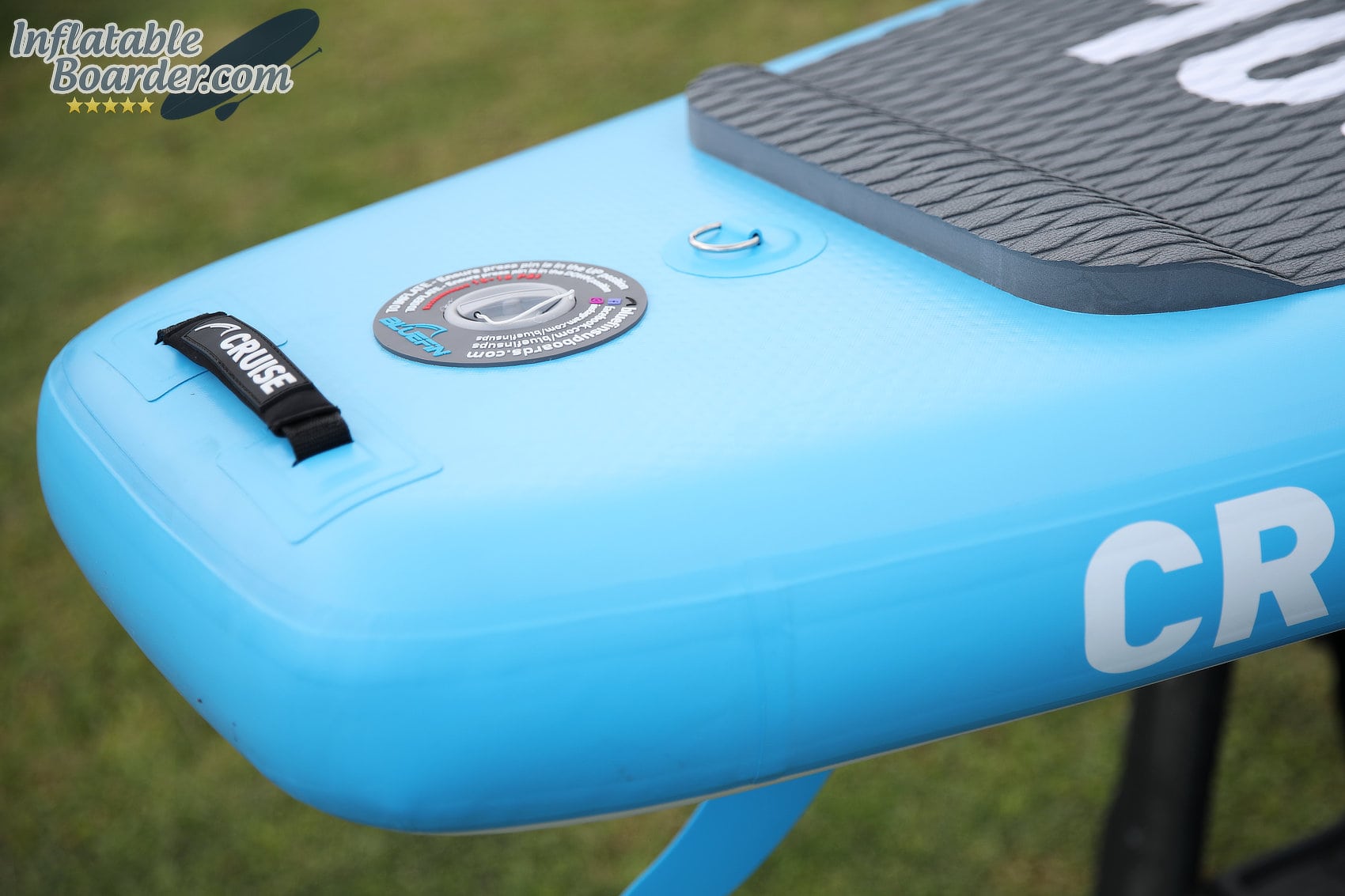 We do miss having a rear bungee on this board as it's always nice to have a secondary spot to stash your dry bag when a pet or passenger is riding along at the board's nose.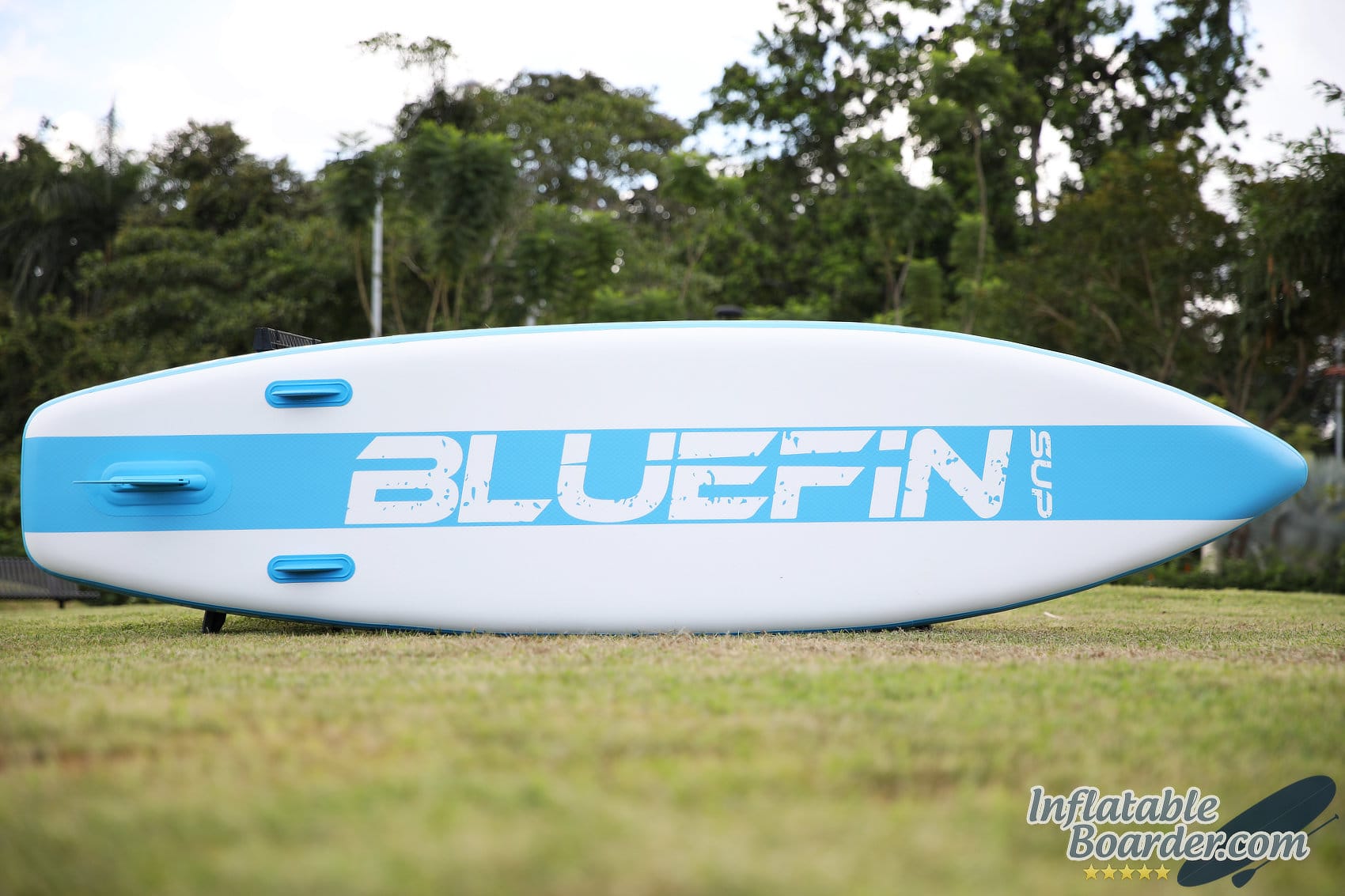 On the underside of the Cruise 10'8″ is a triple fin setup with two small fixed side fins and a large removable center fin. Used for the center fin is the popular toolless flip lock system which makes it super easy to attach and remove it from the board.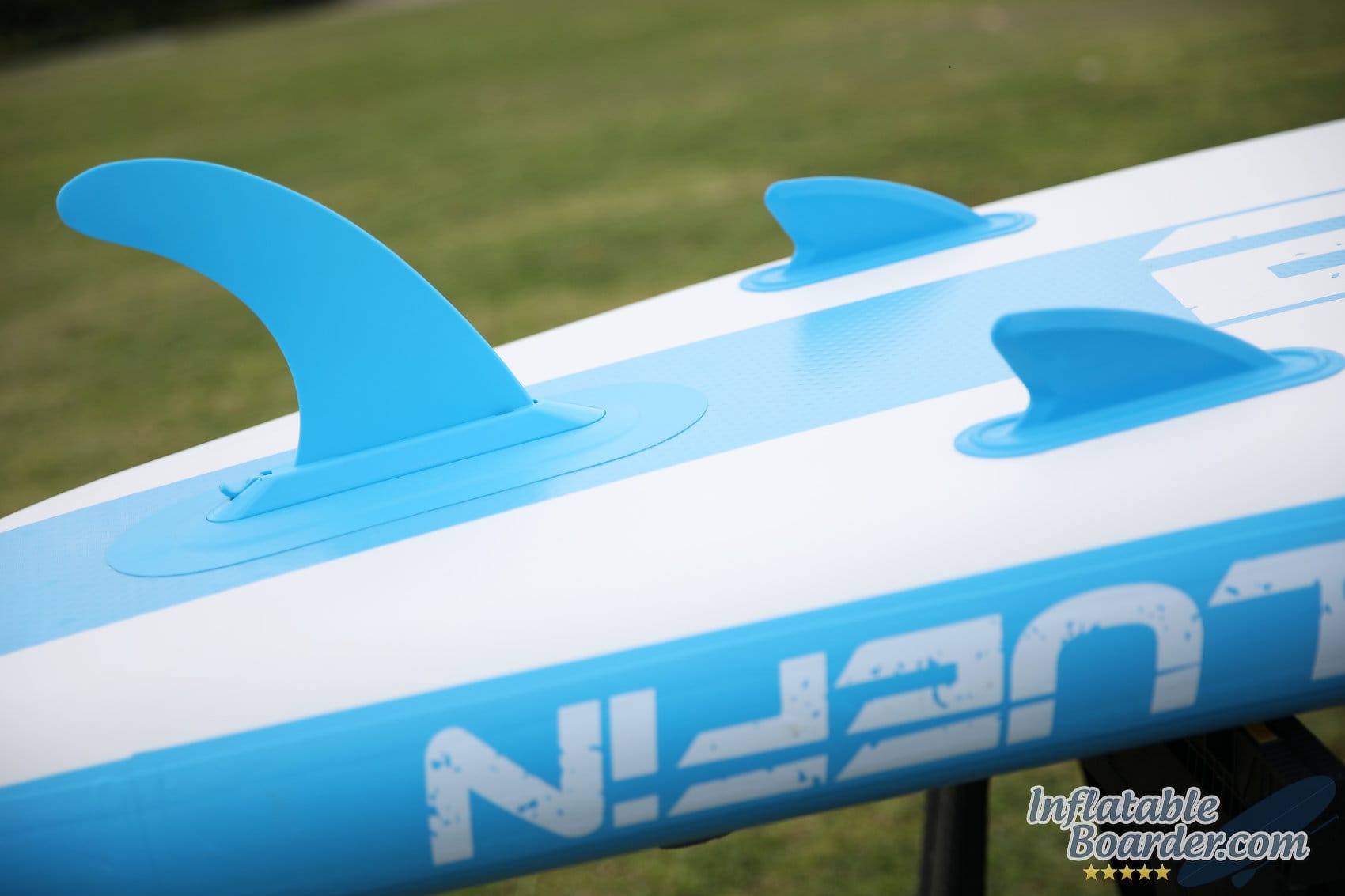 Construction
The Cruise 10'8″ is constructed with a super reinforced composite drop-stitch core that's made up of 11,200 stitches of 500 denier space yarn per square meter. The board also features multiple layers of military-grade PVC as well as heat-welded double side rails for maximum durability.
For the board's exterior, Bluefin SUP used a UV resistant coating that prevents damage caused by the sun's harsh rays.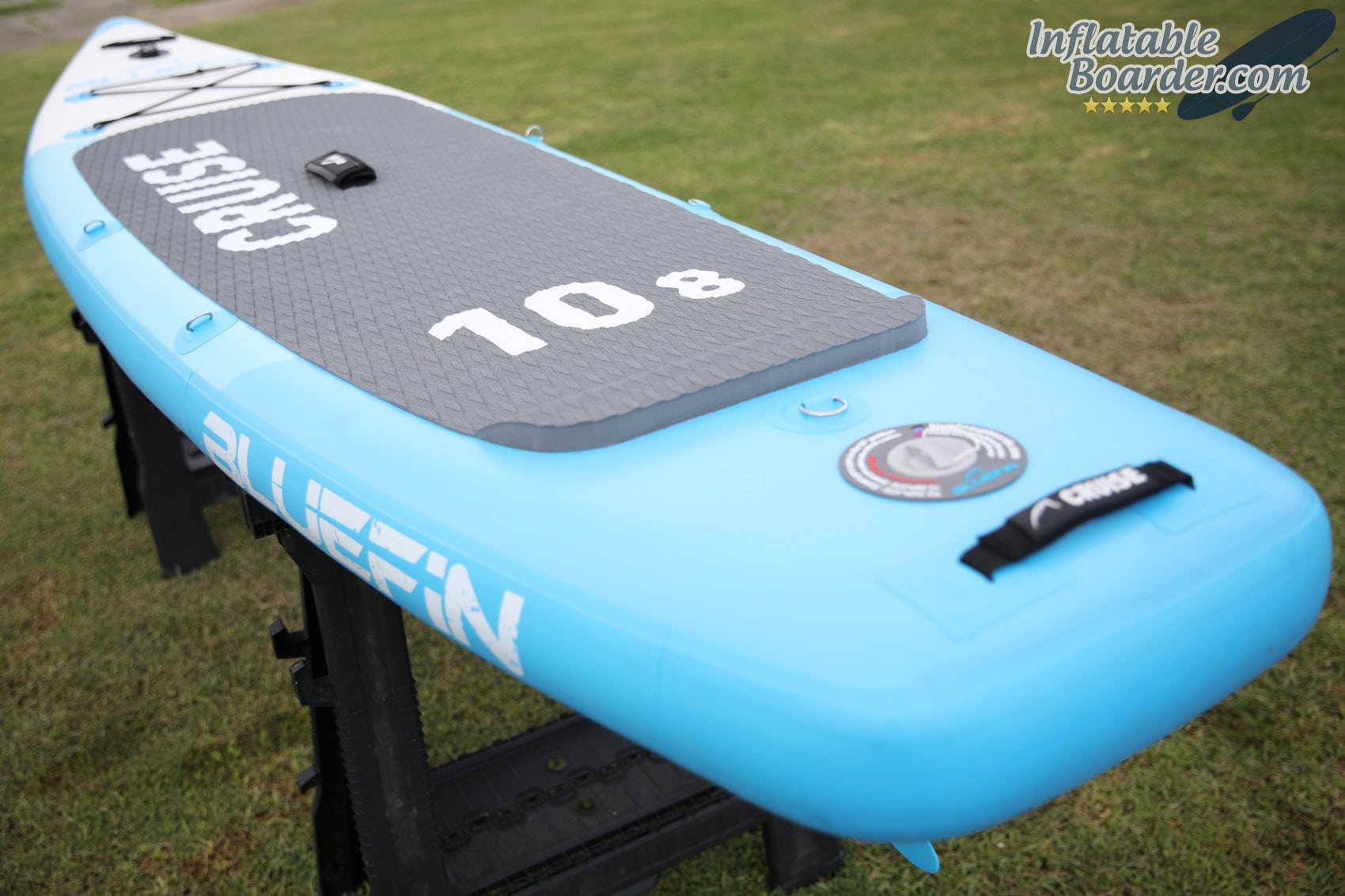 The overall finish of our board is very good and we didn't notice any of the sloppiness that you sometimes see with inflatable paddle boards.
Paddling Performance
The Bluefin SUP Cruise 10'8″ is a perfect beginners' board, offering a nice blend of stability, performance, and versatility. On the water, it glides nicely and is very easy to maneuver thanks to the squared-off tail profile.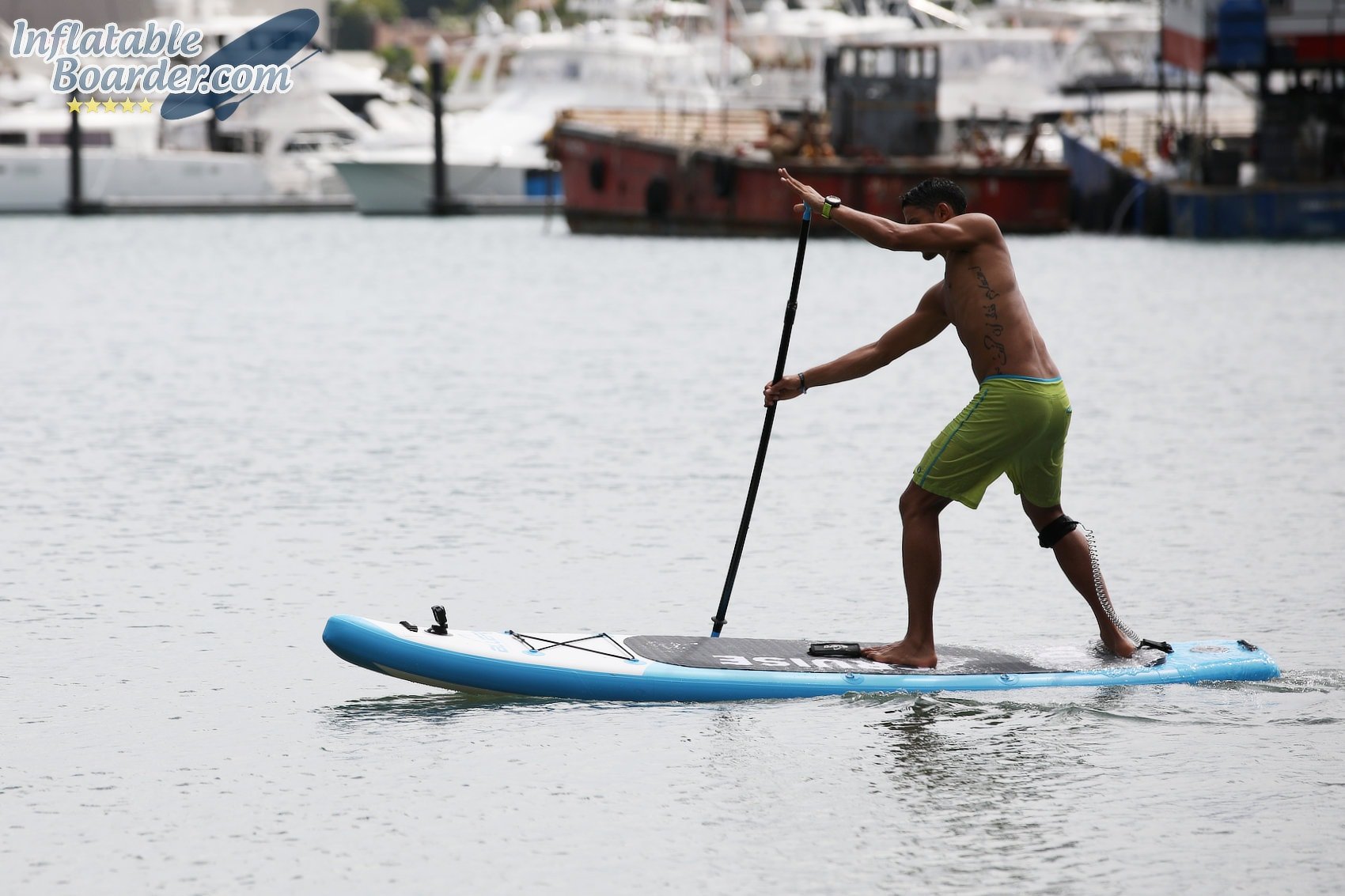 The Cruise 10'8″ also offers plenty of rigidity. While not as stiff as the company's premium carbon-reinforced model, the board still feels very solid under the feet.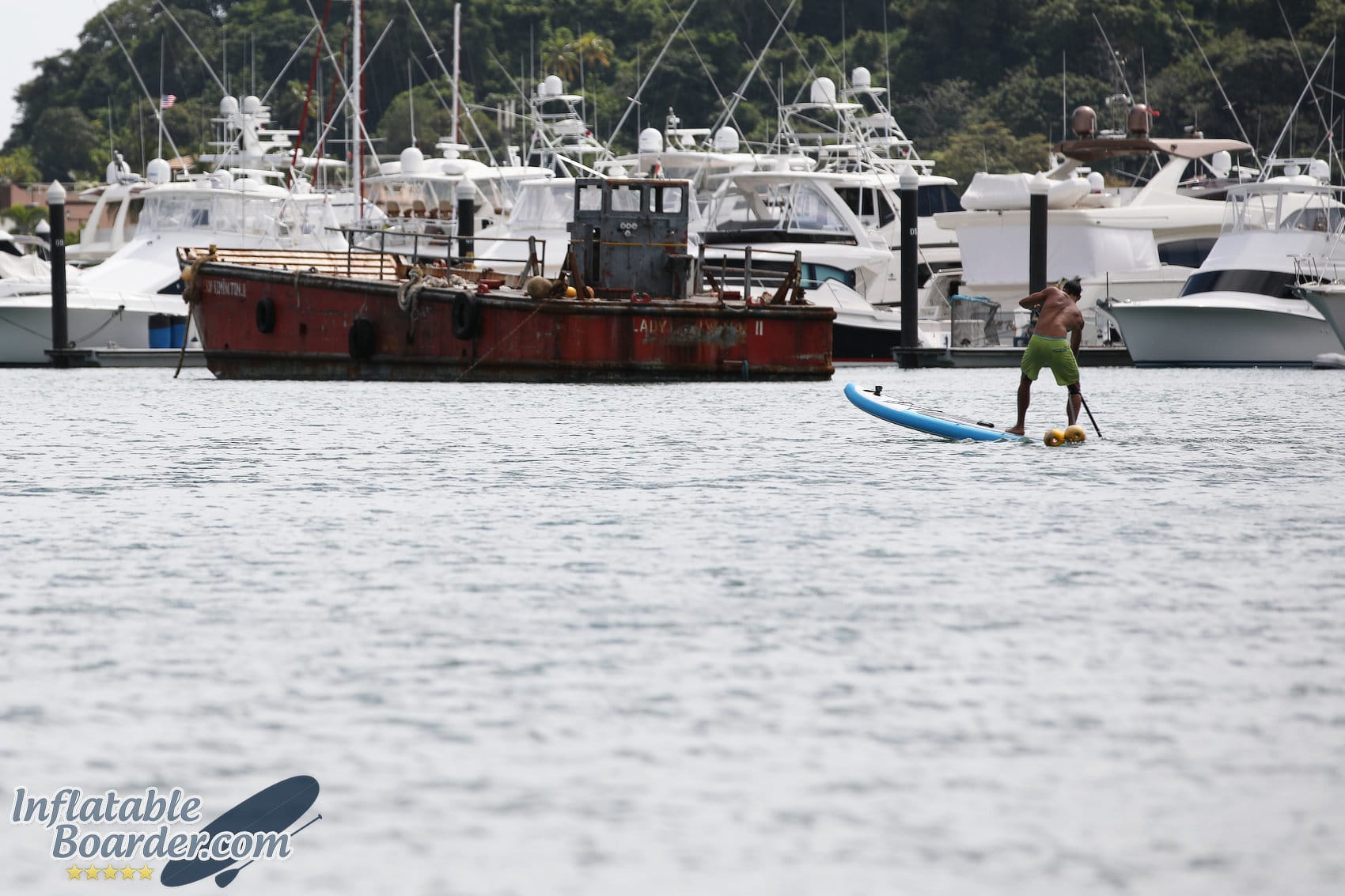 Lastly, the board's tapered nose shape and rocker profile is perfect for all-around paddling. The Cruise 10'8″ can cut through chop and also tracks well.
Likes and Dislikes
There's a lot to like about the new Bluefin SUP Cruise 10'8″. This is a really fun board to get out on the water and the price point and tremendous overall value make it a top pick for newcomers to the sport as well as those who are on a tight budget.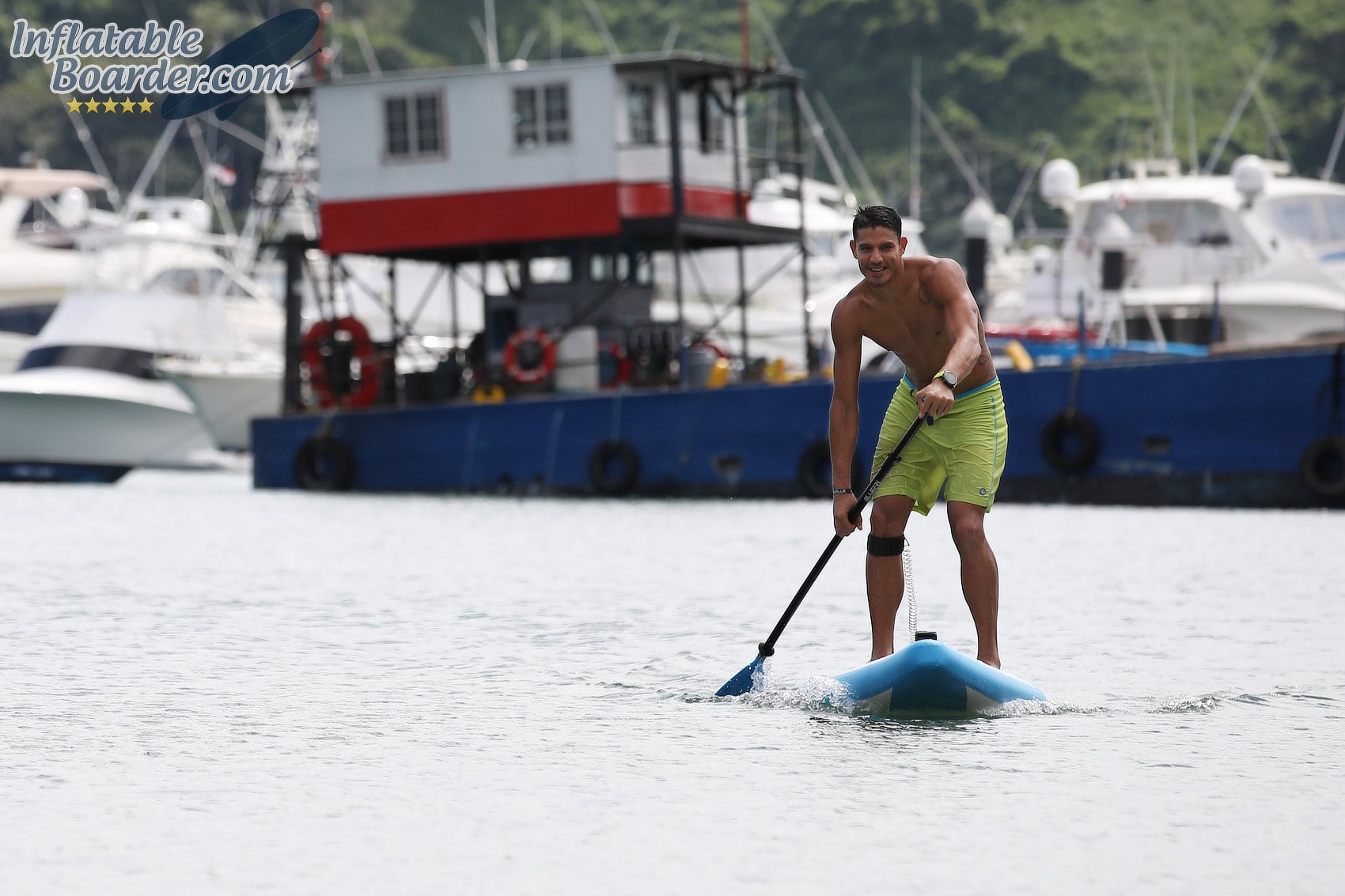 While it's true that there are cheaper iSUPs on the market, the quality of the $200 and $300 inflatables is not on par with this board. Also, we love the fact that Bluefin SUP includes such a high-quality accessory bundle and 5-year warranty with the board.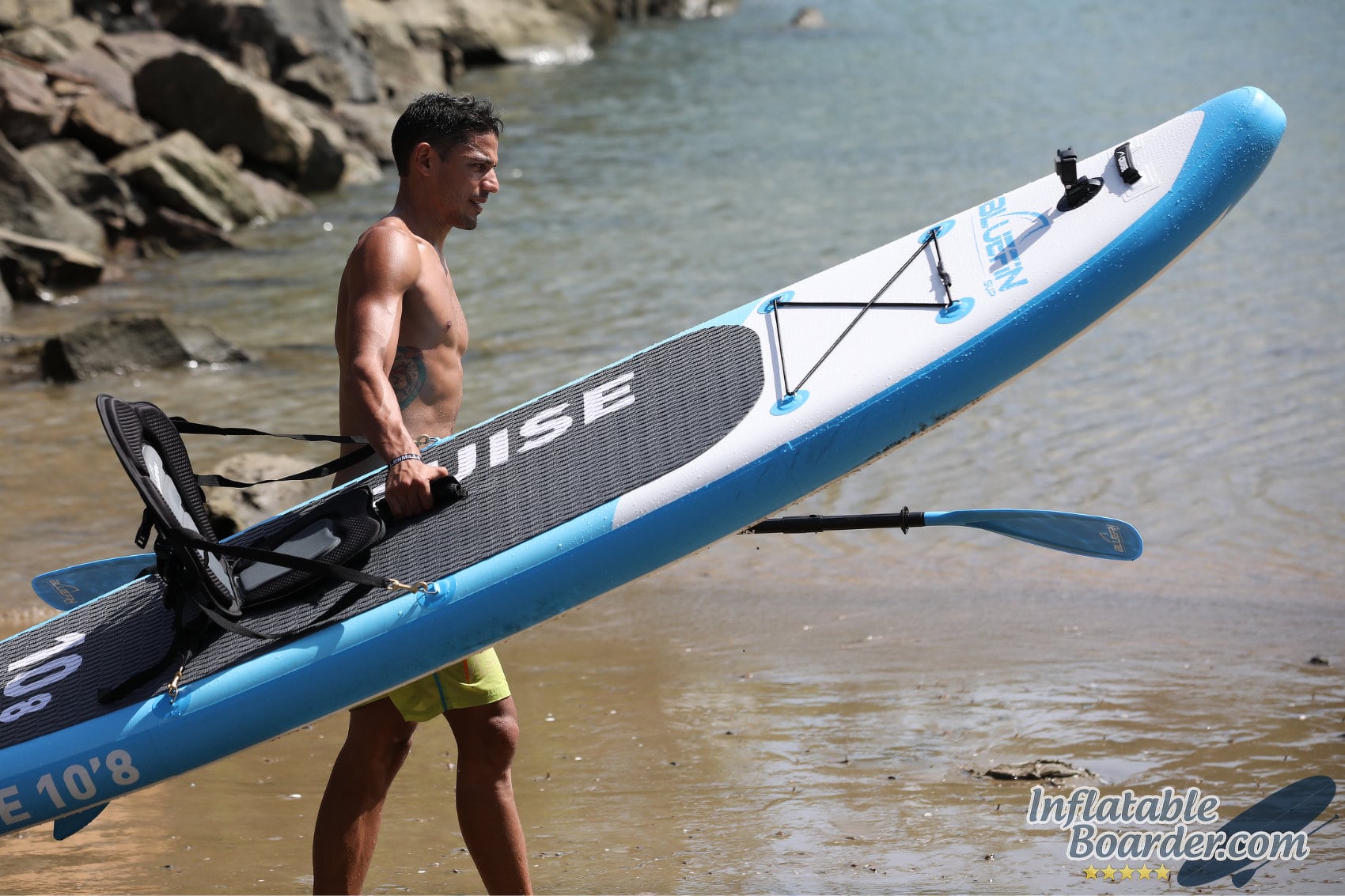 The Cruise 10'8″ comes loaded with a lot of great features such as front/rear grab handles and a GoPro action camera mount. One thing that we do hope they add in the future is a rear bungee storage area as this comes in handy when you're out for a paddle and a pup or passenger is occupying the board's nose.
Lastly, at 33 pounds, the Cruise 10'8″ is a bit on the heavy side and we'd love to see that reduced in the future.

Bluefin Cruise 10'8" SUP
Durability

Features

Versatility

Stability

Speed

Portability

Warranty

Customer Support

Price
Specs
| | | |
| --- | --- | --- |
| | Length | 10'8" |
| | Width | 33" |
| | Thickness | 6" |
| | Weight | 33 pounds |
| | Max Capacity | 287 pounds |
| | Price | |
What's Included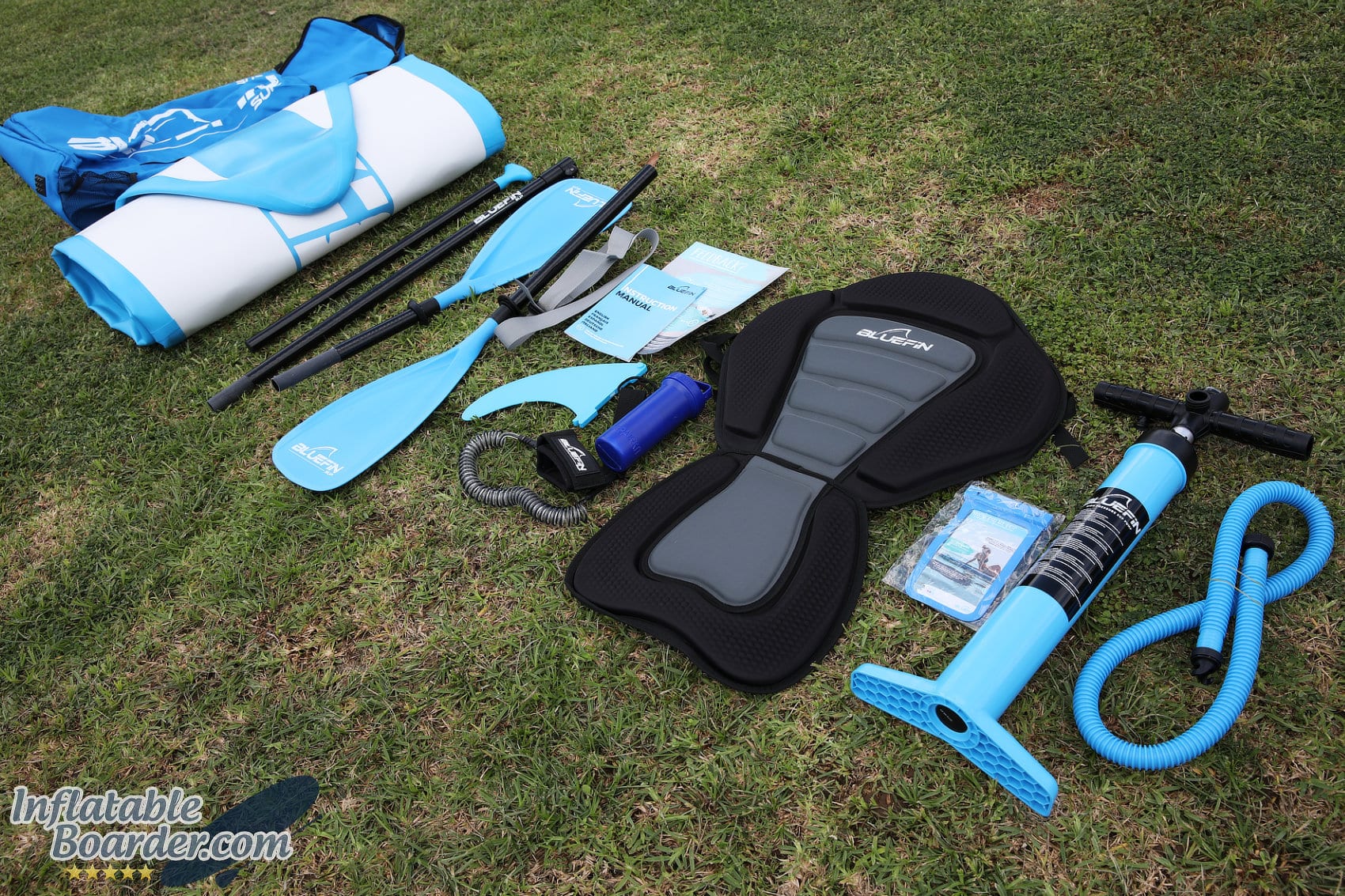 As mentioned, the new 2022 Cruise 10'8″ comes with a great bundle of SUP accessories. In addition to the standard accessories typically seen in iSUP packages, Bluefin SUP has kicked things up a notch by throwing in some extras.
In the box, you'll find an iSUP travel backpack, adjustable fiberglass paddle, dual-action hand pump, kayak seat kit, waterproof smartphone case, coiled leash, and repair kit.
Backpack
While basic, the included SUP carrying bag is of good quality. There's a large zippered storage pouch on the front exterior of the bag and four compression straps give you the ability to lock everything down once the bag is fully packed.
In addition to a grab handle, there's also a mesh storage pocket on the left side of the pack which can be used to hold your SUP paddle, water bottle, flip flops, etc.
On the bottom of the bag are four rubber feet which provide added reinforcement and durability. There's also a metal grommet that allows dirt and moisture in the bag's interior compartment to drain out.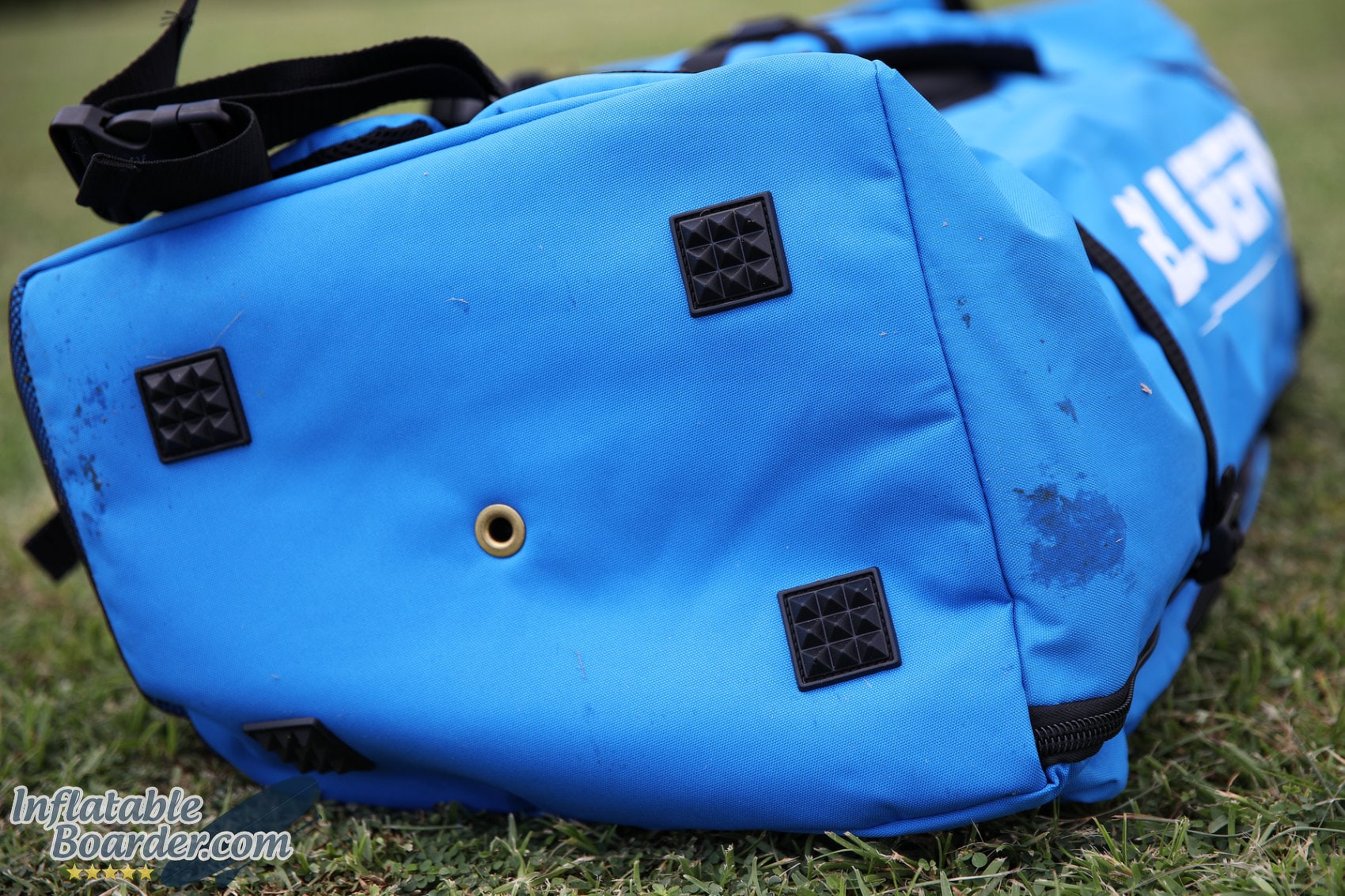 On the rear of the bag is a nicely cushioned back pad as well as two adjustable shoulder straps. The straps have sewn-in loops and plastic D-rings for attaching small accessories and there's an adjustable sternum strap that helps to stabilize things once it's on your back.
Last but not least, near the bottom of the bag is a padded waist belt which also helps to keep the bag balanced and centered when it's on your shoulders…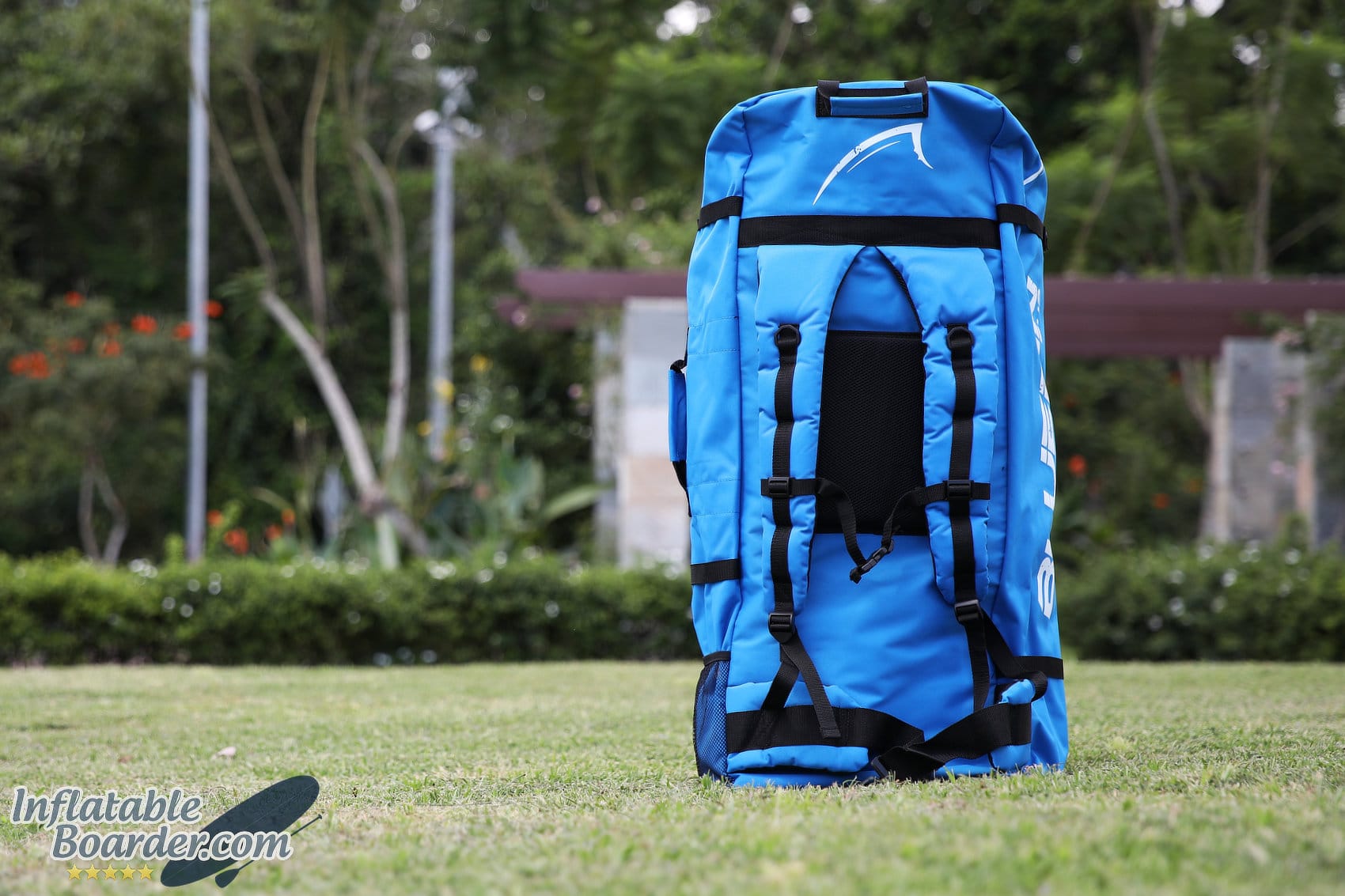 Paddle
The included SUP paddle features a fiberglass shaft and it's easily assembled by sliding the pieces together and locking them into place.
The paddle blade is made from a durable nylon material and the entire edge of the blade is coated by a thin rubber layer that provides added protection from cracks and chips.
Pump
Bluefin SUP also includes a standard dual-action pump with the Cruise 10'8″. This pump does a good job of inflating the board to the recommended pressure of 15 PSI and there's a built-in pressure gauge on the pump's handle that displays the amount of air in your board during the inflation process.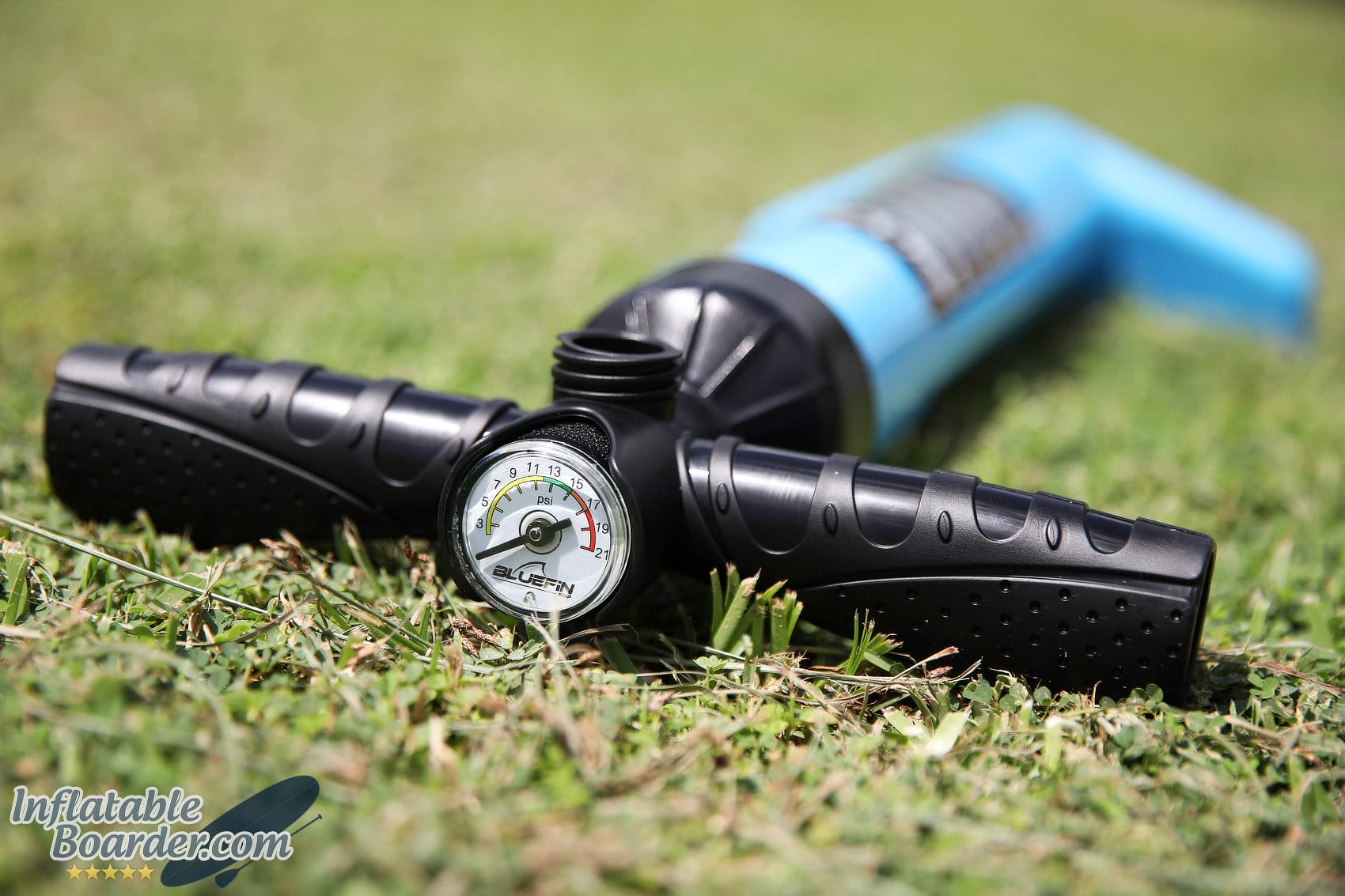 Kayak Seat Kit
A huge bonus included with the Cruise 10'8″ is the company's kayak seat kit. Sold by many other SUP company's for $100+ as an add-on accessory, the kayak seat kit is a lot of fun to use and gives your SUP added versatility.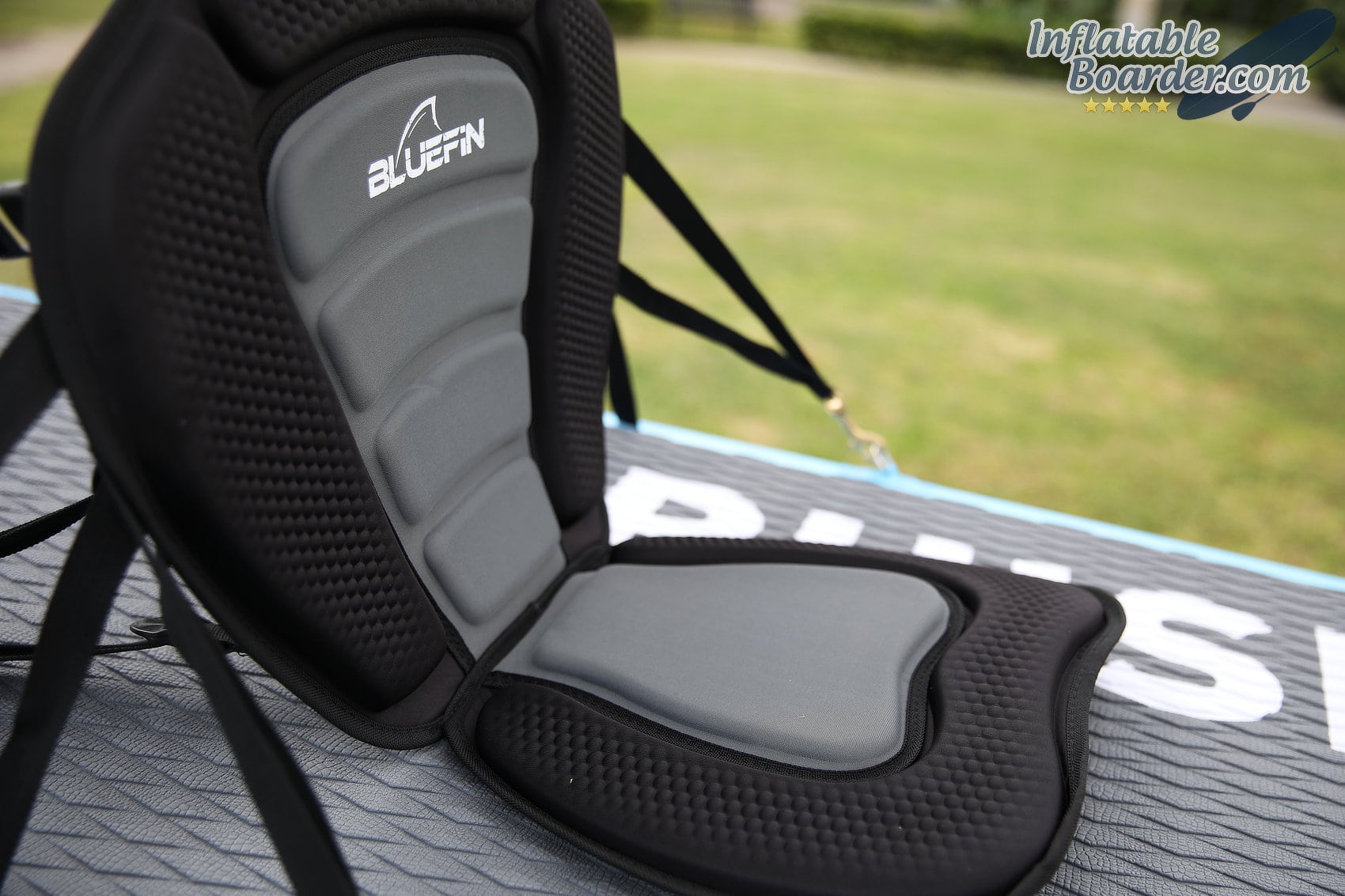 Attaching the kayak seat to the deck of the Cruise 10'8″ is quick and easy to do, thanks to the adjustable straps and convenient D-rings along both rails.
In addition to the seat, there's also a kayak blade attachment that is easily secured to the top of your paddle, transforming your regular SUP paddle into a double-bladed kayak paddle…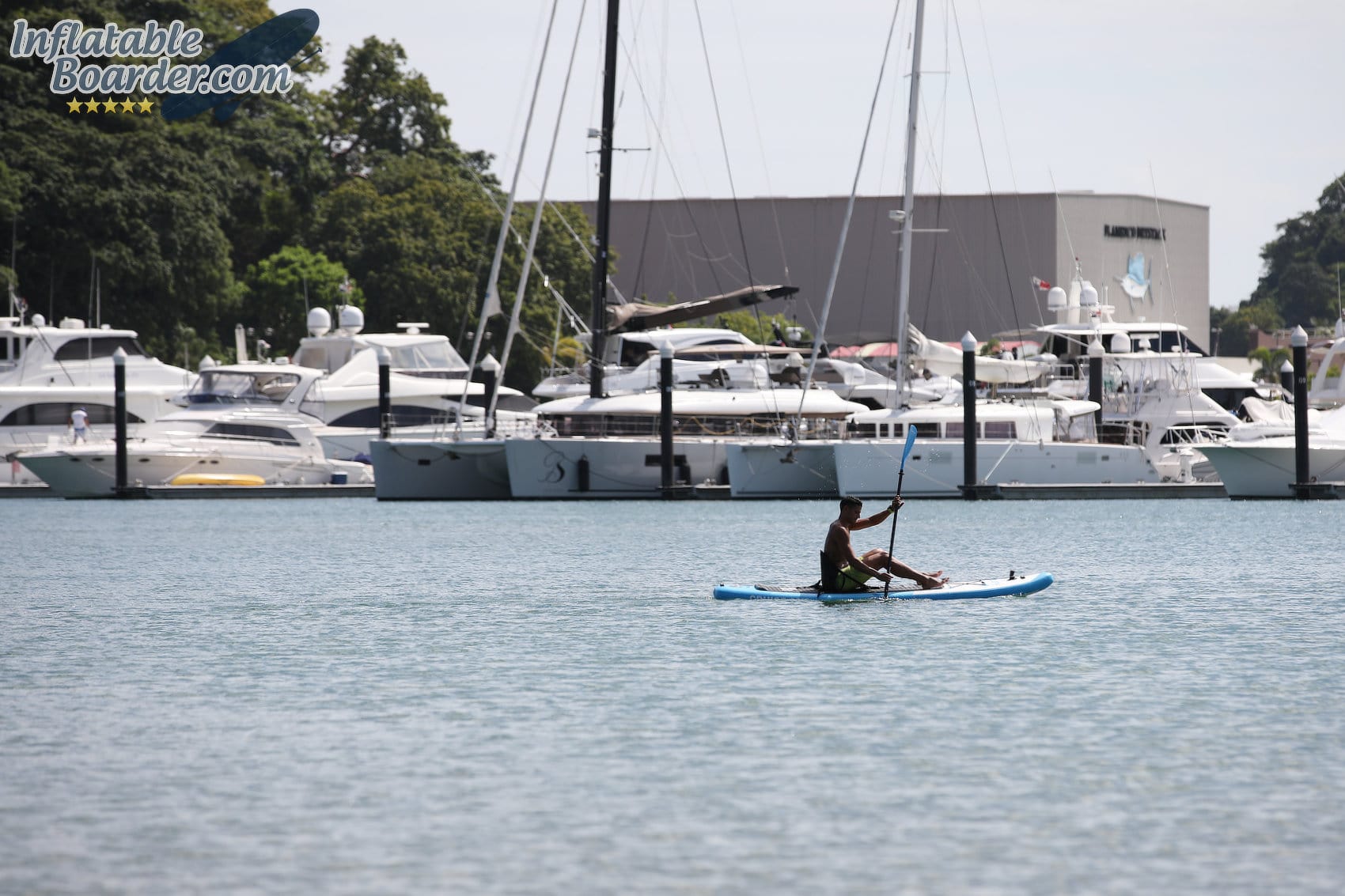 Waterproof Phone Case
Another nice surprise in this board's accessory bundle is a waterproof phone pouch. There are a lot of different ways you can use your phone while out on the water (photos, video, session tracking, etc.), and this handy waterproof case will keep your phone bone dry…
Leash
All Bluefin SUP inflatable paddle boards come with a coiled safety leash. The leash's double swivel design prevents tangles while paddling and the padded neoprene ankle cuff is very comfortable to wear.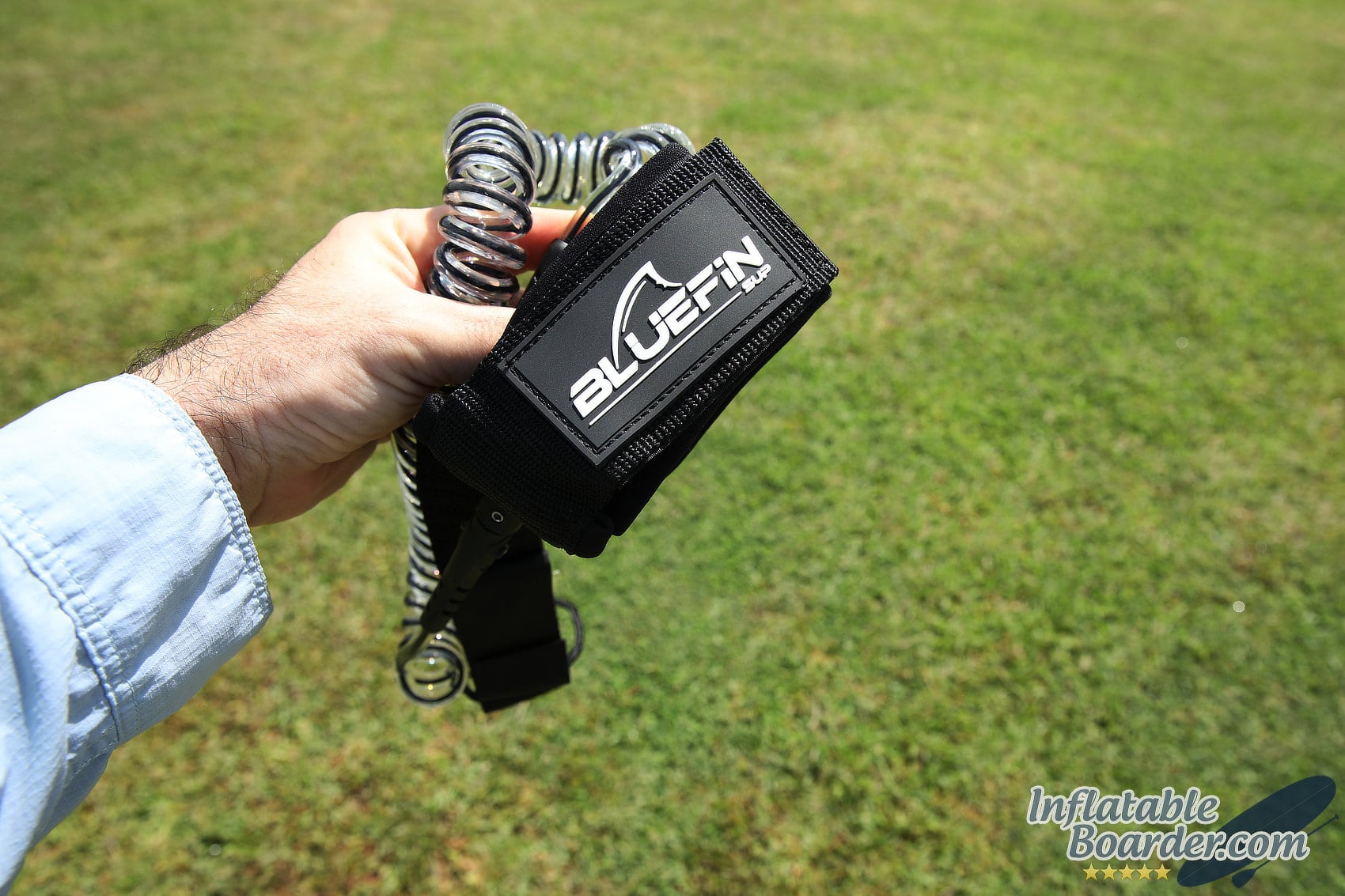 Repair Kit
Last but not least, the board comes with an iSUP repair kit that's housed in a blue plastic canister. Inside of the container is a valve wrench and several PVC repair patches.
Warranty
Offering a 5-year warranty on all of their inflatable paddle boards, Bluefin SUP is making a bold statement about the quality of their boards in an industry where 1, 2, and 3-year warranties are the norm. We love companies that stand behind the gear they make and Bluefin SUP is taking that to an entirely new level with such a generous warranty.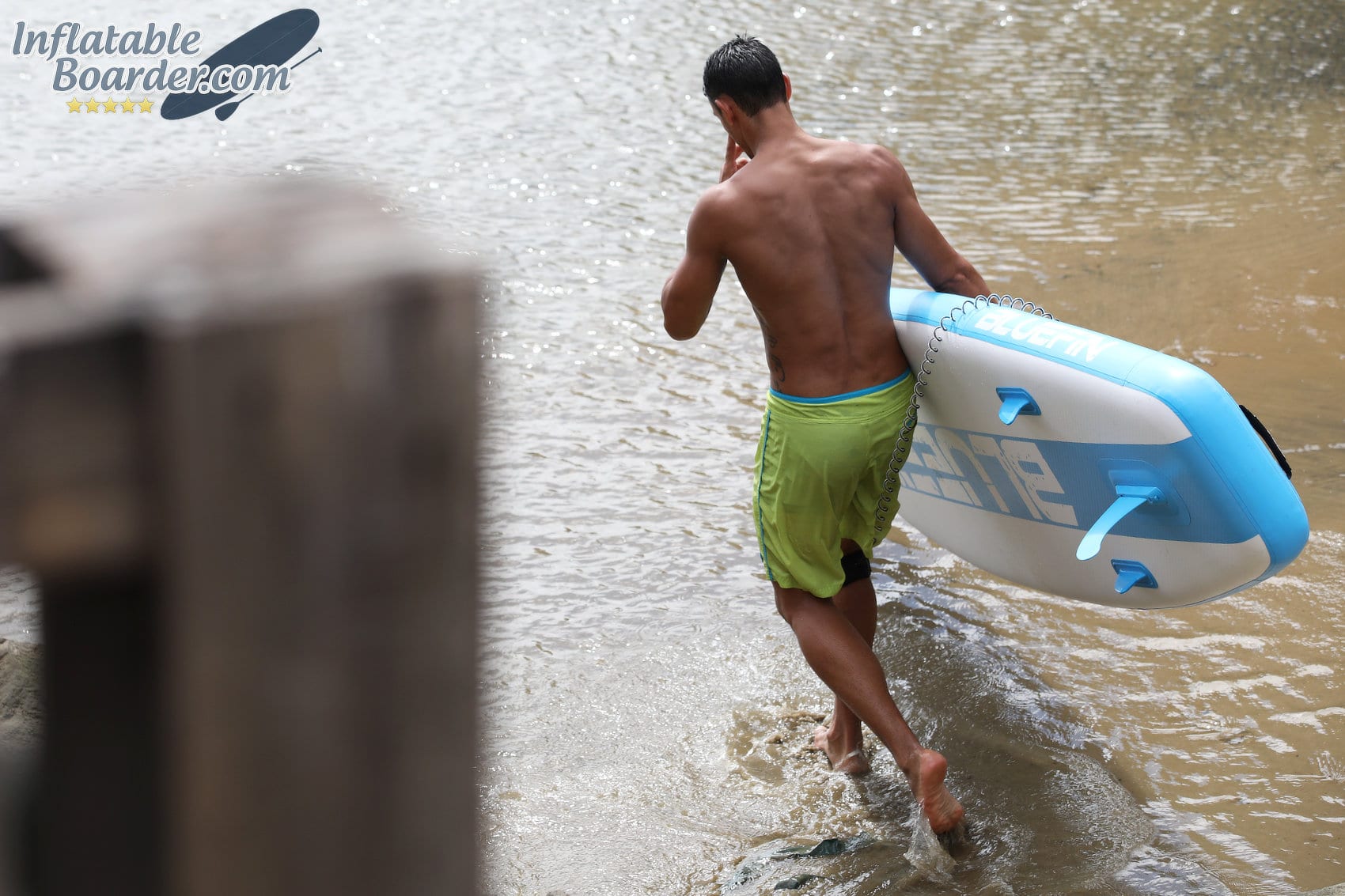 Where to Buy it + Coupon Code
The 2022 Cruise 10'8″ is in stock and ready to ship at the company's official online store. In addition to the lowest price, Bluefin SUP also offers fast free shipping and top-shelf customer service.
*SPECIAL LIMITED-TIME OFFER
Click the link above and enter the promo code SUP30 while checking out for an additional $30 discount!
Final Thoughts
We're very impressed by the Bluefin Cruise 10'8″. A trimmed-down version of the higher-priced Cruise Carbon 10'8″, the Cruise 10'8″ offers excellent value for money and is a very enjoyable board on the water. It's a versatile SUP that performs well and the 5-year warranty and impressive accessory package make this inflatable a top contender in this price range for the upcoming season.