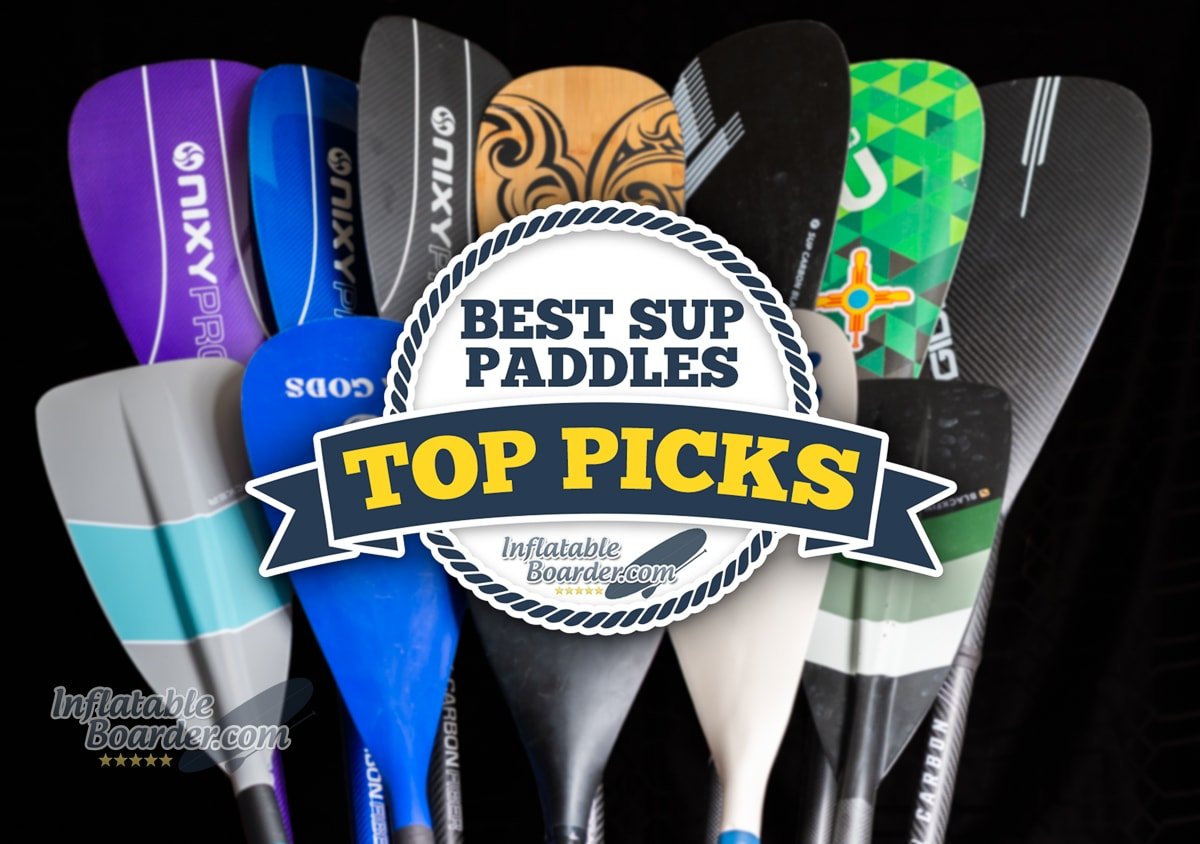 Whether you are replacing a lost or broken paddle, looking for a lighter one for long-distance paddling, or wanting an extra boost of speed to catch more waves, picking the right SUP paddle can make all the difference. So which SUP Paddle is The Best? Well, you aren't going to like my answer – because there isn't a single Best paddle, but rather a whole range of varying qualities that can make a paddle a best fit for you.
We've tested over 30 different paddles across a variety of price ranges, materials, sizes, and more. We've measured, bent, weighed, and actually paddled with them all to help you decide what paddle is best for you.
Diving Deep with SUP Paddles
Before we get started with our paddle comparisons, it may be helpful to get a better understanding of the parts of a SUP paddle and the different materials, shapes and sizes available. We've written an in-depth guide to understanding and Choosing SUP paddles. This guide will help you better understand some of our testing and assessments below.
Paddles We Did and Did Not Test
We split our paddle testing into two categories. The first are what we call "kit" paddles. These paddles are the ones that you'll find in the various iSUP kits from different brands. While there are many kit paddles that we really like to use, we wanted to focus on the second set of paddles we tested – what we call "stand-alone" paddles. These are paddles that are typically sold separately (or sometimes as an add-on option to a paddleboard kit) and offer performance upgrades from a kit paddle. There are hundreds and hundreds of different paddles available. What we did not test are ultra-high-end paddles designed for elite athletes. These paddles are extremely expensive (often $500+) and, while they do perform excellently, the gains that can be made by using these elite-tier paddles are often only realized by elite paddlers with the most advanced paddling technique.
Paddle Reviews
Below are in-depth reviews of some of our favorite stand-alone paddles we've tested. In addition to our own set of measurements (weight, flex, blade size, and more) we've personally tested each paddle on the water. What we won't do is pretend to review a paddle based on its specifications only. As we are able to test more paddles, we'll add them to our testing data and update this page as we go.
Best SUP Paddles Comparison Chart
section-hd

Top-Rated Stand-Alone SUP Paddles

PADDLE
BLADE SIZE / PADDLE LENGTH
WEIGHT
MATERIALS
PRICE
Nixy Pro 3k Carbon Fiber (86, 88, 94)

Nixy Pro 3k Carbon Fiber (86, 88, 94)

Blade: 86-94 sq in
Length: 68"-86"

21.6-25.9 oz
3k Carbon Fiber

Read ReviewCheck Best Price
Nixy Pro 12k Carbon Fiber (88, 94)


Nixy Pro 12k Carbon Fiber (88, 94)

Blade: 88-94 sq in
Length: 68"-86"

21.3-23.1 oz
12k Carbon Fiber


Read ReviewCheck Best Price
Honu Evolution


Honu Evolution

Blade: 86 sq in
Length: 67"-88"

21.5-22.6 oz
12K Carbon Fiber + Bamboo (optional)


Read ReviewCheck Best Price
Hydrus Tough Blade

Hydrus Tough Blade

Blade: 96 sq in
Length: 65"-85"

26.4 oz
Carbon Fiber + Fiberglass + Armalight


Read ReviewCheck Best Price
Hippostick AL 8.0 EXP

Hippostick AL 8.0 EXP

Blade: 87 sq in
Length: CTL / 65"-85"

18.6 oz (72")
3K Carbon Fiber + Fiberglass


Read ReviewCheck Best Price
Thurso Carbon Elite Paddle/Blade

Thurso Carbon Elite Paddle/Blade

Blade: 85 sq in
Length: 69"-86"

25.7 oz
5 years,
30-day money back



Read ReviewCheck Best Price
Gili Full Carbon Fiber

Gili Full Carbon Fiber

Blade: 93 sq in
Length: 68"-88"

25.6 oz
Carbon Fiber


Read ReviewCheck Best Price
NRS Rush


NRS Rush


Blade: 97 sq in
Length: 69"-86"

21.4 oz
Fiberglass




Read ReviewCheck Best Price
---
Nixy Pro 3K & 12K (black/color/bamboo)
Pieces: 3 Pieces
Weight: 21.6-25.9 oz
Length: 68" – 86"
Blade: 86, 88, or 94 sq in; 16.5"-18" x 7.25"-8"; 9° angle
Materials: 3K or 12K Carbon Fiber
The Nixy Pro carbon fiber paddle lineup has a lot of great things going for it, including a very wide variety of sizes and constructions. All of the Nixy pro paddles come in a 3-piece construction and are made completely of carbon fiber with a narrow ABS plastic blade edge to protect the paddle blade from dings and dents. There are two different construction choices (3K carbon fiber or 12K carbon fiber) and 3 different blade size choices, but the choices don't stop there. Nixy also makes their 3K Pro paddles in standard black, bamboo veneer, and five other color choices. Their 12k Pro paddles are available in standard black or Bamboo Veneer. It can be a little confusing to look at all of the choices available, so here's a helpful graphic.

The 86 square-inch blade (in either black or bamboo option) also uses a slim shaft. Regular shaft diameters are 1.125" (28.5mm) while the slim shaft is just over 1" (26mm). This is a great option for paddlers with smaller hands and for kids. I definitely feel the difference, and while the slim shaft isn't as ideal for me, it is still usable. While the regular diameter 3K carbon fiber shafts have a moderate flex of around 80mm, the slim shaft is softer with a 100mm flex while under load. The 12K carbon fiber shafts are noticeably stiffer on the water and have a measured 63mm of flex. This isn't surprising because 12K carbon fiber fabric is made specifically to be stiffer and lighter than 3K carbon fiber.
The blades themselves are also made from the same 3K or 12K carbon fiber and have an embedded ABS plastic edge guard to help prevent dings and cracks. The lower ferrule has a small amount of play that can be felt when shaking the paddle by hand, but it's not felt while in use. The clamping collar is easy to use and easy to adjust if it becomes loose (even with just your fingers). The handle section is made of molded carbon fiber and has an indexing groove to keep the handle aligned with the blade. There is also a length scale printed on the front of the handle section for easy and repeatable adjustment. The standard black and bamboo color options have more of a matte finish, while the other color choices have a high-gloss finish.
On the water, the 3K carbon fiber paddles provide a great mix of comfort and power transfer. There's just enough flex in the paddle shaft to keep a comfortable feeling on the water without losing any power, even when sprinting. The 12K carbon fiber paddles offer a slightly lighter weight and noticeably stiffer feel. This is great for moving faster on the water, but can become more tiring over longer distances.
Overall, the Nixy Pro series carbon fiber paddles offer a fantastic paddling performance at an incredible price. They are also the only paddle in this performance category that is offered in so many different color options.
---
Honu Evolution
Pieces: 3 Pieces
Weight: 21.5-22.6 oz
Length: 67-87"
Blade: 86, 94 sq in; 16.5" x 7", 17" x 8"; 8.75° angle
Materials: 12K Carbon Fiber, Bamboo (optional)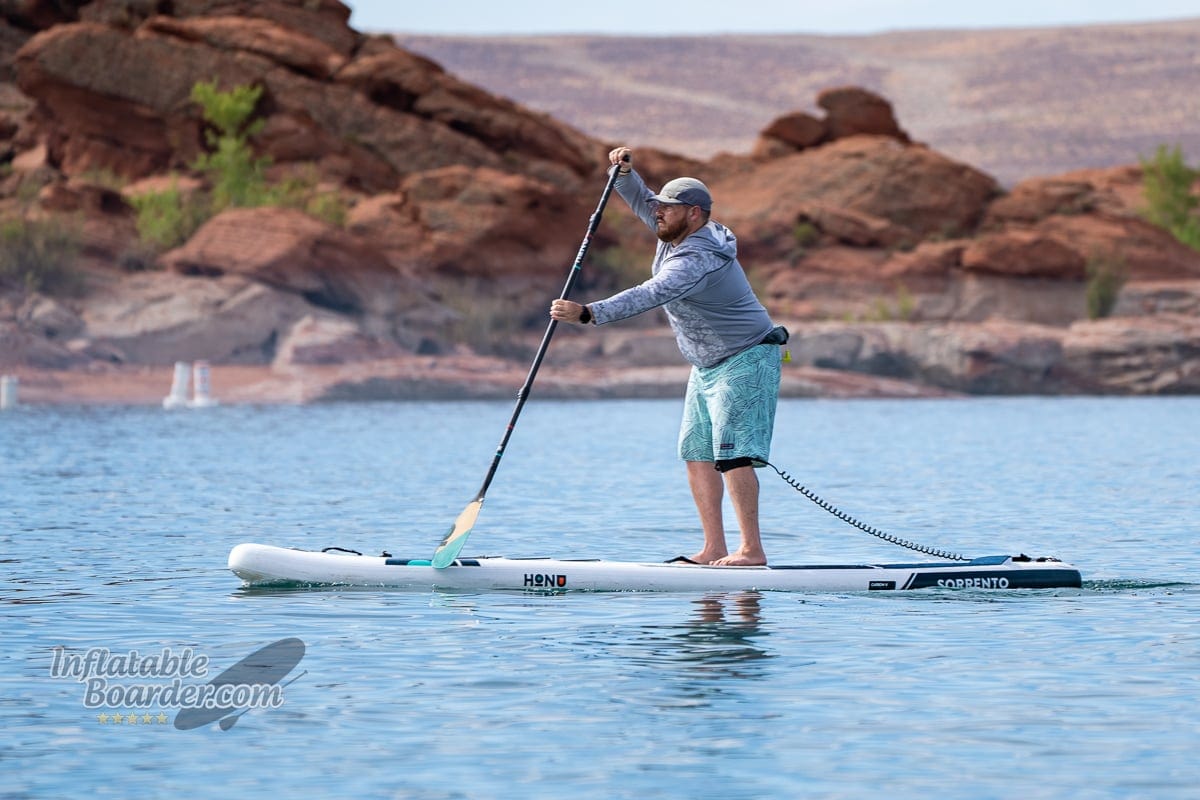 The Honu Evolution carbon fiber paddle uses 12K carbon fiber with an optional bamboo veneer and is now available in two sizes. The 12K Carbon fiber weave for the shaft and paddle blade reduces weight while increasing overall stiffness. For 2023, Honu updated their paddle construction with a hexagonal ferrule. Rather than a round carbon fiber tube, the hexagonal inserts eliminate any play present at the connection between the blade and shaft without the use of additional clamps, saving on weight.
The Carbon fiber blade is available in either the standard 86 square inch (medium size) or 94 square inch (large size). Both are made with a solid PVC core and multiple layers of 12K carbon fiber for a light, rigid, and durable construction. The 12K carbon fiber does produce a very rigid paddle with just 58mm of flex in our bend test. On the water this rigidity makes for great power transfer, but can be tiring over longer periods of time. Both sizes are available in a "raw" carbon fiber finish, and the 86 square inch size is also available with a bamboo finish painted teal, red, or black tip.
On the water, the Honu Evolution paddle is lightweight and well balanced. The double dihedral shape on the blade face catches the water easily, and holds in the water firmly while eliminating any flutter from a potentially mis-placed stroke. The blade shape is more rectangular with higher shoulders for a more even feel as you push the blade into the water (rather than a heavy catch with just the tip of a teardrop-shaped blade). This also lets you more easily paddle at higher cadences. The 86 square inch blade is a great size for most paddlers, and the 94 square inch blade is ideal for larger paddlers or those who need quick bursts of power for catching waves.
---
Hydrus Tough Blade Carbon Fiber Paddle
Pieces: 3 Pieces
Weight: 26.4 oz
Length: 65" – 85"
Blade: 96 sq in; 17.75" x 7.375"; 8° angle
Materials: Carbon Fiber, Fiberglass, "Armalight"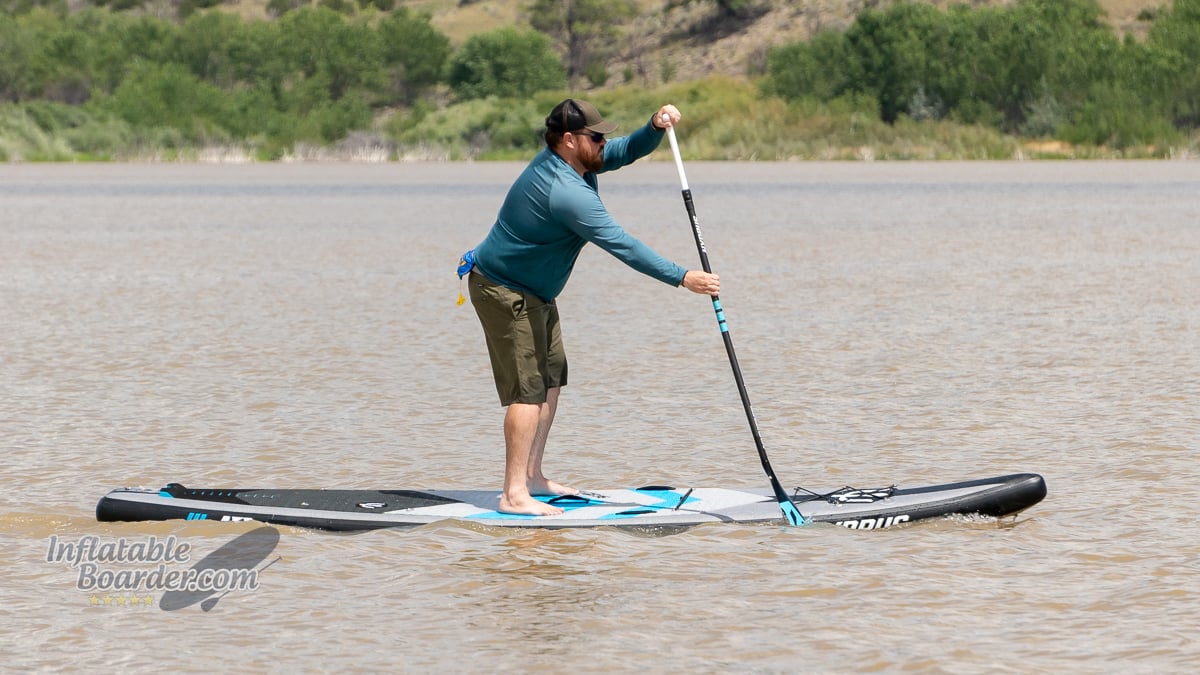 The Hydrus Tough Blade carbon fiber paddle is built to tackle even the toughest whitewater paddling. The high-aspect (rectangular) paddle blade has a large surface area (96 square inches) for maximum hold and power when you need to make quick turns and quick acceleration. The blade is made with Hydrus Board Tech's proprietary Armalight material. The actual makeup of this material is a closely-guarded secret, but appears to be a blend of composite materials with a thermoplastic resin or coating. The blade is extremely stiff and has a slight dihedral along the spine of the blade to help eliminate paddle flutter.
The shaft is made of carbon fiber and has a stiff feeling with 90mm of measured flex. The adjustable handle section is made of fiberglass with a molded fiberglass palm grip and molded finger grooves. The handle uses a standard clamping collar and has an indexing groove to keep the grip properly aligned with the blade. There are markings on the handle to indicate length, but no length measurements. When put together the pieces of Hydrus Tough Blade paddle fit together well with only a tiny amount of play at the bottom ferrule, but this is not felt or noticed while in use.
On the water, the Hydrus Tough Blade paddle puts out a lot of power thanks to its stiff construction and large blade. It allows for quick acceleration and turning. The finger grooves in the handle fit my hand well, and they "disappear" from notice after the first few strokes. The Hydrus Tough Blade paddle is fantastic for a variety of conditions, especially for larger paddlers, river paddlers, and those who like the feel of a stiff paddle in the water. Smaller paddlers (under 140 lbs) may find the blade to be too large to use for long periods of time.
---
Hippostick AL 8.0 EXP
Pieces: 1 or 2 Pieces
Weight: 18.6 oz (72")
Length: Cut to Length or 65-85"
Blade: 87 sq in; 16.0" x 7.875"; 10° angle
Materials: 30% Carbon Fiber, 70% Fiberglass
The Hippostick AL EXP is a racing SUP paddle made with high-quality 3K carbon fiber (30%) and fiberglass (70%). It is also available in Hippostick's PRO construction that is 100% 12K carbon fiber. The PRO construction is even lighter and is stiffer than the EXP construction, but costs significantly more and is more delicate. While the AL is primarily a single-piece paddle that is cut to length, it is also available in an adjustable version (EXP construction only). The EXP paddle shaft is very stiff (43mm flex) compared to many of the other paddles in our list of stand-alone paddles. The handle has a smooth palm grip made of the same material (EXP or PRO).
The AL blade has a medium-aspect shape with 87 square inches of surface area for the 8.0 (8" wide) size and 81 square inches for the 7.5 (7.5" wide) size. The power face is flat with only a slight spine near the throat of the blade. The time-tested design of the AL has a more traditional shape compared to the high-aspect blade designs of more modern race paddles (like the Hippostick Triple G or Black Project Hydro Flow X). It's still usable at a higher cadence, but is better suited for longer-distance racing with a more moderate paddling rate rather than explosive sprint racing with high-cadence paddling. There's a slight curve on the blade tip that helps provide a more instant catch, and the release is extremely clean.
The rigid blade and shaft give the Hippostick AL EXP the feel of a high-end race paddle at a much more affordable price point. Acceleration is quick and snappy and the 10° blade angle elongates your paddle stroke and keeps the blade better positioned for maximum power throughout the stroke. The extremely light weight of the paddle is well balanced and makes it easy to use for long periods of time and long distances.
---
Thurso Carbon Elite Paddle/Blade
Pieces: 3 Pieces
Weight: 25.7 oz
Length: 69" – 86"
Blade: 85 sq in; 17" x 7.5"; 10° angle
Materials: Carbon Fiber
Thurso Surf treats their paddles a little bit differently. The "kit" Carbon Hybrid paddle uses a carbon fiber shaft with a fiber-reinforced nylon blade. The Carbon Elite paddle uses the same carbon fiber shaft, but with a fully carbon fiber blade. This allows the two blades to be used interchangeably – and allows current Thurso Surf paddle owners to save some money by upgrading just their paddle blade. You can also purchase a complete paddle with just the Carbon Elite blade.
The paddle shaft is made from carbon fiber composite material, including the handle section. It has a medium-stiff flex profile (72mm when loaded). The grip itself is a T-Grip style made with a plastic core wrapped in a rubberized coating for increased grip. T-Grips allow you to grip the paddle more securely by wrapping more of your hand around the grip. They also give very precise feedback about the orientation of your paddle blade in the water compared to the more rounded palm-grip designs.
The Carbon Elite paddle blade is held in place by both a spring button and a collar clamp around the ferrule for an extra tight hold. There's no noticeable play at the paddle blade connection even when shaking the paddle vigorously. The main section of the shaft is actually reversible, so it doesn't matter which end you use for the blade or the handle, and is compatible with a second blade to create a fixed-length kayak paddle.
The 85 square inch blade is medium-sized (and slightly smaller than the 87 square inch nylon paddle blade) with a medium-aspect shape. It's neither fully rectangular nor fully teardrop shaped. Because of this shape it's great for a wide variety of uses. It can produce power quickly with short, fast strokes, but still stays efficient to use for slower, longer strokes for those long-distance days on the water.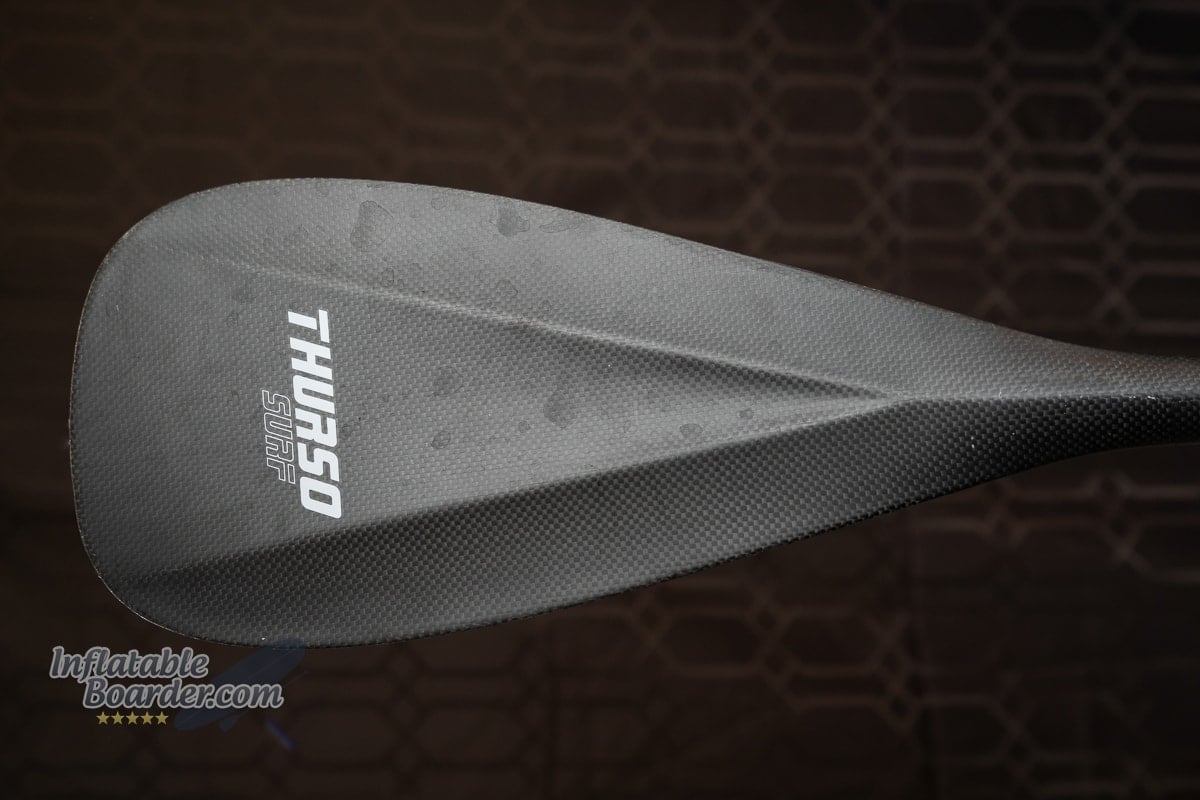 The rigid blade and semi-rigid paddle shaft combined with a medium size blade also work well for a wide range of paddler sizes. Another big difference between the nylon blade of the kit paddle and the Carbon Elite blade is the double-dihedral shape on the powerface of the blade. This shape helps direct water flow around the paddle for a very clean, flutter-free, paddle stroke, even if the blade isn't set squarely in the water. It also has the advantage of creating a sort of pocket to help lock the blade in the water and give it the power output of a larger blade, but in a smaller package.
Overall, the Thurso Surf Carbon Elite paddle is a fantastic upgrade to the standard Thurso kit paddle with a very affordable price tag. It offers great performance for a wide range of conditions and paddlers.
---
Gili Full Carbon
Pieces: 3 Pieces
Weight: 25.6 oz
Length: 68" – 88"
Blade: 93 sq in; 16" x 8"; 10° angle
Materials: Carbon Fiber
The Gili Full Carbon SUP paddle is not only available as a stand-alone purchase, but it can purchased at almost half the price when bundled while purchasing a Gili Sports iSUP*.
Made with 100% carbon fiber and weighing in at just 25.6 oz, the Full Carbon paddle is the lightest and stiffest paddle that Gili makes. The Full Carbon paddle is over a half-pound lighter than Gili's Carbon/Nylon hybrid paddle and is far more balanced in your hands. The carbon fiber shaft has a medium flex profile of just 90mm when loaded in our flex test. This provides good power transfer without being so stiff as to cause fatigue on longer paddle trips.
The blade is wide with a low-aspect, or teardrop, shape. Teardrop-shaped blades are great for lower-cadence paddling or for quickly accelerating with a few fast strokes. The lower ferrule uses a spring clip and a collar-clamp to keep the blade solidly attached to the paddle shaft without any play.
On the water, the Gili Full Carbon Paddle has a balanced swing and clean entry and exit from the water. The large blade and medium-stiff shaft generate lots of power with each stroke. While this can be tiring over long distances (especially for smaller paddlers) it's great for quick acceleration over short distances and for larger paddlers with a slower cadence over longer distances.
---
NRS Rush
Pieces: 2 or 3 Pieces
Weight: 21.4-26 oz
Length: 68" – 86"
Blade: 97 sq in; 18.25" x 8.25"; 8.5° angle
Materials: Fiberglass
The NRS Rush is a high-performance fiberglass SUP paddle built for river runners and paddlers who want an extra large paddle blade to deliver lots of power with fewer strokes.
Both the shaft and blade are made of fiberglass. The NRS Rush is a prime example of not judging a paddle by its materials alone. Not only is the Rush the second-lightest adjustable paddle in our round-up, but it's also one of the stiffest. With just 67mm of flex, the NRS Rush can make many carbon fiber paddles feel like cooked pasta. As mentioned in our Complete Guide to Choosing SUP paddles, composite materials vary widely in their layup and construction to achieve different results. The handle is also made of fiberglass, and while there is no indexing groove to align the handle and blade automatically, it does have a length scale.
The extra-large paddle blade (97 sq in) is heavily tear-drop shaped and extremely rigid. This puts the bulk of the surface area at the tip of the blade for instant power before you even get the whole blade in the water. This type of design is great for surfers and whitewater paddlers who need fast acceleration in just a few strokes. The same design does make it hard to paddle at a fast cadence for long periods of time, and the large blade and stiff construction can be more tiring to use over long distances.
On the water the Rush is lightweight in the hand and easily drives your paddleboard where you want to go. The fiberglass construction is also extremely durable. I used the NRS Rush while working as a river SUP guide for four years before I finally broke it in a whitewater crash (which was definitely my fault!). Overall, the NRS Rush is a great paddle for river-runners and surfers, but can be easily used for casual cruising at a slower paddling pace.
---
Best Stand Up Paddleboard Paddles FAQ
What makes a better paddle, Carbon Fiber or Fiberglass?
Each material has its own advantages and disadvantages. Composite materials (like carbon fiber or fiberglass) are universally "better" for SUP paddles than aluminum. They are lighter, more durable, and can be tuned to offer exact performance characteristics. Carbon Fiber is not inherently better than Fiberglass. Which versions of those materials, how they are made, and how they are put together make a big difference. One of the highest-rated racing paddles among professional SUP athletes uses a shaft that is actually made with a blend of carbon fiber, fiberglass, and aluminum!
Should I get a Teardrop shape or Rectangular shape paddle blade?
Teardrop shape (low aspect) paddle blades are made to be used at a slower cadence (or for only a few quick strokes) and the tip of the blade carries most of the surface area, so even if the entire blade is not in the water it still has a good hold. Rectangular blades are made for faster paddling cadences and for more efficient paddling over long distances. Adjusting the depth of the paddle blade in the water has a greater impact on the amount of force the paddle produces.
What Length SUP Paddle do I need?
Length is determined by what kind of paddling you are doing, your size, your body mechanics, and much more. There is no exact size recommendation based on height, but there are good starting points. Recreational paddlers will typically find that a paddle 8-10" longer than their height is a good starting point. If the paddle blade isn't getting all the way in the water, or your back is hurting, lengthen it. If the paddle blade is going too deep (past the throat) or your shoulders are hurting, then shorten the paddle. Surfers, Racers, and Whitewater paddlers tend to favor shorter paddles (0-6") as their stance is normally lower to the surface of the water.
Should I get a 1 piece, 2 piece, or 3+ piece SUP Paddle?
Single piece paddles will generally be lighter and stiffer than multi-piece paddles, but that will depend on the exact materials and construction. There are high-end 3-piece travel paddles that are lighter and stiffer than some lower or mid-tier single piece paddles. The biggest downside to a single piece paddle is the set length. You have to pick a length and that's it. While they can normally be shortened, they can't be lengthened. Most recreational and intermediate paddlers can get most of the benefits of a single piece paddle, but with adjustability by using a 2 piece paddle. However this still requires a larger amount of room to transport and store compared to 3+ piece paddles.
Best SUP Paddles Final Thoughts
With so many options, choosing a SUP paddle can be difficult. The paddles in our list are all easy recommendations for us to make – we like them all! If you'd like to see some more information about these paddles and more (including several popular "kit" paddles) check out our SUP Paddle Comparison Chart (pdf). We'll keep it updated as we test more new paddles.