Jacksonville, FL-based iROCKER SUP is a fairly new name on the stand up paddle board scene, and the company has a growing lineup of extremely popular inflatable SUP boards and high-quality accessories. Currently, the company has a total of 7 affordable inflatables ranging in size from 10′ to 13'6″ in length.
New for 2018, all iROCKER paddle boards now feature bombproof quad-layer PVC construction for even greater durability, rigidity, and carrying capacity. All iROCKER SUPs are either 6″ or 8″ thick and extremely rigid.
We really like the fact that the iROCKER SUPs come with everything you need to get out on the water. Each board comes with a high-quality pump, paddle, SUP travel backpack, leash, and repair kit.
Another big selling point of the iROCKER SUP line is their excellent 2-year warranty against manufacturer defects and their generous 30-day money-back guarantee. The company has a great track record of providing top-shelf customer service, and it's obvious that customer satisfaction is a high-priority to them.
iROCKER has really raised the bar this year with their redesigned inflatable SUP line. The entire range is extremely well-built, loaded with top-shelf features, and includes one of the nicest SUP accessory bundles on the market. When it comes to durability, performance, and overall value, this season's iROCKER line is tough to beat.
Where to Buy iROCKER Paddle Boards + Special Offer Discount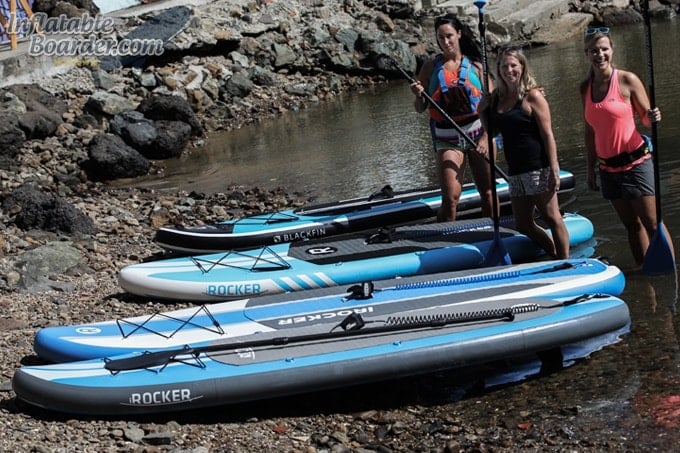 If you're looking for the best deal on an iROCKER SUP, we recommend ordering your board directly from the company through the official iROCKER online store. iROCKER offers fast, free shipping, the lowest prices, and no sales tax on all non-Florida orders. If you happen to live outside of the U.S., you can also place direct orders from iROCKER through the following links: Canada, UK/EU, Australia, and Germany
Also, if you're looking for a 2018 iROCKER coupon code or promo code to save some additional money, you can go here to take advantage of the great combo promotion the company is currently running (the special discount will be automatically applied at checkout, no code needed). This will get you the lowest price on iROCKER's new 2018 models.
Additionally, Amazon also has iROCKER inflatables in stock and ready to ship.
iROCKER Paddle Boards Comparison Chart
iROCKER Inflatable SUP Reviews (2018)
iROCKER CRUISER 10'6″
The iROCKER CRUISER 10'6″ SUP features a wide profile that delivers excellent overall stability. This board measures 10'6″x33″x6″ and weighs in at 25 pounds. The max capacity is 400 pounds, so it's a good option for heavier paddlers and bringing along a decent amount of gear. The extra large bungee storage area at the board's nose and D-rings along the rails give you plenty of places to secure your gear. For more details on this model, check out our iROCKER CRUISER review (newly updated for 2018).
---
iROCKER ALL-AROUND 10′
Measuring 10'x32″x6″ and weighing in at 24 pounds, the iROCKER ALL-AROUND 10′ SUP is a stable inflatable paddle board that is suitable for a wide range of paddling activities. This board has a maximum weight capacity of 370 pounds and it also features a generous bungee cord storage area at the nose and additional D-rings for securing your belongings. New for 2018, iROCKER has also added neoprene safety grips at the nose which is great if you paddle with small children. Check out our updated 2018 iROCKER ALL-AROUND 10′ review for more info.
---
iROCKER ALL-AROUND 11′
The larger board in iROCKER's popular ALL-AROUND series, the iROCKER ALL-AROUND 11′ weighs in at 27 pounds and measures 11'x32″x6″. This board has a higher max weight capacity (435 pounds), so it's an excellent choice for larger paddlers. The ALL-AROUND 11′ features all of the same specs as the 10′ model, but in a larger package. If you're looking for a versatile 11′ board that is affordable and well-built, the iROCKER ALL-AROUND 11′ iSUP is one that should be on your radar. For more info, check out our full-length iROCKER ALL-AROUND 11′ review (updated for 2018).
---
iROCKER SPORT 11′
The first board ever released by iROCKER, the iROCKER SPORT 11′ model measures 11'x30″x6″ and is a good choice for larger, more experienced paddlers. The iROCKER 11′ SPORT can support up to 385 pounds, and it rolls up to just 33″ x 13″ when fully deflated. The SPORT 11′ is slightly faster than iROCKER's other models, but it's not quite as stable. The SPORT 11′ comes with everything you need to get started. To learn more about this board, be sure to check out our iROCKER SPORT 11′ review.
---
iROCKER BIG BLUE
The biggest inflatable paddle board ever released by iROCKER, the massive iROCKER BIG BLUE is a super fun, oversized multi-paddler model that measures 13'6″x50″x8″.
Capable of carrying up to five paddlers and weighing in at 60 pounds, the iROCKER BIG BLUE is the perfect board for group fun on the water. Included with the BIG BLUE are two fiberglass paddles and either an electric pump or two dual-action manual pumps.
---
BLACKFIN Model X 10'6″
Brand new for 2018, the BLACKFIN Model X is part of iROCKER's impressive new line of higher-end inflatables. Measuring 10'6″x35″x6″ and weighing in at 29 pounds, the Model X offers extreme stability and is currently the company's widest board. The premium BLACKFIN line comes loaded with top-shelf features like carbon rails, twin bungee storage areas, upgraded U.S. fin boxes, carbon paddles, dual-chamber SUP pump, and wheeled roller backpack. To learn more about this brand new model, check out our BLACKFIN Model X review.
---
BLACKFIN Model XL 11'6″
The larger of the two boards currently offered in iROCKER's premium BLACKFIN line, the Model XL measures 11'6″x34″x6″ and weighs 32 pounds. This board has an impressive max weight capacity of 485 pounds and is a great choice for larger, heavier paddlers who want an extremely well-built, feature-rich inflatable SUP. Like the smaller Model X, the BLACKFIN Model XL is a super versatile iSUP that is built like a tank and can handle anything you throw at it. Be sure to read our in-depth BLACKFIN Model XL review to get the scoop on this impressive new board.
---
Available iROCKER SUP Accessories
---
Location of iROCKER Paddle Boards' Headquarters