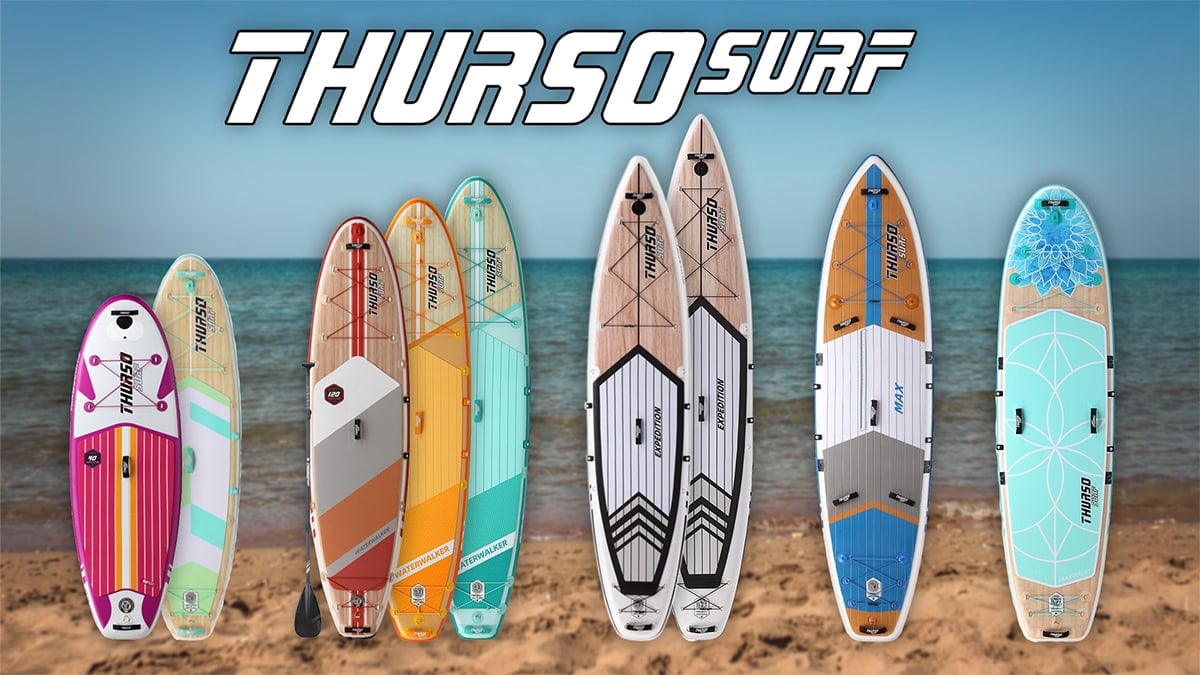 Thurso Surf began in 2016 when two life-long friends – one an engineer and one with a background in the SUP industry – teamed up to create a company to develop higher-quality and experiment-driven designs to maximize performance on the water. Since then Thurso Surf has developed a complete lineup of inflatable paddle boards for paddlers of all sizes and ages.
Why We Recommend Thurso Surf iSUPs
Thurso Surf has always been focused on producing high quality and high performance products for stand up paddleboarding. By adjusting and balancing the different materials and constructions available and using high-tech designs, Thurso has created a full lineup of boards that balance well on the water and in your budget. There are options for Thurso Surf iSUPs for children, youth, and adults of all sizes. The Waterwalker series has long been a favorite all-around iSUP of ours for its great rigidity, performance, versatility, and excellent value.
Thurso didn't stop their innovations at the paddle board either. Each board comes with a carbon fiber paddle that's designed to work seamlessly as a SUP paddle or convert to a kayak paddle with an optional second blade. You can even swap out the fiber-reinforced nylon blade with a full carbon fiber blade for better speed and long-distance efficiency without needing to buy a whole new paddle – something I've not seen offered by any other company. The Prodigy Jr., even gets its own special paddle designed for smaller kids.
2023 Thurso Surf Inflatable Paddle Boards Compared
---
Thurso iSUP Reviews (2023)
Thurso Waterwalker 132
Budget All-Around SUP | 11' x 31″ x 6″
The Waterwalker 132 is one of Thurso's most popular iSUPs and one we regularly recommend to our readers looking for an all-around paddle board. The Waterwalker 132's construction includes carbon fiber reinforced rails for increased durability, a dual-layer Fusion PVC skin for increased rigidity and weight reduction, and standard US- and Dual-Tab fin boxes for maximum fin compatibility.
With a largely parallel shape that carries its 31" of width well in front and behind the standing area, the Waterwalker 132 is stable enough for beginners, but glides very well for those venturing out farther from the shore.
Included with the board is a high-quality carbon fiber/nylon hybrid adjustable paddle, sleek accessory-management organizer, and an electric pump for hands-free inflation.
---
Thurso Waterwalker 126
All-Around iSUP | 10'6″ x 31″ x 6″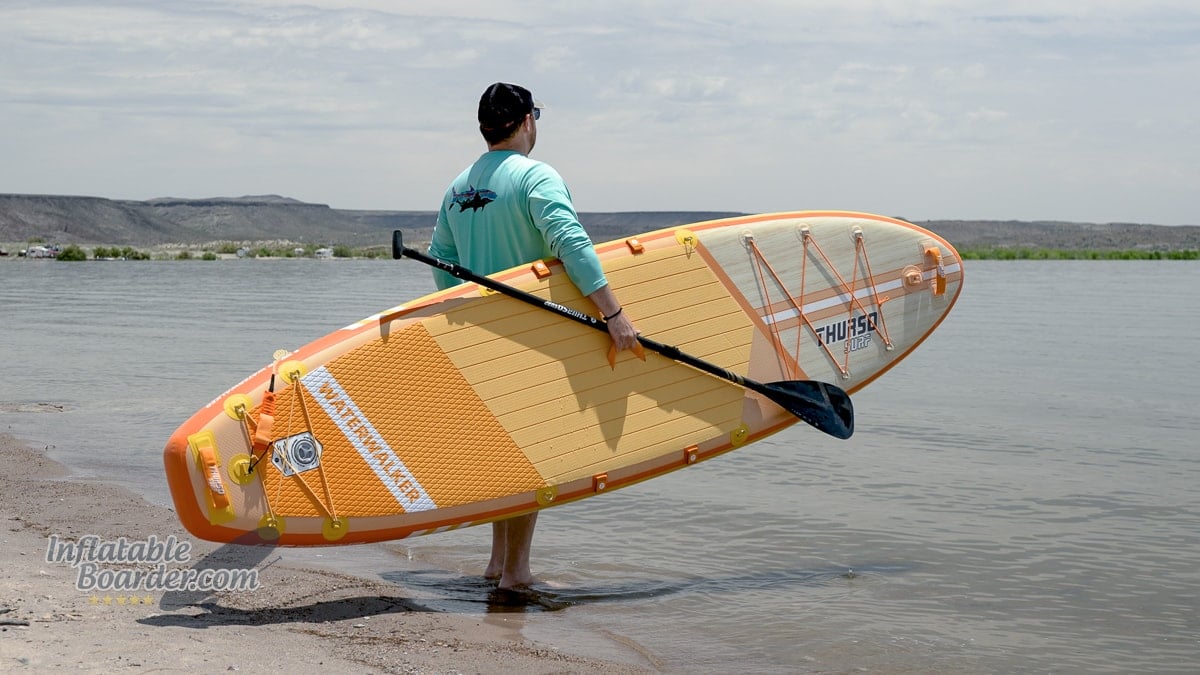 The Thurso Waterwalker 126 has more in common with the larger Waterwalker 132 than not. With the same excellent construction, high quality set of accessories (including a battery or 12v-powered electric pump), and great performance on the water it can be a hard decision between these two iSUPs.
The Waterwalker 126's shorter length makes it slightly lighter and more maneuverable than the longer Waterwalker 132. The Waterwalker 126 is great for paddlers on smaller bodies of water, flat-water rivers, and for paddlers up to around 180 lbs. Heavier paddlers up to around 220 lbs should size up to the Waterwalker 132.
---
Thurso Waterwalker 120
All-Around iSUP | 10′ x 30″ x 6″
The smallest of Thurso's all-around iSUP offerings – the Waterwalker 120 – is ideal for smaller paddlers up to 140 lbs. The 10' length makes this board easy to maneuver on the water. While the 30" width does reduce the overall stability of the board, it also helps improve its speed and efficiency compared to wider iSUPs.
Of course the Waterwalker 120 is still built to the same standards as the Waterwalker 126 and Waterwalker 132, however it has not yet received a construction refresh like the larger boards. It still has carbon fiber rail reinforcements and high-quality dual-layer PVC, but uses flip-lock style fins and comes with a high-quality double-chamber/triple-action hand pump.
---
Thurso Max Multi-Purpose
Large All-Around/Fishing iSUP | 11′6" x 34″ x 6″
The Max Multi-Purpose iSUP is the largest of Thurso Surf's all-around paddle boards. At 11'6" long and 34" wide, the Max is a great option for heavier paddlers over 220 lbs, SUP anglers, and paddling with kids or pets. The full-length deck pad allows you to use all of your board without you or your passengers slipping on bare PVC.
The wide tail and broad nose give the Max amazing stability for paddling, fishing, or even some yoga (though the Thurso Tranquility provides a larger uninterrupted space for the dedicated SUP yogis). With multiple mounting points in front and behind the board, kayak seat compatibility, lots of cargo space, and US- and Dual-Tab fin boxes, the Max Multi-Purpose can be customized to fit just about any adventure.
---
Thurso Expedition 150
Touring iSUP | 12′6" x 30″ x 6″
The Expedition 150 is Thurso's dedicated touring iSUP. At 12'6" long and 30" wide, the Expedition 150 is designed for efficiency and speed while still being able to carry everything you need. The large front cargo area, dual paddle holders and additional storage in the rear make it easy to load up for an afternoon of exploration or a full-blown multi-day expedition.
With a lower nose rocker, the Expedition 150 cuts through the water and tracks straight over long distances. Upgrading the included carbon fiber/nylon paddle with the Thurso Carbon Elite Paddle Blade helps those miles fly by with increased paddling efficiency and a lighter swing weight.
---
Thurso Expedition 138
Touring/Fitness iSUP | 11′6" x 28.5″ x 6″
The Expedition 138 shares the same fast and efficient shape and profile as the larger Expedition 150, but reduces both the length and the width to 11'6" x 28.5" (measured). This smaller Expedition makes for an excellent day-touring and fitness iSUP for smaller paddlers up to 180 lbs. The narrower outline does reduce stability from the 30" version, but keeps the board moving very quickly through the water. For those looking for an excellent workout or a fast, but still maneuverable board for smaller bodies of water or flat-water rivers, the Expedition 138 is your answer.
---
Thurso Tranquility
Yoga iSUP | 10'8" x 34″ x 6″
The Thurso Tranquility is an inflatable paddle board for the dedicated SUP yogi. The 34" width of the Tranquility is carried nearly the entire length of the board and ends with a very wide square tail and broad rounded nose for maximum stability. The deck pad covers over 8' of length and 30" of width – about 50% more area than a standard yoga mat. The center carrying handles have been shifted to the side of the board to allow you to use the center area unobstructed and the paddle holders keep your paddle securely out of the way while moving through your Vinyasa.
---
Thurso Prodigy Jr.
Children's iSUP| 7'6" x 30″ x 4″
The Thurso Prodigy Jr. is a specially-designed inflatable paddle board just for kids. By not only shortening the board, but also reducing its width and thickness, Thurso has eliminated many barriers to kids learning to paddleboard on their own. The narrower shape is easier for kids to reach over to paddle forward more effectively, and the thinner profile reduces weight, windage, lowers their center of gravity for better stability, and makes it easier to climb back on the board after falling (or jumping) off. Thurso also includes a kid-size paddle with the prodigy without skimping on the material – it's the same carbon fiber/nylon hybrid design as Thurso's full-size boards.
---
Thurso Adept 108
Youth iSUP | 9' x 28″ x 4.7″
The Thurso Adept 108 is the perfect iSUP for older kids and tweens that want to paddle on their own, but aren't large enough for a full-size adult paddle board. This 9' board shares the same construction principles as the full-size Waterwalker series with carbon fiber reinforced rails and a stable, but efficient board shape. There is plenty of cargo space for younger paddlers to carry their own daily essentials, and it even has a GoPro mount built into the nose to record their adventures.
---
Thurso Accessories
Every Thurso paddle board includes a variety of high-quality accessories. Each includes a carbon fiber/nylon hybrid paddle (that can be converted to a kayak paddle if desired), coiled ankle leash, fins, repair kit, and pump. The new 2023 Waterwalker iSUPs include a battery powered electric pump (with an adapter to use 12v power) while the other Thurso iSUPs include a highly-efficient triple-action hand pump.
Thurso also offers a variety of other great accessories:
Thurso Warranty & Returns Policy
Thurso Surf warranties their iSUPs for 2 years from the date of purchase against manufacturing defects. They also warranty their bags and pumps for 1 year, and paddles and leashes for 60 days. If you aren't satisfied with your Thurso iSUP, they also offer a 30-day period where you may exchange or return your product for a full refund, however you will be responsible for shipping charges. Overall this is a standard warranty and return policy, however Thurso does go above and beyond the norm by offering a warranty on their accessories in addition to their boards. If you have any questions you can reach Thurso Surf via email, web form, and social media.
Thurso FAQs
Is it possible to buy Thurso boards in the UK, Canada, Europe, and Australia?
Thurso Surf iSUPs and accessories are available in the US, Canada, UK, and EU, however they are not currently available in Australia.
How long do Thurso inflatable paddle boards last?
How long any inflatable paddle board will last is dependent on the construction quality and how well you care for it. Thurso Surf takes great care to build their iSUPs with high quality materials and processes. With normal, regular maintenance you can expect your Thurso iSUP to last up to 10 years depending on use and care.
How much does a Thurso inflatable paddle board weigh?
Thurso's iSUPs range in weight depending on the model and size. The Waterwalker all-around iSUPs weigh between 23-25 lbs, the Expedition, Max, and Tranquility iSUPs weigh between 24-29 lbs, and the kids/youth iSUPs between 19-20 lbs. Each iSUP comes with a carrying bag with both a backpack harness and wheels for easy transportation.
Are Thurso iSUPs compatible with kayak seat accessories?
Yes, all of Thurso's iSUPs are compatible with kayak seat accessories. The Carbon Hybrid paddle can be converted to a kayak paddle with an optional second paddle blade as well.
How do you store a Thurso inflatable stand up paddleboard for winter?
When the time comes to store your board away for more than a few hours (whether that's a few days or a few months) make sure the board is clean and totally dry before rolling it up with the included board strap. Store your board out of the sun in a dry location and avoid extreme temperatures. If you do have to store your board outdoors, make sure it is kept out of the sun and protected from the elements. If it is stored in temperatures over 100° F or below 40° F, bring the board indoors for a few hours to allow the PVC temperature to normalize prior to rolling, unrolling, or inflating the board.