THURSO SUP Reviews | 2022 New Paddle Boards Compared
Inflatable Boarder is reader-supported and may earn a commission when you buy through links on our site. Learn more
Founded in 2016, Canada-based THURSO SURF wasted no time in establishing itself as a go-to SUP company for durable, affordable, and value-packed inflatable paddle boards. Currently, the company features seven iSUP in its impressive lineup with models ranging in size from 7'6″ to 11'6″ in length.
In addition to THURSO's popular inflatable SUPs, they also have a growing range of accessories including paddles, a kayak seat, an electric iSUP pump, apparel, and more.
Why We Recommend Thurso SUPs
Thurso has earned a well-deserved reputation for designing and building quality paddle boards. Their Waterwalker series of all around SUPs in particular demonstrate their attention to sharp aesthetics and careful design. Founder Shenglong You's background in engineering can likely be credited for this attention to detail.
Not satisfied to rest on their laurels, the company continues to innovate, introducing carbon fiber reinforced side rails on their Waterwalker SUPs in 2020 and a new woven drop stitch construction in 2022.
The young company has also quickly earned an excellent reputation for providing a high level of customer service. Unlike some other companies who disappear after a sale is made, THURSO truly stands behind all of the gear they make and they'll replace or refund any board with a manufacturing defect within the first 24 months of ownership.
As THURSO SURF has grown, they've also expanded their market, bringing their top rated boards to Canada, the UK and Europe.
THURSO Paddle Boards Compared
What's New for 2022
Thurso has updated its entire Waterwalker family of all around SUPs for 2022. You'll want to check out our individual reviews for all the details, but here are the highlights:
THURSO SUP Reviews
THURSO Prodigy Junior
Kids SUP | 7'6″ x 30″ x 4″
THURSO SURF's Prodigy paddle board is a junior model that measures 7'6″ x 30″ x 4″. This great-looking kids' SUP board weighs 19 pounds and is capable of supporting up to 165 pounds. Included with the Prodigy is a great package of accessories, and this board's build quality, attractive design, and affordability are major reasons why it's one of our top picks when it comes to inflatable paddle boards for children.
Check out our THURSO SURF Prodigy SUP board review to learn more about this great youth model.
THURSO Waterwalker 120 (2022)
All-Around SUP | 10′ x 30″ x 6″
The smallest member of the Waterwalker family, the THURSO Waterwalker 120 is a nimble all-around paddle board that's a lot of fun on the water. A compact 10′ x 30″ x 6″ package, the WW120 is both shorter and narrower than the other Waterwalkers (only most brands that only shorten their 10′ all around SUP). This means the WW120 is a great for smaller paddlers or even kids that have outgrown the Prodigy, but will feel unstable to larger paddlers.
Key highlights include the beautiful woodgrain look, the velcro paddle holders, carbon fiber side rails, new lighter woven drop stitch construction, and top-notch accessories.
Read our THURSO Waterwalker 120 SUP review for more info.
THURSO Waterwalker 126 (2022)
All-Around SUP | 10'6″ x 31″ x 6″
Their mid-sized all around paddle board, the THURSO Waterwalker 126 measures 10'6″ x 31″ x 6″. This model features the same basic shape and features as the other Waterwalkers. Thurso scales both the width and length of its all around SUPs, so the WW126 is a good option for small to medium size paddlers who may find the WW120's 30″ width a bit too unstable for their preferences.
Key highlights include the beautiful woodgrain look, the velcro paddle holders, carbon fiber side rails, new lighter woven drop stitch construction, and top-notch accessories.
Check out our THURSO Waterwalker 126 SUP review for more details.
THURSO Waterwalker 132 (2022)
All-Around SUP | 11′ x 32″ x 6″
The THURSO 132 Waterwalker is the flagship of the Waterwalker family and the first board that the company launched. It measures 11′ x 32″ x 6″ and weighs in at 26 pounds. We recommend this as the default board size for almost all paddlers — the length and width will provide extra stability without compromising speed. Even smaller paddlers will find the new lighter boards easy to maneuver.
Key highlights include the beautiful woodgrain look, the velcro paddle holders, carbon fiber side rails, new lighter woven drop stitch construction, and top-notch accessories.
For more info, be sure to read our in-depth THURSO SURF Waterwalker 132 SUP board review.
THURSO Max
Cruiser SUP | 11'6″ x 34″ x 6″
A brand new addition to the company's inflatable SUP lineup, the THURSO SURF Max is a larger all-around board that is designed with versatility and stability in mind. The Max measures 11'6″ x 34″ x 6″ and it comes loaded with dual bungee storages areas, front and rear grab handles, paddle holder, and more.
If you're looking for a large and unbelievably stable paddling platform that can handle your kids, dog, or even another adult, this is a really fun board to consider and the full-length EVA foam traction pad provides added grip for passengers. For more info, check out our detailed THURSO SURF Max SUP board review.
THURSO Tranquility
Yoga/Fitness SUP | 10'8″ x 34″ x 6″
The THURSO SURF Tranquility is an ultra-stable SUP fitness platform that is designed for yoga and pilates workouts. This board measures 10'8″ x 34″ x 6″ and it comes loaded with features that every SUP fitness enthusiast is sure to appreciate. Despite the fact that this board was built specifically with SUP fitness in mind, it is also a lot of fun for all-around paddling and the board's outstanding stability makes it a good option for paddlers who are just starting out.
In addition to the outstanding stability offered by the THURSO Tranquility, we also love the visual design of this board.
THURSO Expedition
Touring SUP | 11'6″ x 30″ x 6″
The THURSO SURF 11'6″ Expedition was introduced last season and it's been dramatically improved this year. This board is a touring model that measures 11'6″ x 30″ x 6″ and it weighs in at 28 pounds. The THURSO SURF Expedition is a fast iSUP that tracks extremely well and is perfect for paddling longer distances. It's capable of supporting up to 330 pounds of weight.
To get more details on this new model, check out our updated THURSO SURF Expedition SUP board review.
Frequent THURSO SUP Questions
Is it possible to buy THURSO inflatable paddle boards in the UK, Canada, and Europe?
Yes, THURSO SURF expanded their reach this past year and their iSUPs are now available in the U.S., UK, Canada, Germany, France, Spain, Italy, and Japan. Just click here to be redirected to the online store nearest you.
How do you inflate a THURSO SUP board?
Pumping up one of THURSO SURF's inflatable paddle boards is a very straightforward process. After attaching the inflation hose to the pump and removing the valve cover at the tail of the board, just secure the hose to the valve, flip the pump's setting selector to double action, and begin pumping. Once things get difficult, flip the switch to single action mode and continue inflating the board until the pressure gauge reads 15 PSI.
How do you deflate and fold up a THURSO SUP?
To deflate your THURSO paddle board, unscrew the plastic cap that covers the valve, push down on the valve stem until you hear a loud gush of air, and then give it a 1/4 turn to the left. This will lock the stem into the open position, allowing air to escape from the board. Once most of the air has been released from your THURSO SUP, fold the board from the nose to push out any remaining air and then turn the valve stem a 1/4 turn to the right to close it. Next, screw the plastic valve cover back on and then fold the board up from the tail to the nose. To begin, fold the tail over itself so the fin boxes are facing up. Next, fold the section with the center fin over top of the section with the smaller side fins and then fold everything up together. Once the board is rolled up, you can wrap the nylon webbed compression strap around it to keep things tight.
In the event of a needed repair, what kind of glue should be used to repair a THURSO inflatable SUP?
There are a variety of options that will work just fine but we recommend Clifton Urethane Adhesive.
How much does a THURSO inflatable paddle board weigh?
THURSO inflatable SUPs weigh between 19 and 33 pounds, depending on the model.
Where are THURSO inflatable paddle boards made?
All of THURSO's boards are designed in Toronto, Canada and manufactured in China.
How long do THURSO paddle boards last?
The answer to this question will depend entirely on how well you care for your board. If you avoid leaving the board out in direct sunlight for many hours, rinse it off with fresh water after each use, and ensure that it's completely dry before storing it away, your THURSO SUP should last for many years. Also, keep in mind that every THURSO board is backed by the company's 2-year warranty which covers you in the event of a manufacturing defect.
Optional THURSO Accessories
Check out our Thurso SUP accessories review for more information about their most popular accessories, or follow the links below for current prices and availability.
THURSO SURF Carbon Elite Paddle
THURSO SURF Carbon Paddle Blade
THURSO SURF Nylon Paddle Blade 2020
THURSO SURF Chimera Dual Chamber Triple Action SUP Pump
THURSO SURF Halkey-Roberts HR SUP Valve
THURSO SURF Inflatable SUP Roller Backpack
THURSO SURF SUP Deck Cooler Bag (Read our review)
THURSO SURF SUP/Kayak Seat
THURSO SURF SUP Carry Strap
THURSO SURF Surfboard Wall Rack
THURSO SURF SUP Leash
THURSO SURF SUP Quick Lock Fin Clips 3 Pack
THURSO SURF SUP Quick Lock Fin Set
THURSO Warranty & Return Policy: Our Thoughts
Thurso Surf offers a 30-day money-back policy so you can try the SUP and if you aren't satisfied you will get a full refund. They do not cover return shipping costs. On the other hand – THURSO SURF covers the shipping for a return on a defective board – almost unheard of. But you will have to provide all of the documentation required before they give you a shipping label.
They have a 2-year limited warranty for defects in workmanship which is just about average. Paddles, leashes and pumps have a 60-day warranty and bags get 1 year.
Their website was easy to navigate and find their support information. The warranty is well-written and simple to understand. As we expected, THURSO SURF stands behind their product.
Visit the company's site to read their warranty in full.
Where to Buy THURSO Inflatable Paddle Boards
United States
If you're looking for the best price on THURSO SURF's inflatable SUPs and paddling accessories, we highly recommend purchasing your board directly from the company through their official online store. In addition to their outstanding customer support, you'll always get the lowest price and THURSO doesn't charge shipping or sales tax.
International
THURSO inflatable paddle boards are also available in Canada, United Kingdom, Germany, Europe (France, Spain, and Italy), and Japan. To order a THURSO SUP, click here and you'll be automatically sent to the THURSO's official online store for your country.
Thurso SUP Sales & Discounts Codes
THURSO SURF often has a sale or special promotion available. Here are what we think are some of the best current deals:
THURSO US Sales
THURSO Canada Sales
THURSO UK Sales
THURSO EU Sales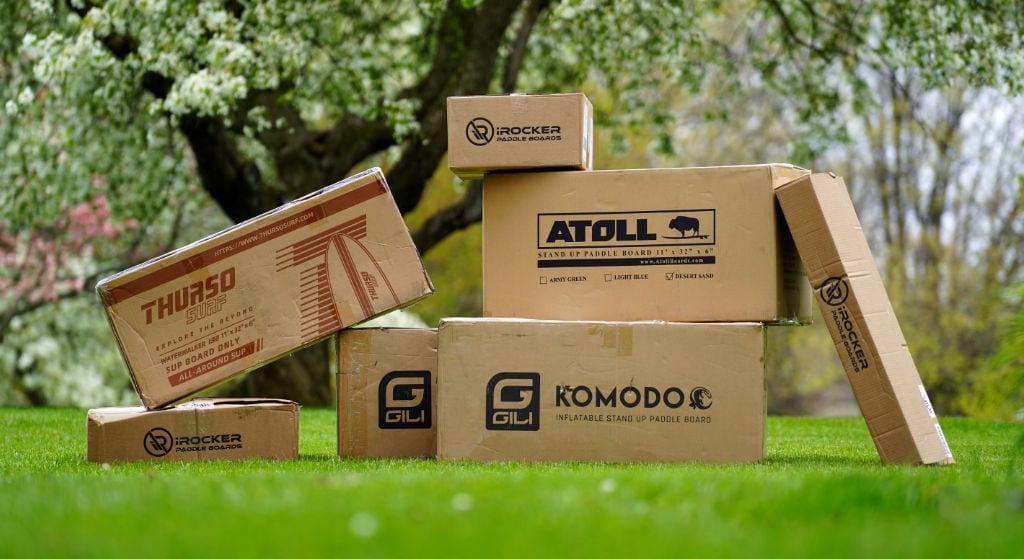 We've Found the Best SUP Sales For You
Check out our Ultimate SUP Deals Page for even more of best SUP sales and paddle board discounts from this and many other top inflatable SUP brands.