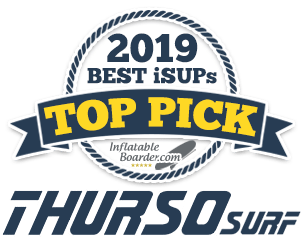 Founded in 2016, THURSO SURF wasted no time in establishing itself as a go-to SUP company for durable, affordable, and value-packed inflatable paddle boards. This season, the company has expanded its iSUP line to 7 impressive models ranging in size from 7'6″ to 11'6″ in length.
In addition to THURSO's popular lineup of inflatable SUPs, they also have a growing range of accessories including paddles, a kayak seat, electric iSUP pump, apparel, and more.
All of THURSO SURF's inflatable SUPs are covered by a rock-solid 2-year warranty and the young company has quickly earned an excellent reputation for providing amazing value and a high level of customer service. Unlike some other companies who disappear after a sale is made, THURSO truly stands behind all of the gear they make and they'll replace or refund any board with a manufacturing defect within the first 24 months of ownership.
Where to Buy THURSO Inflatable Paddle Boards
If you're looking for the best price on THURSO SURF's inflatable SUPs and paddling accessories, we highly recommend purchasing your board directly from the company through their official online store. In addition to their outstanding customer support, you'll always get the lowest price and THURSO doesn't charge shipping or sales tax.
For our Canadian friends, THURSO's boards can be conveniently purchased directly from the company through their new Canada website.
*SPECIAL LIMITED TIME OFFER
Additionally, THURSO is running a special promotion at the moment which will give you $50 off your order when purchasing two THURSO inflatable paddle boards. Just click here, add the boards to your cart, and the discount will be automatically applied to your order when checking out.
THURSO SURF Inflatable SUP Comparison Chart
THURSO SURF 11'6" Expedition
The THURSO SURF 11'6″ Expedition was introduced last season and it's been dramatically improved this year. This board is a touring model that measures 11'6″ x 30″ x 6″ and it weighs in at 28 pounds. The THURSO SURF Expedition is a fast iSUP that tracks extremely well and is perfect for paddling longer distances. It's capable of supporting up to 330 pounds of weight.
To get more details on this new model, check out our updated THURSO SURF 11'6″ Expedition review.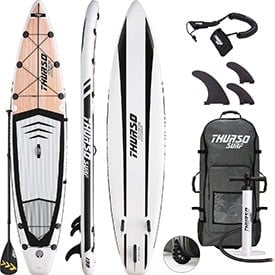 THURSO SURF Waterwalker 11'
The THURSO SURF 11′ Waterwalker is the first board that was launched by the company. It measures 11′ x 32″ x 6″ and weighs in at 25 pounds. Although billed as an all-around model, this board definitely features more of a touring shape. The board's top deck has a beautiful woodgrain appearance and is covered by a handsome two-piece ribbed traction pad. There's also a bungee storage area at the nose, along with an additional D-ring for towing.
For more info, be sure to read our in-depth THURSO SURF Waterwalker 11′ review.
THURSO SURF Waterwalker 10'6"
A slightly smaller version of the company's first model, the THURSO Waterwalker 10'6″ SUP measures 10'6″ x 31″ x 6″. This model features the same shape and look as the 11′ model, but THURSO has incorporated a new grab handle at the board's nose.
A fun board that is versatile and absolutely perfect for smaller paddlers who don't need a larger 11′ iSUP, the 10'6″ offers a nice blend of stability and maneuverability. Check out our freshly updated THURSO Waterwalker 10'6″ review for more details.
THURSO SURF Waterwalker 10'
The smallest member of the Waterwalker family, the 10′ Waterwalker is a nimble all-around iSUP that's a lot of fun on the water. Offering all of the features of THURSO's 10'6″ and 11′ Waterwalker SUPs in a more compact 10′ x 30″ x 6″ package, the WW120 is an ideal choice for smaller paddlers.
We love the bold orange colorway of the Waterwalker 120 and it looks great on the water. While not designed primarily with speed in mind, this is a surprisingly quick little board that is incredibly easy to maneuver. Read our THURSO Waterwalker 10′ review for more info.
THURSO SURF Prodigy 7'6" Junior Board
THURSO SURF's Prodigy paddle board is a junior model that measures 7'6″ x 30″ x 4″. This great-looking kids' SUP board weighs 19 pounds and is capable of supporting up to 165 pounds. Included with the Prodigy is a great package of accessories, and this board's build quality, attractive design, and affordability are major reasons why it's one of our top picks when it comes to inflatable paddle boards for children.
Check out our THURSO SURF Prodigy SUP review to learn more about this great youth model.
THURSO SURF Tranquility 10'8"
The THURSO SURF Tranquility is an ultra-stable SUP fitness platform that is designed for yoga and pilates workouts. This board measures 10'8″ x 34″ x 6″ and it comes loaded with features that every SUP fitness enthusiast is sure to appreciate. Despite the fact that this board was built specifically with SUP fitness in mind, it is also a lot of fun for all-around paddling and the board's outstanding stability makes it a good option for paddlers who are just starting out.
In addition to the outstanding stability offered by the THURSO Tranquility, we also love the visual design of this board.
A brand new addition to the company's inflatable SUP lineup, the THURSO SURF Max is a larger all-around board that is designed with versatility and stability in mind. The Max measures 11'6″ x 34″ x 6″ and it comes loaded with dual bungee storages areas, front and rear grab handles, paddle holder, and more.
If you're looking for a large and unbelievably stable paddling platform that can handle your kids, dog, or even another adult, this is a really fun board to consider and the full-length EVA foam traction pad provides added grip for passengers. For more info, check out our detailed THURSO Max review.