SUP Racing 101 — The Ultimate Beginner's Guide
Inflatable Boarder is reader-supported and may earn a commission when you buy through links on our site. Learn more
The comprehensive beginner's guide to getting started with stand up paddle board racing
By: Kayla Anderson
There's no doubt that stand up paddleboarding is a fantastic way to relax, enjoy the outdoors, and stay in shape. A few years ago, studies showed that SUP was the number one growing outdoor recreational activity for beginners and judging from the evolution of SUP construction and companies on the market, it's continuing to rise.
People have different reasons for wanting to paddle board — whether it's to get in shape, spend time with loved ones, experience nature and explore new places, or meet a community of fellow paddle boarders who are equally passionate about the sport.
Getting into SUP racing can help you get fit, meet new people, and improve your overall health. Paddle board racing is challenging and is a constant learning opportunity. Many people enter SUP races recreationally and athletes from other sports also like to paddle board because it feeds their competitive nature. No matter what is motivating you to get involved, I hope this beginner's guide convinces you to dip a toe into the exciting world of SUP racing.
SUP Racing Gear Needed to Get Started
How to Choose a SUP Racing Board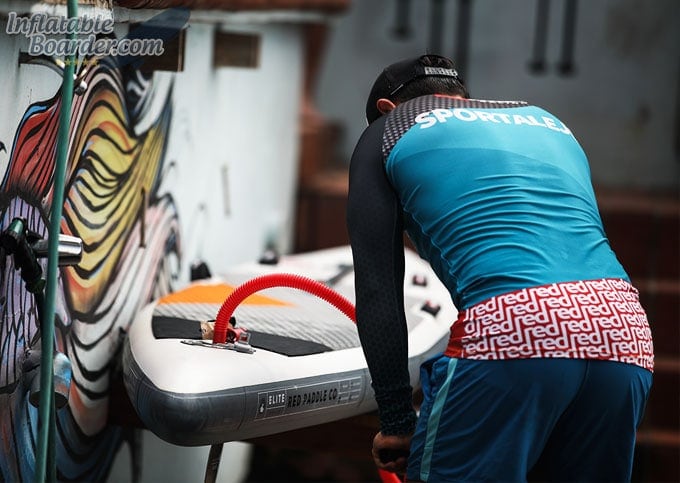 Three important things to be aware of when competing in a SUP race is the design and construction of your board, your paddle, and how those two items complement your ability level. There are both rigid and inflatable paddle boards on the market that can be used for everything from touring, yoga, surfing, and racing — it's important to get the one that's right for you.
When it comes to paddle board design, there are two distinctive types of hulls — planing hulls and displacement hulls. A SUP with a planing hull is flat and has a rounded nose. These boards are wider, more stable, and they bounce over waves whereas a SUP with a displacement hull has a deep, pointy nose that cuts through the waves (like the nose of a ship). Planing hull paddle boards are used in the ocean or for yoga due to their stability, while displacement hulls are preferred for touring and SUP racing because they tend to glide smoothly through flatwater with less resistance.
Modern displacement hull SUPs are light and fast, featuring rounded rails and a pointed nose (some of them also have swallow or pointed tails). There are generally two sizes of boards that people race in SUP competitions — 12'6″ and 14′. Longer boards will help you paddle faster but you sacrifice stability with skinnier boards. A 12'6″ SUP with a displacement hull is recommended for beginner racers because they glide on the water and cut through the waves even when you stop padding. If you get serious about paddle board racing, we recommend trying out different models to find the best racing SUP board for you.
If you decide to go with an inflatable racing SUP, the brands that we'd recommend are Red Paddle Co and Starboard. Both companies have some outstanding inflatable race boards that are extremely fast on the water and offer performance that is quite similar to hard boards.
Paddles
Investing in a good SUP racing paddle will also make a difference in how you perform (and a good paddle can also help to prevent injuries). Paddles that feature a smaller blade and lighter materials will allow you to paddle faster because they slide in and out of the water during the stroke with minimal resistance.
When it comes to choosing a paddle, it's also important to consider water conditions. For instance, fiberglass blades offer more durability which is great for rivers, but for other conditions, paddles with full carbon blades are optimal due to their light weight and improved efficiency. Paddles are available in both custom and adjustable lengths.
Poorly constructed paddles can also lead to injury, so stay away from flimsy, entry-level paddles. For example, a paddle that's made of heavy materials can wear you down as you push through the water, resulting in sore arms and shoulders that last for many days. No matter how good your stroke technique is, you can incur long-lasting injuries from using the wrong paddle.
Be aware of cheap paddles, too. I recently entered a human-powered watercraft race with the sole purpose of beating my older brother. He was in a raft and I was on a SUP so I already had the advantage, but when he came in, I noticed that he broke his $10 aluminum paddle from Walmart. As the saying goes — no matter where or what you're doing on a SUP, you don't want to be up a creek without a paddle. Invest in one that's fast, smooth, efficient…and floats.
Other Important Accessories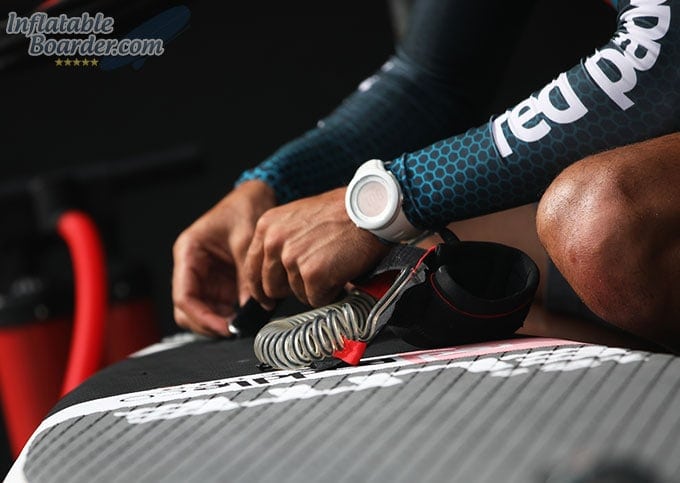 You'll obviously need a board and a paddle when preparing to enter your first SUP race, but there are some other necessities to be aware of. Most race organizations require the use of a SUP leash and a Coast Guard-approved life jacket. Inflatable belt PFDs like the MTI Fluid 2.0 are great for inland lake races — it's a fanny pack looking thing that has a ripcord attached. When you pull the cord, a cartridge releases CO2 causing it to automatically inflate (similar to the life jackets that you see on airplanes). However, in a river race, you'll want a standard life jacket with a breakaway leash attached (we recommend the MTI Vibe life jacket paired with the company's quick-release safety belt).
Besides a mandatory leash and PFD (personal flotation device), there are also some comfort items to have on hand during your race. Regardless of how long the race is, it's important to stay hydrated. Even in races that take less than an hour to finish, you'll undoubtedly get hot, sweaty, and extremely thirsty. Hydration options include a vest hydration pack, water bottle, or LifeStraw which will give you the ability to filter the water you're paddling on in some cases. Remember that you're probably going to be getting lots of vitamin D as well, so don't forget the sunblock, SPF lip balm, and maybe some sunglasses with Croakies attached (a lightweight neoprene band that keeps your glasses on your head).
When I started training for my first paddle board race, I had no idea how to gauge paddling distance. I always referred to my sessions as "paddling to that yellow boathouse out there" or "rounding the bend to Mourelatos Lakeshore Resort and back". Fortunately, a week or two into my first training session I acquired a Garmin Vívoactive waterproof watch. It tracks heart rate, pace, and distances for all sorts of sports using GPS-enabled features. After I picked that up, it was easy to start setting goals and I began to notice big improvements in my time and overall paddling performance. I also like to paddle with some music playing through my waterproof encased iPhone.
Lastly, no matter what your on-water training routine is, if you're paddling solo, always let someone know where you are going and how long you're planning to be gone.
Taking the Next Step — How to Get Started
SUP Race Organizations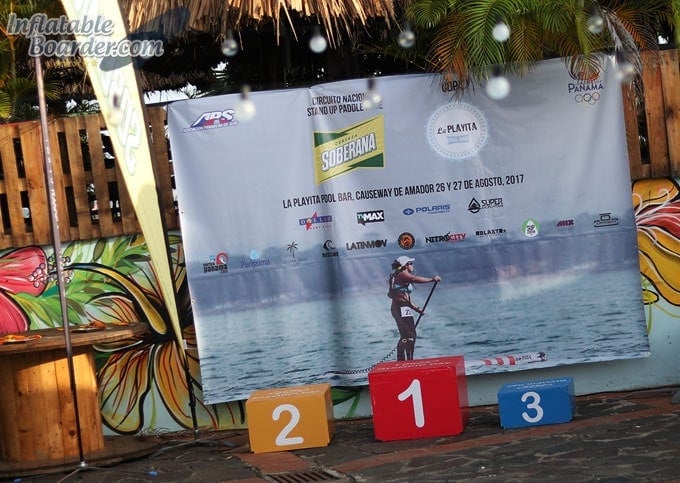 As stand up paddleboarding continues to increase in popularity, so does the SUP race scene. Fortunately, there are organizers all over the world putting together amazing events to bring fellow paddlers together. From night races and poker runs to flatwater and open water race series', there are a large number of race organizations that exist to support the paddling community. Check your local SUP shop to see what races are happening nearby and ask your coach, trainer, and fellow SUP buddies on what they think is most appropriate for you and your ability level.
Paddle Guru is also a great resource for finding events in your area. When I decided that I was going to enter a race, I checked Paddle Guru to see what was coming up in my area and found a "Mike's Sunday Fun Race" event in San Francisco — three hours away from my home pond, Lake Tahoe. I looked up the race course online and called organizer to chat with him about the format. When I showed up on race day, I realized that most of my competition were also beginners, and we did some nice group exercises together before paddling out.
If you can't seem to find any local races, consider launching one of your own — it's a great way to build a paddling community, and you just might be surprised at who shows up.
Type of Races (River, Ocean, Inland Lake)
SUP races are held in all sorts of environments including lakes, oceans, rivers, marinas, and bays, and they can also be open to all sorts of other watercraft such as outriggers, kayaks, surfskis, and prone paddleboards. The types of races that are open to all ability levels are most likely held in inland lakes where the water and weather conditions are more predictable and won't drastically change during the event.
I entered the Sundial Splash in Redding, California a couple of months ago where people kayaked, boarded, and rafted down the Sacramento River in a fun 6-mile race. The waters were pretty mellow Class 1-2 rapids, but being in a river was a totally different experience for me.
Recently, the Pro Watercross held its first SUPcross in Nevada's Sparks Marina. This race involved a closed-circuit course filled with buoys that one had to maneuver around, similar to what you see in a motocross or Jet Ski race. Paddle boarders lined up at the starting gate and tried to beat out the other competitors in each heat, with the top qualifiers advancing to the next round. Quickness, agility, and stamina are the keys to winning an event like this because you're head-to-head with many other paddlers in a 7-15 minute heat.
Whatever type of SUP race you planning to enter, just remember to call the organizer beforehand and ask them any questions you might have in order to determine whether the event is appropriate for your ability level and traveling distance. Also, many paddle shops offer pre-race clinics that are helpful when it comes to preparation and calming any race jitters before the big day.
Taking Lessons
Many local SUP shops also offer introductory SUP lessons, yoga/SUP fitness classes, women's workshops, and camps. For instance, a shop in my area offers a race training series where students learn about racing stance, stroke basics, interval training, buoy turns, race starts, and general fitness instruction.
Even taking a refresher on-water course after a paddling hiatus can help bring back some ideas and tricks that you may have lost during extended periods off the water. Professional SUP instructors can also give you helpful tips like how to properly feather the paddle and how to perfect quick buoy turns that can set you apart from the pack in the middle of a race.
Group Paddles
A few weeks ago in a random Facebook post, a guy in my area said that he planned to paddle on Lake Tahoe's East Shore and that everyone was welcome to join him. He even had extra SUPs that he was willing to rent out for a nominal fee. When he showed up to Incline Beach, a whole group of people arrived to join him for a paddle — those who couldn't make it begged him to host another one. Now, it's turned into a regular, ongoing event and people know when and where to go to find him other new friends to paddle with.
Planning a group paddle or entering a local recreational race is a fantastic way to meet people. Sometimes races don't happen because of bad weather or lack of entries, but you can still paddle together as a group and have a great time. Facebook is an excellent source for finding people and group paddling events in your local area.
Resources
Along with Facebook and Paddle Guru, the World Paddle Association is also a good resource for finding out about officially organized SUP race events in your area. You can also Google your location and "SUP" — related events typically pop up. Lastly, your local paddleboarding shop should also have a pretty good idea of what's going on in your neck of the woods.
How to Train for a SUP Race
Where to Start
Once you've decided to enter your first SUP race, getting a coach or trainer will really help when it comes to formulating a game plan to reach your goals. When I first got into paddleboarding, I decided to enter a 3-mile race that was about a month away. My SUP coach put together a personalized workout plan that included four days a week of on-water training for four weeks. I stuck with it and after the four weeks of training, I showed up and crushed my event. A coach can guide you on what to eat, how to work out, and root you on throughout the entire process.
What To Eat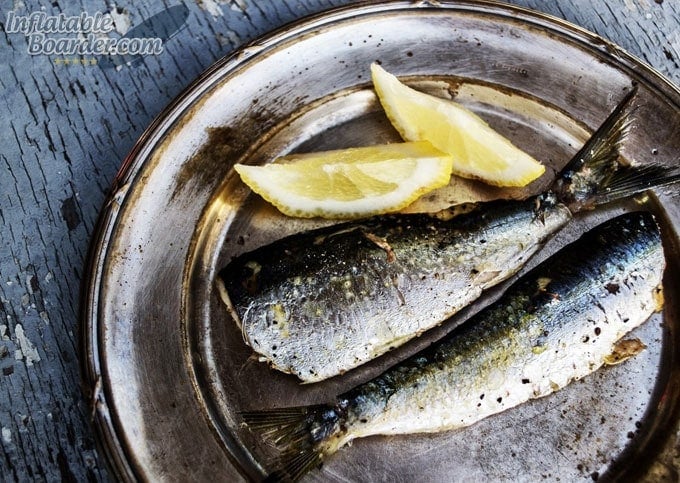 Just like you wouldn't eat a dozen donuts before a gym workout, you should avoid sugar and other foods that will give you cramps and cause a sugar crash mid-race. To ramp your body up for a SUP race, stick with basic, natural and organic foods (common in the paleo diet) that provide sustained energy throughout the duration of the race. Try out foods that are high in heart-healthy fats but aren't too heavy, such as nuts, fish, eggs, yogurt, and coconut oil. It's also important to stay hydrated before, during, and after the race — drink liquids with electrolytes and a decent amount of water.
Your Workout Routine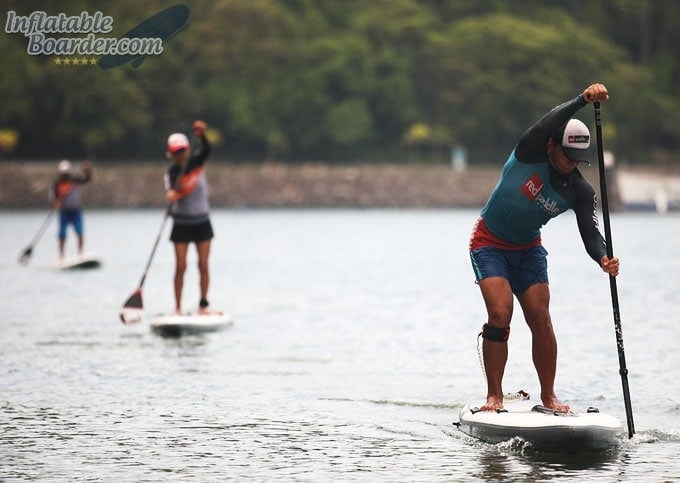 The best way to perform well in a SUP race is to get out on the water and paddle as often as you can. Some experts recommend paddling upstream, in different types of water and weather conditions, and some even train with heavier paddles. I've even gone out in rough conditions with the waves going against me in 7-10mph winds and paddled in place, like being on a treadmill.
However, time constraints as well as weather and water conditions don't always make it possible for on-water training. That's okay — there's plenty you can do off the water as well. Swimming, cycling, running, CrossFit, high-intensity interval training, and lifting weights can all help to build the endurance and stamina needed to perform your best in a race.
Again, a trainer, coach, or SUP expert can assist you in creating a fitness plan so that you come that much closer to reaching your goals.
Developing Strength, Agility, Balance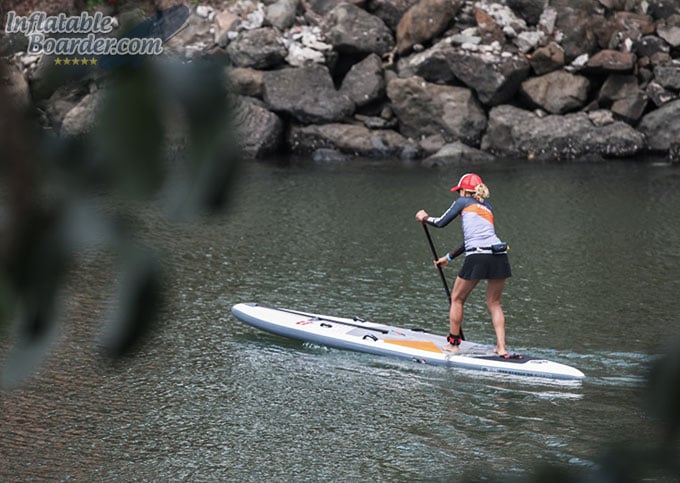 Improving balance, agility, and strength comes with practice, practice, practice. Being on the water as much as possible will not only help your mood and mindset, you'll also begin to feel stronger, fitter, and faster while on the water. When I started paddleboarding, I began to experience fatigue after paddling just a mile and I was averaging a 24-minute per mile pace. After six months of building my arm strength, I was able to shave that down to an 18-minute pace. Some of my joint pain went away, I started sleeping better, and I felt a lot more confident and fit overall.
What to Expect on the Big Day
How To Prepare for the Race
Entering your first race can be a bit nerve-wracking, so it's important to be prepared. Make a checklist in advance of everything you need, including your paddle board (and fins), paddle, leash, PFD, snacks, water, dry bag, cell phone, sunblock, and registration fees. Make sure that you get good directions to the race and show up early so that you can meet your fellow competitors and participate in any safety meetings. Usually, race organizers are pretty good about laying out the course and telling you about important information/obstacles beforehand.
Key Takeaways — Remember to have FUN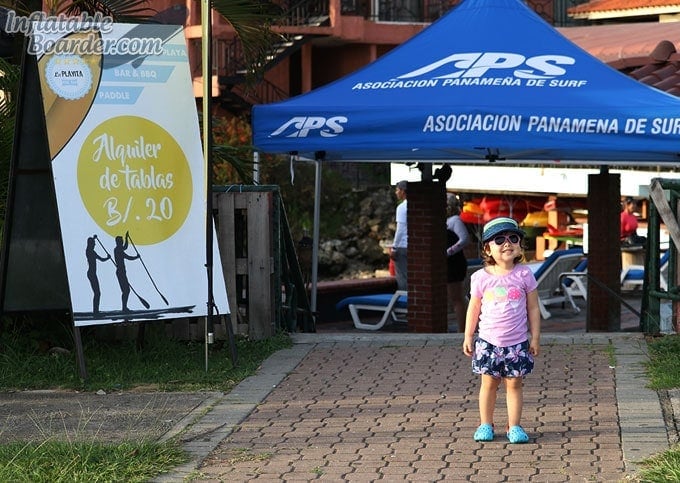 The most important thing about stand up paddle board racing is remembering to smile! The whole point of paddleboarding is to have fun, so even when you're dripping with sweat and dealing with conditions that are a little hairy, just remain focused on how good it's going to feel to cross the finish line. SUP is all about fun, and your body will thank you later for taking the initiative to get out of bed and try something new.
Why You Should Compete in a SUP Race
Entering a SUP race is a great way to socialize with fellow paddlers and improve your general fitness level. I love entering races because I always learn something new and make lots of new friends and paddling buddies. Stand up paddle board racing provides a unique challenge and is an opportunity to continually improve your health, mind, and body in a non-threatening, low-impact way.
I've been so fortunate to be around people who are encouraging and supportive, and I'm grateful to all the SUP race/event organizers out there who are helping to propel our wonderful sport forward. Remember to have fun in your training process and hopefully we'll see you at a SUP race soon!