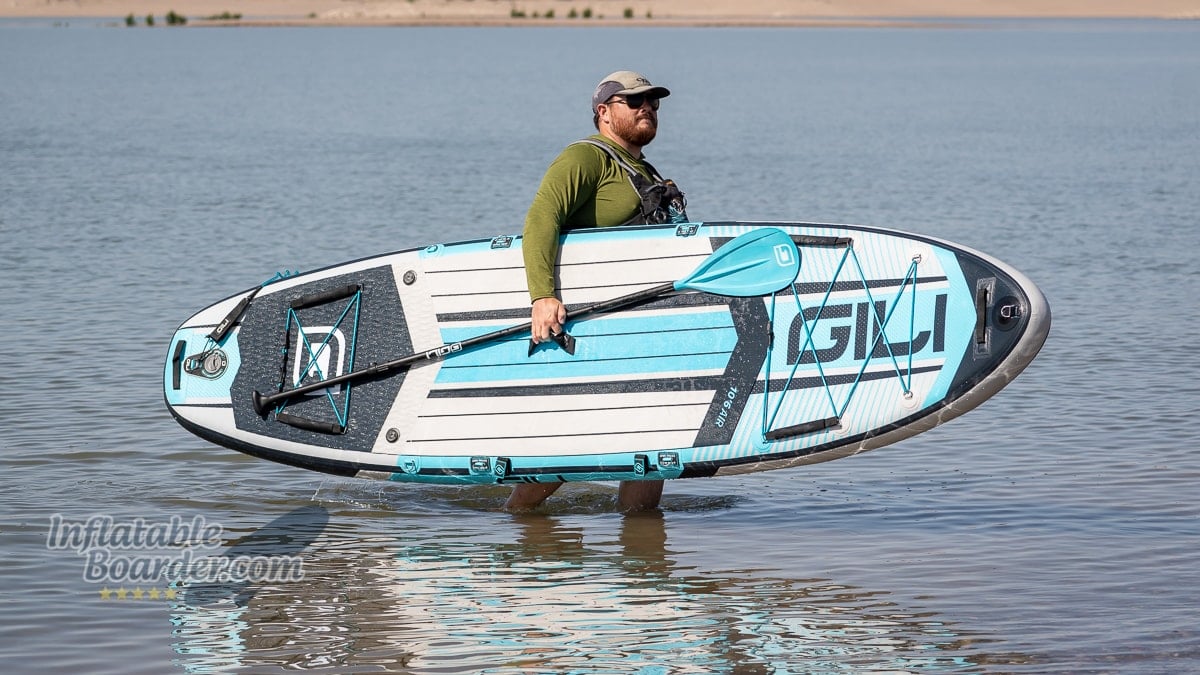 Gili Sports Air 10'6": Overview
The Gili Sports Air 10'6" all-around iSUP offers an excellent value for paddlers just dipping their toes into the waters of Stand-Up Paddleboarding. The Air 10'6" is feature rich, well made, and offers a great mix of stability and performance for beginner paddlers.
— Gili Sports Air 10'6" Summary Ratings and Review —
Gili Sports Air 10'6"
Construction & Durability

Features and Versatility

Stability

Speed

Maneuverability

Tracking
Overall Score
The Air 10'6" is a great budget option for smaller to average-sized beginner paddlers.
Pros
Very maneuverable
Paddle holder
Kayak seat compatible
Removable cargo bungees
Diamond groove deck pad on tail
Great value
Excellent warranty
Cons
Single layer construction
Aluminum paddle should be upgraded to fiberglass
Construction and Durability
The Air 10'6" (and the larger Air 11'6") is a budget-friendly iSUP option by Gili Sports. Both weight and cost are kept to a minimum with the Air 10'6" by using a single-layer PVC construction for the top (deck) and bottom (hull) of the board.
Single-layer construction is still plenty strong enough to withstand normal use for many years, but does not have the same abrasion or puncture resistance as boards made with two or three layers of PVC. The sides (rails) of the Air 10'6" do get a second PVC layer reinforcement which helps with both stiffness and durability.
While paddling, the more flexible construction is easy to notice, particularly for paddlers over 160lb. There is a significant amount of flex while on the water and our standardized bend test produced 3.25" of flex when inflated at the maximum recommended 15psi.
With regular care and maintenance, the Air 10'6" will last a long time, but extra care should be used to avoid any type of abrasion (especially dragging the board instead of carrying) and be wary of over-inflation if you leave the Air 10'6" inflated and off of the water. I do recommend getting a landing mat, tarp, or some other iSUP-friendly barrier to put under the board while inflating/deflating. I'll touch more on the paddle later in this review, however under a note of durability I would like to mention that the aluminum paddle (any aluminum paddle, really) is susceptible to bending if used with a good amount of force. Aluminum is relatively stiff, but once it does flex it will bend permanently rather than spring back into shape like fiberglass or carbon fiber.
Specifications
Dimensions
Length
10' 6"
Width
32"
Thickness
6"
Weight
Max Capacity
280 pounds
Board Weight
19 pounds
Kit Weight
(SUP & accessories)
34 pounds
Buying Info
List Price
$545
Warranty
2 years
Returns period
60 days
Features, Accessories and Versatility
I was very impressed when unboxing the Air 10'6" with just how much Gili Sports was able to fit onto this board and still keep an open feel while standing on the board.
The deck pad is of a typical size for an all-around iSUP, but does add an extra-grippy diamond-groove deck pad over the tail. While I always prefer to have a raised kick pad for better stability when stepping on the tail, the diamond-groove pad really does help make up for the lack of the kick pad. The rest of the deck pad is a soft EVA foam with long grooves to help drain any water that may end up on your board.
The rear cargo area is completely removable. You can use it as-shipped to hold a small dry bag, and the neoprene passenger handles are great for small riders sitting behind the paddler. You can also remove the handles and cargo cord for additional space on the board.
There are a total of nine D-rings on the Air 10'6", but there are also three threaded action mounts placed smartly around the board. These threaded mounts can be used with GoPro or other action cameras, or they can be set up with a number of other accessories like speakers, cup holders, fishing rod holders, etc. The Air 10'6" also includes a velcro paddle holder on the right side of the board. This is great for those who want to try some SUP yoga, or keep their paddle close, but out of the way, for fishing.
Lastly, the Air 10'6" comes with three snap-lock fins. We are big fans of all SUPs having removable fins. Fixed fins, while convenient in that you will never forget them, are also limiting in use and versatility. The included 9" center fin has a touring fin shape – rectangular rather than "fin" shaped – which aids in both stability and tracking.
The carry and storage bag is relatively simple, but not lacking in functionality. iSUPs in this budget range rarely (if ever) include a wheeled carry bag, but Gili Sports goes the extra mile in adding multiple zippered pockets, six compression straps, webbing loops, and a padded side handle.
Paddle
The included paddle has a large, scooped blade made from nylon.
I'm very particular about my paddles, and I always encourage people to try different paddles to see what they like best. However there is pretty much one universal recommendation I make – avoid aluminum paddles. Aluminum as a paddle material has its place in commercial rental fleets where having a low cost paddle is more important than anything else. For personal use, aluminum paddles are heavy, stiff, and have low durability. The base paddle that comes with the Air 10'6" is no exception. It is a heavy paddle (also thanks to the very large nylon blade), but more importantly, the aluminum shaft is really susceptible to bending and damage.
My first time out with the Air 10'6" ended with a very bent paddle after just a few minutes. When aluminum bends like this it cannot be bent back into the correct shape. You can try, but each bend will further weaken the metal. However there is good news. Gili Sports does offer an optional $45 (at the time of this writing) upgrade to their fiberglass/nylon paddle. I highly recommend that anyone purchasing the Air 10'6" or 11'6" also go for this paddle upgrade. It not only prevents issues like deformation, but is also lighter while still being well-balanced.
Stability
The Air 10'6" is on the smaller side of paddleboards, and as such is really meant for paddlers under 5'8" and under 160lb. I'm neither of those, however I still found the Air 10'6" to be quite stable.
While standing flat on the board, there was some noticeable flex and a little bit of wobble from side-to-side, but was overall easy to stand on. Walking on the board did prove to be a little more difficult for me primarily because of the board's flex and noticeable vibration as I moved (both of these being more common in budget-tier iSUPs).
However, when I began to test the secondary stability – or how stable the board is when on its edge – I was really surprised at how well it performed. It did take a little bit of effort to keep the board balanced on its edge (again, I'm not the ideal size for the 10'6" version), but it also was not difficult.
I do attribute part of this stability to the fin design. The rectangular touring-style fin has more surface area than a similar depth "flex" or "fin-shaped" fin. This extra surface area provides more rolling resistance to the board.
Speed
While testing the Air 10'6" for speed I determined three things.
1) Paddling hard produces a LOT of flex
When trying to get a SUP to go as fast as possible it's important to get as much power transferred between the paddle and the board as possible. This means placing your body weight onto the paddle as you begin your stroke and then transferring it back to your feet during the stroke. Doing this causes the board to bob up and down, and with a single-layer iSUP like the Air 10'6", the board also flexes – increasing the depth of this bobbing action. And it was noticeable. This flex also slows the board down as it increases resistance in the water, and shortens the water line of the board, making it turn more with each stroke.
2)It is not quick in acceleration
The board flex and bob really impacts how quickly you can get up to speed. This is exacerbated by the large paddle blade. While it does produce a lot of power with each stroke, the large blade forces you to take slower strokes at a lower cadence, and it adds resistance when taking it out of the water.
3)It can still go pretty quick
Even with the board's flex and the slow acceleration, the Gili Sport Air 10'6" still clocked one of the fastest times in a 100m sprint amongst our budget all-around boards. It also came in with an incredibly quick time during our ¼ mile cruise testing.
Maneuverability and Tracking
Longer paddleboards tend to be less maneuverable for shorter paddlers without some really, really high quality (and advanced) stroke technique. The Air 10'6" is a great size option for shorter paddlers and is very easy to maneuver even at its moderate ten-and-a-half foot length.
The touring-style center fin does increase the turning radius of the board by a little bit, but here we also see a hidden benefit to the Air 10'6" softer construction. Because there is a little bit of flex in the board, the waterline is shortened a little bit during normal paddling. This helps turn the SUP faster, needing only five sweep strokes on average to turn a complete 360° circle. Paddling those sweep strokes in reverse will get you there in three-and-a-half strokes.
Higher maneuverability is great when sticking close to shore and paddling on rivers. Paddlers of all sizes will find the Air 10'6" easy to turn wherever they need to go.
Maneuverability and tracking are often two sides of the same coin. With the high maneuverability of the Air 10'6", we do see a decline in tracking performance. The shorter length and slight bend in the board mean you'll be changing paddling sides or making corrective strokes more frequently in order to keep going straight. While testing the tracking ability of the Air 10'6" I noticed significant course deviation within just a few paddle strokes. Using a combination of canted-forward strokes and bow-draw strokes will keep you paddling straight, but takes a little more effort than desired in a beginner iSUP. If you plan on paddling greater distances where you need more straight-line efficiency, I do recommend looking at the Gili Sports Adventure 11' for greater tracking.
Warranty and Customer Support
Gili Sports offers a two-year warranty on all of their inflatable SUPs, including their budget-friendly options the Air 10'6" and Air 11'6". The included accessories are covered under a 90 day warranty, and the bag is covered for an entire year from manufacturing defects. If you have any questions about, or run into any issues with your Air 10'6", Gili Sports is available via phone, email, social media, and through their website.
Value
The Gili Sports Air 10'6" is a great, wallet-friendly, option for new SUP paddlers looking to try the sport without spending tons of money. The board itself is full of useful features and includes a full cadre of accessories. If considering the Gili Sports Air 10'6" we do highly recommend upgrading the paddle at the time of purchase to the fiberglass option. While this does increase the price of the kit, we feel that it increases the overall value even more making the Air 10'6" a great option for paddlers under 5'8".
Overall Impressions/Review Summary
The Air 10'6" is a fun iSUP ideal for beginner paddlers under 5'8". While it does have some performance flaws, the overall impression left on me by the Air 10'6" is – if it fits and is what your budget allows you're going to have a great time on the water. I do highly recommend upgrading to the fiberglass paddle, though. For paddlers over 5'8" or over 160lb, or paddlers regularly bringing kids or dogs along, you should take a look at the slightly larger Air 11'6". With the same design and materials, but a little more volume, the 11'6" offers a bit more stability and better tracking.
Gili Sports Air 10'6" iSUP FAQ
What is the difference between the Air and Adventure iSUPs from Gili Sports?
The Air 10'6"/11'6" is a low-cost all-around iSUP great for beginners who aren't looking to spend a lot of money, but still want to get on the water. The Adventure 11' is a great mid-range all-around iSUP for those who know they will want to spend more time on the water and want the extra performance and durability from the dual-layer construction. The Adventure 12' is a touring-oriented all-around for those who regularly, but not always, like to paddle long distances and have the skill to maneuver a longer board.
How does the Gili Sports Air 10'6" compare to the Nautical 10'6"?
These two iSUPs are very similar in performance. Most paddlers will have a hard time telling them apart if they were blindfolded. The primary functional differences are the number of threaded multi-use mounts and the fin shape. The Nautical 10'6" does come standard with a fiberglass paddle.
How long does it take to pump up the Air 10'6"?
The included hand pump takes between 6-10 minutes to inflate the Air 10'6" depending on how quickly you pump. Gili Sports also makes a 12v electric pump and optional battery that can easily inflate the board for you.
Can I leave the Air 10'6" inflated, or does it always need to be deflated?
Absolutely, you can leave the board mostly inflated. It's best to reduce the pressure inside the board for storage. Just don't let the board sit out in direct sunlight for extended periods of time, as this can cause damage from over pressurization and long-term damage from UV exposure.
Can I take passengers or pets on the Air 10'6"?
Smaller passengers and pets will certainly enjoy a ride on your Air 10'6". If you do regularly paddle with passengers, we do recommend taking a look at the Air 11'6" or Adventure 11' if your combined weight will be close to the maximum weight capacity of the Air 10'6".
Does the Air 10'6" work with a kayak seat?
Yes. Gili Sports has an optional kayak seat and paddle attachment available. Simply connect the four buckles of the kayak seat to the indicated D-rings in the middle of the board, adjust the tension, and you're ready to go!