Isle Pioneer Pro 11'6″ iSUP Review | 2023
Inflatable Boarder is reader-supported and may earn a commission when you buy through links on our site. Learn more
Isle Pioneer Pro 11'6": Overview
The Isle Pioneer Pro 11'6" is large and in charge. It's a high-capacity all-around paddleboard with a whole lot of versatility. Isle's new Airtech Prolite construction makes the Pioneer Pro 11'6" incredibly rigid and the 36" width makes it massively stable. This is a high performance all-around iSUP for heavier paddlers, tandem paddling, fishing expeditions and more.
Specifications
Dimensions
Length
11' 6"
Width
36"
Thickness
6"
Weight
Max Capacity
380 pounds
Board Weight
26 pounds
Kit Weight

pounds
Buying Info
List Price
Warranty
4 years
Returns period
60 days
— Isle Pioneer Pro 11'6" Summary Ratings and Review —
Isle Pioneer Pro 11'6"
Construction & Durability

Features and Versatility

Stability

Speed

Maneuverability

Tracking

Warranty & Customer Support
Overall Score
The Isle Pioneer Pro 11'6" iSUP is an extremely stable and versatile paddleboard for a wide range of activities.
Pros
Excellent choice for heavier paddlers, paddling with dogs and/or kids, with two adults, fishing, or for heavy expedition paddling
Possibly the most stable all-around iSUP I've ever used due to its size, shape, and rigidity
Durable construction with welded interior seams
Highly rigid due to the 6 Infinity Fiber stringers throughout the board
Maintains efficient glide and decent top speeds despite its 36" width
Fully customizable Isle Link system lets you adapt cargo management, accessories, and even perfectly adjust up to two kayak seats
High weight capacity makes this an expedition-worthy paddleboard and easily capable for tandem paddling
4 year warranty for the board and 2 year warranty for accessories
Cons
The extra large size of the Pioneer Pro 11'6" can be difficult to paddle for smaller paddlers, particularly if under 5'8"
The high weight capacity and great tracking ability make it a good option for overnight trips, but it's not quite as fast or efficient as the touring-centric Explorer Pro models
Construction and Durability
Isle's new Airtech Prolite construction creates a high-quality, rigid, and durable paddle board that manages to still keep a relatively light weight. The Isle Pioneer Pro 11'6" is incredibly stiff and the welded seams increase the board's durability and longevity so much that Isle has doubled their warranty period for it!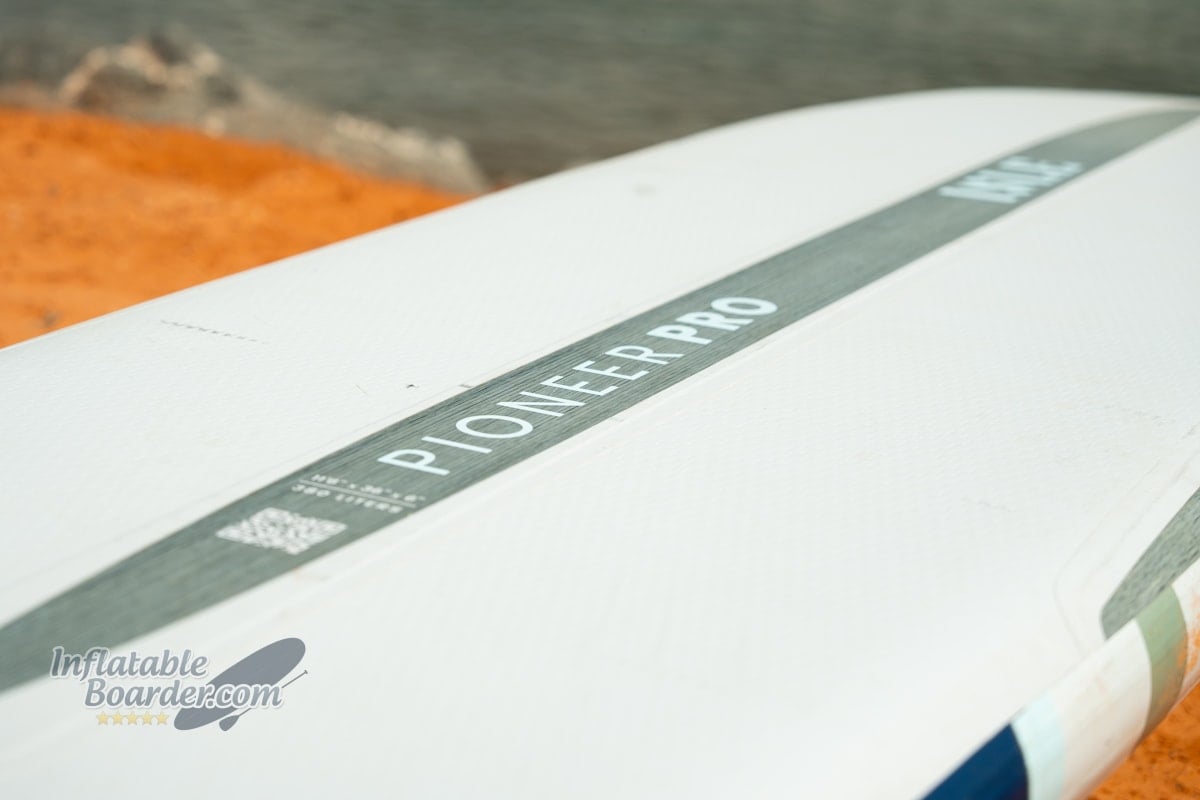 The Airtech Prolite construction is a combination of three different parts. The first is the Airtech Lite internal construction Isle first used with their Switch 2-in-1 iSUP. The drop stitch core gets two upgrades from the previous construction found in the Pioneer 2.0. First the base fabric layer for the deck and hull moved from the standard knitted material to a woven fabric. This reduces weight and increases rigidity. Next the drop stitch space yarns that run from the top to the bottom of the board (keeping it flat when inflated) have changed patterning from a standard V stitch to a X-shaped crossed drop stitch. This also reduces weight and without sacrificing rigidity.
The next upgrade is the move from a double-layer glued lamination PVC material for the deck and hull to a thicker single-layer fusion PVC. With fusion construction the reinforced PVC material is heated and machine-pressed directly onto the fabric base layer to create a physical bond between the two materials. This results in a more rigid and durable construction compared to a standard hand-glued lamination.
With the top and bottom layers built, the board shape is cut out and the edges are brought together with a seam-layer of PVC material (also called an internal rail layer). Typically this seam is glued together, but Isle has switched this to a heat welding process they call Power Fuse. The Power Fuse interior seam mechanically bonds the top, bottom, and rail layer together into one continuous piece of PVC for a more durable construction.
The entire rail (sides) of the board gets another layer of reinforced PVC adhered to help protect the inner rail layer and provide more rigidity. However there is one more construction element that is built into the rails – and on the deck and hull.
Isle's new Infinity Fiber stringer system places 6 stretches of a fiberglass reinforced thermoplastic material around key areas of the board. There are two wide, long stretches of Infinity Fiber that run along the centerline of the board on the deck and the hull. The real magic, though, is in the four stringers that surround the standing area of the board.
These four Infinity Fiber stringers are curved to fit perfectly with the corners of the board where the rail meets the deck and hull. Their curved shape gives them far more rigidity than a flat stringer placed directly on the side of the rail. Similar to how a metal tape measure or an old slap-bracelet works, the curved shape stays rigid until you flatten it out to roll up. When inflated, these stringers work together to create an incredibly rigid inflatable paddleboard.
In our dry-land bend test, the Isle Pioneer Pro 11'6" had 0.906 inches (2.3cm) of bend when loaded with 170 lbs of weight. That was measured with the Pioneer Pro 11'6" at its maximum inflation pressure of 17 PSI. All of Isle's new "Pro" model iSUPs have tested incredibly well in our bend test (between 2.2 and 2.4 cm / 0.866 – 1.025 in) and have taken over the top of our rigidity data.
While out on the water, the Pioneer Pro 11'6" shows off its rigidity very well. Standing and paddling normally produced zero noticeable flex. Even paddling quickly during our speed testing didn't create any noticeable bounce or flex.
To get any amount of flex I had to jump up and down on the Pioneer Pro 11'6", and even at 230 lbs of dynamic movement there wasn't much flex overall. One thing I did notice on the Pioneer Pro 11'6" vs the Pioneer Pro 10'6" and Explorer Pro 12' was a very tight rebounding feeling as the board settled back down. I only noticed this when jumping on the board, but it did feel like a tight trampoline – a quick and powerful rebound that ended rather quickly. I have a feeling I noticed this more on the Pioneer Pro 11'6" because there is physically more distance between the stringers due to the 36" width. At the end of the day, though, if I wasn't bouncing up and down on the board, I didn't have any issues with the rebound! I didn't notice it while standing, walking, or paddling.
Features, Accessories and Versatility
The Pioneer Pro 11'6" has a clean, open, deck, but is also ready for anything. The Isle Link system allows for complete customization for cargo storage and compatibility with a number of accessories including an extremely comfortable kayak seat and a folding fishing cargo box.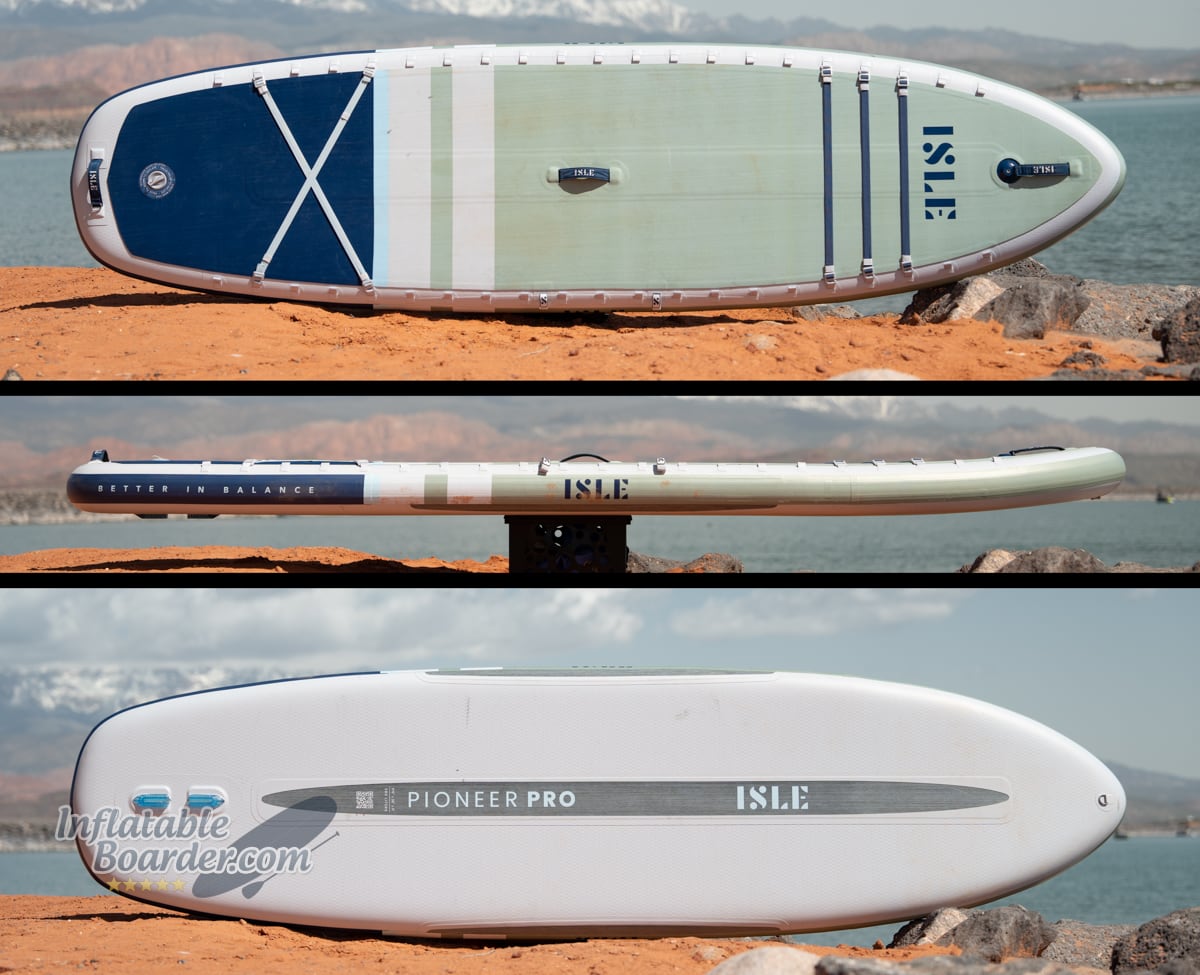 The not-so-secret feature that makes the Pioneer Pro 11'6" so versatile is the Isle Link system. This series of 21 pairs of reinforced nylon tabs is spaced across the entire length of the board. The included Isle Cargo Management System straps can quickly and securely change locations and orientations to best hold whatever equipment you bring along. The G-hooks on the end of the straps simply slide in and out of the Isle Link tabs to move where you want them.
The flat elastic webbing straps can be tightened and loosened at either end to hold your water bottle, flip flops, and even over-sized dry bags. To tighten or loose the straps simply unhook one side of the strap from the Isle Link tab, then slide the webbing through the buckle. Once the G-hook is put back onto the Isle Link tab, the tension in the band and geometry of the buckle keep the strap from slipping.
The Isle Link tabs are also compatible with the Isle inflatable kayak seat and foot brace. This lets you place the kayak seat wherever you want on the board to balance it out for solo paddling, paddling with heavy equipment, or tandem paddling. You can likewise move the foot brace wherever is comfortable to fit your leg length. Isle's collapsible fishing cargo box also secures to the Isle Link system with a set of G-hooks, so you can place your fishing equipment anywhere you'd like.
The Pioneer Pro 11'6" is being offered in a core-kit configuration. This means that with your board you'll get a rolling transportation/storage bag, fin, leash, repair kit and accessory dry bag. The Pioneer Pro 11'6" will not automatically include a pump or a paddle. This allows you to choose the elements that you want to use.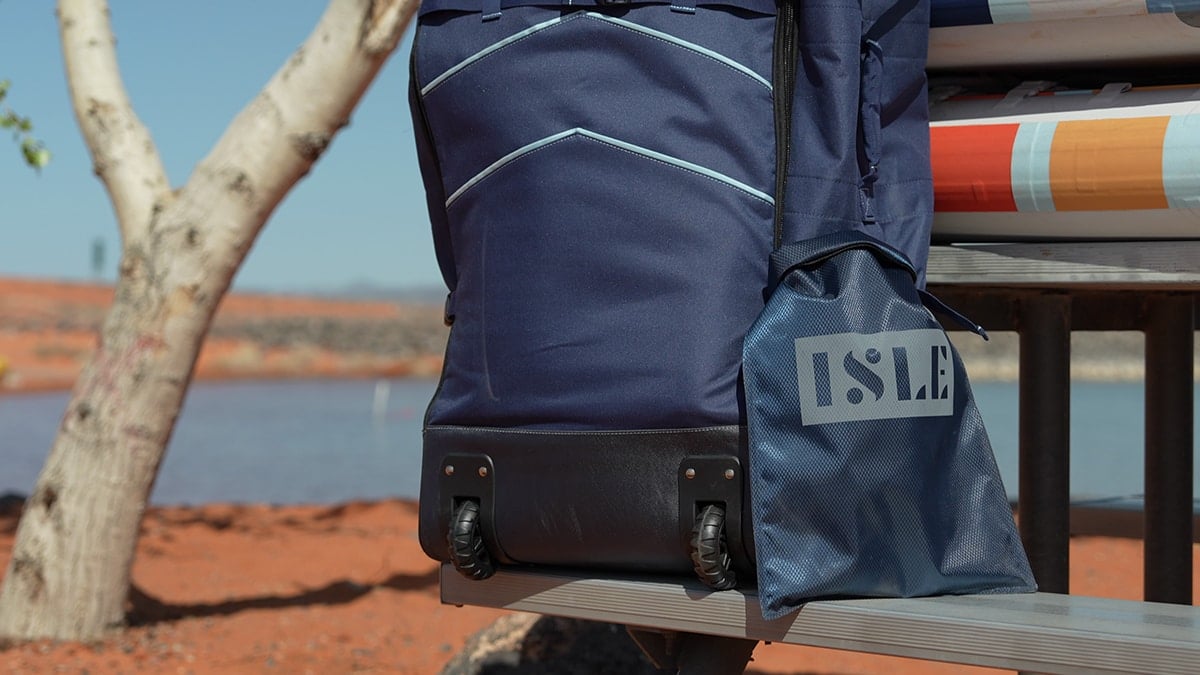 If you want an electric pump instead of a hand pump, you don't have to pay the built-in cost of a hand pump that gets lumped in with your board. If you want a higher quality paddle you can opt for that as well without being forced to purchase a "kit" paddle as well. Isle has a wide range of paddles and pump options, as well as other accessory items, that are compatible with the Pioneer Pro 11'6" so you can build your own kit.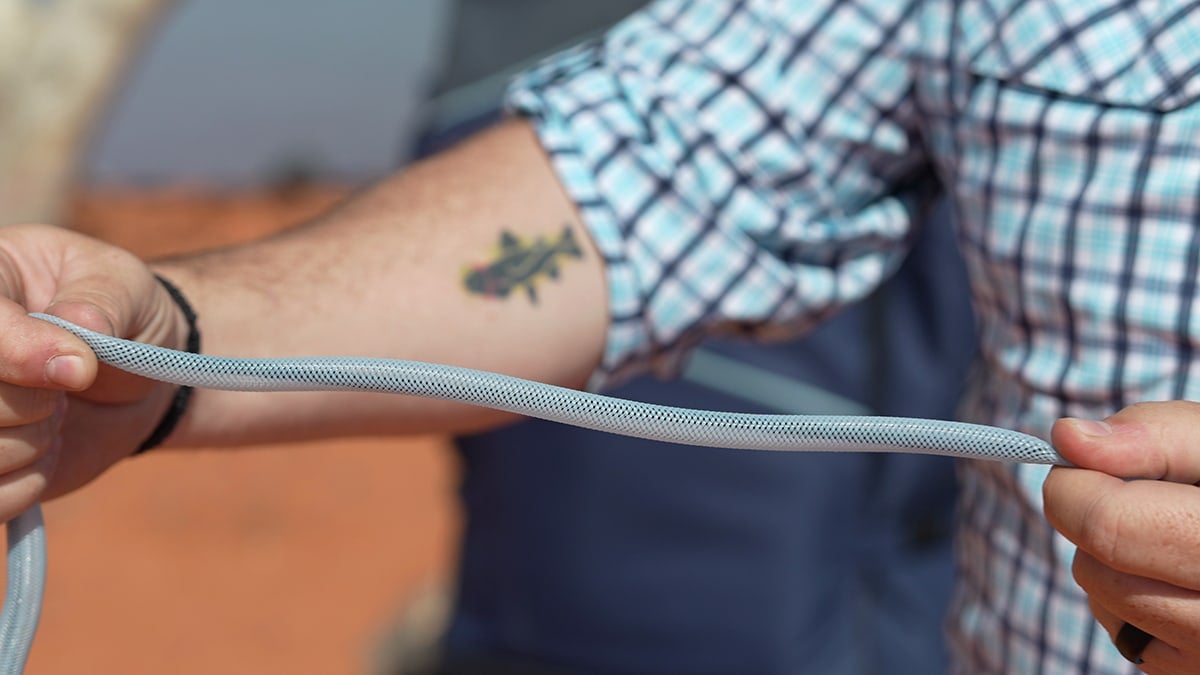 The new lightweight leash is mostly a "straight" leash. I'm not the biggest fan of straight leashes for paddleboarding as they can tend to get more under foot than a coiled leash. However this new lightweight leash is essentially a "lay flat" leash so if you do step on it, it won't roll your foot around. It does have a bit of stretch in it as well, so you can walk essentially to the nose of the board while wearing it.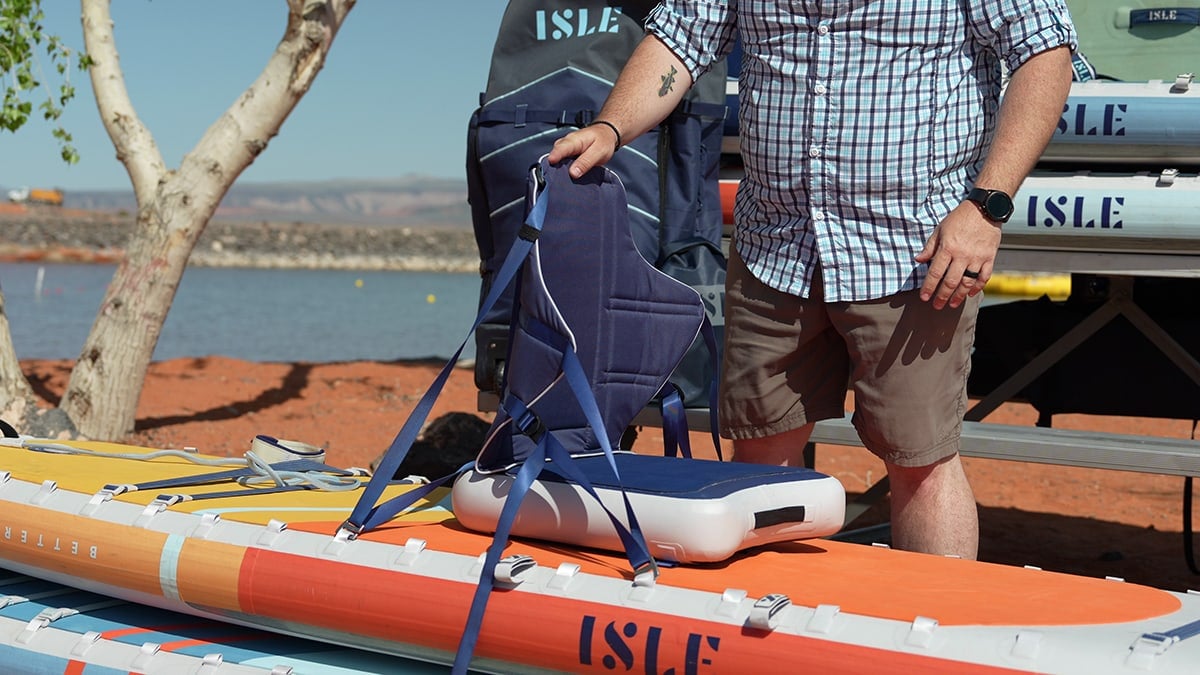 The Isle inflatable kayak seat is a fantastic add-on accessory for the Pioneer Pro 11'6". In fact, this board is large enough that you can easily add two kayak seats for tandem paddling. The Isle Link system makes it extremely fast to install, adjust, move, or remove the seat and foot brace to any position you'd like.
Paddle
The Isle Pioneer Pro 11'6" doesn't come with a "free" paddle (the actual cost of any item in a kit is built into the kit itself, so it's never really a "free" item), but Isle does have a variety of paddles to suit your needs and budget.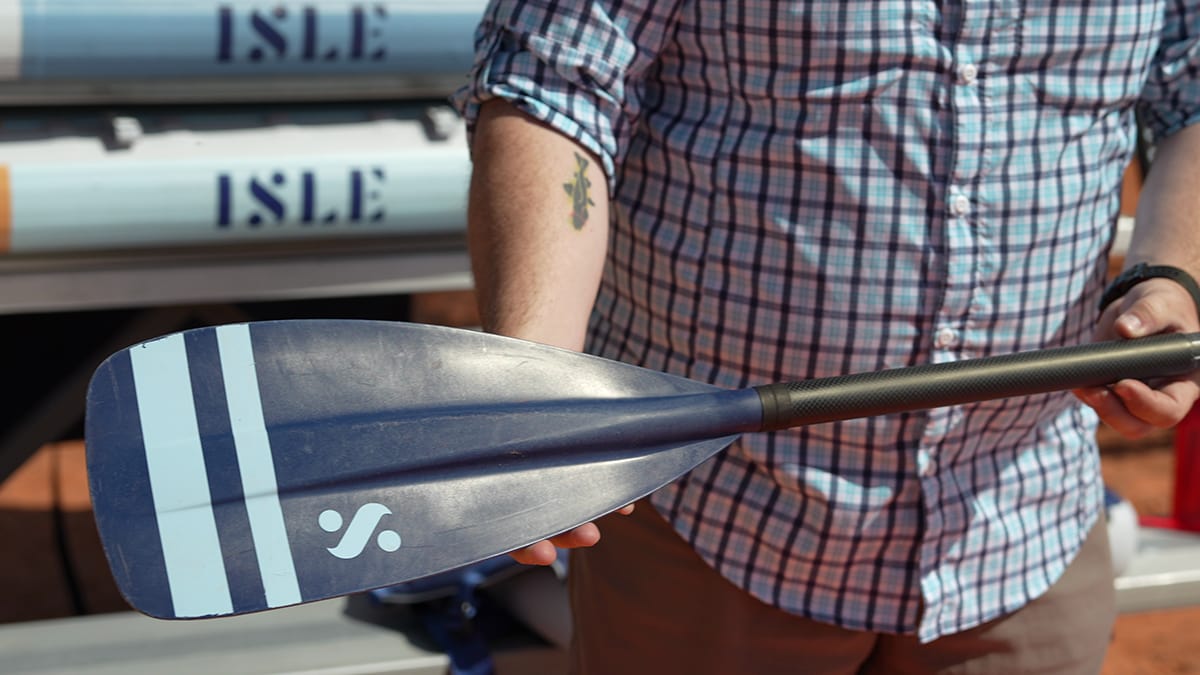 Newly announced along with the Pioneer Pro 11'6" is Isle's new Carbon Fiber Hybrid paddle. This new paddle uses the same fiber-reinforced nylon blade that Isle used for their aluminum Switch paddle. This rectangular blade is medium-sized (about 89 square inches) and gives you a comfortable and consistent feel in the water. Paired with this blade is a new carbon fiber paddle shaft and handle section. This composite construction greatly reduces weight compared to the aluminum version and introduces a little more flex for increased comfort on longer paddle sessions.
On the water this paddle is indeed comfortable to use, and it stays stiff enough to let you paddle with some power. That's especially important on a larger board like the Pioneer Pro 11'6", and doubly important if you are paddling it with a passenger or lots of cargo.
The Hybrid paddle also has a swappable second blade to turn your SUP paddle into a kayak paddle. What Isle has done differently than any other SUP/Kayak hybrid paddle I've seen is to give you the option of how the paddle blades are aligned, or feathered.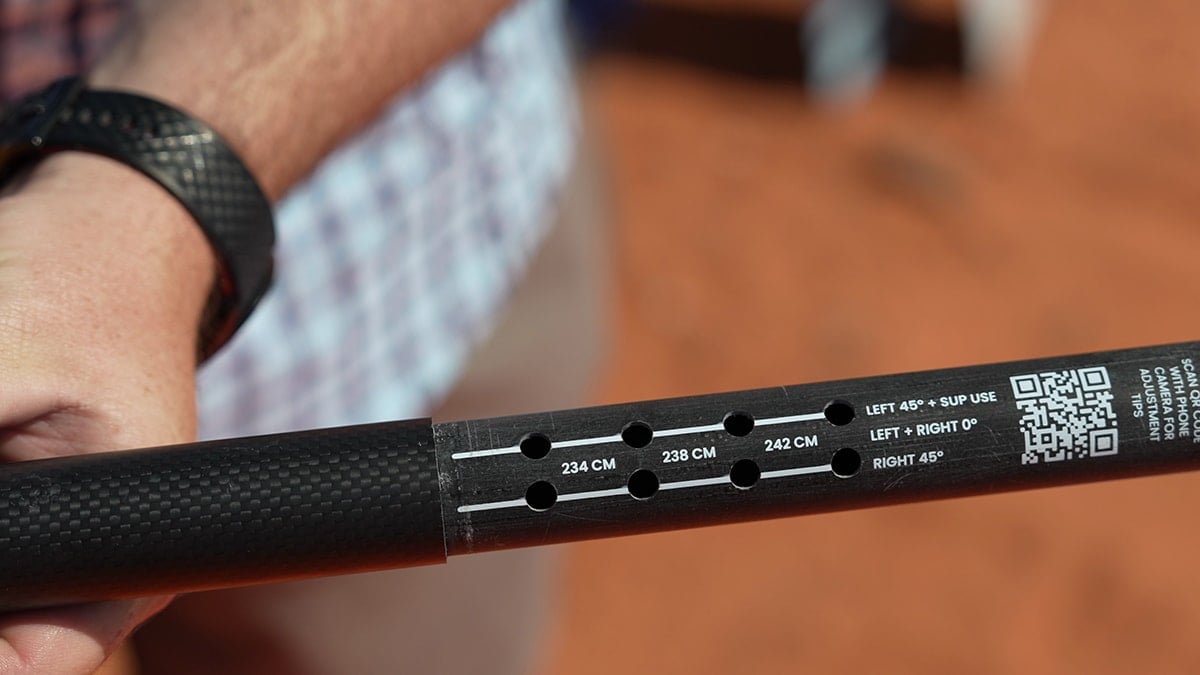 Normally a hybrid paddle would have a direct swap of the SUP handle for the kayak blade, and the two blades would be perfectly aligned. The Isle Carbon Fiber Hybrid paddle not only gives you this 0° feather angle option (blades aligned), but the paddle blade ferrules have multiple holes to let you set the paddle up with a 45° feather angle on either your right- or left-hand side. This type of feathering can help your wrists stay in a more comfortable position, and it lets whichever paddle blade is not in the water "slice" through any headwind you may encounter.
I'm really glad to see this level of thought and detail being brought to a product like the Carbon Fiber Hybrid Paddle. It's really delightful to see these types of performance characteristics making their way into the hybrid space.
Stability
The Pioneer Pro 11'6" is a large, incredibly stable, paddle board. At 36" wide with a super-wide tail and wide nose, there's so much volume and stability you'll have to try to fall off this board.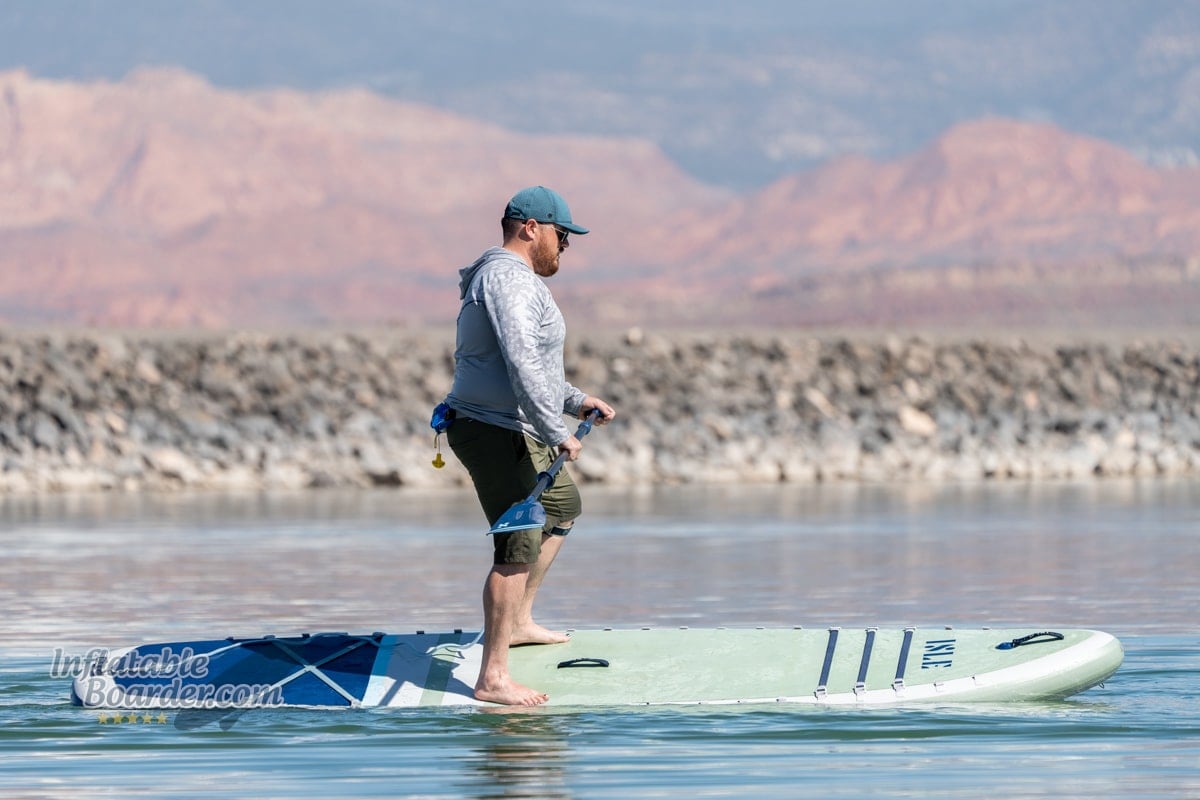 Once you're on the Pioneer Pro 11'6" you might forget that you're on a stand up paddle board. It is incredibly stable with absolutely no rolling, twitching, or any other feeling of instability.
I think the best way to describe how stable the Pioneer Pro 11'6" felt for me was to write about how difficult it was to make it unstable. I like to feel out new paddleboards by walking on them, lifting their edges, rocking them around, lifting the nose out of the water, etc. The Pioneer Pro 11'6" is so stable that I had trouble getting it to rock from side to side! When I tried to hold the board on its edge it was really hard to keep it from tipping… back down on its hull.
I didn't have any issues walking around the board, and I could easily step all the way to the very end of the deck pad to lift the nose for some (dizzyingly) quick pivot turns.
If you want an incredibly stable paddleboard for fishing, yoga, paddling with kids or dogs, or just cruising around, the Pioneer Pro 11'6" is absolutely for you.
Speed
I wasn't sure what to expect when testing the Pioneer Pro 11'6" for speediness. What I found out, though, was it's got a respectable top speed for its size, and it actually glides really efficiently across the water.
With a 36" wide cross-section there's a lot of friction between the Pioneer Pro 11'6" and the water. Surprisingly, though, it can get up to some decent speeds. I was able to power the Pioneer Pro 11'6" along at an average sprinting speed of 5.2 mph (8.4 kmh) with a peak speed of 5.4 mph (8.7 kmh). This actually made it the fastest of the three Isle Pioneer Pro models.
Does that mean I'm going to want to paddle it at top speed all the time? Nope. That's a whole lot of energy! So how well does it cruise and glide?
I typically paddle at an easy cruising pace of around 25 strokes per minute – that generally means I'm resting between strokes slightly longer than the stroke itself. With that cadence I was paddling the Pioneer Pro 11'6" at an average cruising speed of 3.1 mph (5.0 kmh). That's pretty good for such a wide board, though it is just a touch on the slow side for some of the other "big" boards we've tested. What makes it great, though, is how easy it felt to do.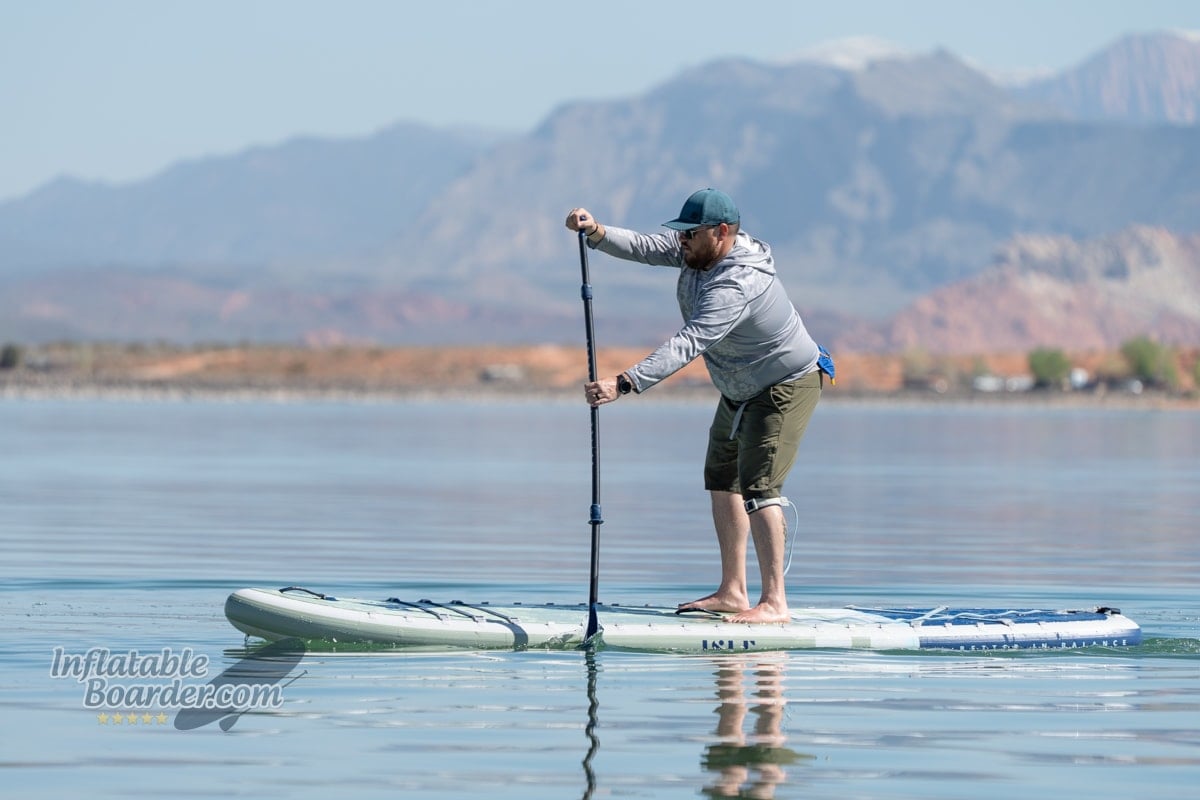 Using an accelerometer and GPS unit, I measured how far the Pioneer Pro 11'6" would travel between each stroke. On average I would move about 19.5 feet before slowing down – or about 1.7 board lengths per stroke. For an 11'6" board that's 36" wide I was extremely impressed with this glide performance. And it makes sense.
Both during the sprint test and cruising test the Pioneer Pro 11'6" stayed incredibly rigid with no noticeable flex. This helps the board glide across the water rather than push through the water.
Maneuverability and Tracking
As a larger paddle board, the Pioneer Pro 11'6" sometimes needs a little extra convincing to get turned around, but once you have it pointed in the right direction it keeps on course much better than I expected.
At 11'6" long and 36" wide, there's a whole lot of paddle board to move around while paddling the Pioneer Pro 11'6". This does make it a little slower turning than some other "large" boards that are normally 2" narrower, but it's still quite maneuverable.
We put the turning performance to test with a stress-test for maneuverability. From a standstill we use only forward sweep strokes (a turning stroke that also adds forward momentum) and see how many strokes it takes to make a complete 360° turn. The Pioneer Pro 11'6" took an average of 6 paddle strokes to make this complete circle. That's a little better than average across all boards we've tested and just a little slower than a few of the other similar-size boards. Of course, this is a stress test and it's not common that paddlers need to spin a full circle all at once, and if you do there are far easier ways to do it, even on the Pioneer Pro 11'6".
When making the same circle with reverse sweep strokes (turning strokes that work backward against the fin) the Pioneer Pro 11'6" whips around in just 4 strokes, or about 90° per stroke.
With a large width and very wide tail, it is extremely easy to walk around on the Pioneer Pro 11'6" and stand at the tail of the board. With the tail sunk a few inches in the water and nose lifted into the air the Pioneer Pro 11'6" remains incredibly stable and I was able to smoothly, and quickly, spin the board around. It was so easy to do I actually became quite dizzy!
With a good maneuverability score under its belt, I moved on to testing the Pioneer Pro 11'6"s tracking ability. To this point I hadn't noticed any issues while paddling around, so I expected it to do well. I didn't expect it to do this well, though.
In our 10 stroke paddling test we use a sighting compass to measure the course the board travels after 10 strokes on a single side, then compare it to its original heading. The Isle Pioneer Pro 11'6" had an average deviation of just 7.5°. That is deep into the same type of scores I see on dedicated touring boards!
The overall picture here with maneuverability vs tracking for the Pioneer Pro 11'6" is quite positive. It takes a few more strokes to turn compared to smaller boards (but it's still relatively quick for such a large SUP) but once you get it pointed in the right direction, the Pioneer Pro 11'6" will make it very easy to keep going.
The Pioneer Pro 11'6" comes with a 9" touring-style fin that helps with its excellent tracking performance. If you do want more maneuverability, you can swap out the touring-style fin for shorter or different shape options because the Pioneer Pro 11'6" uses a standard US fin box. This gives you the option to use hundreds of different fins. The split fin box is still fully compatible, but also helps make it a little easier to fold the board when you are done for the day and it helps prevent damage to the fin box during storage or transportation.
Warranty and Customer Support
Isle is very excited about this new line of Airtech Prolite construction, and is so impressed with the rigidity and durability that they have extended their standard 2-year warranty for iSUPs to 4 years for all Explorer Pro and Pioneer Pro models. Isle still offers a 60-day return period where you can return your board for any reason, less a 20% restocking fee. If you have any questions for Isle about their warranty or products, you can contact them via phone, webform, or social media.
Overall Impressions/Review Summary
The Pioneer Pro 11'6" size and shape, along with its rigid construction, make it incredibly stable. I didn't really even dive much into the weight capacity (380 lbs) but from our testing Isle's listed weight capacity for the "Pro" series boards is a performance limit – so you can really stack it up to that limit and still be able to paddle effectively. This means you can easily use the Pioneer Pro 11'6" as a tandem board with two adults, with kids, with dogs, loaded up with a cooler and fishing gear, or however else you can think of. The Airtech Prolite construction makes this board extremely rigid, so heavier paddlers won't have to worry about losing any performance like they will on more flexible boards. The Isle Link system helps take this versatility to an extreme. With the kayaking accessories, the Pioneer Pro 11'6" becomes a highly-effective and super-stable sit-on-top kayak for up to two people as well.
If you're looking for a high quality, extra stable, high capacity, versatile inflatable paddle board, the Isle Pioneer Pro 11'6" is it.
Isle Pioneer Pro 11'6" iSUP FAQ
What is the difference between the Isle Pioneer 2.0 and Isle Pioneer Pro?
The Isle Pioneer Pro is the next evolution in inflatable paddleboard technology. With the inclusion of high-quality, lightweight drop stitch and PVC materials along with the new Infinity Fiber stringers, the Pro-series iSUPs offer industry-leading stiffness and essentially an "inflatable hard board" paddling experience.
Should I get the Isle Pioneer Pro 11'6" or Pioneer Pro 10'6"?
Both are very stable and versatile, but the Isle Pioneer Pro 11'6" takes stability to a whole new level. Taller and heavier paddlers will appreciate the 36" width of the Pioneer Pro 11'6" as will anyone who regularly paddles tandem with another adult, kids, or dogs. If you like to fish or luxury camp from your paddleboard, the extra capacity and stability of the Pioneer Pro 11'6" are a great fit.
Is the Pioneer Pro 11'6" compatible with a kayak seat?
Yes it is. The Pioneer Pro 11'6" can be paired with up to two of Isle's inflatable kayak seats for a comfortable and efficient sit-on-top kayak experience.
Can I paddle with kids or dogs on the Isle Pioneer Pro 11'6"?
Yes! The great rigidity, wide stable shape, and high weight capacity all make the Pioneer Pro 11'6" a great option for paddling with kids or dogs (or both!).