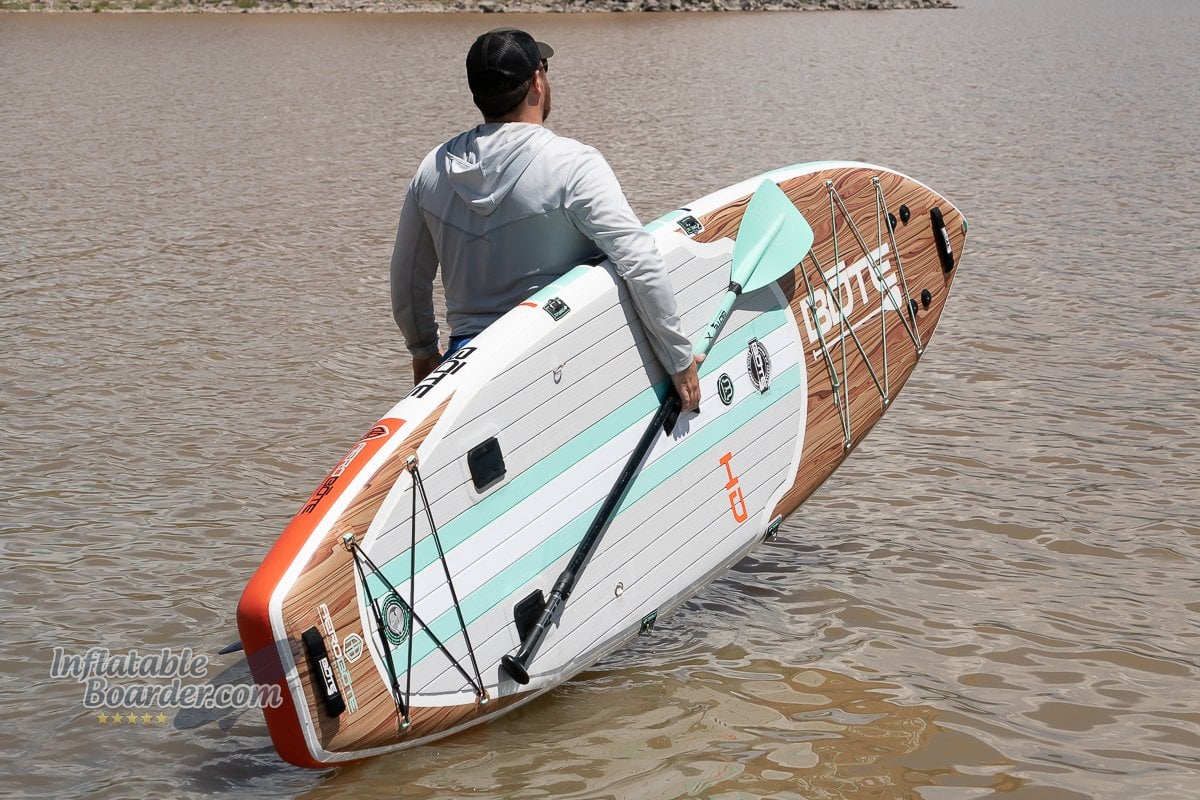 Bote HD Aero: Overview
Bote has been a key player in the inflatable paddleboard (and hard boards as well) industry for quite a while. One of their largest areas of expertise is SUP fishing and the Bote HD ACheck the Best Price on the Board Aero is one of their flagship fishing iSUPs. The HD Aero combines a classic paddleboard-centric design with all the features that make wetting a line that much easier (and hopefully landing a fish or two). If you're looking for a highly stable iSUP for fishing, you owe it to yourself to check out the Bote HD Aero.
— Bote HD Aero Summary Ratings and Review —
Bote HD Aero
Construction & Durability

Features and Versatility

Stability

Speed

Maneuverability

Tracking
Overall Score
The Bote HD Aero is a fantastic choice for anglers looking for a super-stable iSUP.
Pros
Extremely stable thanks to its 34" width and wide overall shape
Great carrying capacity – the 315lbs capacity is based on maintaining performance, so no worries on loading it up
Balances tracking and maneuverability well so you can move around when you need to without losing efficiency
Cooler tie downs and lots of cargo space
Fishing rack mounts built in
Paddle sheath included
Kayak seat compatible
Aerobote inflatable construction
Magnepod attachment
Heavy-duty carrying case
Cons
There is not a leash attachment point nor is a leash included, you will need to provide your own for safer paddling
The storage bag does not have wheels, so be prepared to carry the kit like a backpack
Construction and Durability
The Bote HD Aero is built with time-tested materials and methods for increased durability and longevity. It is on the heavy side for an inflatable SUP, but if you are planning on fishing, the few extra pounds in the board construction are pretty negligible once you load up with all of your fishing equipment. The HD Aero includes a variety of built-in features specific for fishing and it has a stiff feeling underfoot, so the additional weight is well-earned. If you aren't out fishing, the layout of the HD Aero keeps the board free from clutter and maintains a huge amount of cargo space.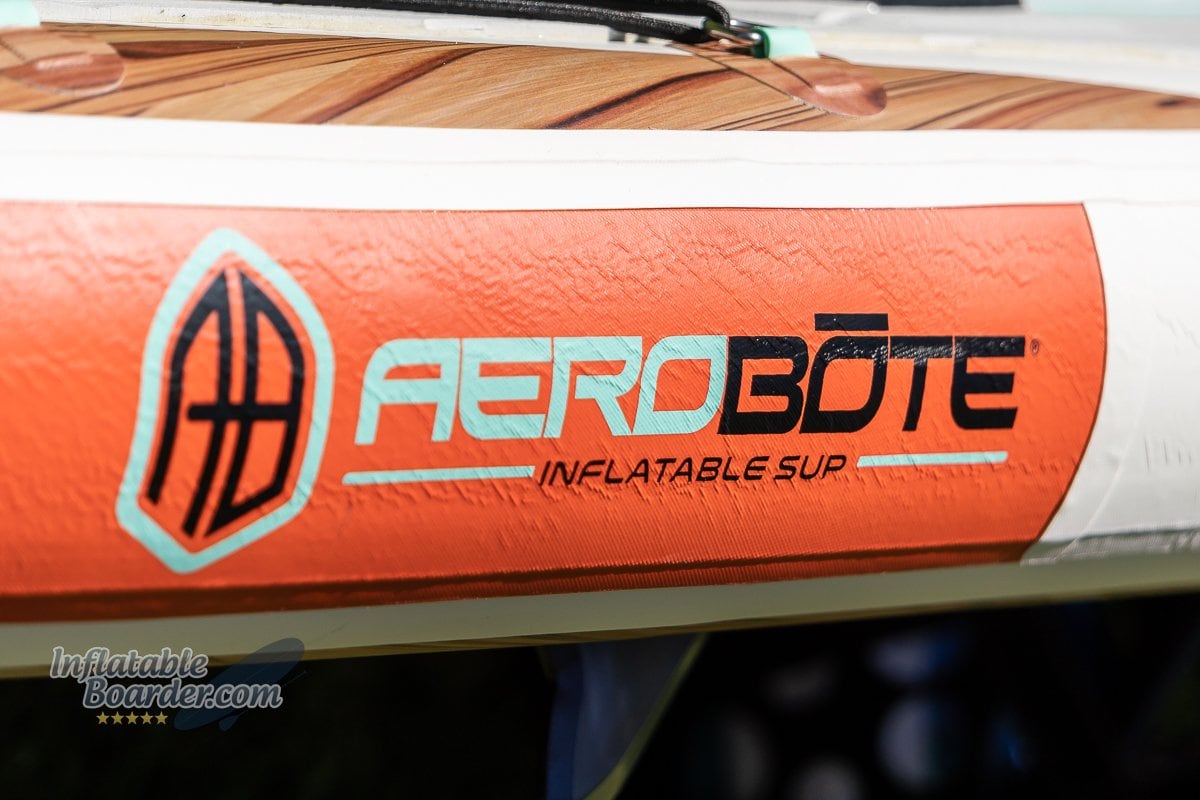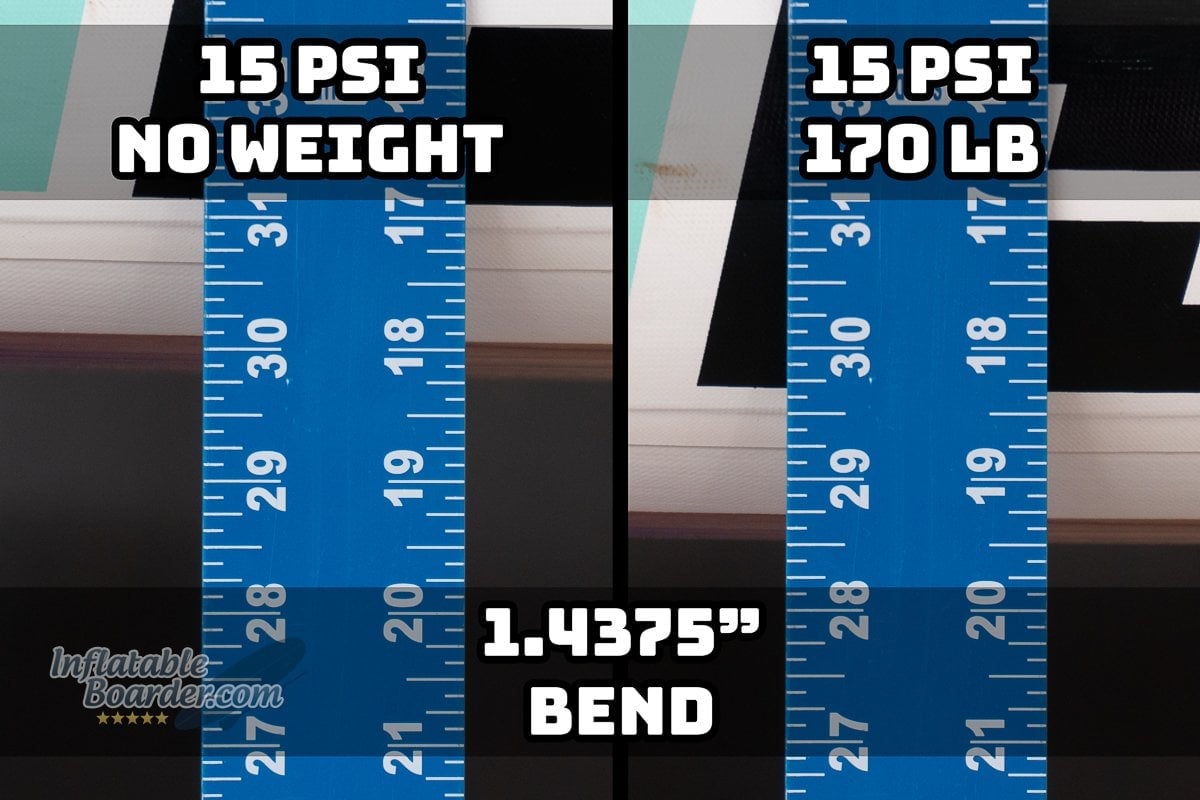 The HD Aero uses what Bote brands as their AeroBote inflatable technology. This construction technique uses a dual-layer fusion skin for the deck and hull of the board and heat-pressed dual-layer rails to seal and stiffen the board. Fusion layers are traditionally made by a process that includes glue, heat, and pressure for the best possible bond.
By using two layers of PVC the HD Aero creates a stiffer platform than the single-layer AeroUltra boards (like the Bote Wulf). Another benefit of this second layer of PVC is increased durability against abrasion and tears. For anglers who spend lots of time in the shallows or in flood plains, this second layer is well worth the additional weight.
The double rail layers provide the same level of durability on the sides of the 6" thick board, while the second layer also aids in the board's overall stiffness.
While paddling the HD Aero, there's no noticeable flex or bounce in the board unless you begin sprinting or paddling with lots of vertical body movement. Even then, the flex is well controlled, though the rebound can be a little fast – borderline bouncy. Walking around on the board is easy to do with very little bounce and the "BVA" EVA foam deck pad that has been embossed with the classic Bote "B" logo.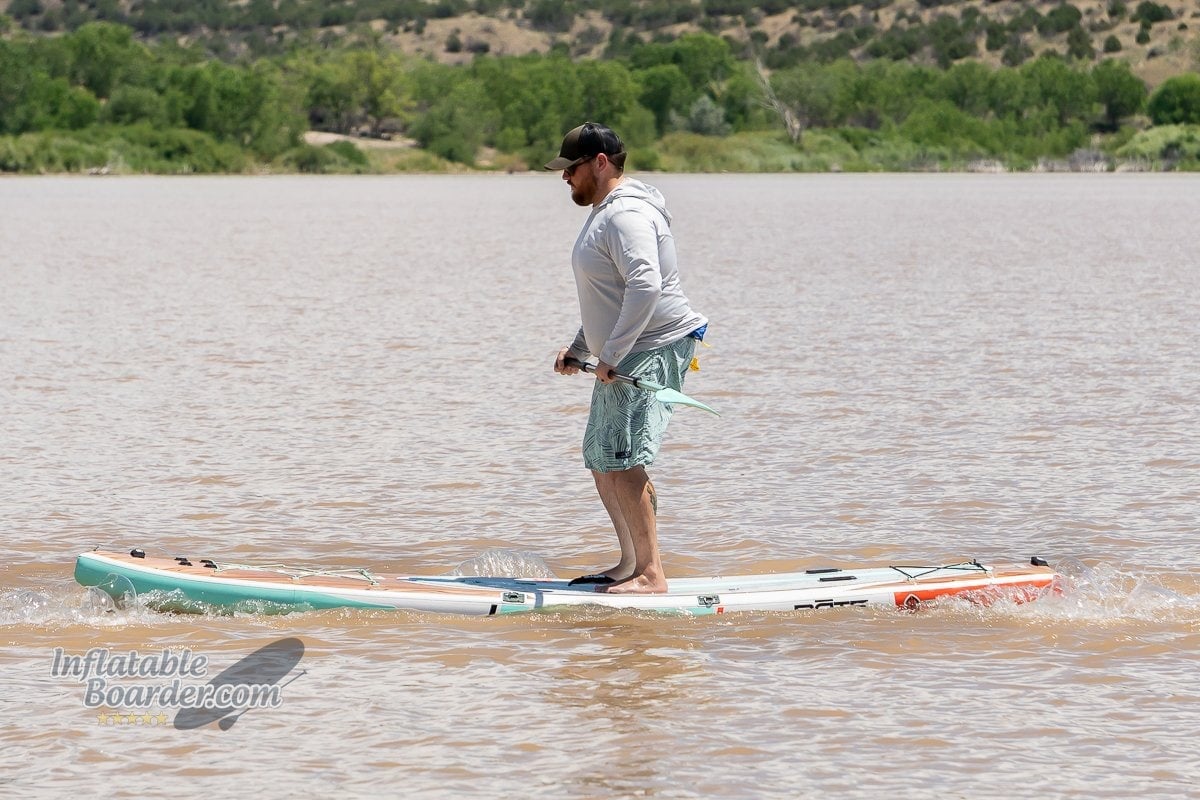 Specifications
Dimensions
Length
11' 6"
Width
34"
Thickness
6"
Weight
Max Capacity
315 pounds
Board Weight
30 pounds
Kit Weight
(SUP & accessories)
48 pounds
Buying Info
List Price
$1034.10
Warranty
2 years
Returns period
30 days
Features, Accessories and Versatility
The Bote HD Aero is designed for fishing first. It features a number of built-in mounts and accessories designed to make SUP fishing easier and more enjoyable. If you aren't out SUP fishing, these features don't make the HD Aero feel congested either. There's still plenty of room to move around, attach a kayak seat, load up for an overnight trip, or just relax out on the water.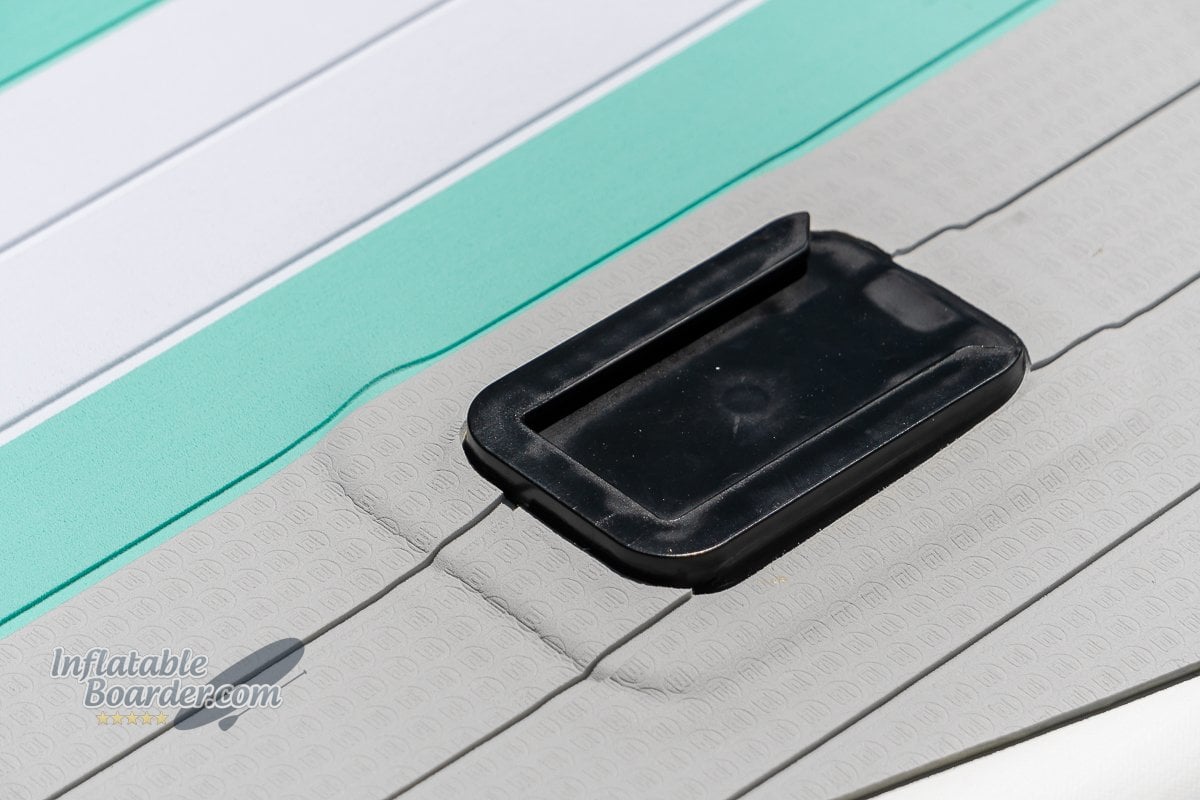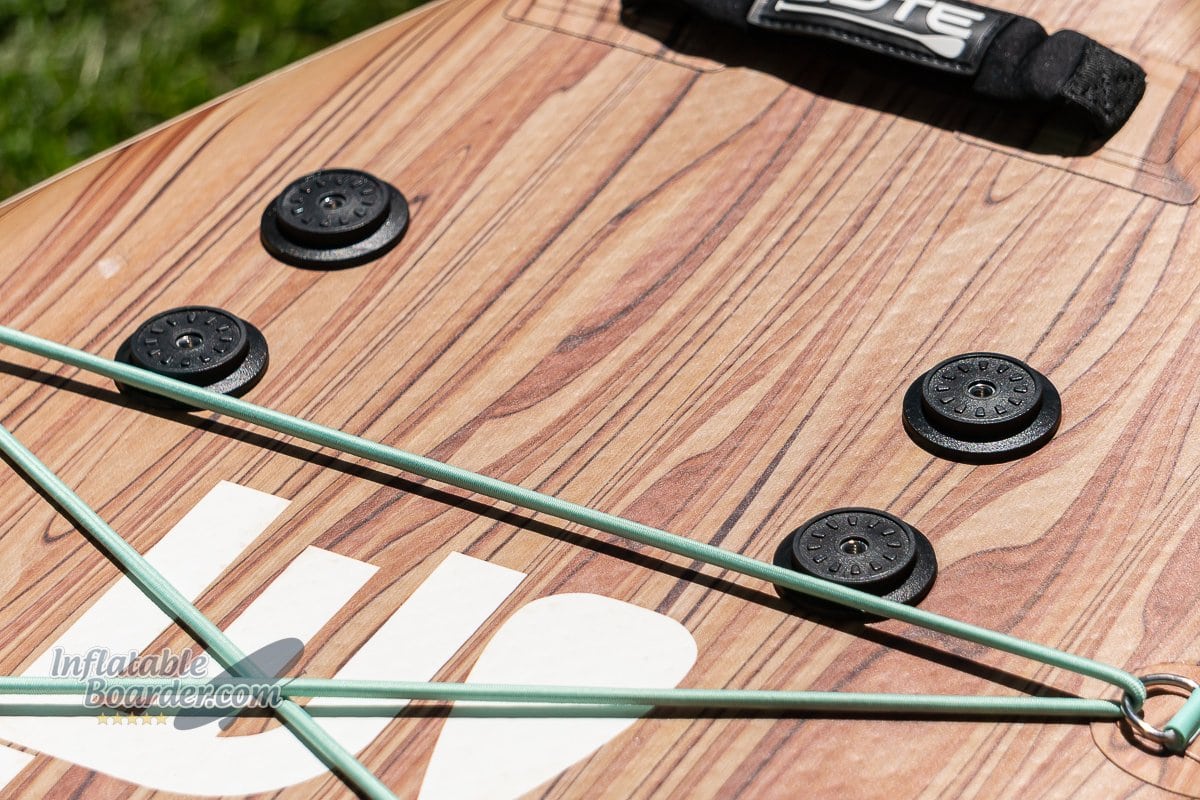 At the nose of the board there is a tow/anchor d-ring, very large cargo bungee, and four threaded inserts to attach the included paddle sheath. The paddle sheath screws onto the front of the board and holds your paddle by the blade when it's not in use. This keeps it both out of the way when you don't need it, but easy to grab when you do – and you don't have to worry about the paddle sliding out from under a bungee cord.
There are a total of 17 D-rings on the HD Aero. One is at the very nose of the board, however the remaining 16 are well-placed to hold a variety of different cargo depending on your needs. The front storage area bungee cord has a tension-adjusting knot to loosen or tighten the cord. The middle set of four d-rings can be used with a kayak seat, the Bote TraveLink shoulder strap, both, or used as anchor points to tie down larger items in the front of the board.
Behind the standing area are two d-rings set up to hold one of the Bote Kula coolers (or similar sized cooler, bucket or box) to use as a seat, cooler, or bait well. The rear cargo area has four more d-rings that span the width of the board and another cargo bungee.
Bote includes two fishing rack mounting points on the rear of the HD Aero. While many other brands use a generic Scotty-brand rack mount with screw-on accessories, the Bote mount reduces the complexity with a slide-in style mount. Simply slide the feet of the Bote fishing rack mount (included with the HD Aero) into place, and then place the Bote Tackle Rac (not included) into the feet.
Last but not least on top of the board is Bote's unique Magnepod accessory holder. This circular magnet is built into the deck of the board just in front of the carry handle. It's compatible with a number of Bote's Magnepod accessories like tumblers, speakers, water bottles, and koozies to keep your drinks warm or cold (and in place).
Under the board are two fixed flexible fins and one slide-in fin box. I'll get more into the fin system in the Maneuverability and Tracking section of this review, but one thing to note is that slide-in fin boxes do limit your choice of fins quite drastically. I would really like to see the HD Aero (and Bote's other iSUPs) move to a US fin box like what is used on their hard boards.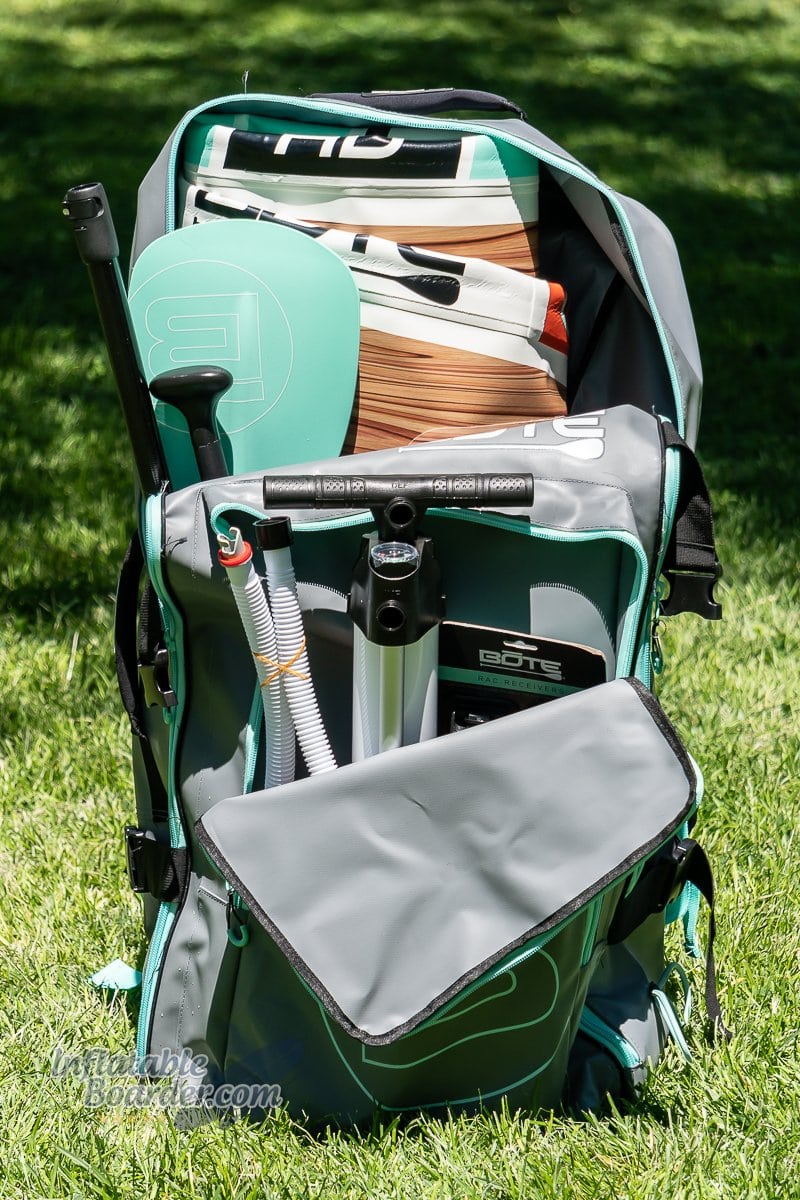 The HD Aero's travel and storage bag is made of a heavy-duty vinyl material. The material itself is water resistant, however the bag is not waterproof. On the front of the bag is a very large zippered pocket that can easily hold your paddling accessories and even the hand pump and hose. The HD Aero ships with the Tackle Rac feet and Paddle sheath, both of which can fit in this pocket. The main compartment unzips fully to the bottom on both sides and is also large enough to easily fit the board, paddle, pump (if it's not in the front), and more.
The included hand pump is a single-chamber, double-action pump that works well, but does take a while to inflate such a large board. Smaller paddlers may also struggle to reach the 15 PSI maximum recommended pressure as it becomes harder to inflate as the pressure increases. As always, I do recommend every iSUP user invest in an electric pump and use that time to get all of your other paddling (and fishing) gear ready for the day.
One downside I did find with this bag, however, is the compression strap system. Compression straps are designed to tighten the bag up around its contents to prevent them from shifting around while you carry it. This creates an easier and more comfortable experience when carrying a large backpack as the weight doesn't shift. The compression straps are attached with longer pieces of webbing rather than being sewn in close to the bag itself. The extra length in the straps prevents you from being able to tightly cinch down the compression straps and the contents still shift around while you carry the bag.
An additional note about fitting the HD Aero in its bag. The placement of the fin boxes on the bottom of the board and placement of the inflation valve on top do not allow the HD Aero to be easily folded or rolled into the right size without bending the fin boxes. You'll either need to bend the two fixed fins – which can warp their shape, or you'll need to put pressure on the slide-in fin box, which can bend the plastic fin box itself making it difficult to insert the center fin. Hopefully future versions of the HD Aero will have the inflation valve moved forward or backward a few inches, or remove the two fixed side fins altogether to alleviate this issue.
It's also important to note that the Bote HD Aero does not include a leash when you purchase the kit. In fact, it doesn't even have a dedicated leash attachment point on the board. Leashes are critical components for safe paddling. Please make sure to purchase a leash with your Bote HD Aero. Most leashes should be able to attach around the rear carry handle or to one of the rear cargo D-rings; it is a disappointment that the HD Aero does not come with, or even ready for, a leash.
Paddle
The Bote Axe three-piece paddle offers a good balance (literally and figuratively) between weight, stiffness, and durability. It is easy and intuitive to use, but could use a few refinements in the handle.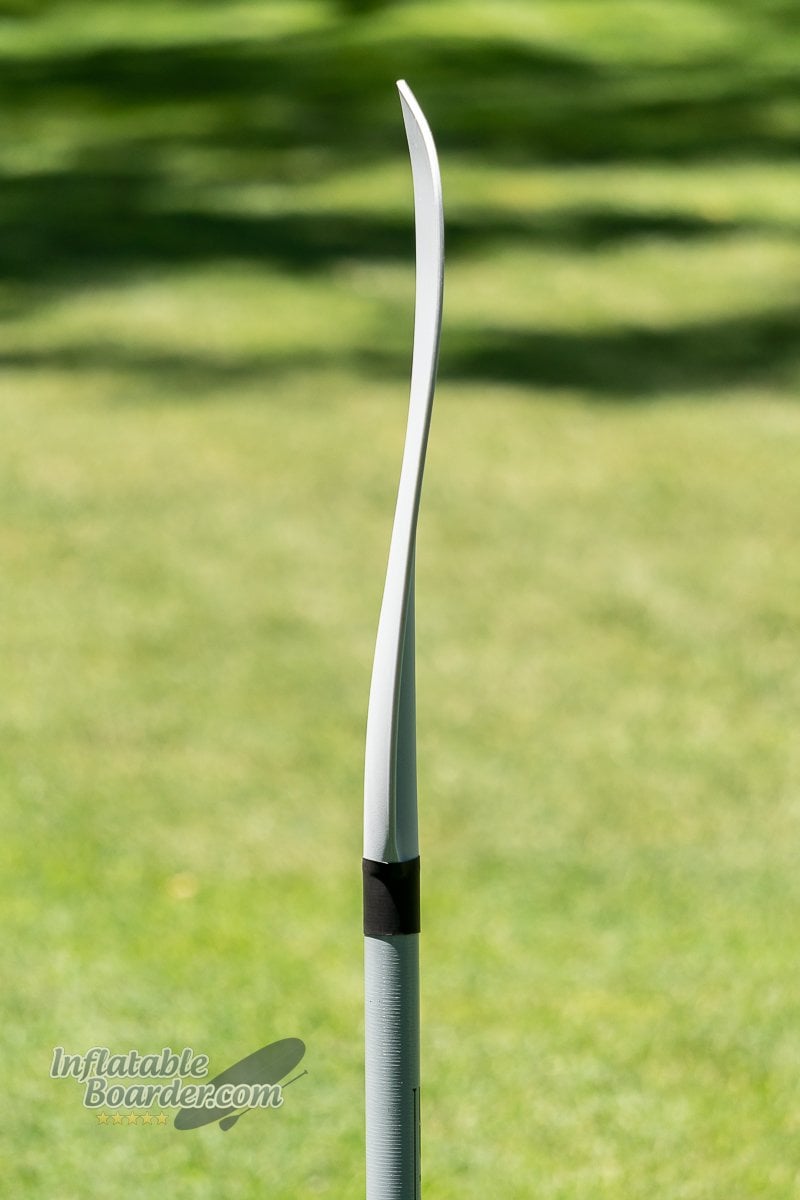 The ABS plastic blade is made with durability in mind. Plastic blades are less likely to break or chip – especially in shallow water – than fiberglass or carbon fiber blades; they flex and absorb impacts far better. The downside is they are heavier. The blade has a medium-large size and a slight teardrop shape. This lets you get a good grip in the water even if you don't get the whole blade fully submerged. It also helps propel the board more with each stroke rather than needing more strokes with a smaller blade. Really, the question of "what blade size is best" boils down to the paddler's own preferences.
Some carbon fiber paddles that use plastic blades become very bottom heavy and unbalanced. The fiberglass shaft keeps the overall weight of the paddle lower than an aluminum paddle, but still balances the weight of the plastic blade. Fiberglass paddle shafts also offer a comfortable amount of flex for casual paddling where aluminum and carbon fiber paddles can often be very stiff and tiring to use.
The handle section of the Axe paddle does have a size scale printed on it for easy adjustment, however it does not have any indexing to help you orient the handle to the blade. The handle itself is made of molded plastic which gives it a light, hollow feel. It also has a seam running through the middle of it (left over from the molding process) that has not been cleaned off and did cause some irritation in the hand. While you can easily remove the seam with some careful sanding or a razor blade, it would be nice to see the handle transition to a seamless fiberglass mold.
Stability
Most paddlers would agree that stability is a key performance indicator for any paddleboard, especially for iSUPs made for fishing where you may have large amounts of expensive equipment on board as well.
The HD Aero is extraordinarily stable. Whether you are standing, sitting, loaded with fishing gear, bringing an extra passenger, or anything else, the 34" width and wide, square tail keep the HD Aero stable under a variety of conditions.
When first stepping onto the HD Aero, it is immediately clear how stable this board is. There's no rocking, wobbling, or tilting. Walking around on the board was very secure-feeling and had only the slightest hint of vibration. Even when purposely tilting the board, like in the photo above, the HD Aero gave predictable and smooth transitions from flat, to edge, and back to flat.
The "BVA" deck pad is a logo-embossed EVA foam that grips well to both bare feet and to shoes. It covers most of the board's surface all the way back to the rear cargo area. Walking to the back of the board was easy and the HD Aero kept the same stable feeling all the way to the tail for a pivot turn.
This level of stability is ideal for a fishing SUP as anglers move around the board to better position themselves, adjust and use their cargo, cast their bait or flies, and of course land that monster redfish, striper, smallie, or trout.
Speed
Larger, stable, paddleboards often have to make a little bit of compromise in other performance areas. In the case of the Bote HD Aero, it's speed. The HD Aero is not a fast iSUP, but that's not what it's meant to be to begin with. It takes a bit of effort to accelerate the board past a casual meandering pace and it isn't winning any awards for top speed or efficiency. The HD Aero is more of a cargo plane than a fighter jet, but just because it isn't fast, doesn't mean it isn't great.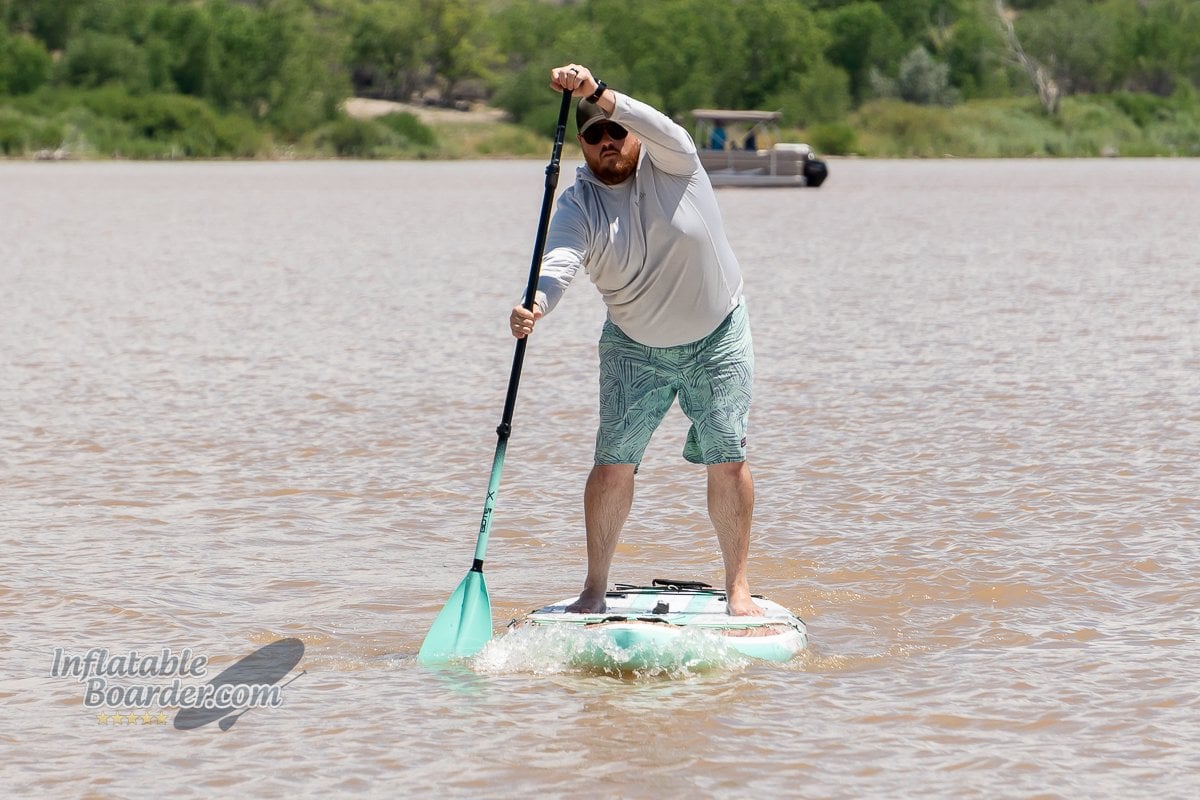 I can't say I'm surprised by the HD Aero's lack of speed and acceleration. It's a big board designed for higher weight capacities needed for SUP fishing. It's also not a bad thing to not be the fastest board on the water. I'm not choosing the HD Aero as a racing SUP, or even a touring SUP. I'm choosing the HD Aero for fishing, paddling with a dog or passenger, or even loading it up for a shorter-distance overnight trip. These are all activities that need higher carrying capacities and the greater stability the HD Aero offers.
In our 100m sprint test, the HD Aero clocked a 49 second average top speed. In our cruising test it completed our ¼ mile loop in 4 minutes, 20 seconds. Neither of those are very quick, but they are also not out of the ordinary for other, similarly sized, iSUPs.
When testing the glide-per-stroke efficiency, though, the HD Aero did see a drop in performance. We found the HD Aero travels just under 1.5 board lengths (about 16.9') per paddle stroke before noticeably slowing down. Ideally we'd like to see that number in the 1.5-1.7 board lengths per stroke for a larger iSUP like the HD Aero, but it is close to that range.
Maneuverability and Tracking
The HD Aero does an excellent job of balancing maneuverability and tracking. It's easy to turn the HD Aero where you want to go, and it's easy to keep it going in that direction. I don't know any paddler that doesn't appreciate that kind of combination in an all-around and fishing iSUP.
With such a large iSUP, turning the board can sometimes be a difficult task. I found the HD Aero was actually more maneuverable than I initially thought it might be. It does take a little bit of effort to turn in a full circle, but it didn't feel difficult or like the board was fighting me. Rather, it just felt like a larger iSUP.
Using forward sweep strokes to turn the HD Aero takes about 8.5 strokes to make a full circle. Doing the same maneuver in reverse negates some of the tracking ability of the fin and turns the board around in just 4 strokes. With such a large surface area fin under the board I didn't really expect it to turn so easily.
Because of the excellent stability, the HD Aero is also very easy to pivot turn by stepping back onto the tail of the board and lifting the nose. Now, if the board is loaded up with fishing equipment this may not be a feasible option, but when it isn't, the HD Aero is a great board for beginners to work on these skills.
Tracking, or the ability for a board to continue on a straight path, is affected by the same board and fin design characteristics as maneuverability, but in the opposite direction. Usually when a board has really good maneuverability the tracking will suffer, and vice-versa. With the Bote HD Aero, the tracking and maneuverability are both really well balanced. Just like it's relatively easy to turn the HD Aero, it's also pretty simple to keep it moving straight.
While it doesn't track as well as a touring iSUP, with a few easy steering strokes or by switching sides a stroke or two earlier than you might on a straighter-tracking board, the HD Aero keeps its course quite well.
In our tracking test, I did find the HD Aero drifts about 15° off course after 10 strokes on the same side of the board. This is pretty solid performance for a 34" board with essentially one tracking fin (more on that below).
The HD Aero has a single, slide-in, fin box on the midline of the board and two fixed 2.5" flexible fins on either side. The 10" Aero fin that comes with the HD Aero has a large surface area, which helps with both tracking and stability, and a moderate amount of sweep, which helps keep plants and debris from sticking to the fin and balances the tracking with maneuverability.
While the fin itself does a fin job, I'm disappointed by the fin box and fixed side fins on the HD Aero. This is not an inexpensive or "budget" board, and to have a budget fin system and fixed side fins is a pretty big let down. Slide-in fin boxes are susceptible to bending both across the entire fin box and the small corners at the opening. Bending in either of these ways can make it very difficult to insert the fin. There's been more than one occasion in my career as a SUP guide where I had to get a rubber mallet to insert a slide-in fin.
The other issue with slide-in fins is that they are extremely limiting in fin choices. Bote offers only 3 choices to fit this fin box. I know of only a few others from different manufacturers (but still share essentially the same shape and size). Bote uses a standard US fin box on their hard boards. There are hundreds (if not thousands) of different options for paddlers with a US fin box that can more precisely fit their needs. I would love to see the HD, and Bote's other Aerobote-construction iSUPs get a US fin box upgrade in future versions.
Lastly we have the 2.5" side fins. These don't help. They also don't hurt. They are superfluous at best and simply get in the way when rolling the board, or they get bent out of shape and may negatively impact how the board handles. If you remove the center fin, these side fins are not enough to help the board track straight. I do a lot of river paddling and whitewater SUP. I do use 2-3" fins quite frequently, however they are significantly longer fins – generally two or three times the length of these side fins (Bote's 3" Aero Shorty fin is a similar shape) and even they only help track the board slightly better than no fins at all.
I wouldn't be spending as much time on the issues with these fin and fin box choices if the Bote HD Aero price wasn't on the border between midrange and high-end. These are budget-level features that should absolutely be better on a board at this pricepoint.
Warranty and Customer Support
Bote offers a 2 year warranty on all of their inflatable paddleboards against manufacturing defects after you have registered your product with Bote. They also offer a 90-day warranty on all accessories (paddles, fins, etc.). Bote also offers a 30-day return period where you can return any items in new condition along with original accessories, tags, etc. for a full refund less shipping and a 20% restocking fee.
You can contact Bote with any questions about their products or for warranty or return information via website form, website chat, email, social media, or phone.
Value
The Bote HD Aero is a great iSUP for SUP-fishing enthusiasts who still prefer a paddleboard-like experience rather than a kayak or hybrid vessel. The board itself is well made and performs well. I was not as impressed with the included accessories, fins, and lack of a leash or leash attachment point on the board. Leashes are critical safety components on a paddleboard along with a PFD and communication device. It is possible to attach a leash other places on the HD Aero, but you will still need to provide your own leash to get paddling. The warranty offered by Bote is standard within the industry and they offer many avenues of communication if needed. Overall the Bote HD Aero itself presents a good value to paddlers, but the kit is lacking in several areas.
Overall Impressions/Review Summary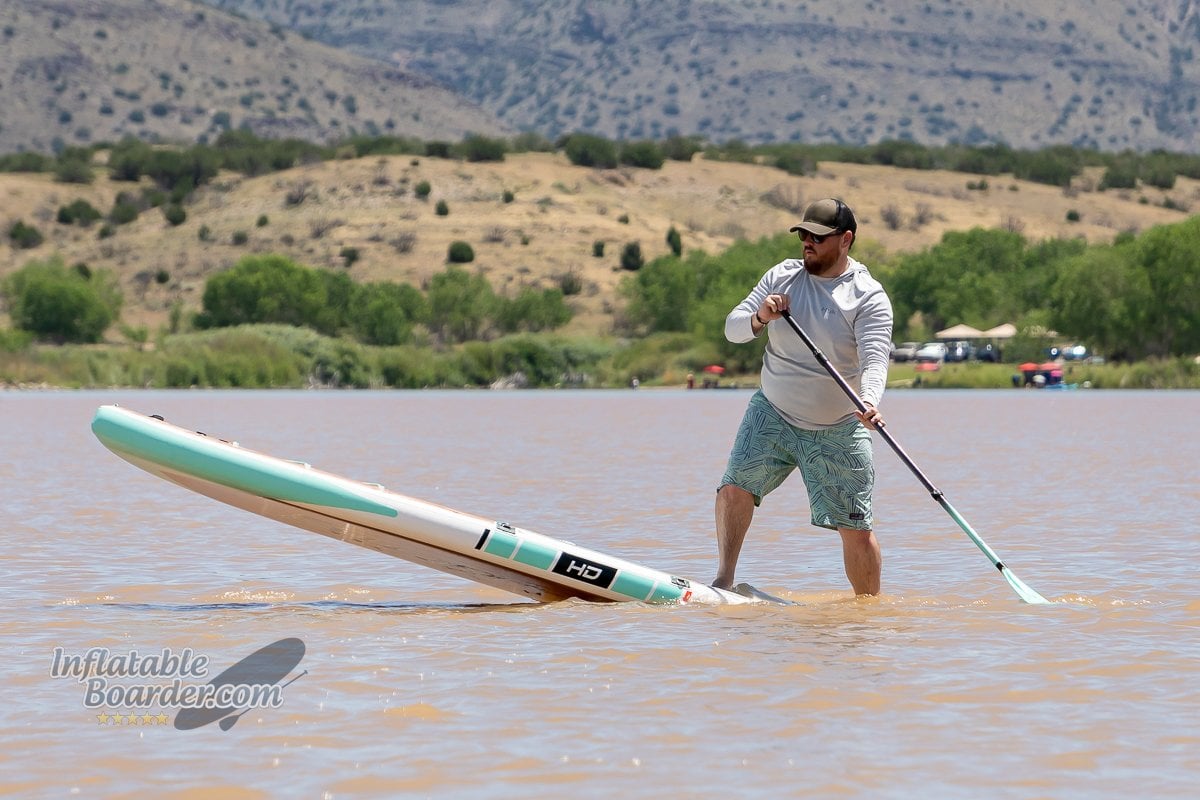 I really like the Bote HD Aero. It's a quality board that offers outstanding stability and still balances its other performance characteristics well. The board is layed-out with anglers in mind, but doesn't limit its use to just fishing. It's a great choice as a large all-around iSUP for fishing, cruising, paddling with kids or pets, or even loading up for a short overnight trip. It's not a sporty iSUP and those looking for an iSUP for the paddling experience itself may want something with more efficiency. The biggest caveat with recommending the Bote HD Aero to new or new-ish paddlers is that you do need to supply your own leash. Leashes save lives and are, in conjunction with a personal flotation device, critical pieces of safety equipment (and may be required by law in some locations).
Bote HD Aero iSUP FAQ
Is the Bote HD Aero a good fishing paddleboard?
Yes! The Bote HD Aero is made for SUP anglers. It's loaded with features to help make fishing from your SUP easier, and it's incredibly stable for safe casting, catching, and landing.
Is the Bote HD Aero heavy?
The Bote HD Aero is made with dual-layer PVC and it is a large board overall, so it does weigh more than an average all-around iSUP. The listed weight is 30lbs.
Can I take my kids or dog on the Bote HD Aero?
Absolutely! The HD Aero's high weight capacity and excellent stability make it a great choice for paddling with passengers or pets. The listed 315lb weight capacity is in order to prevent any decline in performance, so you can easily load the HD Aero up to that point and still have a great time paddling!
Is the Bote HD Aero worth the price?
The HD Aero is a great paddleboard for SUP anglers or those looking for a super-stable, high weight capacity iSUP. The included accessories are a little lower quality than we would normally expect at this price point, but they are still well made and easy to use.
How long does it take to inflate the Bote HD Aero?
The HD Aero is a relatively large iSUP, so it does take a longer time to inflate. Using the included hand pump it takes about 10-15 minutes of pumping to reach 15psi depending on how quickly you pump.