The 2020 NIXY Manhattan is a long, fast inflatable paddle board that's a lot of fun to paddle. Measuring 12'6″ x 30″ x 6″ and weighing in at only 22 pounds, this is a very well-constructed iSUP that's loaded with great features…
NIXY Sports is a fairly new name on the SUP scene, and the Irvine, CA-based company is focused entirely on the iSUP market. In addition to NIXY's inflatable SUP lineup, the company also has a growing range of paddle board accessories. NIXY SUP boards are known for their great value and very affordable price points, and the latest models have only gotten better.
In this review of the brand new NIXY 12'6″ Manhattan touring iSUP, we'll take a look at this board's features and construction, what we like about it, what we'd like to see changed, the warranty, included SUP accessories, and more. We'll also tell you about a special promotion that can save you some money and for those who enjoy video, we've included several on this page including our in-depth review, setup, and unboxing videos.
In a Hurry? Here's a Quick Summary…
Pros

Lightweight


Affordable price point


Excellent rigidity


Well-built


Cutting-edge fusion drop-stitch construction


Good stability


Glides and tracks well


Quick release fin box is easy to use


D-rings on rail for optional kayak seat kit


Super comfy premium traction pad


Dual bungee storage areas


Convenient front/rear grab handles


D-ring on underside of nose for towing/tethering


Carbon fiber rail reinforcements for increased stiffness


Lay-flat carry handle with removable Velcro cover


Extensive bundle of SUP accessories included


High-quality wheeled backpack


Two color options (red and blue)


30-day money back guarantee


Solid 2-year warranty
Cons

No "action mounts" for paddlers who like to accessorize
Price & Where to Buy it
NIXY Manhattan Review: SUP Overview
Subscribe to our YouTube Channel!
Currently the longest board in NIXY's inflatable SUP line and available in two color options (red/white, and blue/white), the 12'6″ Manhattan is a fun touring SUP that is perfect for exploring and paddling long distances. This is a fast board that glides nicely on the water and it tracks well despite having only a single fin.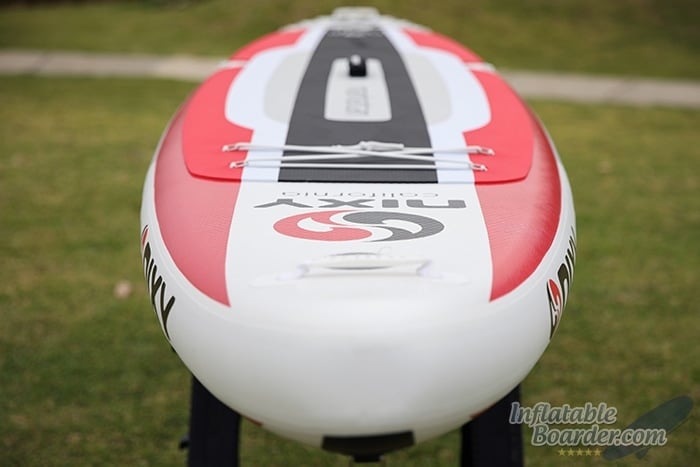 In 2018, NIXY transitioned their entire inflatable SUP lineup over to cutting-edge fusion technology which resulted in huge weight reductions. NIXY's first version of the Manhattan touring model weighed in at approximately 30 pounds, while this latest board comes in at just 22 pounds.
(*Drag slider below to compare the 2018 and 2019/2020 Manhattan)
Despite being so lightweight, the NIXY Manhattan is extremely durable and offers outstanding rigidity. Thanks to the advanced FUSIONtech drop-stitch construction, the board is super stiff and can be inflated all the way up to 20 PSI.
Features
The top deck of the NIXY Manhattan is covered by a large, premium quality EVA foam traction pad. The deck pad offers excellent grip and is incredibly comfortable thanks to the brushed surface and new logo embossed traction pattern.
(*Hover over hotspots for additional details)
Front bungee storage area is the perfect place to stash your dry bag, snorkeling gear, paddle, etc.
1 of 8
Secondary bungee storage area is great for stashing your gear when there's a pup or passenger riding along at the nose.
2 of 8
Center carrying handle makes it easy to carry around the Manhattan and the removable Velcro cover allows it to lay perfectly flat for added comfort when sitting or laying down.
3 of 8
New grab handle at nose is really useful for handling the board in and around the water.
4 of 8
Rear grab handle allows you to drag the board along the beach without damaging the fins.
5 of 8
D-rings along the board's rails allows you to easily attach NIXY's optional kayak seat kit.
6 of 8
Carbon fiber rail reinforcements increase rigidity and overall toughness.
7 of 8
Incredibly comfortable EVA foam traction pad features a custom NIXY logo embossed grip pattern.
8 of 8
Located at the middle of the board is a convenient carrying handle which is covered by a soft, neoprene cover. The handle is very comfortable and makes it easy to carry the board around when it's fully inflated. New for 2019, NIXY added a Velcro closure to the handle cover which allows you to take the neoprene cover off for a lay-flat handle (great if you'll be sitting or laying down on the board).
Also located mid-board along the outside edges of the traction pad are two stainless steel D-rings. These can be used to attach a kayak seat or as tie-down points for securing camping gear, a SUP cooler, etc.
At the board's tail is another stainless steel D-ring for attaching the included SUP leash. There are also 6 D-ring attachment points, a rear bungee storage area, and a convenient grab handle — all new additions to the Manhattan in 2019.
Located at the nose of the board is a Halkey-Roberts style air valve. Positioning the inflation valve at the board's nose allows you to begin rolling the board from the tail, making it easier to fold everything neatly over the fin box.
The nose of the Manhattan also features a new grab handle and four more D-rings with an elastic bungee cord storage area for securing your dry bag, snorkeling gear, etc.
On the flip side, the NIXY Manhattan has a single D-ring under the nose for towing the board or tethering it to a boat dock. There's also a large, removable single fin at the tail.
[2020 UPDATE] For 2020, NIXY updated their fins to make them a bit easier to insert and to tighten the thumbscrew. This addressed an issue  in our 2019 review where we found the center fin and a bit difficult to install.  We appreciate NIXY's responsiveness to addressing these sorts of details.
Construction
As mentioned, NIXY upgraded their entire iSUP line previously with ultralight FUSIONtech construction. That change resulted in dramatic weight savings across their entire range without sacrificing durability or stiffness.
The 2019/2020 Manhattan once again features NIXY's FUSIONtech construction, but the company has now added carbon fiber rail reinforcements for even more rigidity and toughness. This makes the Manhattan even stiffer than previously and on the water, it feels very similar to a hard board.
Paddling Performance
The new Manhattan is incredibly fun to paddle. This board glides and tracks well and it's ideal for cruising lakes, paddling long distances, and loading down with camping gear for multi-day SUP adventures. It cuts effortlessly through the water and still offers enough stability to be enjoyed by inexperienced paddlers.
This is also a fun board for paddling around small children or your dog and there's plenty of room at the nose for passengers…
Setup Video
Subscribe to our YouTube Channel!
Likes and Dislikes
We liked the 2018 Manhattan — it was a lightweight, minimalist inflatable touring SUP that delivered solid value at an affordable price point. This new model is a completely different animal — NIXY relaunched the Manhattan as a feature-rich, premium touring model that lacks absolutely nothing in terms of options. We have to say, they got it right and we like the 2019/2020 board even better…
This Manhattan is far more versatile than the 2018 model, thanks to details like dual bungee storage areas and a removable Velcro carry handle cover. The new grab handles at the nose and tail are super handy for pulling the board in and out of the water, and we love the rigidity and durability boost provided by the carbon fiber rail reinforcements.
The new traction pattern design is also really nice — it's super comfortable to sit or stand on and the NIXY logo stamped grip pattern is a nice premium touch that's typically only seen on boards at much higher price points.
We also really like the fact that the Manhattan's inflation valve is positioned at the nose of the board. This allows you to begin rolling the board up from the tail, neatly folding it over the fin box while simultaneously pushing excess air out at the nose. Most boards have the inflation valve positioned at the tail, which requires you to:
Roll the board from the nose to push air out.
Unroll the board after it's fully deflated.
Roll the board up once more from the tail so that you can neatly fold it over the fin boxes.
…having the air valve at the nose is a real time-saver when the time comes to deflate and pack up your board.
Lastly, we really like the improvements that NIXY has made to their accessory bundle. We'll go over all of those upgrades in just a minute.
As far as dislikes go, the 2019/2020 board weighs slightly more than the 2018 model (~3 pounds) which could be viewed as a negative, but this small increase in weight is due to all of the added features that the company packed onto the board — a trade-off that is definitely worthwhile in our opinion, as the Manhattan is still an extremely lightweight board for its size.
[Updated for 2020] And the switch to the quick-release fin box adressed our only major gripe from 2019.
NIXY 12'6" Manhattan
Durability

Features

Versatility

Stability

Speed

Portability

Warranty

Customer Support

Price
Specs
| | | |
| --- | --- | --- |
| | Length | 12'6″ |
| | Width | 30″ |
| | Thickness | 6″ |
| | Weight | 22 pounds |
| | Max Capacity | 300 pounds |
| | Price | |
What's Included
NIXY always packs a lot of value into their inflatable SUP packages, and the 2019 Manhattan is no exception. Included is everything you need to start paddling (aside from a personal flotation device, of course).
The board comes with NIXY's high-end wheeled iSUP backpack, 10-foot coiled hybrid SUP leash, floating 3-piece fiberglass travel paddle, inflatable paddle board repair kit, new dual-chamber triple-action Typhoon Pump, shoulder carrying strap, and user manual.
Unboxing Video
Subscribe to our YouTube Channel!
Backpack
NIXY's wheeled roller backpack is very well-constructed and made out of durable materials. Initially introduced last season, this year's version features some nice improvements that have been added based on customer feedback.
[2020 Update] For 2020, NIXY updated the handle positions on the backpack making it even easier to carry or pull.
The bag features super comfortable grab handles located at the top and side, and there's also a convenient plastic grab handle located on the bottom of the bag. All of these handles make it really easy to pull the pack in and out of the car.
There's a large zippered storage pocket on the front of the bag which is perfect for storing and organizing accessories. There's also a see-through luggage ID window which is a nice detail if you're planning to fly with your board.
On the sides of the bag are open pockets for stashing a water bottle, towel, or the 3-piece travel paddle. The top of the paddle can be secured via the backpack's compression straps. There are also webbed loop attachment points and plastic D-rings for securing accessories as well as multiple compression straps for cinching the bag up once it's fully packed out.
The grooved wheels on NIXY's backpack are absolutely massive and one improvement over other premium iSUP backpacks is the inclusion of an additional third wheel. Having a third wheel in the middle of the bag is super nice as it's easier to roll the bag off of curbs and over obstacles, and it also protects the bottom of the bag from dragging. Lastly, the wheels have deeply-grooved traction which really comes in handy when pulling the bag through grass, sand, and dirt.
Lastly, the rear of the bag features fully adjustable shoulder straps with looped attachment points, an adjustable sternum strap, and a padded waist belt for stabilizing the bag when it's on your shoulders. There's also a brand new velcro storage area on the back of the pack which allows you to hide the shoulder straps and waist belt away, preventing them from getting caught and snagged during travel.
Paddle
NIXY completely revamped their 3-piece travel paddle in 2019, replacing the previous season's aluminum shaft version with a lighter fiberglass model. This paddle has a durable design and the thin lightweight blade offers good rigidity thanks to the raised supports along the front.
Typhoon Pump
NIXY has also replaced their dual-action pump with the Typhoon Pump, a brand new dual-chamber triple-action model that dramatically reduces the time and effort needed to inflate the Manhattan.
Weighing in at only 3.81 pounds, NIXY's Typhoon Pump features an "Action Control" dial that allows you to switch modes during the inflation process. When you initially begin to pump up the Manhattan, simply turn the dial to setting #1. Once you begin to notice significant resistance, flip the dial to mode #2 and ultimately to #3 to finish inflating the board to 15-20 PSI.
The pump comes with a flexible inflation hose and there's also a built-in pressure gauge on top of the handle which conveniently tells you how much air is in your board at all times during the inflation process.
Leash
SUP safety is an important topic, and we're glad that NIXY includes an ankle leash with all of their 2019 boards. This year, NIXY's leash features a hybrid coiled/straight cord design for reduced tension and the neoprene cuff is well-padded and extremely comfortable. Lastly, there's a hidden storage pocket for stashing your key and metal swivels at both ends to prevent tangles.
Shoulder Carrying Strap
A new addition to NIXY's SUP accessory bundle for 2019, the shoulder carrying strap is a much more convenient way to carry your inflated board back and forth to the water. This fully adjustable strap quickly attaches to the D-rings on the top deck of the Manhattan, allowing you to throw the board over your shoulder and freeing up your hands to carry other gear.
This is a really handy accessory to have and a nice little bonus that NIXY is throwing in with their  boards that we haven't seen from any other brands that we review. That said, we wish that the shoulder pad had a grippier texture to it as it can slip off some shoulders too easily.
Repair Kit & User Manual
Last but not least, the Manhattan comes with a helpful user manual and an iSUP repair kit. Inside of the orange plastic container is a valve wrench and three PVC patches.
Optional Add-ons
In addition to NIXY's range of inflatable paddle boards, the company also has a growing lineup of paddling accessories. While not included with the Manhattan, the following accessory is available as an add-on upgrade to your order and we highly recommend it…
NIXY 12V DC Electric iSUP Pump
NIXY's 12V DC electric paddle board pump is an incredibly convenient accessory to have and once you try it, we guarantee that you'll never want to go back to manually pumping up your inflatable paddle boards. This pump quickly and automatically inflates the Manhattan to the recommended PSI and there's an auto-shutoff safety feature to prevent over inflation.
NIXY's electric iSUP pump comes with a really nice travel case, cigarette lighter adapter plug, alligator clips, and rubber replacement feet. To use the pump, simply connect it to a power source (either plug it into your vehicle's cigarette lighter adapter or attach it directly to the battery), turn the dial to your desired PSI, and press the power button. The pump does all of the work for you and you can literally start it up and walk away.
If you'd like to check out our in-depth review of this pump, click here.
Warranty
NIXY backs all of their inflatable paddle boards with a rock-solid 2-year warranty which covers any and all manufacturing defects. Also included is their risk-free, 30-day money back guarantee.
Where to Buy it + Discount
You can order the new NIXY Manhattan directly from the company's official website. NIXY is well-known for their outstanding customer support, and the company always offers the lowest prices on their gear. Additionally, you'll get fast, free shipping, a 30-day money back guarantee, and no sales tax (unless you're in California).
NIXY Sales and Discounts Codes
NIXY frequently has a special promotion going on or a discount code available. Click here to check our "Ultimate Deals Page" for the most current deals available from NIXY and other top inflatable SUP brands.
Final Thoughts
Overall, we're extremely impressed with NIXY's updated Manhattan iSUP. This is a super fun board for exploring and paddling longer distances, and we absolutely love the build quality, light weight, new features, and affordable price point. For those in need of a more versatile all-around board with greater stability, we highly recommend checking out some of the company's other iSUPs such as the popular NIXY Newport, Venice, and ultra-compact Huntington travel iSUP.
And with the refinements NIXY made for the 2020 season, they've addressed practically every nit-picky issue we could find in 2019.
Bottom line: If you're looking for a super affordable, well-built, and feature-rich touring SUP that includes a solid warranty and SUP accessory bundle, you absolutely will not be disappointed with NIXY's new Manhattan.