Nautical 10'6 iSUP (by iROCKER) Review | 2023
Inflatable Boarder is reader-supported and may earn a commission when you buy through links on our site. Learn more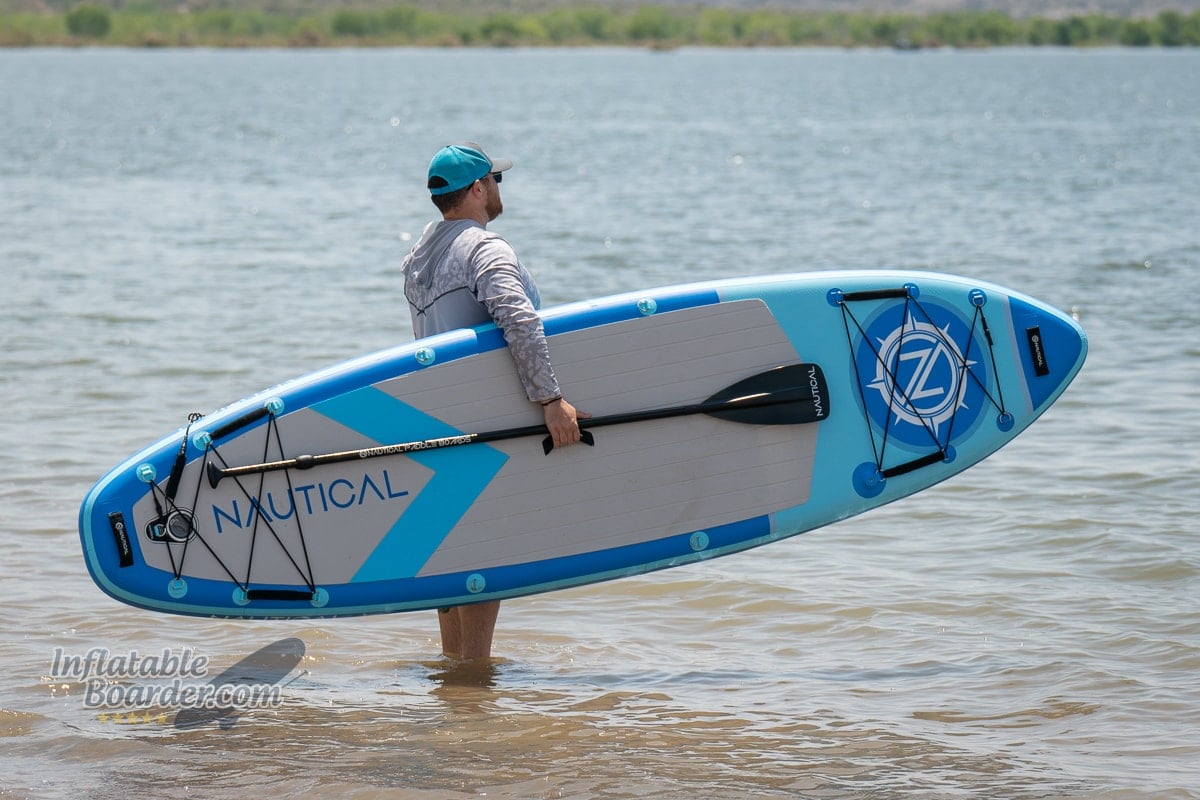 Nautical 10'6" iSUP 2023: Overview
The Nautical 10'6" by iRocker is an all-around inflatable SUP ideal for smaller paddlers on a budget. This lightweight iSUP is easy to maneuver both on and off the water, and is still packed with lots of great on-board features as a truly all-around paddle board. For beginners just entering the wide world of stand up paddleboarding, the Nautical 10'6" offers a fantastic value and experience.
— Nautical 10'6" Summary Ratings and Review —
Nautical 10'6" by iROCKER
Construction & Durability

Features and Versatility

Stability

Speed

Maneuverability

Tracking
Overall Score
The Nautical 10'6" is a budget- and beginner-friendly iSUP.
Pros
Budget friendly iSUP backed by a well-respected SUP brand
Lightweight and small package is easy to transport
Beginner-friendly stability
Lots of cargo space and versatility
Compatible with kayak seats and threaded accessory mounts
Triple fliplock fin boxes are easy to use and adjust for different conditions
Fiberglass paddle is lighter weight and more comfortable than aluminum paddles typically seen at this price point
1 year warranty on the board and accessories
Cons
The 240 lbs weight capacity is more restrictive for those who want to paddle with kids, dogs, or lots of equipment
The lightweight construction will flex more for heavier paddlers (over 200 lbs)
Construction and Durability
The Nautical series by iRocker is a budget friendly sub-brand that uses a "double layer composite" construction. This double layer composite is a combination of the internal fabric base and the external PVC shell. Most manufacturers will refer to this as a single layer construction (referring to the single layer of PVC material). Check out our recent blog post for more information about iSUP construction and terminology.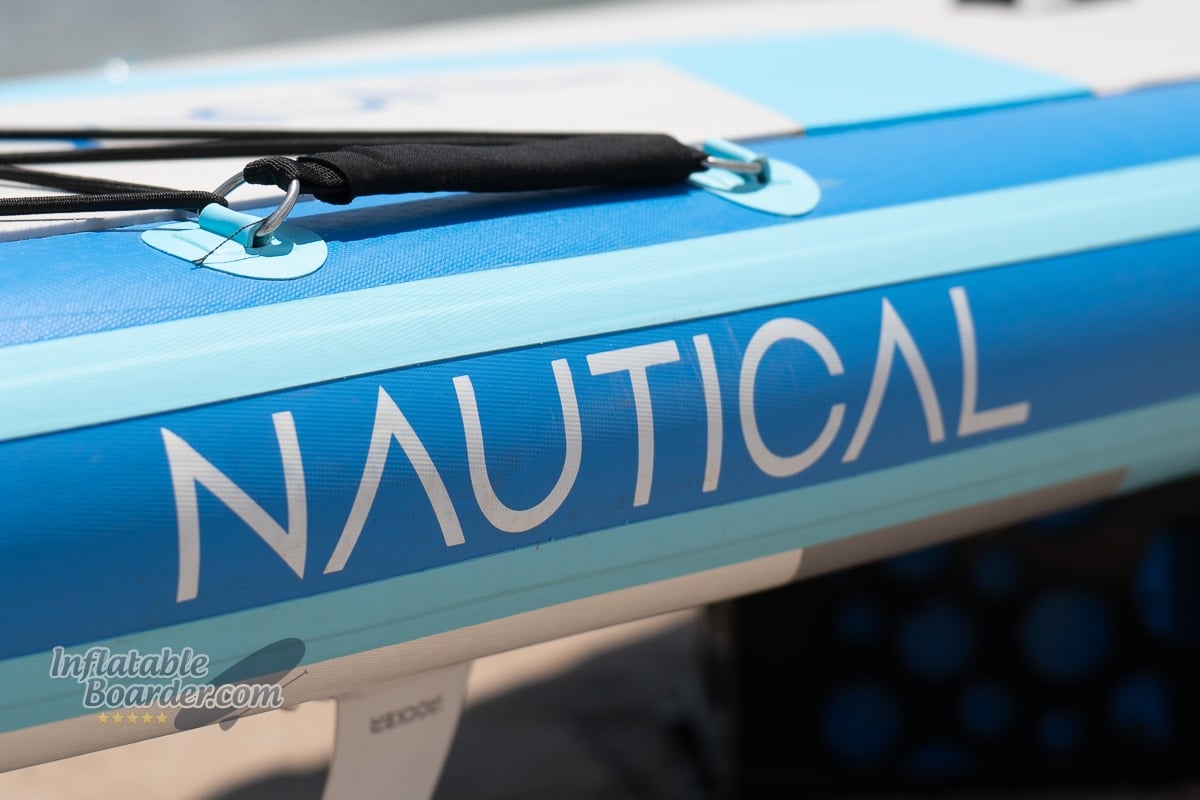 Inside the Nautical 10'6" there are two layers of knitted fabric (one on the top, one on the bottom) that are joined together by thousands of thousands of "drop stitch" yarns that give the board rigidity and its flat shape. A layer of PVC material is then adhered to the fabric base layers to make the material air tight and add more rigidity.
The top and bottom layers are joined together by an internal seam that is glued all the way around the edge, or rails, of the board to complete the air chamber. Another layer of PVC is then glued around the outside of the rails to protect the inner layer. Lastly, narrow bands of PVC material, called seam reinforcement strips or pin lines, are glued to the edges of the outer rail for further reinforcement and protection.
The final product is an airtight and rigid inflatable paddle board that is ready to hit the water. The Nautical 10'6" can be inflated up to 18 PSI for best performance. Most inflatable paddle boards in this price range are only recommended to use at 12-15 PSI.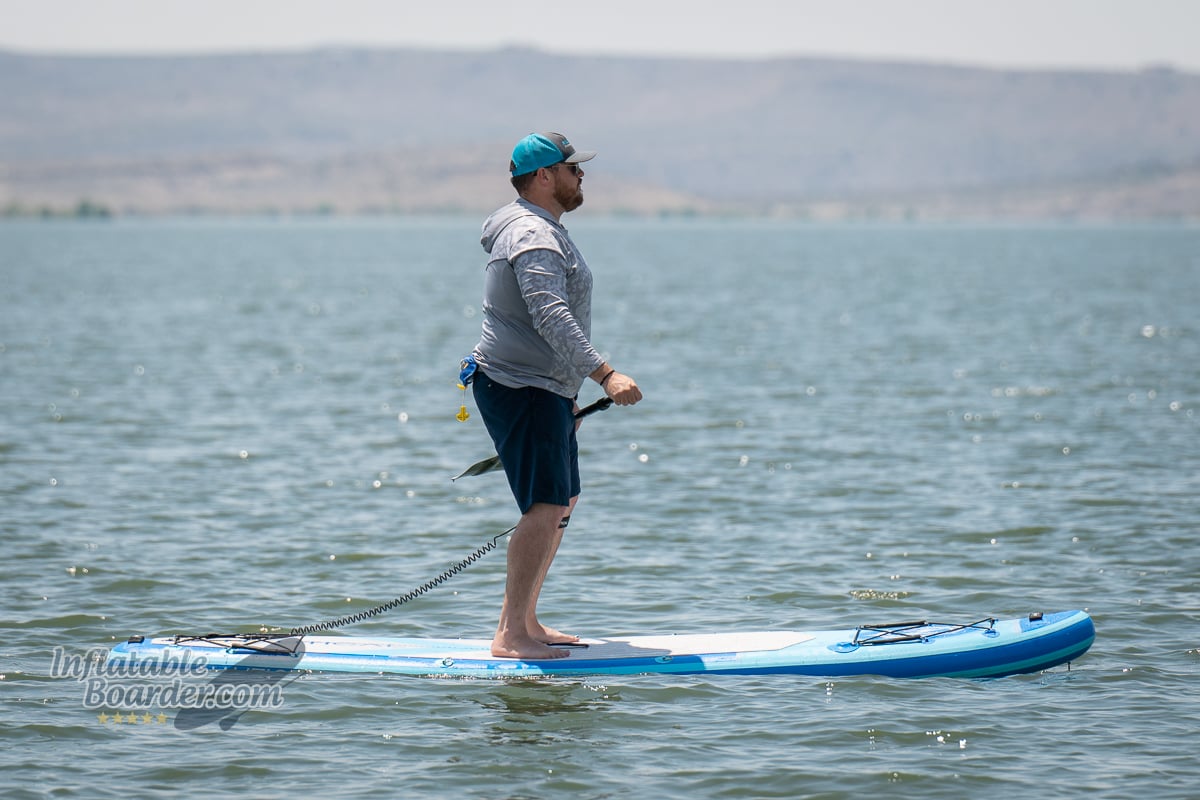 We put the Nautical 10'6" through our dry land bend test to measure its rigidity. With 170 lbs of weight, the Nautical 10'6" bent 3.25" across a 7' support gap. While this score does put the Nautical 10'6" at the bottom of our dry-land bend test results, it's important to remember that how the board feels on the water is not only different, but also far more important.
As a heavy paddler near the recommended limit for this SUP I did feel some slight flex while standing and paddling casually on the Nautical 10'6". However it was never to an extent that I found it to be an issue during normal use. While jumping on the board and while paddling with a lot of effort (like during a sprint) I did find there to be a lot of flex. The amount of flex was enough to impact other characteristics like tracking, speed, and stability. Once I finished jumping or sprinting on the Nautical it did have a comfortable and smooth rebound, rather than a tight and bouncy return to normal.
Specifications
Dimensions
Length
10'6"
Width
32"
Thickness
6"
Weight
Max Capacity
240 pounds
Board Weight
20 pounds
Kit Weight

27 pounds
Buying Info
List Price
Warranty
1 years
Returns period
45 days
Features, Accessories and Versatility
The Nautical 10'6" is an all-around iSUP that's designed to be stable enough for beginners to learn on and offer enough versatility to use it for several different aspects of the sport. Whether you are cruising, fishing, paddling with your dog, or just about anything else, the Nautical 10'6" can get you started without needing a specialty board.
In addition to all of the features on the board, the Nautical 10'6" comes as a complete paddling kit. The only other thing you'll need to get before hitting the water is a PFD. With the kit you'll get the board, a fiberglass/nylon paddle, three fins, a coiled ankle/calf leash, a repair kit, a double-action/single chamber hand pump, and a backpack style transport/storage bag that's large enough to fit the entire kit. Between the large number of features on the board and the quality of the entire kit, the Nautical 10'6" is one of the best, high-quality, budget-friendly iSUPs on the market.
Paddle
Included with the Nautical 10'6" iSUP is a fiberglass and nylon hybrid paddle. Like the Nautical, the paddle is designed to be beginner friendly and work well in a variety of conditions.
Very frequently paddle board packages in this price range include an aluminum paddle. Aluminum is heavy, it bends (permanent), and it can be uncomfortable to use in very hot or cold conditions, but it's cheap. The Nautical paddle uses a fiberglass shaft instead of aluminum. Fiberglass is significantly lighter than aluminum and it flexes during use without bending permanently.
This fiberglass shaft makes the paddle lighter and more comfortable to use for longer days on the water. The handle section is also made of fiberglass with a plastic palm grip at the top. I'm not so much of a fan of this plastic grip. It feels very lightweight and it frequently feels soft in my hand, especially if it's been out in the sun for a while. The adjustable handle section uses a twin-pin clip to hold the paddle handle in place. This has a bonus effect of automatically aligning your paddle blade and handle together, so you don't have to worry about them being twisted or backward.
The paddle blade is made of a fiber-reinforced nylon material. This is a highly impact-resistant material that also has some amount of flex. Instead of an angled blade that commonly confuses new paddlers, the Nautical paddle blade has an intuitive scoop shape. There are some drawbacks to the scoop instead of the angled blade, but typically just for more advanced paddlers. Overall the Nautical paddle is very user friendly and works well for casual paddling with the Nautical 10'6".
Stability
Designed with beginners in mind, the Nautical 10'6" has good stability thanks to its width and shape.
10'6" x 32" is about as "average-size" as you can get for an all-around iSUP these days, but how that size is implemented is just as important for stability. The 32" maximum width is carried through the middle portion of the board and the nose is likewise kept wide until the very end. Looking at the tail of the board we see nearly the same thing with just a little more volume taken out near the tail. This boxier shape ensures more contact area with the water no matter where you are standing which results in better stability.
While standing and paddling normally I did not experience any rolling or twitching sensations on the Nautical 10'6". While rocking the board from side to side the rails of the board dipped smoothly below the surface and rose back up cleanly as well. Holding the Nautical 10'6" on its rail was just as easy. When the width is carried forward and back there is more surface area in the water even when it's tilted onto the rail. This secondary stability is great for beginner paddlers as they learn how the board behaves in the water and how far they can tilt from side to side without falling.
Between the lighter weight construction and being a heavier paddler I did notice that my feet became tired quicker on the Nautical 10'6" because of the board's flex. Even though I wasn't thinking about it, the small muscles in my feet and lower legs were working a little harder to make up for the slight movement from the less-rigid board.
Speed
With the mindset of an all-around iSUP we don't expect it to offer peak performance in any single category, but rather to be well balanced. In this case the Nautical 10'6" does perform moderately well in our speed testing, and the rest of our testing too!
In our top-speed and sprint testing, the Nautical 10'6" performed well for an all-around iSUP, especially considering its higher flex profile. For a sustained sprint I was able to keep an average speed of 5.2 MPH (8.4 KMH), and a peak speed of 5.5 MPH (8.9 KMH). It was difficult to maintain these speeds, though, as the Nautical 10'6" did flex quite a bit while sprinting. Flexing while paddling drives the board down into the water rather than forward, and it also encourages twisting/turning with each stroke.
More importantly than top speed with an all-around iSUP is its cruising speed and efficiency.
While paddling at a much more relaxed pace, the Nautical 10'6" has a respectable cruising speed of around 3.3 MPH (5.3 KMH). That is on par with other iSUPs in the same size and class. With each paddle stroke the Nautical 10'6" will travel an average of about 17 feet before it slows down. This gives it a glide ratio of about 1.6 board lengths per stroke, which is once again right where we expect boards of this size to perform.
Overall I found the Nautical 10'6" to be pleasantly fast as an all-around board, but difficult to paddle quickly.
Maneuverability and Tracking
Maneuverability and Tracking are usually two sides to the same coin. It's the goal of an all-around SUP to balance them both well so you can easily paddle straight to get from point to point, but just as easily turn and change course. With three fin boxes available, the Nautical 10'6" has the benefit of allowing you to more easily customize your maneuverability and tracking performance.
With all three standard fins installed (1×9" center fin and 2×4.5" side fins) the Nautical 10'6" performed well in our maneuverability test. To compare maneuverability performance we test to see how many forward sweep paddle strokes (paddling in an arc from nose to tail) it takes to turn a paddle board in a full circle. The Nautical 10'6" completed this test with an average of 4.75 strokes. That's quite good for any iSUP, especially one with this fin setup.
Doing the same test in reverse (sweeping from tail to nose) works against the fins, rather than with them, and turns the Nautical 10'6" significantly faster with just 3.75 strokes on average.
Of course one of the fastest ways to turn any paddle board is by stepping back to the tail and executing a pivot turn. Sinking the tail of the Nautical 10'6" was quite easy and the board remained relatively stable while spinning around, though I did feel some of the flex in the board while it was hanging up in the air.
We put the Nautical 10'6" to our tracking test using the same fin setup as we did in our maneuverability test. Instead of trying to turn in a circle with a few strokes, we tried to keep going in a straight line with many. We start by paddling the board toward a distant target then, once we are headed straight towards the target, take 10 paddle strokes in a row on just one side of the board. Then we measure the difference between our old and new course using a sighting compass. The Nautical 10'6" did very well deviating just 13° off course on average.
Most paddlers, especially newer paddlers, won't be taking 10 strokes per side while cruising around on boards like the Nautical, so it's safe to say that the Nautical 10'6" is going to go where you point it. When you do want to change course, though, it also responds very well to steering input whether that is a basic turning stroke or something more advanced like a static bow draw stroke.
The Nautical 10'6" has three fliplock style fin boxes. The front two fin boxes have a shorter base and are compatible with Nautical's 4.5" side fins. The center box has a longer base and is compatible with Nautical's 9" center fin as well as the iRocker/Blackfin shallow "river" fin. The fliplock fin boxes are easy to use and require no bolts or tools. However they are more limiting in the types of fins available compared to the more standard US fin box. I would like to see iRocker expand their fin offerings a little more with options for true touring fins and more side-fin sizes.
Warranty and Customer Support
iRocker offers a 1 year warranty on the Nautical 10'6" iSUP and all of its included accessories. A 1 year warranty is a bare minimum within the industry these days. I do not have any doubts that the Nautical 10'6" will long outlive this warranty, but it would be nice to see iRocker back the Nautical brand with the same 2-3 year warranty they offer for their iRocker and Blackfin products. Additionally, the Nautical 10'6" does have a 45 day return policy. Customers are responsible for return shipping and refunds may be subject to a reduction based on the condition of the board. If you have any questions, you can contact iRocker via telephone, email, webform, and social media.
Overall Impressions/Review Summary
The Nautical 10'6" iSUP is an excellent value beginner paddle board for those shopping on a budget. It has great stability to help you quickly get up and start paddling, and tons of versatility and features to let you try out just about everything you can do on a SUP. While there is always room for improvement with every product, the Nautical 10'6" has an excellent balance of features, performance and price.
Nautical 10'6" iSUP FAQ
Nautical vs. iRocker vs. Blackfin— which SUP should I buy?
If you're on a tight budget and money is an issue, we'd recommend the Nautical. If you can afford to pay a bit more for an inflatable SUP, then we'd highly recommend bumping up to the iRocker or Blackfin range. In short, buy what you can afford and know that all of iRocker's inflatable SUPs offer outstanding value at the price point they're sold at.
Can I paddle my dog around on the Nautical 10'6"?
Yes! The tough outer-layer of PVC won't be damaged by your pup's paws, however do be mindful of the weight capacity. While a small Heeler may do well on the Nautical 10'6" a large Lab may make things a little unstable. For higher weight capacities, look to the Nautical 11'6" or the Blackfin Model X.
How long does it take to inflate the Nautical 10'6" iSUP?
Depending on how quickly you pump, the Nautical 10'6" can be inflated in as little as 5 minutes, but average inflation time is closer to 8 minutes.