THURSO SURF Waterwalker 126 Review | 2021
Inflatable Boarder is reader-supported and may earn a commission when you buy through links on our site. Learn more
THURSO SURF's Waterwalker 126 is the middle-length version of their popular and highly-rated Waterwalker all-around inflatable paddle board family. The 10'6″ SUP, known for its unique woodgrain look, received several key refinements for the 2021 season after major upgrades in 2020; we'll cover it all in this THURSO Waterwalker 126 review.
Founded in 2016, THURSO SURF is an up-and-coming SUP company that continues to expand their lineup with new models, giving paddlers plenty of choices when it comes to selecting the best inflatable SUP for their size and interests. In addition to the all-around Waterwalker iSUPs, they also offer the THURSO Expedition touring SUP, the Tranquility fitness SUP, the Prodigy SUP for kids, and the multi-purpose THURSO Max.
Now available in the US, Canada, UK, and Europe, we really appreciate how attentive this company is to customer feedback — adding requested features — and focused on delivering top-notch customer support. We think you see the results in their growing popularity.
In this hands-on review of the THURSO Waterwalker 126 we'll take a look at the board's features, construction and build quality, pros and cons, included accessories, warranty, and more. And we'll pay special attention to the changes made for 2021 to one of our Top Picks of last season.
Specifications
Dimensions
Length
10'6"
Width
31"
Thickness
6"
Weight
Max Capacity
300 pounds
Board Weight
24 pounds
Kit Weight
(SUP & accessories)
43.6 pounds
Buying Info
List Price
$824
Warranty
2 years
Returns period
30 days
Click here to buy the Waterwalker 126 from THURSO
— In a Hurry? Here's a Quick Summary —
THURSO SURF Waterwalker 126
Durability

Features

Versatility

Stability

Speed

Portability

Warranty

Customer Support

Price
Summary
The THURSO Waterwalker 126 is a 2021 Top Pick for anyone looking for an value-packed, responsive all-around paddle board with high quality accessories.
Pros
New lighter woven drop stitch construction
New lighter carbon fiber hybrid paddle
New 3-stage pump with removable handles and folding feet
Convenient paddle holder along right rail
Beautiful wood grain design
Good rigidity
Excellent build quality
High quality set of included accessories
Cons
Not as stable as wider 32″ all around SUPs
No exterior paddle pockets on backpack
Only one action mount
Not available in Australia
Pros

Beautiful new design


Affordable price point and great overall value


Durable


Rigid


Easy to maneuver


Versatile


Handy grab handle at nose and tail


Paddle holder on board's rail


Plenty of D-rings for securing accessories or tying down gear


Triple removable fins for easier packing and racking


Bungee storage area at nose and tail


Improved SUP accessory bundle


Friendly and responsive customer support


Excellent 2-year warranty
Cons

Only one color option


Not as stable as other all-around boards
Price & Where to Buy it
THURSO Waterwalker 126 Review: Overview
The newly redesigned THURSO SURF Waterwalker 10'6″ gives many smaller paddlers exactly what they've been asking for — a design and features that are similar to the larger THURSO Waterwalker 132 all-around iSUP but in a more compact package.
Measuring 10'6″ x 31″ x 6″ and weighing in at 24 pounds, it's important to note that the Waterwalker 126 is not just shorter but also an inch narrow than the Waterwalker 132. While this will keep the board nimble for smaller paddlers, it will make it feel less stable for taller paddlers who are used to other brands' shorter all-around SUPs maintaining a 32 inch width.
THURSO also makes the Waterwalker 120 which measures 10′ x 30″ x 6″. Given its yet narrower width we recommend it primarily for paddlers who prefer a narrower board or older kids who may have outgrown their Prodigy Jr. board.
Overall, this is a really fun, versatile SUP that is ideal for both beginners and those with more experience. In our head-to-head testing this year with all-around boards from a number of brands, the THURSO Waterwalkers were consistently one of the favorites of all our testers.
Appearance
In 2020 Waterwalker boards received a major visual update. At the time we thought it was a real head-turner, standing out from the competition with a "classic" woodgrain look deck and sharp contrastring colorblocked traction pad. For 2021 they've kept that new design with slight refinements: removing the center stripe from the deck pad and adding more color to the bottom of the board.
Of course, aesthetics are largely a matter of personal preference, but we think THURSO makes some of the best looking SUPs available today, and they're certainly immediately recognizable for their iconic look.
— Drag slider below to compare the 2019 and 2020 Waterwalker 126 —
A bigger change, this season, is color. Historically in the Waterwalker design scheme, color indicates the board length. Enough customers have asked about being able to mix and match color and length that for 2021 THURSO has made all three lengths of the Waterwalkers SUPs available in three colors: Crimson, Tangerine, and Turquoise. The color of our board for this reviews is Crimson.
THURSO's also paid close attention to the finishing details. Most of the attachment point "patches" are a woodgrain pattern so that they blend into into the board's design. Similarly, if you look closely at the traction pad, you'll also notice that the texture is a tiny embossed THURSO logo – a detail typically found in much pricier boards.
The overall effect is THURSO's best looking inflatable SUP yet and what we think is one of the most polished looking iSUPs on the market. The THURSO design will especially appeal to paddlers not interested in the bright "candy colored" trend seen in a lot of brands.
Features
— Click on hotspots below for additional details —
The Waterwalker 126 board features are similar to 2020. Starting at the nose of the board is the board's lone action mount. This M8 threaded mount point is used for attaching GoPro cameras and other optional accessories and have become increasingly popular the past few years. Just behind the action mount is the front grab handle for pulling the board in and out of the water.
Dominating the front area of the board is a generous 6-point bungee storage area. The cargo area is absolutely perfect for stashing your Crocs, backpack, or dry bag while you're out on the water. The bungee is tied with a simple knot and no longer sealed, so it's possible to remove if you'd prefer to have the space open.
Mid-board is a comfortable EVA foam deck pad that provides good cushioning and plenty of traction, even when wet. In the center of the pad is a webbing carrying handle. While not padded like the handles on some other brands, it has the advantage of laying flatter when sitting or lying on the board.
On the right rail are two velcro paddle holder loops which gives you a great out-of-the-way spot to secure your paddle whenever you want to take a swim, lay out, or just relax. These are one of our favorite features of the THURSO boards and we have yet to find another paddle holder on another brand that we like as much.
Also located along both rails mid-board are 4 stainless steel D-rings for attaching the company's optional kayak seat or tying down additional gear.
Toward the tail of the Waterwalker is a smaller 4-point bungee storage area and a second grab handle. We love the placement of this grab handle as it allows you to elevate the board's fins off the ground, preventing them from being damaged by rocky beaches and hard objects. We wish more SUP-makers would include them. There you'll also find the inflation valve and a D-ring for attaching your leash.
On the bottom, THURSO once again went with a 2+1 fin setup. All three fins are removable and they attach securely without tools or screws. To attach a fin, just insert it into the fin box and then secure it by pushing down the lever lock.
We love the fact that THURSO SURF uses three removable fins on all of their inflatable SUPs. Not only does this allow you to roll the boards up into a more compact size for easier transport and storage but they're easier to stack if you rack them on top of your vehicle.
More advanced paddlers will appreciate the flexibility to switch between a single center fin, just two side fins, or the 2+1 fin configuration depending on their preferences and water conditions.
Construction
THURSO boards are all built solidly using a double-layered construction and a tough exterior PVC skin that resists cuts and punctures caused by run-ins with rocks, sticks, and other sharp objects. The side seams are further reinforced as this is an area that can take a lot of abuse.
New for 2021, THURSO transitioned to woven drop stitch construction from the standard drop stitch construction they previously used for the internal envelop of the board. By switching to this advanced construction technique they were able to reduce the board's weight by four pounds while both making the SUP easier to roll up when deflated and increasing its strength and rigidity when inflated.
Previously in 2020 THURSO also added carbon fiber reinforcement rails on both sides. We've been seeing more of these recently and they have the dual benefit of providing more abrasion resistance as well as also making the board more rigid nose-to-tail.
In sum, the 2020 Waterwalker 126 is a very durable board that you won't have to pamper, and it can handle whatever you, your kids, and your dog can dish out.
Paddling Performance
The Waterwalker 126 is a lot of fun to paddle. As an all-around board, the Waterwalker 126 won't be as fast as as a racing or touring SUP, but its speed and handling are very respectable. As for maneuverability, the board is responsive and turns easily. We credit this to its new lower weight and narrower width.
At 31 inches wide, smaller paddlers or experienced paddlers looking for a narrower, more responsive all-around SUP will find this a well-matched board to their needs. Otherwise we'd recommend most beginners or taller paddlers looking at its larger sibling the 32 inch wide Waterwalker 132 model or the 34 inch wide THURSO Max.
Our Impressions: Likes and Dislikes
The Waterwalker 126 has been a reliable Top Pick on our all-around SUP list for several years and it easily earns its spot for 2021 again. After the number of features that were added to the board last year, this year was was certainly a much simpler "refresh." That said, the four pound weight savings from the switch to woven drop-stitching is impressive and the addition of color choices will be welcomed by THURSO's fans.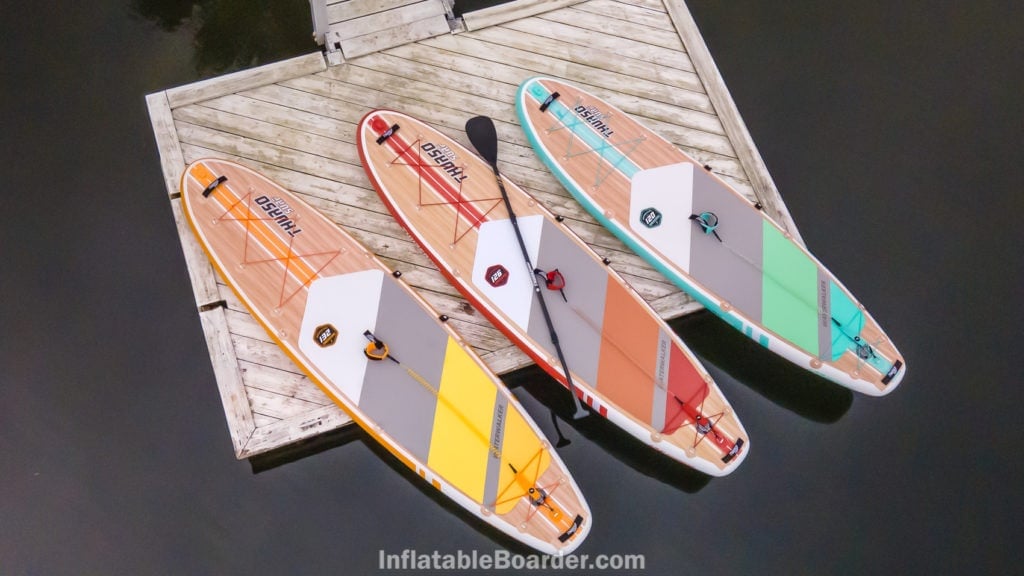 Some of our other favorite features of the board continue to be:
the generous amount of cargo storage
the excellent velcro paddle holder loops on the right side rail
the iconic woodgrain look and stylish design
the high quality included accessories
We haven't gone over the accessory bundle just yet, but there have been several key improvements made this year. We'll discuss those in a minute…
As far as dislikes go, we do have a few minor notes. First, there is only one action mount. For some people this may be a non-issue, but we are seeing competing boards with six mounts or more for paddlers who really like to accessorize their SUPs. Second, as mentioned we found the tracking to underperform our expectations a a bit.
Finally, we wish THURSO would look into making the cargo bungee cords adjustable and removable like NIXY SPORT's. Again, these are all relatively minor and overall the 2021 Waterwalker 126 is a great board.

Accessories: What's Included
THURSO has always done a fantastic job of delivering great value when it comes to their SUP accessory bundles. Included with all the Waterwalker SUPs is a premium quality wheeled SUP backpack, a 3-piece carbon fiber shaft paddle, dual-chamber hand pump, coiled SUP leash, iSUP repair kit, and user guide. The backpack, paddle, and pump have all been updated for 2021.
Roller Backpack
THURSO's backpack is incredibly well-made, using heavyweight materials that will stand up to long-term use and quality finishes and detailing that make it feel more like a nice piece of soft-sided luggage than your average SUP bag. The bag is nice and roomy and there are plenty of pockets for organization.
The front of the pack features a large zippered storage pocket that gives you access to your accessories without having to dig through the bag's large interior compartment. There's also a nice sized clear pocket on the outside of it which features a velcro closure along the top.
On both sides of the bag there are compression straps for securing your load and two grab handles which come in handy when you're loading and unloading it. There's a third grab handle on the top of the bad as well.
On the bottom of the bag are the two roller wheels. These are smooth wheels that do well on hard surfaces like sidewalks, but we wish they had more tread for navigating grass or sand. The entire bottom of the bag is heavily reinforced both for the protection of your board as well as to give it more structure to allow the bag to stand upright on its own.
Located on the rear of the bag are two lightly-padded shoulder straps that are fully adjustable. This bag does not include a sternum strap although the shoulder straps were positioned well enough that we didn't miss it. The entire back of the bag is covered by a comfortable back cushion that's covered with a breathable mesh lining. There's also a padded waist belt for stabilizing the bag when it's loaded and on your shoulders.
Lastly, the interior of the bag is well lined with a snag-resistant material and features a few more storage pockets as well as internal compression straps.
Overall, THURSO's is one of the nicest SUP backpacks out there. This is a serious iSUP backpack that's well-built and we love all of the storage pockets, grab handles, and the great looks. We do wish the wheels were larger with more tread to handle rougher terrain. We also found the should and waist straps comfortable but thing some additional padding could be helpful for longer hikes. Finally, it would e nice to have some external paddle pockets on the sides of the bag.
Paddle
THURSO's include paddle was already our favorite of the 2020 season, but they managed to improve upon it for 2021. The included paddle features a carbon fiber shaft in a matte finish, a new carbon/nylon blend blade, and their unique t-grip handle with the rubberized finish.
This new blade is the headline for this season, making the paddle surprisingly lighter. Since this is piece of equipment that you're lifting and pushing through the water over and over throughout the day, it can have an outsized impact on your experience of the SUP. In our testing, we thought the paddle update was more noticeable on the water than the four pounds that the board shed.
The paddle does retain it's t-grip handle that we like so much. It remains comfortable even after hours of paddling and stays grippy even when wet.
Dual Chamber Pump
THURSO also includes a nice dual-chamber triple-action hand pump with all of their Waterwalker boards. The pump has an easy-to-read, built-in pressure gauge which tells you exactly how much air is in the board, and the triple-action gives you three "gears" to use when inflating your board.
Refreshed for this year, the pumps feet now conveniently fold up and the handles unscrew and can be stored on the back of the pump. This removes any protrusions making the pump much easier to slide in and out of the backpack or other small storage areas.