THURSO SURF Waterwalker 10'6″ Review | 2020
Inflatable Boarder is reader-supported and may earn a commission when you buy through links on our site. Learn more
THURSO SURF has updated all three of their popular and highly-rated Waterwalker paddle boards for 2020. The Waterwalkers are the all-around members of the company's growing iSUP family and the 10'6″ Thurso Waterwalker 126 is the middle board of the three. For many paddlers it will be the "goldilocks" option, falling in between the 10′ Waterwalker 120 and the 11′ Waterwalker 132 in both length and width.
Founded in 2016, THURSO SURF is an up-and-coming SUP company that continues to expand their lineup with new models, giving paddlers plenty of choices when it comes to selecting the best inflatable SUP for their size and interests. In addition to the all-around Waterwalker iSUPs, they also offer the Thurso Expedition touring SUP, the Tranquility fitness SUP, the Prodigy SUP for kids, and the multi-purpose Thurso Max.
We really love the fact that this young company is so attentive to customer feedback, eager to add requested features, and intently focused on delivering top-notch customer support — and you see the results in their growing popularity.
In this hands-on review of 2020 update to the  THURSO Waterwalker 10'6″ inflatable SUP we'll take a look at the board's features, construction and build quality, pros and cons, included accessories, warranty, and more. And we'll pay special attention to the changes made for 2020 to one of our Top Picks of last season. 
In a Hurry? Here's a Quick Summary…
Pros
Beautiful new design
Affordable price point and great overall value
Durable
Rigid
Easy to maneuver
Versatile
Handy grab handle at nose and tail
Paddle holder on board's rail
Plenty of D-rings for securing accessories or tying down gear
Triple removable fins for easier packing and racking
Bungee storage area at nose and tail
Improved SUP accessory bundle
Friendly and responsive customer support
Excellent 2-year warranty
Cons
Only one color option
Not as stable as other all-around boards
Price & Where to Buy it
THURSO 2020 Waterwalker 10'6″ Review: Overview
Subscribe to our YouTube Channel!
The newly redesigned THURSO SURF Waterwalker 10'6″ gives many smaller paddlers exactly what they've been asking for — a design and features that are similar to the larger THURSO Waterwalker 11′ all-around iSUP but in a more compact package.
Measuring 10'6″ x 31″ x 6″ and weighing in at 28 pounds, the new Waterwalker 126 features a freshly updated design, several great new features, and a nicely upgraded accessory bundle. This is a really fun, versatile SUP that is ideal for both beginners and those with more experience. 
In our head-to-head testing this year with all-around boards from a number of brands, the Thurso Waterwalkers were consistently one of the favorites of all our testers.
Overall, we really like the changes THURSO SURF has made to their Waterwalker lineup this year — they held on to a lot of the strengths from the previous models while still making improvements based on popular customer requests.
(Drag slider above to compare the 2019 and 2020 Waterwalker 126)
For 2020 the THURSO's Waterwalker 126 received a visual refresh. The top deck of the board more prominently features THURSO's signature natural woodgrain look. Meanwhile the EVA foam traction pad has been updated with a simpler colorblocked design that looks clean and fresh.
In Thurso's design scheme, color indicates the model and length. So the accent color on the Waterwalker 126 is a pale aqua, in contract to the "tangerine" Waterwalker 120 and the brown Waterwalker 132.
Thurso's also paid close attention to the finishing details. Most of the attachment point "patches" have been updated from the previous gray to a matching woodgrain pattern that blends alomost invisibly into the board's design. If you look closely at the traction pad, you'll also notice that the texture is now a tiny embossed Thurso logo – a detail typically found in much pricier boards.
The overall effect is Thurso's best looking inflatable SUP yet and what we think is one of the most polished looking iSUPs on the market. The Thurso design will especially appeal to paddlers not interested in the bright "candy colored" trend seen in a lot of brands.
Newly redesigned carrying handle makes it easy to carry the Waterwalker 10'6″ around.
1 of 8
Handy grab handle at nose for pulling the board in and out of the water.
2 of 8
Rear grab handle elevate the fins and prevents damage caused by rocky beaches and other hard objects.
3 of 8
Soft EVA foam traction pad is super comfortable and provides excellent grip.
4 of 8
D-rings along rails for attaching optional accessories or tying down additional gear.
5 of 8
New paddle holder along right rail gives you a convenient way to secure your paddle.
6 of 8
New rear bungee cargo area for increased storage — perfect for those times when there's a passenger or pup at the nose.
7 of 8
Massive front bungee storage area for stashing your dry bag, backpack, Crocs, and other gear.
8 of 8
(Hover over hotspots above for additional details)​​
Mid-board is comfortable EVA foam deck pad that provides good cushioning and plenty of traction, even when wet. In the center of the pad is a webbing carrying handle. While not padded like the handles on some other brands, it has the advantage of laying flatter when sitting or lying on the board. On the right rail are two velcro paddle holder loops which gives you a great out-of-the-way spot to secure your paddle whenever you want to take a swim, lay out, or do a SUP fitness workout.
Also located along both rails mid-board are 4 stainless steel D-rings for attaching the company's optional kayak seat or tying down additional gear.
Moving to the nose of the board is a generous 6-point bungee storage area. The bungee storage area is absolutely perfect for stashing your Crocs, backpack, or dry bag while you're out on the water. Ahead of the storage area is a convenient grab handle for pulling the board in and out of the water. New for 2020 on the tip of the nose is an M8 threaded mount point for a GoPro or action camera. These have become increasingly popular in the past few years, so we're happy to see Thurso add one here.
The tail of the Waterwalker 126 is similar to last season's after having been radically updated in 2019. There's a smaller 4-point bungee storage area, and a second grab handle. We love the placement of this grab handle as it allows you to elevate the board's fins off the ground, preventing them from being damaged by rocky beaches and hard objects. We wish more SUP-makers would include them. Finally, you'll find the inflation valve and a D-ring for attaching your leash.
On the flip side, THURSO once again went with a 2+1 fin setup. All three fins are removable and they attach securely without tools or screws. To attach a fin, just insert it into the fin box and then secure it by pushing down the lever lock.
We love the fact that THURSO SURF uses three removable fins on all of their inflatable SUPs. Not only does this allow you to roll the boards up into a more compact size for easier transport and storage but they're easier to stack if you rack them on top of your vehicle.
More advanced paddlers will appreciate the flexibility to switch between a single center fin or the 2+1 fin configuration depending on their preferences and water conditions.
Construction
THURSO boards are all built solidly using double-layered, durable drop stitch construction. The exterior of the 10'6″ features a tough, military-grade PVC skin that resists cuts and punctures caused by run-ins with rocks, sticks, and other sharp objects. The side seams are further reinforced as this is an area that can take a lot of abuse.
New in 2020, Thurso added a carbon reinforcement rail on both sides. We've been seeing more of these recently and they have the dual benefit of providing more abbrasion resistance as well as making the board more rigid nose-to-tail.
In sum, the 2020 Waterwalker 126 is a very durable board that you won't have to pamper, and it can handle whatever you, your kids, and your dog can dish out.
Paddling Performance
The 2020 Waterwalker 126 is a lot of fun to paddle. As an all-around board, the Waterwalker 126 is definitely not as fast as SUPs purpose-made for performance, but its tracking and speed are both above average for its class.  As for maneuverability, the board is responsive and turns easily. We suspect that this is because it takes some design cues from touring board shapes.
At 31″ inches wide, smaller or more nimble beginners will find this a stable and confidence-inspiring board to get started on (larger paddlers or those looking for the utmost stability may want to consider the 32″ wide Waterwalker 132 model or the 34″ wide THURSO Max). Overall, this is again a "goldilocks" balance of stability and maneuverability that handles a bit better than many all-around boards and will appeal to a lot of paddlers.
Setup Video
Subscribe to our YouTube Channel!
Likes and Dislikes
Overall, we think THURSO did a great job on the 2019 Waterwalker 126. The new surf green color looks really nice and the design looks sportier while still incorporating the traditional woodgrain look that the company is well-known for.
The board's onboard storage capabilities are much better this season, with an enlarged bungee storage area at the nose and a second area added to the tail. We also love the placement of the new paddle holders along the board's right rail.
We haven't gone over the accessory bundle just yet, but there have been several key improvements made this year. We'll discuss those in a minute…
In terms of the things we'd like to see changed, we really only have one minor gripe. As nice as the teal colorway looks, it would be great if there were some additional color options. Not everyone will be a fan of this color and we'd offer at least a neutral woodgrain/gray/white version for those paddlers. 

THURSO SURF Waterwalker 10'6" Rating (2019)
Durability

Features

Versatility

Stability

Speed

Portability

Warranty

Customer Support

Price
Specs
| | | |
| --- | --- | --- |
| | Length | 10'6″ |
| | Width | 31″ |
| | Thickness | 6″ |
| | Weight | 26 pounds |
| | Max Capacity | 300 pounds |
| | Price | |
What's Included
THURSO has always done a fantastic job of delivering maximum value when it comes to their SUP accessory bundles. Included with the 10'6″ Waterwalker is a premium quality wheeled SUP backpack, improved 3-piece carbon fiber shaft paddle, dual-action hand pump, coiled SUP leash, repair kit, and user guide.
Unboxing Video
Subscribe to our YouTube Channel!
Wheeled iSUP Backpack
Previously, THURSO included a very basic SUP backpack in their bundle. While it got the job done, they've really raised the bar this year with the introduction of a top-shelf wheeled roller bag.
THURSO's new backpack is incredibly well-made and the materials and hardware are all very nice. The bag is nice and roomy and there are plenty of pockets for organization.
The front of the pack features a large zippered storage pocket that gives you access to your accessories without having to dig through the bag's large interior compartment. There's also a small clear pocket on the outside of it which features a velcro closure along the top.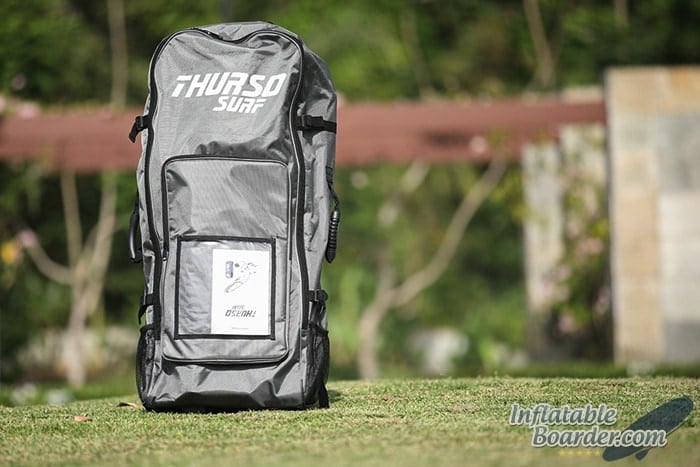 Both sides of the bag feature elastic mesh storage pockets which can be used to hold the included paddle, your towel or change of clothes, some flip flops, or a water bottle. There are also compression straps and two grab handles along the sides of the bag which really come in handy when you're loading and unloading it.
On the bottom of the bag is another plastic grab handle and two oversized roller wheels with deeply grooved traction. This bag rolls nicely, whether you're on a sidewalk or pulling it off-road.
Also, the entire bottom of the bag is heavily reinforced which gives it structure and helps it to stand up well. It's also covered by a tough rubber material with a dimpled texture which will undoubtedly increase the bag's longterm durability.
On the top of the bag is a fourth grab handle and there's also a see-through luggage ID pocket along the back…
Located on the rear of the bag are two well-padded shoulder straps that are fully adjustable and feature nylon webbed loops and plastic D-rings for attaching small accessories. The entire back of the bag is covered by a comfortable back cushion that's covered with a breathable mesh lining and there's also a sternum strap and padded waist belt for stabilizing the bag when it's loaded and on your shoulders.
Lastly, the interior of the bag features a few more storage pockets as well as internal compression straps.
Overall, THURSO did a wonderful job on this new carrying bag. This is a serious iSUP backpack that's well-built and we love all of the storage pockets, grab handles, and huge roller wheels. The only thing that we would change is repositioning the roller wheels to the front of the pack — this would make the bag more comfortable on your back as the wheels won't dig into your backside. Also, having the wheels mounted on the opposite side of the bag will prevent the straps from dragging on the ground when you're rolling it behind you.
Paddle
Another nice improvement to the SUP accessory bundle for 2019 is a totally revamped carbon fiber shaft paddle. THURSO's previous paddle featured a carbon fiber shaft with a glossy finish — this season, the paddle comes with a matte finish which feels much nicer in the hands and definitely has a more "premium" look in our opinion.
THURSO has also improved the design of this paddle to make it more reliable than last season's. Last year's paddle actually came apart on us a few times while we were paddling and we're happy to report that the company has completely addressed that with their new 2019 paddle.
The blade of THURSO's new paddle remains unchanged. It's an extremely tough blade that's made from a durable nylon material and it features THURSO SURF branding on one side.
Pump
THURSO also includes a nice dual-action hand pump with all of their boards. The pump has an easy-to-read, built-in pressure gauge which tells you exactly how much air is in the board, and the dual-action gives you two "gears" to use when inflating your board.
When you first begin pumping the board up, you'll want to be in "Double Action" mode which will fill the board with air on both the up and down strokes. This is super efficient and will quickly get air into your board at the beginning, but you'll need to change modes once the pumping gets difficult.
As the PSI climbs and pumping becomes more challenging, flip the lever over to "Single Action" mode to continue inflating the board to the recommended pressure of 15 PSI. The single action mode means that air will only be entering your board on downstrokes.
THURSO's SUP pump does a good job of inflating the 10'6″ Waterwalker to the recommended pressure of 15 PSI, and it takes less than 10 minutes to get the board fully inflated and set up. The company also printed detailed instructions on the side of the pump, which is really convenient if you're just starting out and aren't familiar with how these pumps work.
Leash
We love the fact that THURSO promotes safe paddling by including a durable coiled ankle leash with all of their inflatable paddle boards. SUP leashes are extremely important when it comes to paddling safety and you should never paddle out without one.
The included leash is branded with the THURSO logo on both ends and it features dual-stainless steel swivels to avoid tangles. There's also a handy velcro key pocket built into the padded neoprene ankle cuff — definitely a convenient feature to have.
Repair Kit
The included iSUP repair kit comes with a small brush for applying adhesive, an inflation valve wrench, two PVC patches, and a replacement tab for the lever lock fin system.
Optional Accessories
In addition to their top-notch included accessories, THURSO also offers a growing line of optional accessories. While not included with the Waterwalker 10'6″, these are a great way to add more functionality or convenience to your SUP.
Check out our review of 2020 Thurso Accessories for inflatable SUPs for more details.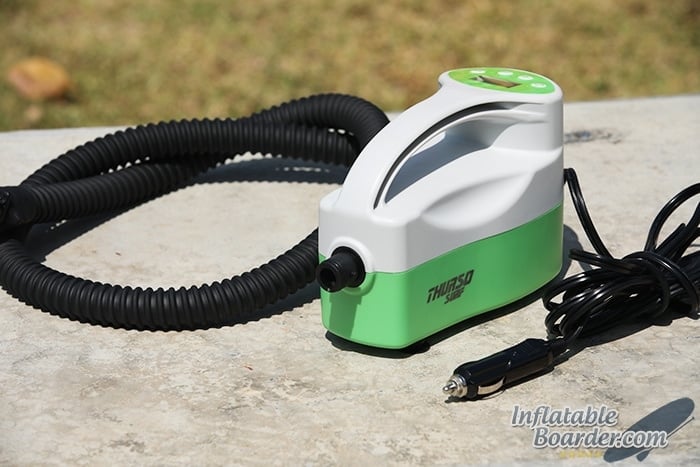 Returns & Warranty
Thurso Surf offers a 30-day money-back policy so you can try the SUP and if you aren't satisfied return if for a full refund (note that you'll have to pay the return shipping costs).
All THURSO SURF inflatable paddle boards are backed by a rock-solid, 2-year warranty. If you have any problems due to a manufacturer defect within the first 24 months of ownership, THURSO will replace or refund your purchase (your choice).
It's also worth noting that in our experience the company's customer service is absolutely top-notch and they respond quickly to any and all reported issues. From all of our dealings with them, THURSO has proven to be an honest company that truly stands behind their boards — a refreshing thing to see in this day and age.
Final Thoughts
To date, we've reviewed THURSO's 7'6″ Prodigy youth model, the Waterwalker 11′ all-around board, the THURSO SURF Expedition touring SUP, and now the 10'6″ Waterwalker. We have been really impressed by all of THURSO's inflatable SUPs — they're super fun, affordable boards that pack a lot of value. They're also some of the best-looking inflatables on the market in our opinion.
Bottom line: THURSO's 10'6″ Waterwalker iSUP is a great choice for small to medium-sized paddlers who want a durable and responsive board that's enjoyable in a wide variety of conditions. We really appreciate this SUP's versatility — it can be used for everything from flat water paddling to SUP fitness and the company has done a great job with all of the new improvements this season.
United States
We highly recommend purchasing your Thurso Waterwalker 126 directly from Thurso through their official online store. In addition to their outstanding customer support, you'll always get the lowest price and THURSO doesn't charge shipping or sales tax.
International
THURSO inflatable paddle boards are also available directly from Thurso via their sites for Canada, the United Kingdom, Germany, Europe (France, Spain, and Italy), and Japan. To order internationally, click here and you'll be automatically sent to the THURSO's official online store for your country.
Thurso Sales and Discounts Codes
THURSO SURF's promotions change throughout the year. Check out our "Ultimate Deals Page" for the most current sales and discount codes available from Thurso and other top inflatable SUP brands.