While Sea Eagle has been making some of the best inflatable boats and kayaks since the 1960's, it is only in recent years that they've expanded their product lineup to include inflatable SUP boards.
At this time, the Sea Eagle SUP board lineup consists of 9 models spread out over 4 lines: The Classic NeedleNose, NeedleNose, LongBoard, and Hybrid. Ranging in size from 9'6″ to 14′, there is a Sea Eagle SUP for all purposes and conditions. Sea Eagle has also recently introduced the inflatable 4 foot Wave Slider bodyboard.
Sea Eagle is a family owned company that provides top-shelf, personal customer service, and we absolutely love the fact that they stand behind their boards with an industry-leading 3-year warranty against manufacturer defects. They also offer a full 180-day risk-free trial period, which is unheard of.
All Sea Eagle inflatable stand up paddle boards are made of the highest-quality materials, including military-grade PVC with drop stitch construction. They are some of the most durable, fun, and best performing iSUP boards on the market today.
Sea Eagle Lineup Comparison Chart
Sea Eagle Inflatable SUP Reviews
Sea Eagle NeedleNose 126
The NN126 is the mid-sized board in Sea Eagle's NeedleNose line. The NeedleNose 126 is Sea Eagle's most popular SUP board, and it's a wonderful all-around board that is both stable and fast.
New for 2016 is a really cool electric pattern EVA foam diamond deck pad, a low profile swept back skeg, and PaddlePocket SUP paddle holder.
To learn more, check out our full Sea Eagle NeedleNose 126 SUP board review.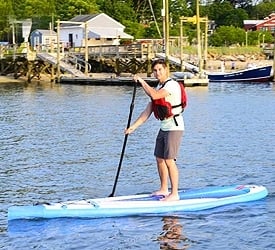 Sea Eagle NeedleNose 14
The largest board in the NeedleNose line, the Sea Eagle NN14 is best suited for large paddlers.
This board shares the same high-quality materials and construction as the first two boards, and is extremely fast due to its extended length. Despite the fact that the NN14 is 14′ long, it only weighs a bit more than 26 pounds.
For more information, read our detailed Sea Eagle NeedleNose 14 SUP board review.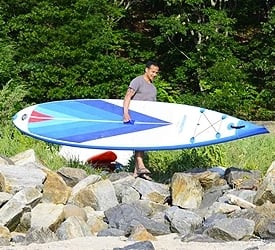 Sea Eagle LongBoard 11
The Sea Eagle LongBoard 11 is an all-purpose SUP that is super fun in flat water and surf conditions. The LB11 is extremely stable, and pumps up to the recommended 12-15 PSI in just five minutes.
Weighing in at 25 pounds and capable of carrying a max weight of 200 pounds, the Sea Eagle LongBoard 11 is best suited for small to mid-sized paddlers.
Be sure to read our Sea Eagle LongBoard 11 SUP board review.
Sea Eagle LongBoard 126
The Sea Eagle LongBoard 126 is the larger of the two boards in the LongBoard series, and it weighs in at 29 pounds. Capable of carrying a max capacity of 249 pounds, the LB126 is the board of choice for larger paddlers.
The LongBoard 126 SUP is extremely stable, and versatile enough for beginners and advanced paddlers.
Sea Eagle FishSUP 126
The Sea Eagle FishSUP 126 is a specially-designed inflatable fishing SUP that measures 12'6″ x 6″ x 40″. This incredibly stable board is built for heavy use, and it can be paired with a seat, small motor, and other accessories. With a large number of D-rings for securing a cooler, tackle box, and other fishing items, the FS126 is a board that can comfortably accommodate a lot of additional gear.
To learn more about this impressive inflatable fishing SUP, check out our in-depth Sea Eagle FishSUP 126 SUP board review.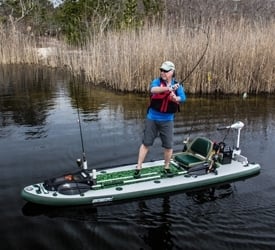 Sea Eagle Wave Slider 4ft
New to the Sea Eagle lineup is the 4ft Sea Eagle Wave Slider. This super fun inflatable bodyboard packs down to a mere sixth of its fully inflated size, making it super easy to transport, store, and bring along on vacation!
The Wave Slider (WS4) comes with a hand pump and a repair kit.
Check out our in-depth Sea Eagle Wave Slider SUP board review.
Recommended Sea Eagle SUP Accessories
Sea Eagle Warranty Information
What really stands out about Sea Eagle is their 120-day risk-free trial which beats what anyone else offers for trying out stand up paddle boards. Not happy with your iSUP… just return in it good condition (which Sea Eagle says means a cleaned, undamaged, resaleable board that is complete with all the original accessories). You pay return shipping, which is common with most companies. If you return something without an RMA ticket there is a 15% restocking fee. Otherwise we didn't see restocking fees in their return policy.
Their warranty terms are exhausting to read but they offer an above-industry average 3-year warranty on their inflatables and accessories (with the exception of motors).
Another highly unique feature from Sea Eagle is that you can extend the 3-year warranty coverage to 6 full years for a nominal fee — but it has to be done at the time of purchase.
When a company has been in business for more than 50 years, you expect that they know their product and their customers pretty well. This is certainly one of the best returns policies and warranties out there. Click here to read their warranty.