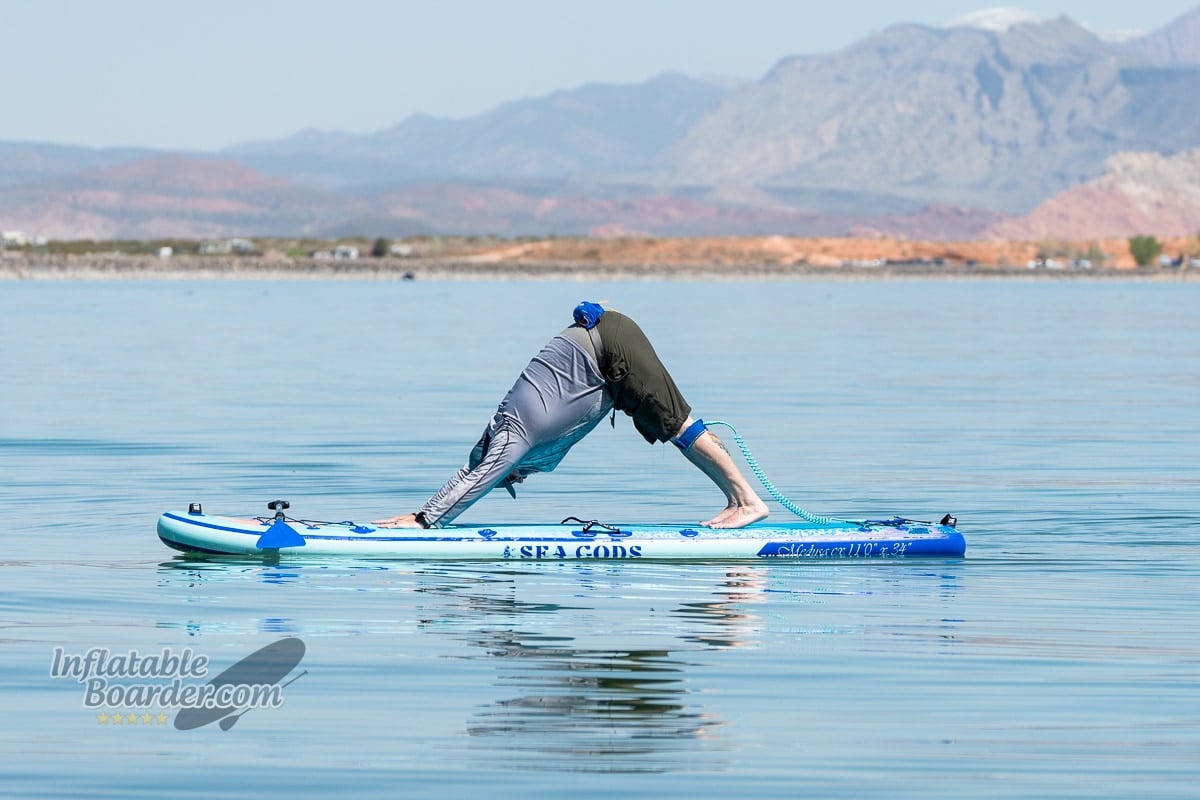 Sea Gods Medusa CX: Overview
The Medusa CX is the latest yoga-specific iSUP from Canadian SUP brand Sea Gods. The Medusa CX is an evolution from the previous Infinite Mantra ULF with upgraded internal construction and some lovely new graphics. It's an extremely stable iSUP with a large open deck to accommodate your Yoga practice.
— Sea Gods Medusa CX Summary Ratings and Review —
Sea Gods Medusa CX
Construction & Durability

Features and Versatility

Stability

Speed

Maneuverability

Tracking
Overall Score
The Medusa CX is a lightweight yoga-specific paddle board with a great kit and lifetime warranty.
Pros
Yoga specific shape and design
Excellent stability from nose to tail
Full length deck pad and alternate carrying handles for an open deck
Plenty of cargo storage for a full day on the water
Compatible with bolt-mounted accessories and kayak seat attachments
Standard US fin box is compatible with hundreds of different fin options
Excellent kit of accessories
Fantastic artwork on the deck and hull
Lifetime warranty
Cons
I'd like to see the Medusa CX include a high-surface area fin for even better stability during SUP yoga sessions.
The kit paddle may be a bit large/heavy for smaller paddlers. I'd love to see Sea Gods offer a paddle upgrade option with a fully composite construction.
Construction and Durability
The Medusa CX is part of Sea Gods' new lineup of "Cross Woven" iSUPs (all designated with the letters CX). This lightweight construction uses the newest materials and technologies available to maintain excellent rigidity and performance while staying lightweight.
The Medusa CX is Sea God's new yoga-specific inflatable paddle board. While it shares the same general size and shape as their previous Infinite Mantra (ULF) iSUP, the Medusa CX has an all new internal structure that makes it stiffer and lighter.
Inside the Medusa CX is a new "Cross Woven" drop stitch core. This is made up of two different parts. The first is the woven fabric base layer for the deck and hull of the board. Woven base layers use less material and have less stretch than traditional knitted base layers. These two layers are then connected with thousands of yarns that keep the board flat and rigid when inflated. Instead of a standard "V" shape, the yarns in Sea Gods' new CX construction are offset to create "X" shapes. Doing so allows Sea Gods to use fewer yarns per board.
The outer shell of the board is a reinforced Fusion PVC material that is machine laminated directly to the drop stitch core. This removes excess adhesives from the construction process and reduces the potential for errors during a traditional hand-glue build.
Where the deck and hull layers meet Sea Gods uses a heat-molded internal seam for additional durability before applying the final outer rail layer and rail reinforcement strips.
The overall outcome of this new internal structure and fusion construction is an inflatable paddle board that is both lighter and more rigid than the previous generation.
While using the Medusa CX I did not notice any flex or bend while standing and paddling. There was some slight vibration as I moved around on the board, but it was very small and had a smooth feel rather than a bouncy one. Speaking of bouncing… I did experience a moderately high amount of flex while I actively jumped up and down on the board, but once again the rebound was comfortably smooth rather than tight and bouncy.
The Medusa CX performed quite well in our dry-land bend test as well. While suspended across a 7' gap with a 170 lbs weight applied to the standing area, the Medusa CX bent just over one inch (1.142"/2.9cm). That's much better than our total running average of 1.573" across all tested boards.
Specifications
Dimensions
Length
11' 0"
Width
34"
Thickness
5"
Weight
Max Capacity
350 pounds
Board Weight
21 pounds
Kit Weight

31 pounds
Buying Info
List Price
Warranty
10 years
Returns period
30 days
Features and Accessories
The Medusa CX is a yoga-specific iSUP that's ready for a full day on the water.
The Medusa CX also includes a full kit of accessories. Along with the board itself you also get a new double chamber/triple action hand pump, coiled leash, three piece carbon fiber/nylon paddle, 9" fin, shoulder carrying strap, repair kit, and a heavy-duty wheeled carrying bag with a padded backpack harness.
Paddle
The Sea Gods kit paddle is a carbon fiber and nylon hybrid that is great for casual cruising.
The Sea Gods carbon fiber/nylon hybrid paddle is a nice blend of higher-end materials and durability. The carbon fiber paddle shaft reduces overall paddle weight and gives it a comfortable stiffness profile. The nylon blade is more durable, but heavier, than a composite blade and has just a little bit of flex for a softer feel in the water.
In our testing the Sea Gods paddle is still on the heavier side at 30.1 ounces. Most of this weight is from the medium-large nylon paddle blade. The blade measures about 92 square inches in surface area and has an 11° angle and slight curve. This angle and curve helps improve the "catch" of your paddle stroke and increases the effective stroke length compared to a straighter paddle blade.
The paddle shaft is made from a carbon fiber composite material and has a medium flex rate (93mm with a 50kg load). The handle section is made of the same material with a molded carbon fiber T-grip. I found this grip to be very comfortable and feels very secure in your hand without the need for more abrasive "gripping" textures. The handle section features both a height scale and an indexing groove to align the handle and blade. We have noticed some quality control issues on a few of our Sea Gods paddles where the indexing groove and paddle blade are not aligned well at the factory. This is covered under the Sea Gods warranty, though, so if you notice this issue contact Sea Gods for a replacement paddle.
Overall the SEa Gods paddle is great for cruising around your local waters and the larger blade matches the larger size of the Medusa CX quite well. I would like to see Sea Gods offer a higher-end paddle upgrade option in the future, but as far as kit paddles go, the Sea Gods paddle is a great value.
Stability
As a yoga SUP, the Medusa CX is designed for excellent stability across the entire length of the board.
34" is already considered to be a rather wide paddle board. When you carry that width farther through the nose and tail of the board it makes the Medusa CX incredibly stable whether you are standing at the center of the board to paddle or shifting your weight forward and back through your vinyasa.
While standing and paddling the Medusa CX remains extremely stable with no rolling or twitching. When I purposely rolled the board from side to side it smoothly dipped and resurfaced without any overly-buoyant "popping" back up. Holding the Medusa CX on its rail was also very easy to do.
In shifting to a bit of yoga, I had no problems maintaining balance and stability through most of my practice. Obviously lower and more grounded poses were quite easy to work with, where higher and less-grounded poses did start requiring more active stabilization on my part. "In Line" poses like this Warrior 2 left all of the balancing up to me between foot/body position and heel/toe pressure.
Overall I found the Medusa CX to be extremely stable for both paddling and yoga. Even if you aren't an avid yogi, but want a wide, stable board to use as a beginner or with kids/dogs, the Medusa CX is an excellent choice.
Speed
The Medusa CX is designed for stability first as a yoga-centric paddle board, not for speed. That being said, the Medusa CX can be brought up to some reasonable speeds, but it takes some effort.
Realistically most paddlers looking for a yoga SUP aren't going to be too concerned with overall top speeds. I know I wouldn't be. But we put every board we review through the same battery of tests anyway!
In our sprinting and top speed tests I was not shocked to find that the Medusa CX is on the slower side of things. My average sustained sprint speeds were only in the range of 5.2 MPH (8.4 KMH) and my fastest peak speed was only 5.4 MPH (8.7 KMH).
What is more important with a paddle board like the Medusa CX is how well it cruises at a reasonable paddling pace. With a casual 25 strokes per minute pace, the Medusa CX had an average cruising speed of 3.3 MPH (5.3 KMH). This is full on par with other iSUPs of this size.
The extra width in the nose and tail does impact the overall efficiency of the Medusa CX by a small amount. With each paddle stroke the Medusa CX only traveled just over 1.5 board lengths (about 17 feet) before slowing down. This certainly isn't a "bad" efficiency score, but it is noticeably lower than the other Sea Gods iSUPs I've tested.
Maneuverability and Tracking
The Medusa CX has excellent maneuverability and reasonable tracking ability. Both can be modified to your own preferences thanks to the use of a standard US fin box.
Turning the Medusa CX was incredibly easy. Sometimes longer and wider boards can be trickier to turn. When using the included 9" surf-style all around fin I found it quick and easy to turn the Medusa CX using basic sweep strokes.
In our maneuverability test we determine how many forward sweep strokes (arcing from nose to tail) it takes to turn in a complete circle from standstill. The Medusa CX whipped through this test with an average of just 4.5 strokes to turn a complete 360°. That's very fast for a board of this size. While forward sweep strokes are a simple way to turn a board, they are hardly the fastest way. Reverse sweep strokes got the same job done in 4 strokes on average.
In our maneuverability test we determine how many forward sweep strokes (arcing from nose to tail) it takes to turn in a complete circle from standstill. The Medusa CX whipped through this test with an average of just 4.5 strokes to turn a complete 360°. That's very fast for a board of this size. While forward sweep strokes are a simple way to turn a board, they are hardly the fastest way. Reverse sweep strokes got the same job done in 4 strokes on average.
Wider paddle boards can sometimes be more difficult to keep moving in a straight line. Because they are wider the paddle must go into the water farther from the centerline of the board and it can be more difficult for paddlers to maintain the technically-correct vertical paddle angle for the most productive forward stroke.
I was pleasantly surprised when the Medusa CX displayed rather average tracking performance. I was expecting it to be a little harder to keep on course than it was. In our 10-stroke tracking test the Medusa CX only drifted an average of 20° off course over 10 strokes on a single side. This is pretty close to average for most all-around iSUPs we've tested. For a yoga-specific board that doesn't really have long-distance travel at the forefront of the design process, that's actually quite good.
With a standard US fin box under the tail of the board, the Medusa CX is compatible with hundreds of different sizes, shapes and styles of fins. You can use smaller fins for shallow water paddling or for increased maneuverability, or larger fins for increased tracking and stability. The 9" surf-style all around fin that comes with the Medusa CX favors maneuverability a little more than tracking. It also includes pressure-fit Kumano "click fin" inserts for a completely toolless installation. But the standard fin box also accepts fin bolts for a more secure installation or for fins that require bolts.
Warranty and Customer Support
Sea Gods is known for their lifetime warranty on their inflatable iSUPs. If you experience any manufacturing defects over the reasonable life of your board, simply contact Sea Gods for a warranty claim. In addition to the lifetime warranty for the boards, all of the included accessories are warrantied for 1 year, and there is a 30 day return period if you decide that the Medusa CX isn't quite what you want. To contact Sea Gods you can reach them via phone, email, online chat, or through their social media channels.
Overall Impressions/Review Summary
The Sea Gods Medusa CX is a yoga-specific SUP that pretty much nails every aspect for a yoga SUP! The board is very stable, but still paddles well. The deck space is kept open and clean for uninterrupted yoga practice, but still has plenty of storage for everything you need on the water. The threaded accessory mounts can even be used with phone holders so you can follow along with your favorite youtube yoga instructors while out on the water.
Those design benefits extend beyond yoga as well. The extra long deck pad provides a great space for paddling with kids or pets, and the extra stability makes it easy to do so. With a high tech build, an excellent kit of accessories, and a lifetime warranty the Medusa CX is one of the highest quality and best value options available for an inflatable yoga SUP.
Sea Gods Medusa CX iSUP FAQ
What is the difference between the Medusa CX and Infinite Mantra ULF?
The Medusa CX utilizes Sea God's newest materials and construction that first debuted in 2022 with the Skylla. The CX construction is lighter and stiffer than the ULF construction, but otherwise the Medusa CX and Infinite Mantra ULF share the same size and shape.
Should I get the Medusa CX or the Diatom Ten6 CX?
The Medusa CX is a yoga-specific iSUP. It has an extra wide nose and tail for increased stability and features a full-length deck pad and removed center handle for extra deck space. The Diatom Ten6 CX is a wide all-around/cruiser iSUP with a narrower tail and nose for improved paddling performance while still maintaining extra stability.
Is the Medusa CX compatible with a kayak seat?
Yes, the four D-rings around the middle of the board are placed to fit perfectly with the Sea Gods kayak seat. The included carbon fiber/nylon paddle is also compatible with the Sea Gods kayak paddle blade attachment for double-bladed paddling.
Can I paddle with kids or dogs on the Medusa CX?
Absolutely. With a 350 lbs weight capacity and a full length deck pad the Medusa CX is a great paddleboard to share with your little ones and pets.