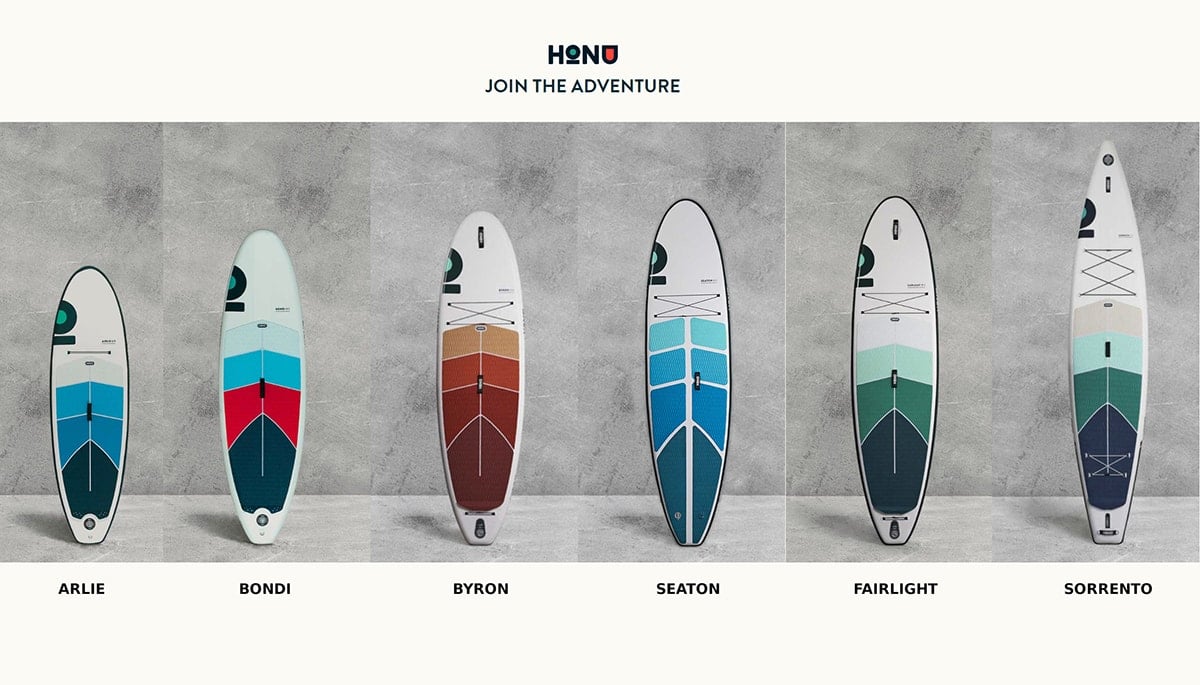 Australia-based Honu started making paddleboards in 2001. With over 20 years experience under their belt and an industrial engineer at the helm it is no surprise the Honu's inflatable paddleboards have both top-notch construction and performance on the water.
When you are looking at all of the brands of inflatable paddle boards available, it's easy to get bogged down with add-on features and accessories, brand-specific terminology, and questions about construction, quality, and performance.
Honu's philosophy is simple: make products to the highest possible standards, designed for performance and longevity.
They don't hide their constructions and materials behind obfuscating or click-baiting terms. Each board is designed for a purpose and includes the necessary features for that type of paddling. The focus is on performance and durability.
Honu uses woven fabrics and heat-fused PVC shells, triple rail layers, carbon fiber reinforcements, universal fin boxes, and excellent shaping to create high-performance inflatable paddleboards at a great price. Their line of carbon fiber paddles are likewise built to a high standard and incorporate several engineering and design choices to maximize performance.
Each paddleboard boasts a minimalist design without losing functionality or adding accessories just for the sake of adding them. Colors are inspired by the same locations as their namesakes – Bondi Beach, Byron Bay, etc. Honu paddle boards are all about the experience of paddling. Whether you are surfing, touring, or cruising with the family.
Minimizing environmental impacts is another core focus for Honu. Most of the packaging used by Honu is now made of plant-based biodegradable material rather than plastic and they have recently partnered with a carbon-neutral logistics company to handle their freight shipping. For 2023, Honu has made the choice to stop including plastic hand pumps by default with every iSUP they sell. Hand pumps are still available for purchase, but if you do not need one, or if you plan on buying an electric pump anyway, then you won't be saddled with an extra hunk of plastic to collect dust in the corner (or end up in a landfill).
Lastly, Honu backs their inflatable Stand Up Paddleboards with their 2+2 year warranty. This warranty gives two years of full-warranty support like you would expect, and adds on another 2 years of repair service – if your board becomes damaged they will work to repair (and cover the cost of repair) for your board in order to help keep it in use rather than in a landfill.
Honu iSUP Lineup Comparison Chart
| | BOARD | LENGTH | WIDTH | THICKNESS | WEIGHT | CAPACITY |
| --- | --- | --- | --- | --- | --- | --- |
| Arlie | Arlie | 8'6" | 27" | 4.7" | 11.9 lbs | 155 lbs |
| Bondi | Bondi | 9'3" | 31" | 4.7" | 15.6 lbs | 210 lbs |
| Byron 9'8" | Byron 9'8" | 9'8" | 31" | 4.7" | 16.7 lbs | 165 lbs |
| Byron 10'6" | Byron 10'6" | 10'6" | 32" | 4.7" | 16.9 lbs | 240 lbs |
| Seaton (compact) | Seaton (compact) | 10'6" | 32.5" | 4.7" | 16.3 lbs | 250 lbs |
| Fairlight | Fairlight | 10'9" | 33" | 4.7" | 17.8 lbs | 265 lbs |
| Sorrento | Sorrento | 12'6" | 30" | 5.9" | 21.6 lbs | 310 lbs |
Honu Inflatable SUP Reviews
Honu Arlie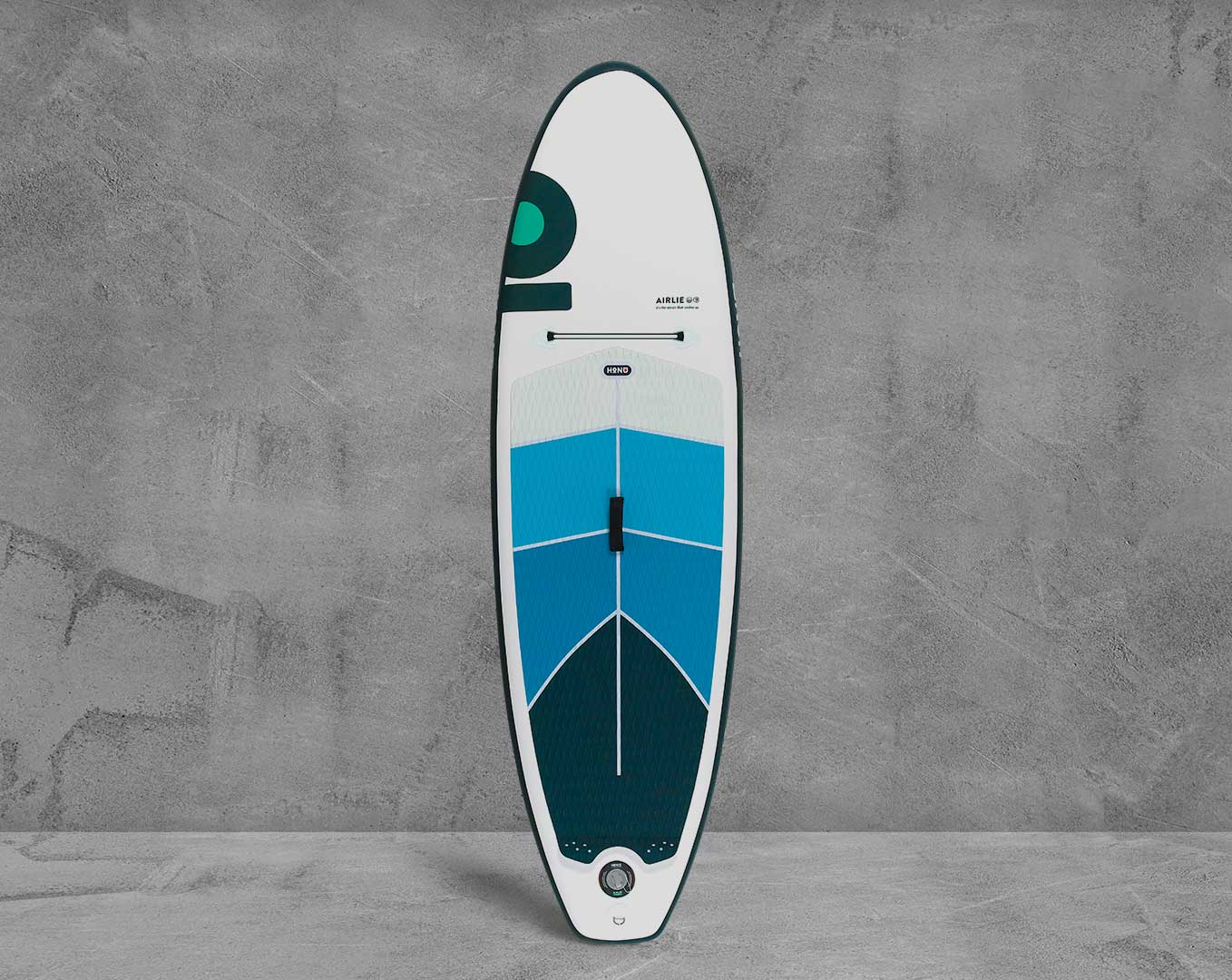 The Arlie is Honu's kid-specific iSUP. At 8'6" x 27" x 4.7" the smaller size is easier for kids and tweens to carry, maneuver, and paddle. The Arlie doesn't skimp on its construction, either. It has the same woven drop stitch, fusion PVC, and triple-bonded rails as its bigger siblings. It even has a kick pad on the tail for your little shredders to work on their pivot turns and have more control in the surf.
Check out the Arlie kid's iSUP by Honu.
Honu Bondi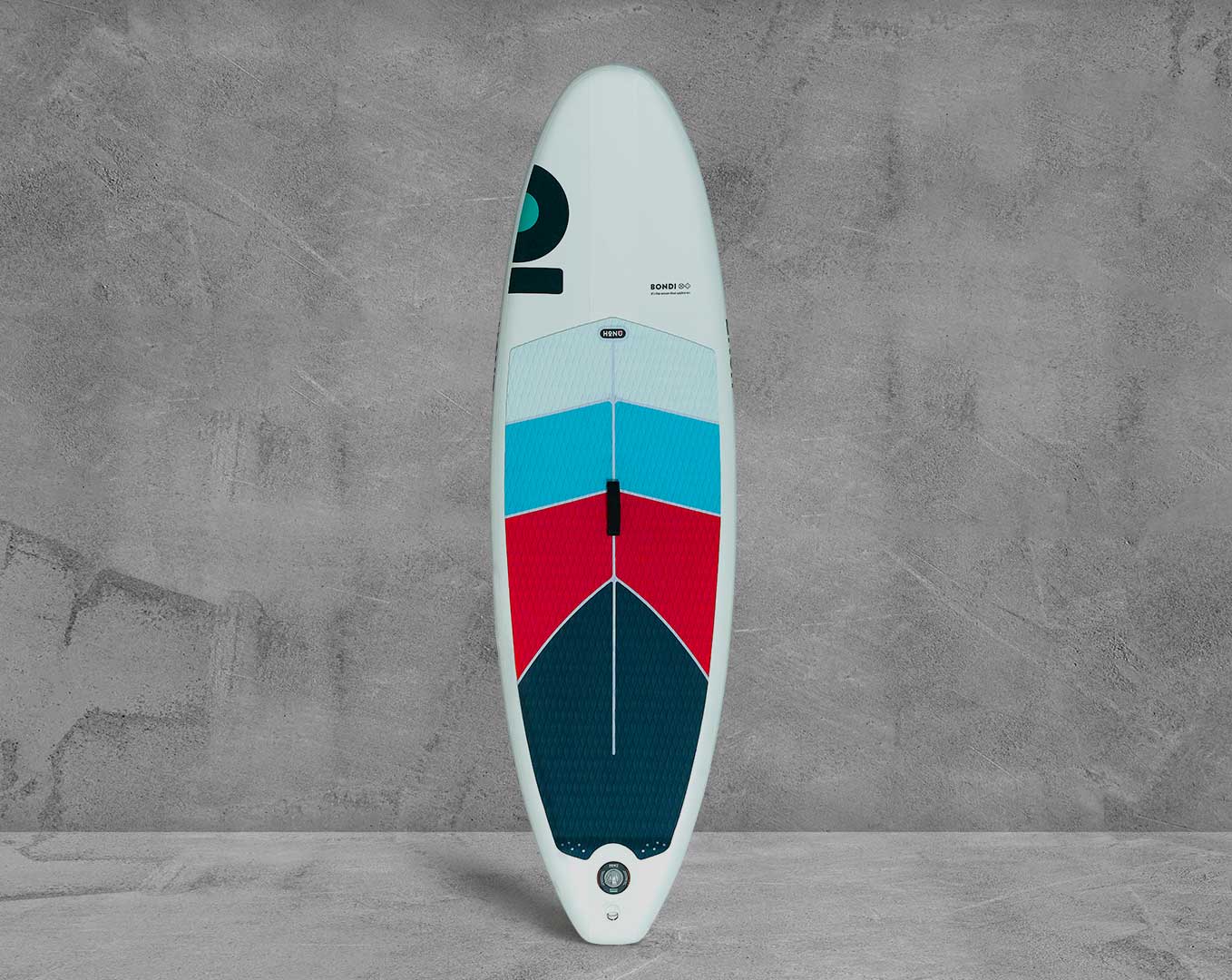 The Bondi (9'3" x 31" x 4.7") is made for the jet-setting surfer that wants the longboard SUP surf experience and still be able to paddle in the flats, but in a travel-friendly package. The 2+1 fin setup lets you customize your speed and control.
Check out the Bondi inflatable Surf SUP by Honu.
Honu Byron 9'8"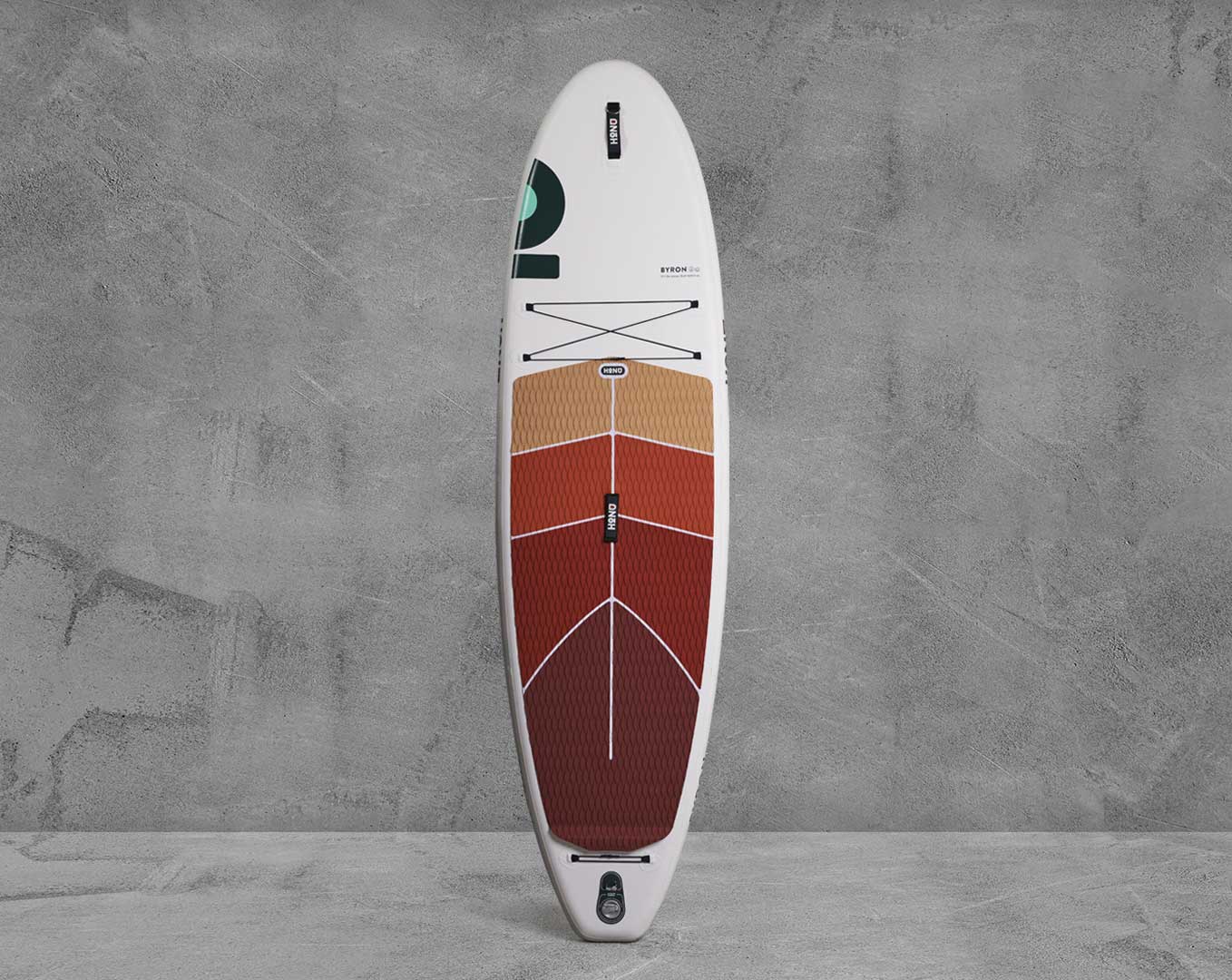 The Byron 9'8" is new for 2023 and is an all-around iSUP for smaller paddlers (under 160lb). The shorter length and slightly narrower width (31") make the Bondi 9'8" more responsive for smaller paddlers while still providing great stability. Like the larger Byron 10'6" it still has the diamond-groove deck pad, cargo bungee, paddle holder, and high-quality construction.
Check out the Byron 9'8" all-around iSUP by Honu.
Honu Byron 10'6"
The Byron 10'6" is Honu's bread-and-butter all-around iSUP that offers excellent stability and performance for flatwater and small surf-zone paddling. The Byron's excellent construction makes it incredibly stiff for a 4.7" thick iSUP. The wider nose and narrower tail give you stability when you need it and a playful tail when you want it.
Read our Full Review of the Honu Byron to learn more.
Honu Seaton
The Seaton is a brand-new model for 2023. While the dimensions may be similar to the Byron and Fairlight (10'6" x 32.5" x 4.7") the Seaton is an ultralight compact iSUP at just 16.3 lbs. The new design allows the Seaton to be folded in half and fit into a transport bag that is half the size of a standard iSUP bag. It also sports a twin fin setup for increased tracking, stability, and adjustability.
Check out the Seaton Compact iSUP by Honu.
Honu Fairlight
The Fairlight takes the excellently versatile and capable design of the Byron and adds an extra inch of width and three inches of length for even more stability and a higher carrying capacity. Even with its larger dimensions (10'9" x 33" x 4.7") the Fairlight is still a lightweight iSUP at just 17.8 lbs, and has the same playful capabilities as the Byron.
Read our Full Review of the Fairlight iSUP to learn more.
Honu Sorrento
The Honu Sorrento touring iSUP takes the same great construction as the rest of the Honu iSUP lineup, adds carbon fiber stringers on the deck and hull, and incorporates a shape that is somehow both incredibly stable and incredibly fast. At 12'6" x 30" x 6", the Sorrento is Honu's largest iSUP and has a 310lb weight capacity that can easily accommodate your overnight adventures. It also has the stiffness and glide you want for a fitness SUP or even a light racing SUP.
Read our Full Review of the Honu Sorrento to learn more.
Honu Paddles
While Honu's iSUPs do not ship with a paddle included (except the Seaton), Honu makes several extremely high quality paddles at excellent price points. The Evolution series paddles are high-performance without being high-cost. These fully carbon fiber paddles come in a raw carbon finish or with a bamboo veneer. The 86 square inch blade is a great size for 90% or more of paddlers and has an excellent feel in the water. For 2023, Honu began using hexagonal inserts between the blade and shaft to completely eliminate twist or rattle without the extra bulk and weight of a clamp.
The Kids and Element paddles also have carbon fiber shafts, but come with a fiber-reinforced nylon blade for extra durability and a softer feel in the water.
Read our Full Review of the Honu Evolution Paddle.
Recommended Honu SUP Accessories
Honu Warranty Information
"It's the ocean that unites us." That is printed on each of Honu's iSUPs and protecting the ocean is a huge part of Honu's ethos. In an effort to keep you enjoying the ocean on your SUP for as long as possible, Honu's high-quality construction is backed with a 4 year warranty dubbed the "2+2 warranty." Honu provides a full two-year manufacturer's warranty against any defects. Additionally, they provide a full 4-years of support (the first 2 years, plus 2 more years) of free repair service. If anything goes wrong with your iSUP, Honu will help you find a local repair service and cover the cost of the repair. They are the only company that offers this repair coverage outside of their own warranty, and that's pretty awesome if you ask me. Additionally, Honu warranties their paddles for 2 years as well – which is also above and beyond what other companies offer – and all of their other accessories carry a 1 year warranty.