Isle Explorer Pro 14′ iSUP Review | 2023
Inflatable Boarder is reader-supported and may earn a commission when you buy through links on our site. Learn more
Isle Explorer Pro 14': Overview
The Isle Explorer Pro 14' is quite possibly the ultimate adventure SUP. The 14' length provides excellent glide and speed, while the 31" width gives you plenty of cargo capacity and stability for rough conditions. The Isle Link system allows you to fully customize your setup and the Explorer Pro 14' can even be rigged as a solo or tandem kayak. Did I mention that the new Airtech Prolite construction makes this one of the most rigid iSUPs we've ever tested? Keep reading to learn more about the Isle Explorer Pro 14'.
— Isle Explorer Pro 14' Summary Ratings and Review —
Isle Explorer Pro 14'
Construction & Durability

Features and Versatility

Stability

Speed

Maneuverability

Tracking
Pros
Outstanding performance for adventure touring
Extremely rigid with 6 proprietary fiber-reinforced stringers placed strategically around the board
Increased durability from the welded internal seams
Lightweight construction with woven fabrics and fusion PVC materials
Great speed and efficiency from the 14' length
31" width makes the board very stable even when loaded
Excellent straight line tracking over long distances
Full customization for cargo management with the Isle Link system
Highly ergonomic kayak conversion option with Isle's inflatable seat and hybrid paddle
4 year warranty for the board and 2 year warranty for accessories
Cons
With longer paddle boards like the Explorer Pro 14' turning is significantly more difficult compared to shorter boards, but is made easier with certain stroke techniques.
I would like to see a little more rocker in the nose of the board for better handling in rough conditions.
Construction and Durability
The Isle Explorer Pro 14' uses Isle's new Airtech Prolite construction for a long-lasting and extremely rigid build. It's notoriously difficult to keep longer iSUPs rigid as any flex gets amplified across the length of the board. Isle has solved that problem with the Explorer Pro 14'.
Isle has built an extremely rigid adventure touring iSUP with the Explorer Pro 14'. The upgrades in the Explorer Pro 14' begin inside the board with a new woven fabric base layer and crossed drop stitch space yarns that reduces weight and flex compared to standard knitted fabric and V-stitched space yarns.
The reinforced PVC shell material is then fused directly to the woven fabric base layer with heat and pressure rather than being glued. This process bonds the PVC and fabric together directly to make one cohesive material that is more rigid and lighter than glued constructions.
Once the PVC material is fused to the fabric and the board's shape is cut out, the top and bottom layers are joined together with an additional piece of PVC around the width of the board. This internal seam is heat-welded together rather than glued. This bonds the three pieces together into a single continuous material for extended durability and longevity.
Another, wider band of PVC material is glued to the outside of the board, but not before the new Infinity Fiber stringers are added to the board.
Isle's new Infinity Fiber stringers are a fiberglass and plastic material that is semi-rigid on its own and has a concave shape to match the transition of the rail to the deck and hull. These stringers roll up with the board when deflated, but become extremely stiff once the board is inflated. There are four Infinity Fiber stringers around the standing area, and two wider flat stringers that run most of the length of the board on the midline of the hull and deck.
All of this new construction and new materials does a couple of things. First, at 14' x 31" wide, the Explorer Pro 14' is actually pretty light for its size at just 27 lbs. But the most critical difference that this new technology makes is in the board's rigidity.
I'm a big paddler at 230 lbs. When standing and paddling on the Explorer Pro 14' there's no perceptible flex. On the water a paddle board has support along the entire length of the board, so how did the Explorer Pro 14' do in our dry-land bend test?
With a 170 lbs load centered between a 7' span, the Isle Explorer Pro 14' barely moved with a deflection measurement of just 0.866" (2.2 cm). The Explorer Pro 14', along with a few other of Isle's new "Pro" iSUPs now dominate the top of our bend test scores. The icing on the cake (as if this isn't already sweet enough), is that all of this is with the board inflated to the maximum recommended pressure of just 17 PSI.
Back on the water, I did finally get the Explorer Pro 14' to start flexing as I jumped up and down on it. But it still didn't flex much. When I was done stomping around, the board had a tight, short-lived rebound.
It's an understatement to call the Isle Explorer Pro 14' a rigid iSUP, which is probably why Isle refers to it as an "inflatable hard board." Is it truly as rigid as a fiberglass or carbon fiber paddle board? Not quite, but it's incredibly close.
Specifications
Dimensions
Length
14' 0"
Width
31"
Thickness
6"
Weight
Max Capacity
375 pounds
Board Weight
27 pounds
Kit Weight

pounds
Buying Info
List Price
Warranty
4 years
Returns period
60 days
Features, Accessories and Versatility
The Isle Explorer Pro 14' blends a wonderful minimalist aesthetic with a ton of versatility thanks to the Isle Link system. This dedicated adventure-touring board is decked out and ready for your next expedition whether it's an afternoon or a week long.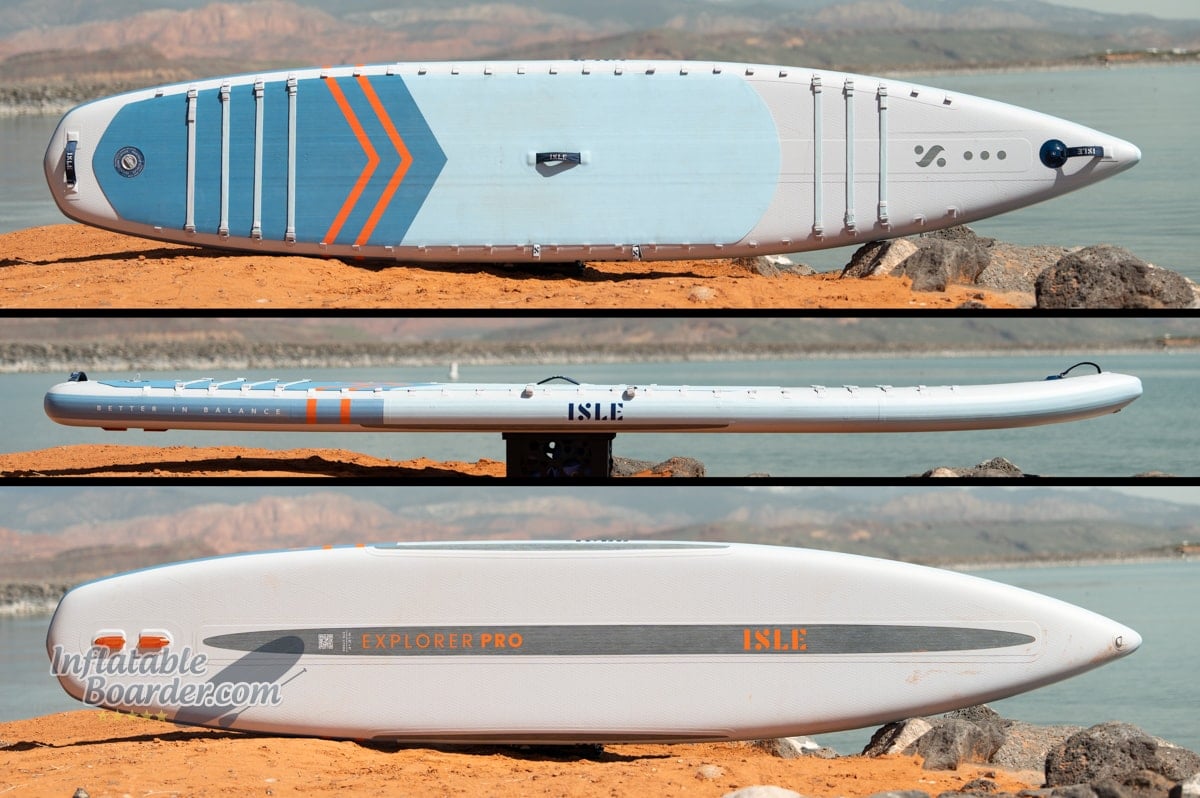 The Isle Link system uses a series of reinforced fabric loops around the outside of the board for near-limitless customization of cargo and accessories. The lay-flat straps used in the Isle Cargo Management System are made of a heavy-duty elastic fabric to securely hold on to your items whether they are round water bottles, flip flops, or a large dry bag.
You can adjust the tension on the straps from either side by unhooking the strap and pulling the strap through the G-hook buckle. Once you have the tension set, simply slide the G-hook back through the fabric loop and you are ready to go. The hooks themselves are made from a durable, thick plastic, and each strap also has a keeper loop for the tail of the elastic band.
You can move these straps anywhere on the board (there are 25 pairs of Isle Link loops on the Explorer Pro 14') and set them up in parallel or cross them over into X-shapes depending on your needs.
The Isle Link system is also compatible with Isle's inflatable kayak seat and foot brace. Once again you are able to select exactly where you want the seat and foot brace to go to match your size and help trim the board level if you are carrying a heavier load (or passenger).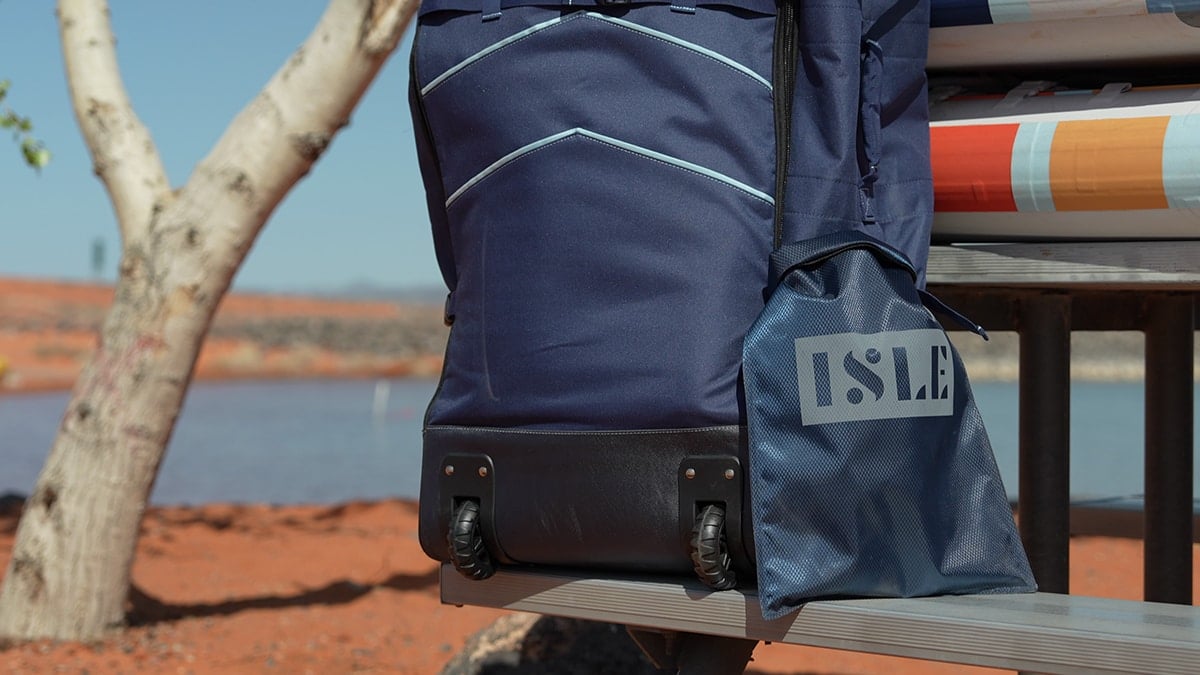 The Explorer Pro 14' comes at its base-level with a small set of accessories and a wheeled carrying bag. The new bag has a large zippered fin pocket at the top and the main compartment zips fully open for easy packing. Inside the bag there are compression straps to hold the board in place and a set of dividers for a paddle. Outside the bag has compression straps to keep everything tight and easy to move, and it has both wheels and a padded backpack harness.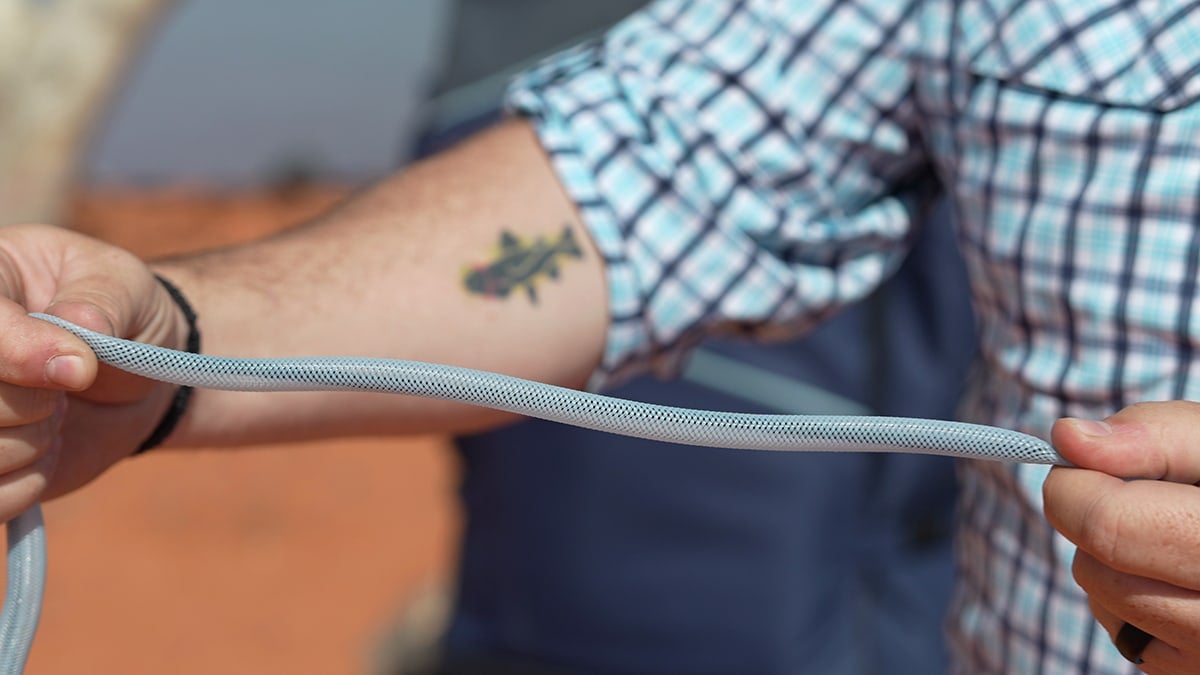 Included with the Explorer Pro 14' is a small dry bag, lightweight semi-stretch leash, repair kit, and 9" touring fin with click fin inserts and a fin bolt. The Explorer Pro 14' does not automatically include a paddle or pump, however Isle has a range of paddles available and a high-quality hand pump and electric pump option to add to your kit.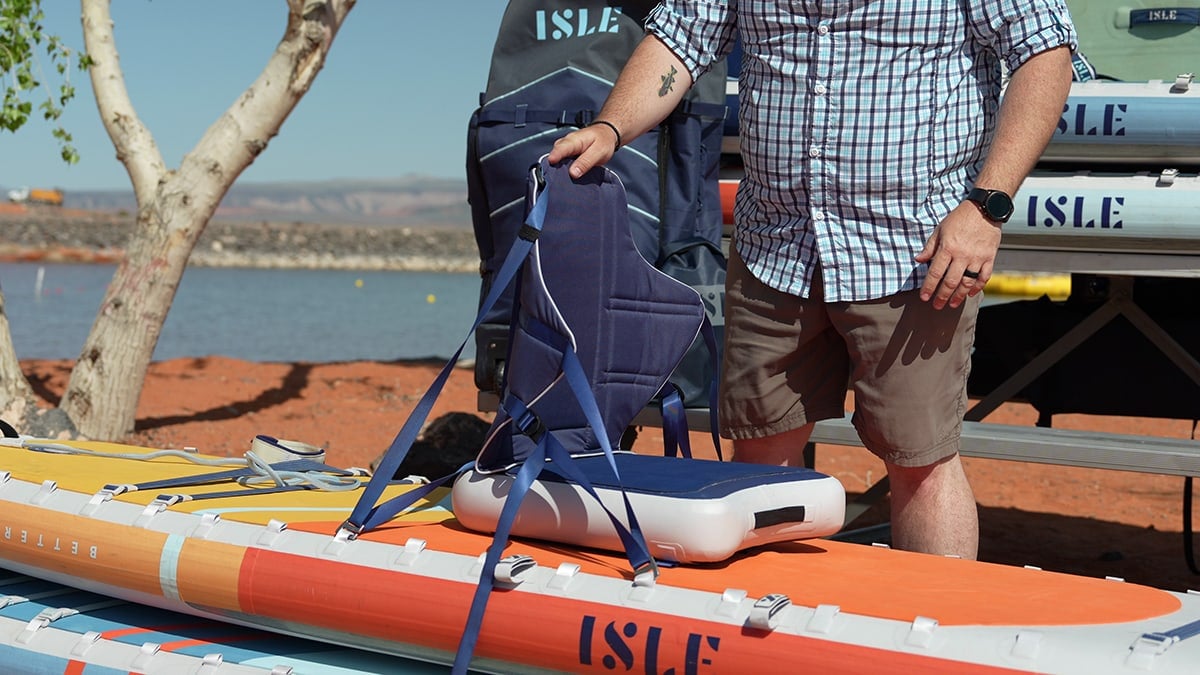 Isle also makes an excellent inflatable kayak seat kit that works seamlessly with the Isle Link system on the Explorer Pro 14'. You can even rig the Explorer Pro 14' as a tandem kayak for double the fun!
Paddle
While the Isle Explorer Pro 14' does not come with a stock paddle, Isle has introduced a new paddle option alongside the new "pro" series paddleboards. This hybrid paddle is designed to work well both as a SUP paddle and kayak paddle, just like the Explorer Pro 14'.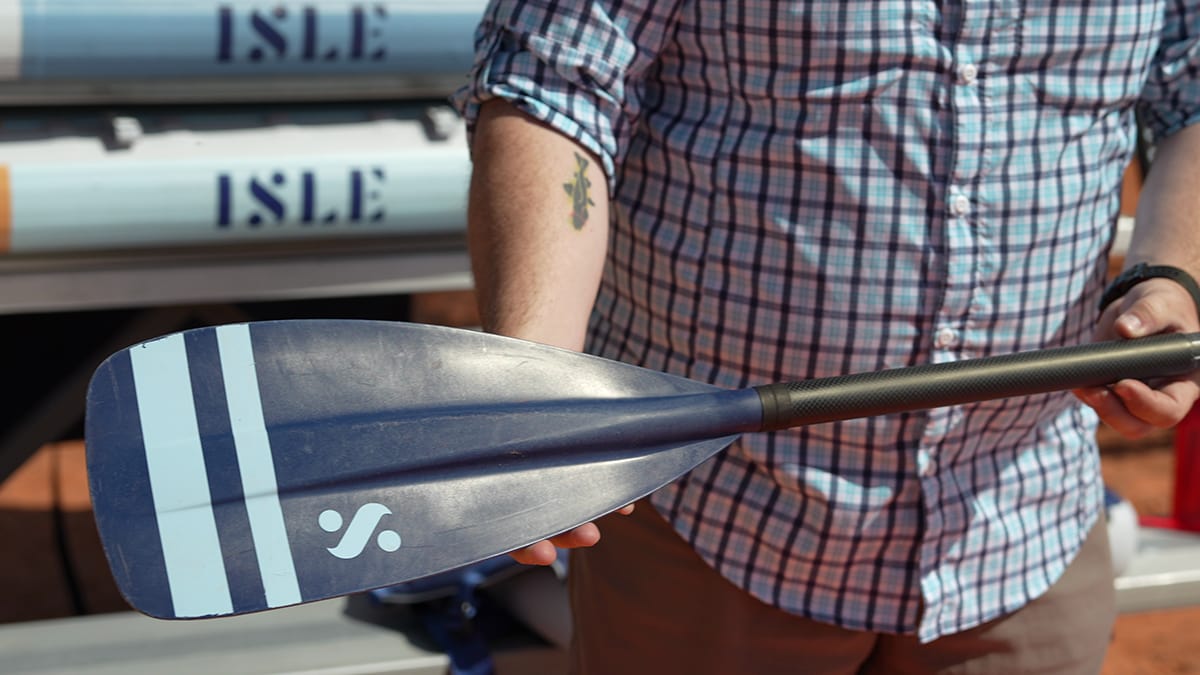 The new Carbon Fiber Hybrid paddle starts off with a familiar design, borrowing the same fiber-reinforced blade that comes with the Isle Switch 2-in-1 iSUP. The rectangular blade is a medium size (roughly 89 square inches) with a longer, narrow shape. This shape of paddle blade lets you paddle closer to your board (for better tracking) and has a more consistent feel during the paddle stroke compared to a wider teardrop shape.
The blade is where the similarities end between the Switch paddle and this new Carbon Hybrid paddle. The main section of the paddle shaft and the paddle handle are both made from carbon fiber composite material, making it much lighter in weight and slightly more flexible than the aluminum Switch paddle.
In the water, the carbon fiber shaft and nylon blade provided just the right amount of flex for easy paddling for long periods of time. I was still able to put down some power through the paddle when I wanted to, but it wasn't putting an ache in my shoulders after using it all day. If you are of the "I wanna go fast" mentality, then you may want to opt for one of Isle's full carbon SUP-specific paddles. I was able to increase my overall top speed on the Explorer Pro 14' by a quarter-mile per hour just by switching to a stiffer, full carbon paddle.
What really surprised me about this paddle, though, was in how the kayak conversion works. Most of the time a hybrid paddle simply swaps the SUP handle for a paddle blade and that's the end of it. With the new Isle Carbon Fiber Hybrid paddle, there's a hidden feature that made me smile once I saw it.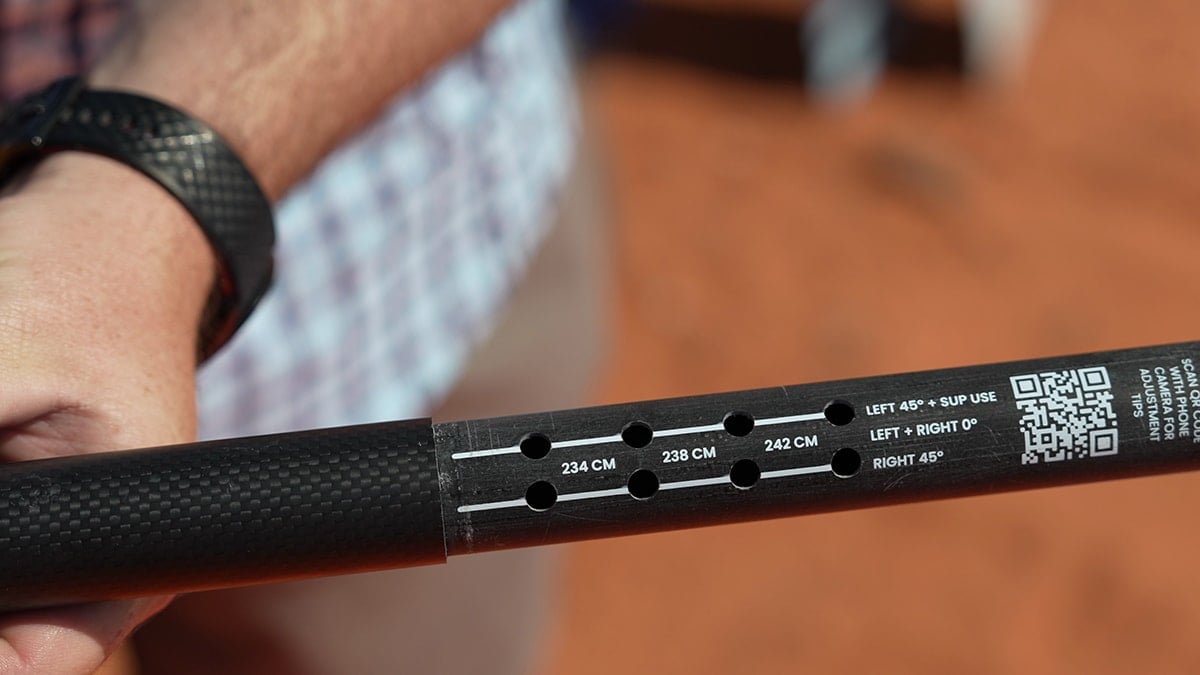 Both the SUP paddle blade and the "extra" blade have two rows of holes drilled into the connection ferrule. If you read the text printed next to them you see the instructions for setting the Hybrid paddle as either a standard SUP paddle, or as a kayak paddle with three different blade feathering options! You can set up the kayak paddle with 0° feather – where the two blades are perfectly in line with each other (the standard setting on most convertible paddles), or you can use the alternate set of holes for a left- or right-hand 45° feather angle.
Setting the blades with a feather angle like this does two things. 1) It gives you a more comfortable and ergonomic feel in your wrists as you paddle, and 2) it allows whichever blade is out of the water to more easily slice through the air – especially if you are paddling in a headwind.
I've not seen this feather angle implementation before in a convertible paddle and I'm really glad that Isle has taken the time to do so. This small change really helps make the Explorer Pro 14' an even more versatile option for those looking for a truly hybrid SUP/Kayak option.
Stability
With a long waterline, relatively wide standing area, and wide square tail, the Isle Explorer Pro 14' is extremely stable, even when paddling with two people.
Most people begin evaluating a paddleboard's stability on paper by looking at its width. Most stop there, but some take into consideration the length as well. Fewer yet account for the actual shape and profile of the board, and fewer again the board's rigidity and weight. 31" wide doesn't seem that stable on paper, at least it seems less stable than your typical all around iSUP at 32" wide. But when you throw in 14' of length, an extremely parallel standing area, and smooth transitions to a wide square tail and relatively wide nose you are suddenly looking at an extremely stable paddle board!
While I was paddling and standing on the Explorer Pro 14' I felt rock solid on the water. There was no twitching or rolling that can sometimes happen in narrower boards, and boat wakes and waves passed under the board with barely a notice. The ultra-rigid construction also meant there was no flopping around across the long-length of the board whether I was standing, paddling, or moving around on the deck.
Rocking the Explorer Pro 14' back and forth was smooth and easy without any sudden jolts up or down as the rails submerged and resurfaced. Holding the board on its edge was just as easy to do.
Normally I'd not consider a 14' iSUP as one I'd recommend to beginners. However with the excellent stability in the Explorer Pro 14' if you are a new paddler who knows they want an efficient adventure-touring paddleboard, I say go for it! There's enough volume and stability in the Explorer Pro 14' for new paddlers to learn the basics without falling over every other stroke.
The Explorer Pro 14' has a 375 lbs weight capacity. We did try putting two, 230 lbs, adults on it with kayak seats, but the combined 460 lbs was definitely a bit too much and stability quickly became an issue. But after I kicked out one friend and swapped in another who is about 130 lbs, we were off to the races with 360 lbs of people (and a few extra pounds for seats, etc.)! We were plenty stable while both sitting on kayak seats, and I was comfortable enough to stand up and paddle for a bit without worrying about accidentally throwing her overboard. Again, the rigidity from the new Airtech Prolite construction really makes a difference compared to less-rigid builds. The 375 lbs weight limit is a "performance" limit, so you can certainly load the board up to that point. I don't recommend going beyond the weight limit as doing so greatly reduces stability and performance.
Speed
The Explorer Pro 14' is designed for adventure touring – paddling with cargo over long distances. First and foremost it has excellent efficiency on the water, but you can also get it up to some pretty great top speeds.
The Explorer Pro 14' is primed for speed. A long waterline and parallel shape gives this board a great theoretical top speed, so how fast does it go? Well, a quick preface – speed is as much about the paddler as it is the board (and paddle) so it's going to be a little different for everybody, but compared to all of the other iSUPs (and hard boards) I've paddled – it's fast.
First up I tested the sprinting speeds while paddling the Explorer Pro 14' with the new Isle Carbon Fiber Hybrid paddle. After several tests I had an average sprinting speed of 5.9 mph (9.5 kmh) and a peak top speed of 6.1 mph (9.8 kmh) for shorter sprints (around 50m at a time). For longer sprints that pace drops slightly as it takes a lot of effort to hit those speeds. When I swapped the Carbon Fiber Hybrid paddle for a full-carbon travel race paddle I was able to get the Explorer Pro 14' up to 6.3 mph (10.1 kmh).
Two things that I really appreciated about the Explorer Pro 14' while I was speed testing were its excellent tracking ability – I wasn't twisting all over the place while paddling – and its rigidity. While I still have a good amount of up-and-down forces going on while sprinting, I didn't feel the board flex under my feet at all.
Slowing things down a bit we can see how the Explorer Pro 14' performs at a more regular paddling pace. I like to target about 25 strokes per minute for casual, long-distance, cruising. While paddling at that cadence, the Explorer Pro 14' was very comfortable cruising along at 4.0 mph (6.4 kmh). Across my testing that's a chart-topping speed for a non race-specific iSUP.
With each paddle stroke the Explorer Pro 14' traveled an average of 24.5 feet before I noticed it slowing down. That's 1.75 board-lengths per stroke – right in line with where we typically see many touring iSUPs and the most highly-efficient all-around boards. At 31" wide, the Explorer Pro 14' actually has more going against it than for it when it comes to on-paper efficiency, so in seeing this result I was really pleased. I really do feel that the extreme rigidity of this board is a key factor in explaining this positive difference. Because it is so rigid, the board stays gliding across the water with each stroke rather than bending and bobbing down and back up.
Sitting down and doubling your paddle blades doesn't double your speed, but it does increase it. While paddling the Explorer Pro 14' as a kayak (and tandem kayak) it's very easy to get up to a high cruising speed and rocket across the water.
Maneuverability and Tracking
Adventure-touring, destination paddling, expedition paddling, whatever you want to call it, usually means you're using your board as a means to get from one place to another. A straight line is usually the quickest way to accomplish this, so the Explorer Pro 14' does significantly favor its tracking ability over maneuverability. The long length of the board does make it harder to turn than the shorter Explorer Pro 12', but it tracks incredibly straight.
With a 14' length I went into my maneuverability testing knowing that the Explorer Pro 14' was going to be hard to turn. We test maneuverability primarily with a stress test designed to really showcase any strength or weakness in this performance category.
Forward sweep strokes are a great, basic, technique that everyone should know. They can help steer your board while maintaining forward momentum, but they aren't the most efficient way to make a tight turn. Our stress test involves making a full 360° turn from a standstill using only forward sweep strokes. On average it took me just over 15 strokes to complete that 360° turn. I'm not going to lie – that's not great. But there is a silver lining.
First, this board isn't designed to be highly maneuverable; it's designed to get you from Point A to Point B as quickly as possible while carrying pretty much everything you need for days, or even weeks, at a time. But, the real silver lining is that when using different types of strokes, the Explorer 14' is far easier to turn.
Bow draw strokes, cross-bow draw strokes, reverse sweeps, and pivot turns all spin the Explorer Pro 14' around much more quickly. Reverse sweeps take less than 6 strokes to make the same 360° turn from our stress test. Bow draw strokes make steering the Explorer Pro 14' very easy for changing your course while paddling. And of course, stepping back to the tail for a pivot turn is the quickest way to do an about-face (only taking about 2 strokes). Walking to the tail and stepping to the very back of the board was quite easy due to the rigid construction and wide, stable, tail. The extra length really does make it a challenge to dip the tail deeper into the water, but you only really need to submerge it a few inches in order to make an effective pivot turn anyway.
I do wish that the Explorer Pro 14' (and 12') had a raised kick pad on the tail of the board. That would allow you to more securely and confidently put weight on the tail of the board at a higher angle for an even quicker pivot turn.
Just like I knew that the maneuvering performance of the Explorer Pro 14' was going to be a little underwhelming, I also knew that the tracking performance should be really good. "Really good" is an understatement.
We measure the tracking performance of a paddleboard by first paddling toward a distant target. Once the board is moving toward the target without any twisting or turning we take 10 forward strokes on one side of the board.
After those 10 strokes we determine where the board is now pointed and then measure the difference between our original course and new course with a sighting compass.
I had extreme difficulty measuring this "difference" after 10 paddle strokes. The average course deviation according to our testing methodology was only 3.5°.
After I picked my jaw up off the deck of the board, I compared that to our previous best tracking iSUPs which topped out at 5°. I think it's easy to see that getting from Point A to Point B in a straight line is a walk in the park for the Explorer Pro 14'.
The included 9" touring fin and the long, narrow, parallel shape of the Explorer Pro 14' work together very well. The fin itself is quite stiff, so it resists bending and flexing in the water, which also helps maintain a straighter course. Isle does include both click fin insert tabs for the fin for fast installation and removal, but they also include a tool-less fin bolt for when you want the most secure connection for your fin. I actually found the click fin inserts to be almost difficult to install because they fit so tightly, but I'd rather have that than worry about losing my fin.
Warranty and Customer Support
Isle is very excited about this new line of Airtech Prolite construction, and is so impressed with the rigidity and durability that they have extended their standard 2-year warranty for iSUPs to 4 years for all Explorer Pro and Pioneer Pro models. Isle still offers a 60-day return period where you can return your board for any reason, less a 20% restocking fee. If you have any questions for Isle about their warranty or products, you can contact them via phone, webform, or social media.
Overall Impressions/Review Summary
The short version of this review is as follows: I've found my new flatwater adventure board. If I'm paddling overnight trips on lakes, coastal paths, or even larger (non-whitewater) rivers, you're probably going to see me rocking out the Explorer Pro 14'. It's fast, it's efficient, it's stable, it can carry well more than what I need for a 4 or 5 day trip, and it's just plain fun to paddle. The new Airtech Prolite construction is just astounding. The Explorer Pro 14' isn't just rigid for a long inflatable SUP, it's incredibly rigid for any inflatable SUP, and that's at just 17 PSI! As if it's not enough that the Explorer Pro 14' makes a fantastic iSUP, it also makes an awesome adventure-touring kayak. The same performance characteristics translate well once seated, and the Isle inflatable kayak seat is extremely comfortable and customizable with the Isle Link system. "Well then Mike, if you like it so much why did you only give it a 4.9 out of 5.0?" Okay, that's a very reasonable question. First, the Explorer Pro 14' doesn't do everything perfectly – it has some pretty low maneuverability on the grand scale of things. It's also not an ideal board for everyone, it's more of a specialty performance SUP than it is a swiss army knife. But, the Explorer Pro 14' is an absolute top performer in its category and I wouldn't even blink, much less hesitate, to recommend it to anyone looking for an adventure-touring SUP, or as a tandem touring kayak.
Isle Explorer Pro 14' iSUP FAQ
What is the difference between the Isle Explorer 2.0 and Isle Explorer Pro?
The Isle Explorer Pro is the next evolution in inflatable paddle board technology. With the inclusion of high-quality, lightweight drop stitch and PVC materials along with the new Infinity Fiber stringers, the Pro-series iSUPs offer industry-leading stiffness and essentially an "inflatable hard board" paddling experience.
Should I get the Isle Explorer Pro 12' or the Isle Explorer Pro 14'?
The Isle Explorer Pro 12' is a crossover paddle board that bridges the gap between an all-around iSUP and a true touring board. It's very stable, but still efficient on the water. The Explorer Pro 14' is a true adventure/expedition touring iSUP that's made to go farther, faster by focusing on speed and efficiency over stability and maneuverability.
Is the Explorer Pro 14' compatible with a kayak seat?
Not only is the Explorer Pro 14' compatible with a kayak seat, but it was designed to be a high-quality sit-on-top kayak as well as a high-quality iSUP! The Isle inflatable kayak seat and foot brace can be adjusted to any position along the Isle Link system for maximum customization and comfort. The Explorer Pro 14' can also be outfitted as a tandem kayak using two of the Isle kayak seats.
Can I paddle with kids or dogs on the Isle Explorer Pro 14'?
Yes, however the larger length combined with the weight of a passenger can make it much harder to maneuver.