Mountain Khakis Equatorial Short Review
Inflatable Boarder is reader-supported and may earn a commission when you buy through links on our site. Learn more
The Mountain Khakis Equatorial Short is a fantastic option for those times when you're going to be out paddling and want to look a bit more presentable for lunch at a restaurant or exploring around town. These are incredibly versatile shorts, and they're also a perfect choice for hiking, travel, sailing, cruises, and just about anything else you can think of…
A more formal alternative to traditional boardshorts, Mountain Khakis' Equatorial Shorts are currently available in three classic colors: Retro Khaki, Willow, and Stone. With a zippered fly, button closure, and belt loops, they feature the traditional styling of normal khaki shorts.
These lightweight, super packable shorts feature a comfortable, relaxed fit and they're made with a quick-drying fabric that's abrasion-resistant and water repellent. The extremely high-density nylon weave is rated at UPF 50+ (providing 99% sun blockage), which makes them a great choice for long days on the water in the hot sun.
What Impressed Us Most
We really love the fact that these shorts feature plenty of pockets. There are a total of 6 pockets, including 2 generously-sized zippered security pockets (one on the right rear pocket and one in the right side seam), 2 regular rear pockets with a velcro closure, and two mesh-lined front pockets. The zippered pockets are large enough to hold a large smartphone, keys, wallet, and other small items that you don't want to lose.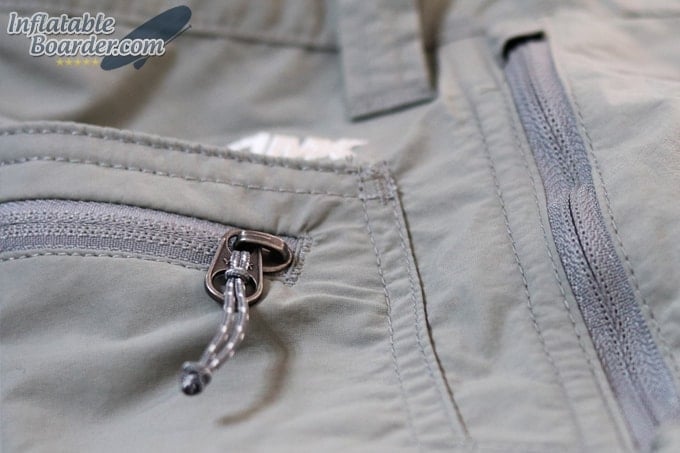 Another thing that we really like about Mountain Khakis' Equatorial Short is how quickly they dry out after getting wet. There's nothing worse than wearing a pair of wet, saggy boardshorts around all day, and you never have to worry about that with these shorts. The water repellent nature of these shorts helps to keep them dry, and if they do happen to get soaked, they dry out in no time at all.
As far as washing goes, these shorts are also super easy to care for — just wash them in cold water and tumble dry on low (or air dry).
Lastly, unlike other lightweight shorts that fall apart after a few wears, these offer great durability. Jackson Hole, Wyoming-based Mountain Khakis has a great reputation for making high-quality stuff that holds up well to serious use, and these shorts are no exception. Also, the company backs up everything they make with a one year warranty which covers any and all manufacturing defects.
Final Thoughts
We're super impressed with the Mountain Khakis Equatorial Short, and there's honestly nothing that we'd change about them if given the chance. They're handsome, comfortable, well-built shorts that perform well when paddling, and they're a far better alternative to boardshorts for dining and more formal situations.
The UPF 50+ fabric offers excellent sun protection for long days on the water, and it feels extremely comfortable on the skin. The lightweight fabric also means that these shorts are super packable and perfect for traveling — they can be rolled up and stuffed into an empty pocket, backpack, or other small spaces.
At the end of the day, if you're looking for something a bit more versatile than traditional boardshorts, we highly recommend Mountain Khakis' Equatorial Short. The classic styling, packability, and quick-drying properties make them an excellent choice for SUP and just about anything else you can imagine, and as with all Mountain Khakis products, they're built to last.