BEARZ Outdoor Picnic Blanket Review
Inflatable Boarder is reader-supported and may earn a commission when you buy through links on our site. Learn more
The BEARZ Outdoor picnic blanket is a super compact, waterproof blanket that is perfect for the beach, concerts and music festivals, camping, and more. This blanket is a great SUP accessory to bring along when you paddle as it's super lightweight and conveniently packs down into a small storage pocket.
Measuring 55″ x 60″, the BEARZ Outdoor picnic blanket is large enough to comfortably accommodate two adults and a small child or two. It's made from a durable, waterproof polyester material that can even be used as a tarp or rainfly.
Included with the blanket and storage pouch is a nifty carabiner which makes it easy to clip the pouch to your inflatable paddle board, PFD, or backpack.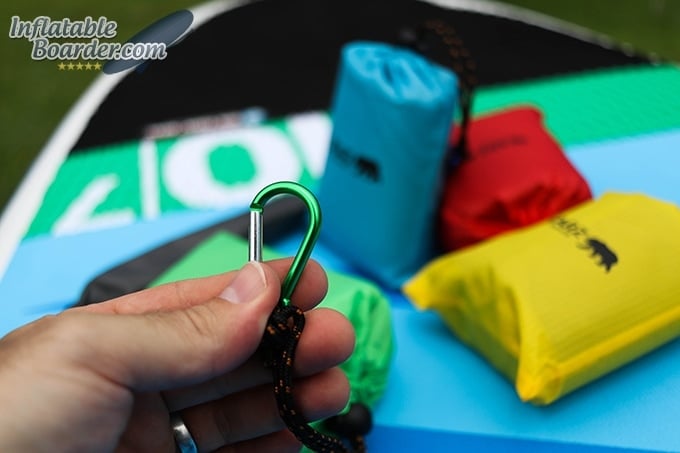 Located at the four corners of the blanket are pockets that you can use to stash small items. You can also use these pockets to hold sand or rocks to secure the blanket and keep it from blowing around on windy days. In addition to the storage pockets, there are also four corner loops that can be used to secure the blanket with plastic stakes (available here).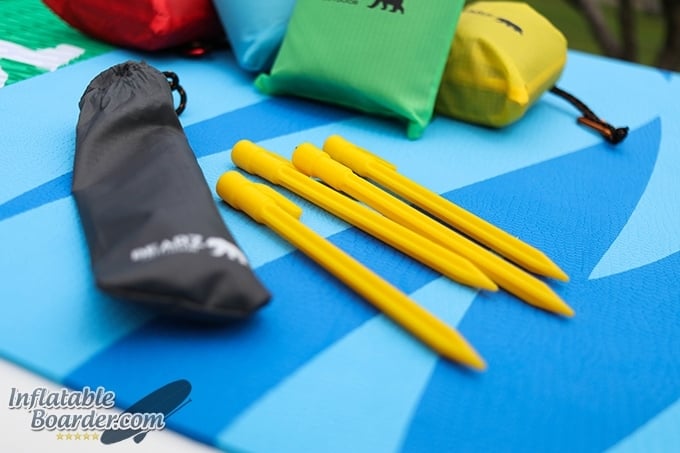 This blanket is perfect for those times when you're out exploring on your SUP and stop to check out new beaches or set up camp. It's super versatile and compact, making it a no-brainer piece of inexpensive gear to bring along on your paddling adventures.
We also really like the fact that this blanket is waterproof, making it super low-maintenance and easy to clean. Even after using it at the beach, you simply shake off the sand, rinse it with fresh water, and hang it for a bit to dry. After drying, just fold the blanket up and stuff it back into the included carrying pouch.
The waterproof BEARZ Outdoor picnic blanket is currently available in blue, yellow, green, and red. The company has also just released a brand new digital camouflage pattern which looks really cool.
If you're always on the lookout for useful new SUP accessories to add to your bag, the BEARZ Outdoor picnic blanket would definitely make a great addition. It's well-made, super versatile, and weighs next to nothing, making it a great piece of gear to bring along on your stand up paddleboarding excursions. By the way, the company also makes a convenient set of quick-dry travel towels that are perfect for drying off after a paddle — we definitely recommend checking those out as well.
More info on BEARZ Outdoor: Instagram, Facebook, website