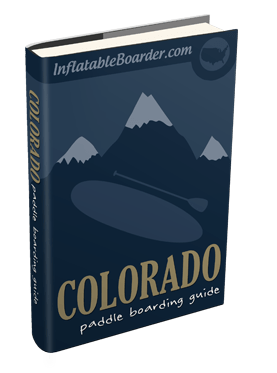 Announcing our brand new Colorado SUP guide…
In the Inflatable Boarder Colorado Paddle Boarding Guide, we take a look at 20 of the state's best SUP spots. You'll find out where to go in Colorado for unbelievable paddling and exactly who to get in contact with while you're there for an unforgettable time.
The word is getting out that Colorado is a super fun location for stand up paddle boarding — from beautiful lakes with stunning mountain views to intense whitewater spots, the state of Colorado truly offers something for everyone.
If you've been planning a trip to Colorado to do some paddling, this free downloadable PDF guide is a must have.
Did you know? In addition to being an amazing place to paddle, Colorado is also quickly becoming a hotspot for makers of inflatable paddle boards. Currently, the state serves as the home base for Hala SUPs, Badfish, and SOL to name a few.
Locations Covered in Our Colorado Paddle Boarding Guide
Grand Lake/Shadow Mountain Lake — The Rocky Mountain National Park's "Western Gateway".
Cherry Creek Reservoir — An excellent escape from the big city life.
Horsetooth Reservoir — A fun spot with easy access from nearby Fort Collins.
Cache la Poudre River — A nationally designated "Wild and Scenic" River.
Glenwood Springs Whitewater Park — A fantastic location for experienced paddlers.
Blue Mesa Reservoir — Colorado's largest body of water with 96 miles of shoreline.
Vallecito Lake — Enjoy stunning mountain views while paddling.
Lake San Cristobal — A fairly small lake, but the second largest in Colorado.
Big Soda Lake Reservoir — A convenient paddling spot close to Denver.
Chatfield Lake — This laidback lake offers plenty to explore.
Clear Creek Whitewater Park — Ideal for paddlers in search of challenging conditions.
Aurora Reservoir — A hidden gem in the far southeastern end of Aurora.
Union Reservoir — One of Colorado's only natural lakes.
Lake Dillon — Conveniently accessible from Denver with a variety of SUP options.
Boulder Reservoir — A busy paddling spot that's great for meeting new people.
Gross Reservoir — 440 acres with 11 miles of shoreline.
Brainard Lake — This relatively small lake offers stunning views.
McIntosh Lake — A less-crowded spot that's great for spotting wildlife.
Trout Lake — A gentle, serene spot near Telluride.
Prospect Lake — A 58-acre lake located in downtown Colorado Springs.
More Paddle Boarding Guides
If you like our guide to the best places to paddle board in Colorado, the you might also want to check out our other free downloadable guides: