Badfish SUP – Paddle Board Reviews 2021
Inflatable Boarder is reader-supported and may earn a commission when you buy through links on our site. Learn more
Originally founded in 2009 by two close friends who shared a passion for paddling, Salida, CO-based Badfish SUP is a well-known name in the world of stand up paddleboarding for their high-quality inflatable paddle boards and innovative whitewater designs. Last season, owners Zack Hughes, Mike Harvey, and Luke Hopkins made some major decisions as they broke away from their 6-year partnership with Boardworks Surf to go independent.
Following their split with Boardworks Surf, Badfish SUP launched a completely revamped iSUP line with fresh new designs and exciting new models. Currently, there are a total of 12 Badfish models, including 7 inflatable SUPs and 5 rigid boards:
Badfisher (inflatable)
Monarch (inflatable)
Surf Traveler (inflatable)
Rivershred (inflatable)
IRS (inflatable)
Wavo (inflatable)
I-SK8 (inflatable)
River Surfer 104 (hard)
River Surfer 140 (hard)
Hard SK8 5′ (hard)
Hard HV SK8 5′ (hard)
Hard SK8 5'6″ (hard)
Badfish SUP Comparison Chart
Badfish Inflatable SUP Reviews
Badfish SUP Badfisher
An inflatable SUP that's been extremely popular with anglers over the years, the Badfish SUP Badfisher was completely overhauled last season and features a newly improved shape, Scotty plates for attaching a fishing rod holder and other accessories, and multiple D-ring attachment points. The Badfisher also comes with an unbreakable tri-fin setup as well as front and rear grab handles.
A board designed for stability and maximum glide, the Badfisher offers improved performance and versatility over previous versions.
Badfish SUP Monarch
Initially introduced last season, the Badfish SUP Monarch is a well-built, all-around inflatable SUP that measures 11′ x 34″ x 5″. The nicely tapered shape of the Monarch's nose makes it a great choice for flatwater paddling, while the board's 34″ width gives it outstanding overall stability even when conditions get rough. Definitely the most versatile board in Badfish SUP's line, the Monarch is essentially a go anywhere, do anything inflatable paddle board that excels in a wide variety of paddling conditions. Suitable for beginners through advanced paddlers, this model should definitely be on your radar.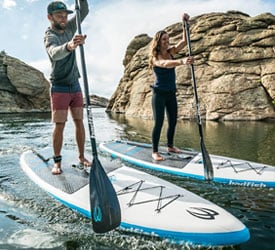 Badfish SUP Surf Traveler
Another board that offers quite a bit of versatility is the Badfish SUP Surf Traveler. Measuring 10'2″ x 31″ x 5″, the Surf Traveler is an all-around board that was designed to perform well in moderately-sized surf. Shorter and narrower than the company's flagship Monarch model, the Surf Traveler glides well while still offering decent overall stability. If you've been looking around for a fun all-around inflatable SUP that you can also catch a few waves on, the Surf Traveler is a good choice.
Badfish SUP Rivershred
The Badfish SUP Rivershred is a high-performance river SUP model that was designed to excel in whitewater conditions. Measuring 9'6″ x 36″ x 6″, this popular board is a bit wider and thicker than the company's all-around boards and it features a decent amount of nose and tail rocker. On the bottom of the board are three removable fins which give you the added versatility of being able to experiment with various fin setups, and as with all of Badfish's iSUPs, it comes with a full accessory bundle.
Badfish SUP IRS
The ultimate board for beginners to the river SUP scene, the Badfish SUP IRS (Inflatable River Surfer) is another popular model that offers a nice blend of performance and stability. An extremely fun board that many river SUP enthusiasts have cut their teeth on, Badfish's Inflatable River Surfer measures 7'6″ x 33″ x 5″ and features a fixed tri-fin configuration. If you're looking for a great inflatable river board and don't mind the IRS' lack of versatility, this is certainly a good board to consider.
Badfish SUP Wavo
The Badfish SUP Wavo is another impressive new addition to the company's inflatable SUP line. Measuring 6'2″ x 26″ x 3.75″, this egg-shaped river surfer is designed to ride like a shortboard and provides more buoyancy than the I-SK8.
We predict that this fun and easy to ride board will be a popular sight on rivers throughout the upcoming season and it's a great choice for larger riders.
Badfish SUP I-SK8
Last but not least, the little Badfish SUP I-SK8 is an inflatable surfboard that was designed for maximum river surfing fun. This is a high-performance model that measures 5'9″ x 26″ x 2.75″, and it comes with a removable tri-fin setup.
Perfectly suitable for beginner through experienced river surfers, the incredibly fun little I-SK8 is a more portable alternative to the company's two hard SK8 models.
Badfish SUP Warranty Information
In addition to making killer boards, Badfish also stands behind them. All Badfish SUP inflatables are backed by a rock-solid 3-year warranty which covers any and all manufacturing defects.
Having a 3-year warranty is really great for added peace of mind, and it's a notch above what most other inflatable SUP companies currently offer (1 or 2 years). Also, since Badfish SUP is a small company, you can expect to receive a higher level of customer support.
Visit their site for more warranty information.