Tower Adventurer 2 Review
Inflatable Boarder is reader-supported and may earn a commission when you buy through links on our site. Learn more
The Tower Paddle Boards Adventurer 2 is a popular 10'4″ inflatable SUP board that offers maximum rigidity and durability. It is
the largest board in Tower's Adventurer iSUP lineup
, and it's a great choice for someone who needs a longer board for all-around use.
Tower is well-known for providing great value due to their manufacturer direct business model, and the Adventurer 2 continues to build on that reputation. Packed with features that are typically seen on boards at much higher price points, the Adventurer 2 combines top-quality materials and construction with the convenience and portability that only an inflatable paddle board can offer.
In this Tower Paddle Boards Adventurer 2 10'4″ review, we'll be taking a closer look at the standout features of this inflatable SUP, as well as the technical specs, warranty, and more. If you're in the market for an all-around inflatable stand up paddle board of this size, it is definitely one that we recommend considering.
In a Hurry? Here's a Quick Summary…
Pros

Affordable


Durable construction


Good paddling performance


Stable


6" thick with great rigidity


Solid warranty coverage


Excellent portability
Cons

Backpack not included
Price & Where to Buy it
Tower Paddle Boards Adventurer 2 Review: Specs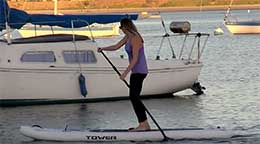 The Tower Adventurer 2 is accompanied by an impressive specifications sheet.
Weighing in at 25 pounds and measuring 10'4″ (length) by 32″ (width) by 6″ (thickness), the Adventurer 2 is capable of carrying up to 400 pounds with no problem. The drop stitch construction and 6″ board thickness combine to make the Adventurer 2 one seriously rigid inflatable SUP.
Tower used an ultra-tough, military grade PVC material on the Adventurer 2 (the same stuff used on Zodiac inflatable boats), allowing the board to withstand cuts and damage from rocks, sticks, and other objects. The Adventurer 2 is so durable, that it's even been thrown off of buildings and driven over with zero damage.

Board Thickness
We love the 6″ thickness of the Adventurer 2, as it causes the board to sit higher in the water and results in a faster paddling board. Additionally, the extra thickness prevents sag and increases both rigidity and board comfort.
To give you an idea of the strength that this iSUP board has, it will support a 200 pound person while propped up between two chairs. This is remarkable rigidity, and a 4″ inflatable SUP would not come close to this type of support.
Recommended PSI + Additional Details
While the Adventurer 2 10'4″ can handle 25 PSI, Tower recommends that it be kept around 10-11 PSI.
The nose Rocker on this iSUP is 4 inches, and there is no tail rocker. The fin configuration is a 2+1, with a large center fin that is detachable.
Lastly, the board features carrying handles on the front and rear of the board, a front towing d-ring, and a rear d-ring for attaching your surf leash.

Tower Paddle Boards Adventurer 2
Durability

Features

Versatility

Stability

Speed

Portability

Warranty

Customer Support

Price
What Comes With the Adventurer 2?
The Tower Adventurer 2 10'4″ iSUP Package includes the inflatable paddle board, removable fin, paddle, and pump. The board also comes with a high-quality Tower deck pad and a repair kit (patches and a valve wrench), and
you'll find the best price here
.
We would have really liked to have seen a backpack or carrying bag included with the Adventurer 2, like iROCKER includes with their ALL-AROUND 10′ and ALL-AROUND 11′ boards. For those who really want the convenience and added protection of a backpack, Tower offers one separately for purchase here (which we recommend getting). For a detailed comparison between iROCKER and Tower's inflatable paddle boards for this season, read this.
Portability of the Tower Adventurer 2
Due to the inflatable design of the board, the Adventurer 2 is super easy to store and transport. After deflating the board, it simply rolls up into the footprint of a sleeping bag.
The Adventurer 2 is much easier to store and transport than a traditional hard paddle board, so it is ideal for women and those who have small vehicles or apartments without lots of storage space. No car rack is needed with the Tower Adventurer 2 inflatable paddle board—just deflate it and throw it in the back of your car.
The Adventurer 2 is also an awesome traveler, as it can easily pack down and get checked with your luggage whenever you fly.
Tower Adventurer 2 10'4″ FAQ
How long is the included paddle? Does it float? How long is it when you break it down?
The paddle is adjustable from 65″-85″, and it does float. The paddle breaks down to 34.5″ which means that you'll be able to stash it in a checked a bag when flying.
What is the paddle made out of?
The shaft of the paddle is fiberglass, and the paddle is plastic.
Can I surf with the Adventurer 2?
Absolutely. Tower recommends surfing with the Adventurer 2 in waves that are 4 feet or less.
Can my dog ride along on the Tower Adventurer 2?
Definitely! The military grade PVC material used in the construction of the Adventurer 2 makes it a great choice for dog owners. Just remember that it's always best to use a dog life jacket — a very important paddle boarding accessory for dog owners!
What is the removable center fin made out of?
The fin is made of ABS composite plastic.
Is this a good board for large riders?
Yes, the Adventurer 2 is an excellent choice for larger individuals due to the longer length and 6″ thickness. For smaller riders, we recommend the Tower Adventurer 9'10" iSUP.
How long does it take to inflate the Tower Adventurer 2 iSUP?
It takes about 5 minutes to inflate the board.
What's the best way to clean and store the Adventurer 2?
After rinsing the board off, you can wash it with some mild soap. Then, just make sure the board is completely dry before you roll it back up for storage. It can be stored under your bed or in a closet until you're ready to take it back out on the water.
Tower Paddle Boards Warranty
Tower backs the Adventurer 2 10'4″ with a 2 year warranty that guarantees against manufacturer defects. The company is based out of San Diego, CA, and it is super easy to contact them should any unforseen issues happen to arise.

Final Thoughts
We really like with Tower is doing in the world of stand up paddle boarding, and the Adventurer 2 is a solid choice in this price range.
Tower offers a lot of bang for the buck with this iSUP, and due to the fact that it is so well built, the Adventurer 2 should provide you with many years of memories and adventures. We also love the fact that Tower goes above and beyond what most companies offer with their full 2 year warranty against manufacturer defects.
At the end of the day, this is a great inflatable paddle board that we confidently recommend.