Inflatable Boarder is reader-supported and may earn a commission when you buy through links on our site. Learn more
If you're searching for a super stable, ultra-durable inflatable paddle board that can pretty much handle it all, the Hala Rival Hoss is a board that should be on your radar. Built like a tank and packed with great features, this is a top-shelf iSUP that will definitely put a smile on your face.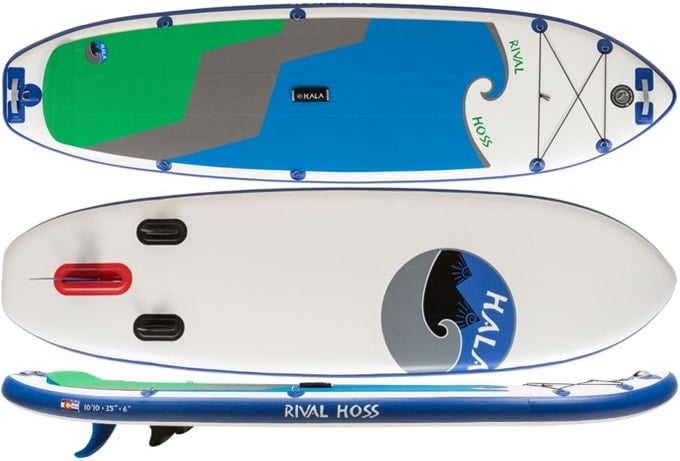 Hala Gear has been designing some of the industry's best inflatable paddle boards since 2011, and the company is headquartered in beautiful Steamboat Springs, Colorado. Hala is a company that is made of of die-hard paddling enthusiasts who use (and abuse) the gear they make on a daily basis, and they're constantly pushing the envelope when it comes to cutting edge inflatable SUP design.
In this review of the Hala Rival Hoss SUP, we'll go over this board's design and construction, specs, standout features, pros and cons, who it's right for, how it compares with the Hala Carbon Hoss, and what's included.
In a Hurry? Here's a Quick Summary…
Pros

Good rigidity


Bombpoof construction


Very stable


Super versatile


Raised kick tail


Toolless fin system


Lots of D-rings for securing gear


Convenient grab handles at nose and tail


Nice bundle of SUP accessories (including a paddle)


Excellent customer service


Awesome 3-year warranty
Cons

Not the fastest on the water


Extra width makes it a bit more difficult to maintain proper paddling stroke
Price & Where to Buy it


(*Enter discount code BOARDER for an additional 5% off)
Hala Rival Hoss Review: SUP Overview
ARVE Error: src mismatch
url: https://www.youtube.com/watch?v=E3Sl7YseqyI
src in: https://www.youtube-nocookie.com/embed/E3Sl7YseqyI?feature=oembed&enablejsapi=1&origin=https://www.inflatableboarder.com
src gen: https://www.youtube-nocookie.com/embed/E3Sl7YseqyIActual comparison
url: https://www.youtube.com/watch?v=E3Sl7YseqyI
src in: https://www.youtube-nocookie.com/embed/E3Sl7YseqyI?enablejsapi=1&origin=https%3A%2F%2Fwww.inflatableboarder.com
src gen: https://www.youtube-nocookie.com/embed/E3Sl7YseqyI

Measuring 10'10" x 35″ x 6″ and weighing in at 27 pounds, the 2017 Hala Rival Hoss is a wide, stable board that provides excellent rigidity. This board really excels when it comes to activities like SUP fitness, fishing, whitewater, and paddling expeditions, and there's plenty of room to bring along additional gear.
On the top deck of the board is a super comfortable, crocodile pattern EVA foam traction pad. The croc pattern is really easy on the hands and feet, making it an excellent choice for SUP fitness activities. As with all Hala SUPs, the Rival Hoss' deck pad features a bold, colorful design.
In the middle of the deck is a nice grab handle that is covered by a soft, neoprene cover. The cover has a velcro closure, allowing it to be easily removed if you prefer a less-bulky handle that lays flat.
Located near the board's nose are four stainless steel D-rings with a bungee cord for storage. We really like the fact that Hala has placed the D-rings close to the rails and further up the board. This provides a nice wide storage area that doesn't get in the way.
Also positioned at the nose of the board is a Halkey Roberts air valve and a super tough grab handle made from nylon webbing. Having the air valve at the board's nose is nice, as it allows you to begin rolling the board up at the tail where the fins are located. As you fold the board up from the tail, the excess air is then pushed out through the valve at the nose.
Moving back toward the tail of the board, you'll find four more stainless steel D-rings located on either side of the traction pad for tying down additional gear. This is perfect for securing a tackle box, cooler, or a backpack and dry bags.
At the tail of the Rival Hoss is a second nylon grab handle and another D-ring for attaching your SUP leash. Having grab handles at the nose and tail of the board makes it really easy to pull the board in and out of the water. Also located at the tail is a 1.5″ raised kick tail which gives you more control over the board when performing advanced maneuvers.
On the flip side, the Rival Hoss features a 2+1 fin setup. There are two fixed, unbreakable side fins and a removable 8″ center flex fin that attaches without tools.
Construction
New for 2017 is Hala's dual-layer, fusion drop stitch construction which utilizes less material and reduces the overall weight of the Rival Hoss. All of the materials and components used on the board are top-notch.
Hala Rival Hoss vs. Hala Carbon Hoss – Which is Better?
Hala has introduced two Hoss models for 2017 — the Rival Hoss and the Hala Carbon Hoss. Both boards are amazing and offer excellent stability on the water, but which one should you buy?
The answer to this question will be different for everyone, and it depends on a few different factors…
First of all, we have to take budget into consideration. The Hala Carbon Hoss is priced significantly higher than the Rival Hoss and doesn't include a paddle (which means you'll need to spend even more money after buying the Carbon Hoss, unless you happen to already own a paddle). The Hala Rival Hoss comes in at a nice price point and includes a 3-piece travel paddle, giving you a more affordable way to enjoy the stability and excellent build quality offered by Hala's Hoss model.
Secondly, there is weight and overall rigidity to consider. The Carbon Hoss features Hala's new carbon construction technology which results in a much stiffer inflatable paddle board. This does come at a price, however — a higher cost (which we already discussed) and increased weight. While the Hala Carbon Hoss is a stiffer board, it also weighs 5 pounds more (32 pounds vs. the Rival Hoss' 27 pounds).
Specs
Length
10'10"
Width
35″
Thickness
6″
Weight
27 pounds
Max Capacity
350 pounds
Price


(*Use coupon code BOARDER
for an additional 5% discount)
What's Included
We love the fact that Hala now offers inflatable SUP accessory bundles that include a paddle. This is perfect for first time paddlers who don't already have a paddle, including practically everything you need to start paddling (just remember to buy a SUP leash and PFD!).
Included with the Hala Rival Hoss is a floating 3-piece aluminum travel paddle with an oval shaft, the super durable Hala Travel-Tough Rolling Backpack, a lightweight accessory bag, a basic 12V electric car pump, a dual-action manual hand pump, and an iSUP repair kit. Hala also includes their rock solid 3-year warranty which covers any and all manufacturer defects.
Where to Buy the Hala Rival Hoss + Discount Code
Hala's Rival Hoss is available here. Enter coupon code BOARDER and receive an additional 5% off, plus FREE shipping, a FREE 3-piece travel paddle, and no tax on all orders outside of Maryland.
Final Thoughts
Overall, the 2017 Hala Rival Hoss is a no-brainer for anyone who wants to experience Hala's amazing build quality, eye-catching design, and premium features at a more affordable price point. The Rival Hoss is a super fun board to paddle around on, and its stability and versatility make it an outstanding choice for a wide variety of SUP activities.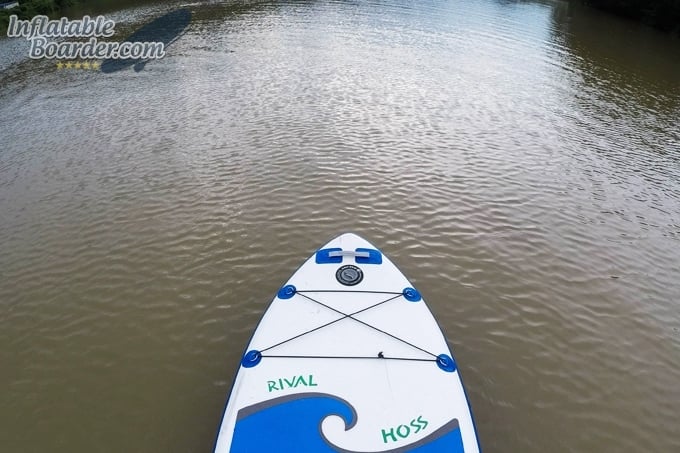 For those who happen to have a need for speed, the Rival Hoss isn't the best choice as this is a board that was primarily designed with stability in mind. However, if you're into whitewater, SUP fitness, going on camping excursions, SUP fishing, or just paddling around and having fun, this board is a fantastic choice.
We really like the dual grab handles, additional D-rings, and raised stomp pad on the Rival Hoss. The deck pad is also a big winner as the croc pattern provides excellent traction while simultaneously being easy on the hands and feet.
Additionally, Hala's new fusion technology is a nice improvement for the 2017 Rival Hoss, resulting in a board that is just as durable yet 5 pounds lighter than last year's model.
If you are looking for a rigid, stable inflatable SUP that is built like a tank and backed by one of the best warranties in the industry, the Rival Hoss is an excellent board to consider picking up.