Inflatable Boarder is reader-supported and may earn a commission when you buy through links on our site. Learn more
The Hala Carbon Hoss is a new model for 2017 that features some pretty exciting technology. This is an extremely stable, all-around board that is versatile and suited for a wide range of SUP activities.
Founded in 2011 by Peter Hall and headquartered in Steamboat Springs, CO, Hala Gear is a company that is continually pushing the envelope when it comes to inflatable paddle board design. New for 2017 is Hala's Carbon Construction technology which further narrows the gap between iSUP and rigid board feel and performance. By incorporating their Carbon + Fusion Drop Stitch material, Hala has been able to increase overall rigidity by about 300%.
In this Hala Carbon Hoss review, we'll be discussing this board's standout features, build quality, pros and cons, what's included, and what type of paddling activities are best suited for this board.
In a Hurry? Here's a Quick Summary…
Pros

Amazing rigidity


Bombproof durability


Top-shelf build quality


Very stable


Glides well in the water


Super versatile


Nice kick tail


Raised foot index


No tools required for attaching/removing fin


Plenty of D-rings


Grab handles at nose and tail


Very nice bundle of accessories included


Great customer service


3-year warranty
Cons

No paddle included


On the heavy side


Premium price tag
Price & Where to Buy it


(*Enter promo code BOARDER for an additional 5% off)
Hala Carbon Hoss Review: SUP Overview
ARVE Error: src mismatch
url: https://www.youtube.com/watch?v=986MUmwysyE
src in: https://www.youtube-nocookie.com/embed/986MUmwysyE?feature=oembed&enablejsapi=1&origin=https://www.inflatableboarder.com
src gen: https://www.youtube-nocookie.com/embed/986MUmwysyEActual comparison
url: https://www.youtube.com/watch?v=986MUmwysyE
src in: https://www.youtube-nocookie.com/embed/986MUmwysyE?enablejsapi=1&origin=https%3A%2F%2Fwww.inflatableboarder.com
src gen: https://www.youtube-nocookie.com/embed/986MUmwysyE

If you're in the market for a super fun and extremely versatile board that can pretty much do it all, Hala's 2017 Carbon Hoss is a board that should be on your radar. Measuring 11′ x 34″ x 6″, the rigid Carbon Hoss is a stable board that's a great choice for SUP fitness, flat water paddling, SUP fishing, whitewater, paddling expeditions, and more.
Of course, the very first thing you notice when you get your hands on the Hala Carbon Hoss is the visible carbon stringer running along the top deck and bottom of the board. Far from a marketing gimmick, the Carbon Construction technology makes a huge difference when it comes to overall rigidity and board responsiveness. Now more than ever, inflatables are feeling and performing more like rigid SUPs while retaining the convenience and portability that only iSUPs offer.
The top deck of the Carbon Hoss is covered with a high-quality, diamond pattern EVA foam traction pad. The deck pad features a colorful, eye-catching design and there's a nice kick tail and raised foot index at the board's tail. The kick tail makes it easy to perform pivot turns and advanced maneuvers, and the raised foot index helps you find your footing without needing to look down at the board.
Along the sides of the traction pad are four stainless steel D-rings for attaching a kayak seat or securing additional gear, and near the top of the pad are two nylon loops for a kayak foot rest.
In the middle of the board is a convenient carrying handle which is super comfortable, thanks to a soft, removable neoprene cover. This handle makes it extremely easy to carry the Carbon Hoss around when it's fully inflated, and also gives you a secure place to grab on to if you fall off the board and need to get back on.
At the board's nose are four additional stainless steel D-rings, a bungee cord storage area, the inflatable air valve, and a tough grab handle covered in thick, durable rubber.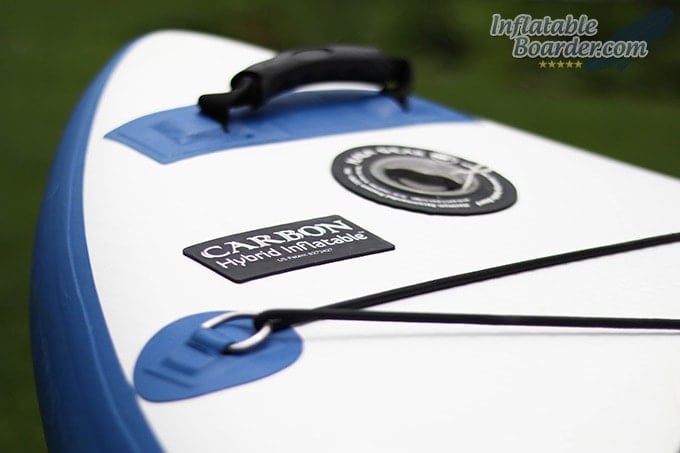 The tail of the Carbon Hoss features another sturdy grab handle as well as an additional D-ring for attaching a SUP leash.
On the flip side, the Hala Carbon Hoss comes with a 2+1 fin setup. The two gummy side fins are removable and easily click into place. The 8″ center fin is also removable and installs quickly without tools.
Paddling Performance
Paddling the Carbon Hoss is an absolute blast. The incredible rigidity of this board is instantly noticeable and the 34″ width gives it excellent stability. While this won't be the fastest board on the water, it has very respectable speed and glides well.
As far as tracking goes, the Carbon Hoss does well in this area also thanks to the board's triple fin configuration. It performs great in solo paddling situations, and is also a good choice for bringing along children or your dog.
If you're interested in SUP fitness, overnight paddling expeditions, whitewater, and SUP fishing, you'll also be very pleased with the performance of this board. The stable design, bombproof construction, high-quality traction pad, and numerous gear tie-down points are all features that you'll really appreciate on the Hala Carbon Hoss.
Hala Carbon Hoss
Durability

Features

Versatility

Stability

Speed

Portability

Warranty

Customer Support

Price
Specs
| | | |
| --- | --- | --- |
| | Length | 11′ |
| | Width | 34″ |
| | Thickness | 6″ |
| | Weight | 32 pounds |
| | Max Capacity | 350 pounds |
| | Price | |
What's Included
The Hala Carbon Hoss comes with a really nice bundle of SUP accessories, and the quality of their bag is next level (more on that in a second). When you unpack the board, you'll find a small 12v electric car pump, a dual-action hand pump, the board, backpack, and an inflatable paddle board repair kit. There's also a separate lightweight accessory bag that is useful for organizing your gear, and the board comes with Hala's impressive 3-year warranty.
Unfortunately, the Carbon Hoss doesn't include a paddle, and that's definitely something that we'd love to see Hala include in the future. Hala does include a 3-piece travel paddle with the 2017 Hala Rival Hoss, however.
The Hala Backcountry Rolling Backpack
The highlight of the SUP accessories included with the Carbon Hoss is Hala's Backcountry Rolling Backpack. This is a super high-end SUP backpack that is built like a tank and has some really great features.
As far as build quality goes, this bag is top-shelf. When FedEx delivered the board to me, the shipping box was completely missing — somehow they managed to destroy the cardboard box that it was shipped in and all that was left was the backpack. Despite the fact that it showed up without the protection of a cardboard box, the bag arrived in perfect condition thanks to the tough woven nylon construction and high-quality hardware.
This Hala SUP backpack is very comfortable to wear, and it comes with padded shoulder straps, a sternum strap, and a waist strap. The back of the bag has a zippered flap that allows you to neatly tuck away the straps when they're not in use.
In addition to being able to carry the bag with the included backpack straps, there are also two grab handles located at the top and side of the bag. The top handle has a durable rubber grip around it which makes it easy to grab hold of.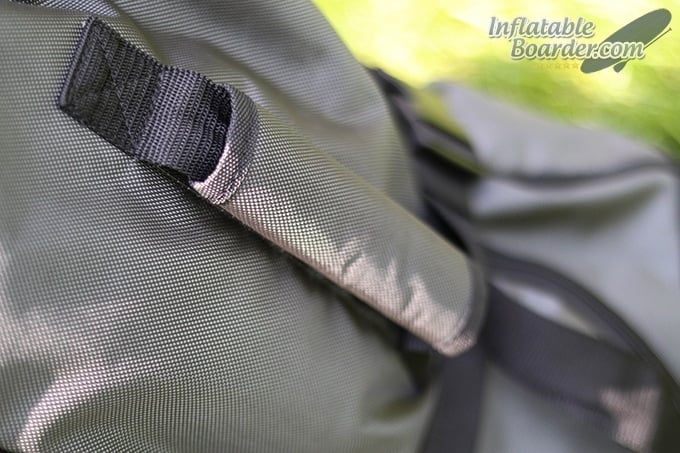 The bag also features a see through luggage ID window, heavy duty zippers with rubber pulls, five compression straps with snap buckles (four on the sides, one on the top), and two roller wheels at the bottom of the bag. The roller wheels are a really convenient feature that make it easy to wheel the bag around in an airport terminal, back and forth to the car, etc.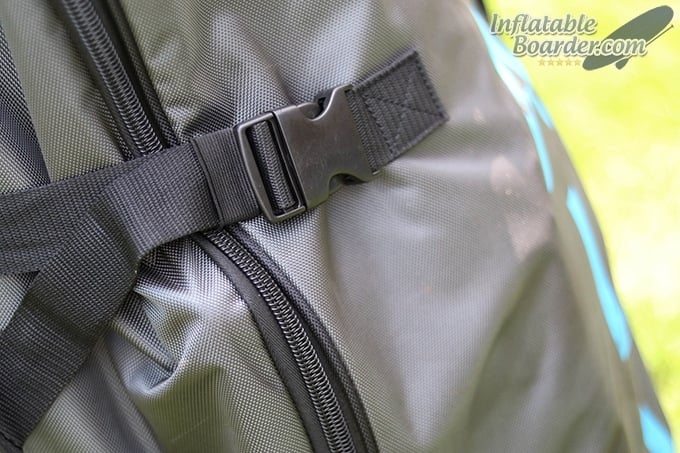 Where to Buy the Hala Carbon Hoss + Coupon Code
You can buy the Hala Carbon Hoss here, here, and here. If you order from Pumped Up SUP, just enter the coupon code BOARDER when checking out and you'll get an additional 5% discount on the Hala Carbon Hoss.
Final Thoughts
The Hala Carbon Hoss is a fantastic all-around board that is well-suited for a variety of paddling conditions and activities. This isn't the cheapest or lightest inflatable SUP around, but if you're looking for a really high-end board that leads the pack when it comes to rigidity and performance, this is a great choice.
As with all Hala boards, the overall build quality of the Carbon Hoss is second to none. The construction, attention to detail, and quality of materials is exactly what you would expect from a board of this caliber.
An awful lot of work went into the design of this board, and Hala's passion for inflatables is really evident once you get your hands on the Carbon Hoss. From the innovative Carbon Construction technology to the many great features, the Carbon Hoss is as good as it gets when it comes to high-end inflatable paddle boards.
If you're looking for a sturdy, stable board that you can take anywhere and do anything with, we highly recommend the Hala Carbon Hoss. Hala has a great reputation for building amazing gear, and their 3-year warranty shows that they're a company that is serious about standing behind what they make.