Aztron MERCURY Review | 2019
Inflatable Boarder is reader-supported and may earn a commission when you buy through links on our site. Learn more
The Aztron MERCURY is a super affordable, all-around inflatable paddle board that features an interesting design which increases rigidity and overall safety. Aztron Sports is a brand new SUP company on the scene for 2019 and they've wasted absolutely no time in rolling out a really nice range of iSUPs, rigid boards, and paddling accessories…
The MERCURY is the first of the company's boards that we've had an opportunity to review and we're extremely impressed so far. Despite the fact that this board is bargain-priced, it packs a ton of value and doesn't look "cheap" in any way, shape, or form.
In this review of Aztron's MERCURY iSUP, we'll cover this board's specs, features, construction and overall build quality, how it performs on the water, pros and cons, how to set it up, the included accessory bundle, warranty coverage, and more. If you're in the market for an all-around inflatable SUP but don't have a big budget, the 2019 MERCURY will probably be a tough board to beat.
In a Hurry? Here's a Quick Summary…
Pros
Eye-catching design
Very affordable
Dual-chamber technology for added safety
Good rigidity
Versatile
Durable double layer fusion construction
Stable
Bungee storage area
Handy toolless fin system
Very nice accessory bundle
Cons
Warranty is only 1-year
Tracking performance isn't the greatest
No grab handle at nose or tail
Price & Where to Buy it
Aztron MERCURY Review: SUP Overview
An iSUP that's versatile and extremely fun on the water, the Aztron MERCURY measures 10'10" x 32″ x 6″ and it weighs in at just over 24 pounds. This inflatable SUP board has a stunning design that looks amazing on the water and the graphics and branding are all tastefully done.
Perfect for beginners, families, and anyone who is looking for a do-it-all SUP, the Aztron MERCURY is great for flat water paddling, cruising around with a small child or dog, and many other recreational paddling activities. Obviously, speed and overall performance are not what this board was designed to excel at, so if you like what you see with this board but want something a bit more performance-oriented, we'd recommend checking out the company's URONO touring SUP.
Features
The top deck of the Aztron MERCURY is covered by a soft EVA foam traction pad that features a diamond groove pattern. The diamond traction pattern is a popular design when it comes to deck pads and it provides excellent grip.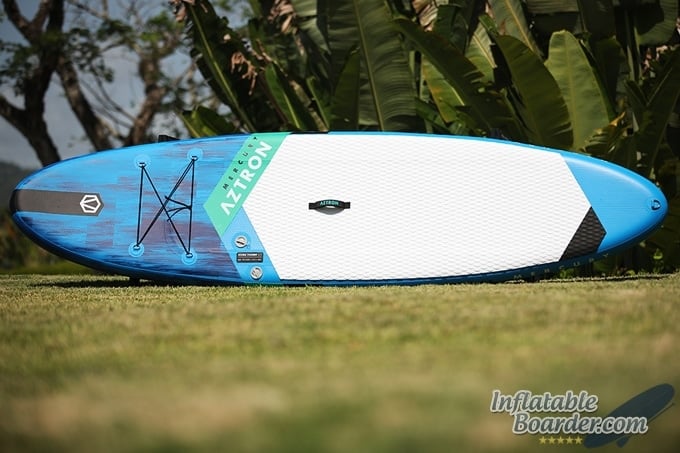 In addition to the convenient carrying handle, there are also two Halkey Roberts-style air valves located at the middle of the board. The innermost valve inflates the inner, boxlike chamber while the valve that is closest to the board's rail is used to inflate the main chamber. When inflating the MERCURY, you should always begin by inflating the inner chamber first and both chambers have a recommended inflation pressure of 15 psi.
At the nose of the board are 4 stainless steel D-rings for tying on the included SUP bungee cord. Unlike most inflatable SUPs, Aztron does not ship their boards with the bungee cord installed so this is a quick and easy job that you'll need to do yourself.
The bungee storage area at the nose is really convenient for securing flip flops, a dry bag, PFD, and even your paddle while you're out on the water. It also provides a place for small children to hold onto while riding along on the nose of the board.
The MERCURY's tail features a large D-ring for attaching your SUP leash. There's plenty of room at the rear of the board for attaching a grab handle and we'd love to see that added in the future.
When you flip the board over, you can really get a good view of the inner chamber's outline. There's also a single large removable fin with a convenient attachment system that doesn't require tools.
Construction
Overall, the MERCURY appears to be a well-built board but we'll have to wait and see how the long term durability of this new inflatable SUP line pans out. We absolutely love the twin air chambers and definitely noticed the added stiffness it brings to the table.
Of course, the dual-chamber construction is also an added safety feature that gives you additional peace of mind when you're out on the water. In the event that your board comes into contact with a sharp object and gets punctured or loses air pressure due to a seam leak or blowout, the second inner chamber will keep the board afloat so you can safely return to shore.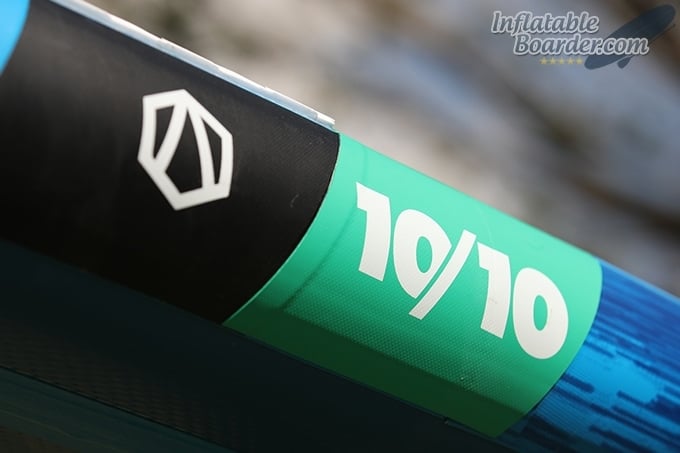 IMPORTANT: Anything that improves paddling safety is a huge win, but it's important not to become overly dependent on something like a second air chamber. Always wear a SUP PFD.
Paddling Performance
The Aztron MERCURY is a lot of fun on the water. Needless to say, this isn't the fastest board and tracking could be improved by the addition of two small side fins, but it's enjoyable to paddle and provides great stability.
If you're just starting out or looking for an extremely affordable all-around SUP for fun days out on the water, you won't find anything better than the MERCURY in this price range.
How to Set the Board Up
Likes and Dislikes
With the exception of the board's dual-chamber design, the Aztron MERCURY is a fairly basic, no-frills inflatable SUP. As we've already discussed, having two air chambers adds valuable insurance against leaks, punctures, and blowouts, and the board feels nice and rigid under the feet.
The graphics and color scheme of this board are both very well done, and this board looks far nicer than other similarly priced iSUPs.
We also love the fact that the company includes everything you need to start paddling (more on that in a second), and the quality of the included accessories is very good.
As far as dislikes go, there's not a whole lot to complain about — especially considering the price point of this board. First of all, we'd love to see a grab handle added to the tail of the MERCURY which would come in handy whenever pulling the board in and out of the water.
Secondly, tracking performance could be further improved with the addition of two small side fins.
Lastly, it would be really nice to see an extra year added to the company's current 1-year warranty. With that said, offering a 1-year warranty is perfectly understandable given the fact that Aztron's pricing is so low. At its current selling price, this board offers a tremendous amount of value.
Aztron MERCURY Rating
Durability

Features

Versatility

Stability

Speed

Portability

Warranty

Customer Support

Price
Specs
| | | |
| --- | --- | --- |
| | Length | 10'10" |
| | Width | 32″ |
| | Thickness | 6″ |
| | Weight | 24 pounds |
| | Max Capacity | 308 pounds |
| | Price | Check Price |
What's Included
The Aztron MERCURY comes with a great bundle of SUP accessories. Unlike other similarly-priced boards, the MERCURY comes with everything that you need to start paddling and the quality of the accessories is surprisingly good…
Unboxing Video
Backpack
Aztron's SUP backpack features a basic design, but the bag is functional and gets the job done. Unlike many of the bags that are included with iSUPs these days, the material on Aztron's backpack isn't overly thin and we feel it should hold up just fine with proper care.
The exterior of the bag is plain Jane — there are no compression straps, storage pockets, or side grab handles. At the top of the bag is a single carrying handle, and the back of the bag features lightly padded, fully adjustable backpack straps. There's also an adjustable sternum strap which can be used to stabilize the bag when it's on your shoulders.
This bag has two zippers and the opening is nice and wide, providing you with easy access to the bag's interior compartment. On the inside of the bag, you'll find a single compression strap located near the top of the bag — there are no internal pockets for organization.
While this bag is fine as-is, there are a few things that we feel would make nice improvements. First of all, we'd love to see a side grab handle (or two) added which would make it easier to handle. Secondly, the bottom of the bag lacks any type of reinforcement, so we'd beef that up with some rubber for improved durability.
Paddle
Included with the MERCURY is a nice 3-piece travel paddle. The paddle comes with a tough nylon blade that offers good rigidity, and the aluminum shaft features a nice black finish.
The overall design of this paddle is solid and very reliable. It doesn't share the design flaw of a few of the other 3-piece travel paddles we've reviewed, and it's a great paddle for getting started.
If you decide to upgrade your paddle in the future to something that is lighter and offers better performance, Aztron's lightweight Carbon 70 paddle is well-priced and definitely worth considering…
Pump
Like Aztron's other accessories, the included hand pump is very nice. This dual-action pump has a built-in pressure gauge as well as a unique handle design that allows it to break down into a much smaller footprint for easy packing.
To assemble the pump, simply screw the "R" handle extender onto the right side and the "L" extender onto the left side. Then, screw on the flexible inflation hose and insert the red plug. The red plug activates double action mode which adds air to your SUP on the upstrokes and downstrokes — once pumping becomes difficult, just unscrew and remove the plug to add air on only the downstrokes.
The MERCURY also works well with our favorite electric paddle board pumps, so if you're interested in the added convenience that an electric iSUP pump can offer, it's an investment that we highly recommend.
Leash
The included leash is also high-quality and it's much nicer than most other bundled leashes. Aztron's SUP leash features a coiled design with a comfortable neoprene cuff. The cuff padding has a great looking graphic on it which really sets it apart from the basic black ones that you typically see.
The velcro on this leash is also nicer than we typically find on bundled SUP leashes, and there are stainless steel swivels at both ends to prevent tangles.
Overall, we really love this leash and there's really only one thing that we'd change about it — the leash string that normally allows you to quickly attach it to your board is permanently sewn in. Obviously, this makes it impossible to use the leash string as intended so we bypass it altogether and velcro the leash directly to the board's D-ring.
We did reach out to the company and they indicated that they would be fixing this minor issue in the next production run.
Repair Kit
Last but not least, Aztron includes an inflatable SUP repair kit with the MERCURY. Included in the repair kit are several PVC patches, a tube of adhesive, valve wrench, and user manual.
Warranty
All of Aztron's inflatable paddle boards are backed by a 1-year warranty which covers you in the event of a manufacturer's defect.
Where to Buy it
The Aztron MERCURY is currently in stock and ready to ship at Amazon. In addition to their low prices and fast, free shipping, Amazon also provides outstanding customer service.
Final Thoughts
The MERCURY was our very first look at one of Aztron's new inflatable SUPs and we're impressed. This board is a lot of fun on the water and despite the budget price point, it has the appearance of a premium SUP. In terms of overall value, the MERCURY is tough to beat with its full bundle of accessories and dual-chamber construction. Bottom line, if you're in the market for a fun, all-around iSUP that won't break the bank, this new board should definitely be on your radar.