FOUNDER FOCUS: How NIXY's Founders Turned Family Fun Into A Quality-Minded SUP Brand
Inflatable Boarder is reader-supported and may earn a commission when you buy through links on our site. Learn more
Several years have passed since we last interviewed NIXY SPORTS founders, Ale and Nicolas Szczedrin. At the time, they'd recently turned a family passion for the outdoors into a new iSUP business.  We check in with them in 2020 to see how their vision to  offer high quality and affordable boards is going and how they're navigating the COVID-19 crisis. 
For those not familiar with your story, when did you start NIXY SPORTS and what was the motivation to get involved in this industry?
We are a very active family who loves traveling, exploring the outdoors while camping, rock climbing, scuba diving, etc. For the last 19 years, we have been camping in the beautiful Catalina Island in Southern California. Once there, we would rent a kayak to help us carry our scuba diving gear from the shop to the beach where we would dive and enjoy it afterwards. A few years ago, they started renting paddle boards and out of curiosity we rented one… that was it! We were hooked to the point that paddle boarding became an obsession.
Once we realized that our hobby was turning into a lifestyle, we started looking for the best SUP/package option for our family and since we wanted boards for all of us, it had to be good quality and affordable. After looking everywhere, we couldn't find an inflatable board that would have all the features we wanted so as the entrepreneurs that we are, and with our designing and engineering background, we came up with the iSUP that we would ride every day and feel absolutely happy on. Once we had the boards in our hands… they were too good not to share with everyone!
We had created a high-quality board, light, portable with great performance, extremely stable, with amazing accessories and details. By selling directly online, we could offer the package at such competitive prices, that we decided to start the business and it has been great since then.
What's the origin of the NIXY name… how did you choose it?
For us, paddle boarding is much more than a great workout. It is a great reminder of how you need to have balance in life, to move forward. When learning how to paddleboard, we noticed that we had to be balanced internally to be able to stand up on our boards. The water had a changing personality and we had to learn how to "go with it". It was never the same, like a living creature.
That is why we named our company NIXY, a Water Spirit in German mythology. Our logo are two waves connecting as the Yin Yang symbol drawing the "N" of NIXY and at the same time, representing balance, that at the end, is all what life is about don't you think?
Indeed. What sets your company and brand apart from others? Is there anything that you're uniquely known for? 
From the beginning, we decided that we would not compromise quality over price on any of our boards. Our motto is "We only produce what we would use." For us, this is a business born out of our own personal passion for paddle boarding and we are proud of every little detail and the high quality of our boards. That is why we do not offer "low price, middle price and high price" boards like other companies. We just offer high quality and affordable boards, and we think that sets us apart from others.
Since our last interview, you have several more years of experience under your belt. How has NIXY changed and how have your boards evolved? Are there any challenges you had to overcome along the way?
The biggest challenge right now for all the paddle boarding companies is the competition from low-quality/ low-price iSUPs sold on Amazon. We are sticking to our core values and will continue making the best boards possible while making it affordable to our customers. We at NIXY will not compromise the quality of our boards regardless of the competition.
What's your most popular stand up paddle board and why do you think that is?
Our most popular product is our All-Around board, the Newport G3. Not only is it a super stable board, but it has a slick design, it is light and works great for a wide range of skill levels, uses and paddling styles.
What are your plans for the 2020 season? Any refreshes or new launches? 
Our current product line is for the 2019/2020 seasons. We have made small improvements this year, such as the easy fit of our center fin. We'll be releasing a new product line in Spring 2021.
How has COVID-19 affected your plans for the year? Any impact on shipping or availability of your gear? Have you seen any changes in who is buying paddleboards or what they're buying?
There has been certainly an impact on all business with the COVID-19. However, we still manage to ship from our warehouse same day we receive the orders. Shipping from the Amazon Prime store is a bit delayed due to their priorities, but we are happy to see our boards selling during this challenging times.
This COVID-19 quarantine requires physical and mental health, and paddle boarding is a great way to keep that in balance. We are happy to see families and young people purchasing our boards to stay active and enjoying the outdoors while respecting social distancing.
Are you doing anything different this year given the unique circumstances?
We are being cautious and respecting social distancing while adapting to the new circumstances. But we are still working daily and giving our best.
One of the great things about the stand up paddle boarding world is how community-oriented it is. What do you do to help contribute to or support this community?
Our NIXY team is made of a fantastic group of avid paddleboarders who love the ocean and its creatures and enjoy sharing our passion with the amazing SUP community. We yearly participate/sponsor paddling events like "Stand Up for the Cure" and the WWF foundation on their yearly paddling event, where everyone comes together on an effort to make a positive impact on the natural world and all its living things!
We are always looking for ways to help our community and welcome all new ideas on how to make a difference! We also donate boards each year to several nonprofit organizations for their auctions.
Where do you see the paddle boarding world in 5 years? In 10 years?
It is not easy to say for sure. In just a few months, life has changed so much for the entire planet, so it's hard to visualize at this moment. We can guess that some brands will disappear, and we'll see some consolidation as the industry matures and adapts. NIXY for sure, will continue to give our best and improve our products as technology and new materials evolve.
So as a final question, this is one you get a lot, I imagine… What advice do you give to someone who's just starting out with paddle boarding? What factors should they consider when selecting a board?
The main thing before buying a board, is to find the right fit for you. Variables like your size and weight and the area where you are going to be using it the most can help you define the model of iSUP that'll fit you as a glove.
Before selecting the right board for you, we would recommend asking yourself this questions: Are you going to share your board with your pet, kids, partner? Do you want to practice YOGA on it or any other fitness challenges that requires extra stability? Is the area where you are going to be mainly paddling calm or has currents, waves, busy boat traffic? Once you have these answers you have a better understanding of what you are looking for in a board and will make the selection process more effective.
Thanks again for taking the time to talk with us.
My pleasure!
Read More About NIXY SPORTS
NIXY SPORTS, headquartered in Irvine, California, is a company with a singular focus: designing and manufacturing their visions for the ideal inflatable paddle boards. Unlike many other brands, they don't also sell hard boards or market multiple lines of SUPS at different price points. Instead, the founders are committed to designing a single "goldilocks" lineup of feature-packed boards, often incorporating advanced construction technologies, because they believe in selling "only the inflatable SUPs that we'd want to buy ourselves." Avid travelers with a background in design and engineering, NIXY founders Nicolas and Ale Szczedrin have built a SUP brand known for
Read More »
In this edition of SUP Company Spotlight, InflatableBoarder.com had the opportunity to interview NIXY Sports founders, Nicolas and Ale Szczedrin. Headquartered in Irvine, CA, NIXY Sports is a company that is focused entirely on the inflatable SUP market with four models ranging in size from 8'5″ to 12'6″… NIXY Social Distancing Campaign NIXY recently announced their Social Distancing campaign: "Since we are in all this together, we want to help everyone practice social distancing with freedom from worry and anxiety while enjoying paddle boarding and the great outdoors." "We are offering 25% off all of our inflatable SUPs. No promotion
Read More »
Several years have passed since NIXY SPORTS founders, Ale and Nicolas Szczedrin, turned a family passion for the outdoors into a new iSUP business. We check in with them in 2020 to see how their vision to offer high quality and affordable boards is going and how they're navigating the COVID-19 crisis.
Read More »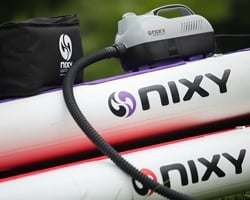 The NIXY Electric Paddle Board Pump is a fantastic option if you're looking for a more convenient way to pump up your inflatable SUP. This well-built 12V DC iSUP pump will quickly inflate your inflatable paddle boards to the desired air pressure, and it's capable of inflating boards all the way to 20 PSI. In addition to their electric inflatable SUP pump, Irvine, California-based NIXY Sports has a very nice range of affordable, high-quality inflatable paddle boards and other accessories. In this review of NIXY's electric iSUP pump, we'll take a look at its features, what's included, how to use
Read More »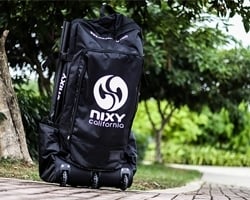 New to the NIXY inflatable SUP lineup for 2018 is a completely revamped, premium wheeled SUP backpack. NIXY's new iSUP backpack features top-shelf build quality and a unique design that really makes it stand out from other inflatable paddle board backpacks on the market… NIXY Wheeled iSUP Bag Review: Backpack Overview Click Here to Buy NIXY's Wheeled iSUP Carrying Bag Measuring 40″ x 18″ x 11″, NIXY's new iSUP backpack is roomy enough to accommodate any normal-sized inflatable SUP, along with a pump, paddle, and other small accessories. The bag is made out of a durable nylon material and it
Read More »