The brand new NIXY Newport 10'6″ is a great all-around inflatable paddle board that is lightweight and extremely stable. Measuring 10'6″ x 33″ x 6″ and weighing in at only 17 pounds, the Newport is a super versatile board that is an excellent option for paddlers of all skill levels.
NIXY's inflatable paddle boards have been reworked for 2018 and feature the latest in cutting-edge fusion technology. These boards are much lighter than the company's previous models and can be inflated all the way to 20 PSI for incredible rigidity.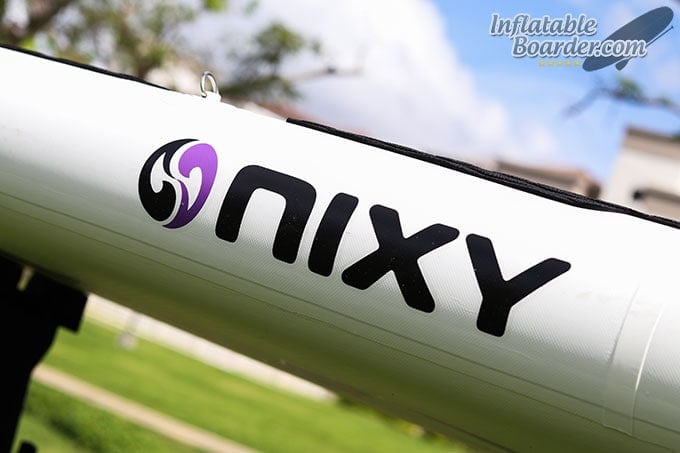 Founded by Nicolas and Ale Szczedrin and headquartered in Irvine, CA, NIXY Sports is a company that is entirely focused on designing high-quality inflatable SUPs at affordable price points. NIXY has a manufacturer-direct marketing model that eliminates the middle man, and their reduced overhead costs allow the savings to be passed on to the consumer.
In this review of NIXY's new 2018 Newport 10'6″ iSUP, we'll cover this board's features, specs, pros and cons, warranty coverage, what's in the box, and more.
In a Hurry? Here's a Quick Summary…
Pros
Extremely lightweight
Very rigid
Good build quality
Versatile design
Cutting-edge Fusion construction
Affordable
Super stable
Fun to paddle
Convenient toolless fin system
Extra D-rings for attaching a kayak seat
Comfortable, extended-length traction pad
Nice bundle of SUP accessories included
Top-shelf wheeled SUP backpack
Lots of color options (aqua, red, blue, pink, and purple)
2-year warranty
30-day money back guarantee
Cons
No raised kick tail on traction pad
No grab handles at nose/tail
Neoprene cover for carrying handle isn't removable
Price & Where to Buy it
NIXY Newport 10'6″ Review: SUP Overview
The NIXY Newport is an inflatable SUP that can be used for a wide variety of paddling activities. The wide 33″ profile gives it outstanding stability, making it an especially great choice for family paddling, SUP fitness, and bringing along your dog. The company also makes the 34″ wide NIXY Venice — another incredibly stable board that was specifically designed for SUP fitness.
This is also an excellent iSUP for paddling in flat water conditions. The Newport tracks well thanks to the board's tri-fin configuration, and the durable, stainless steel D-rings make it easy to attach a kayak seat if you want to do some seated paddling.
Features
The top deck of NIXY's Newport is covered by a two-tone EVA foam traction pad. The traction pad features an extended-length, crocodile-textured diamond pattern that is comfy on the feet and offers outstanding grip. At the middle of the board is a carrying handle that is covered by a thickly-padded neoprene grip for additional comfort. Located just behind the carrying handle along the outer edges of the deck pad are two D-rings for attaching NIXY's optional kayak seat.
Moving to the nose of the board, you'll find four additional D-rings and an elastic bungee cord for convenient, on-board storage. This is a great place to stash snorkeling gear, Crocs or flip flops, a dry bag, etc.
As with NIXY's other iSUPs, the 10'6″ Newport model features a Halkey Roberts-style air valve located at the nose. We really like the fact that NIXY places the air valve at the board's nose instead of the tail — this makes it easier to fold the board over the fin boxes when it's deflated as you just fold the board from the tail and push the excess air out at the nose.
At the tail of the Newport is another D-ring for attaching the included SUP leash. It's nice that the traction pad extends all the way to end of the board, and it'd be great if NIXY added a raised kick tail at some point in the future.
On the flip side, the NIXY Newport features a triple fin setup. There are two small side fins and a large center fin, and all three fins are removable. NIXY's toolless fin system is super convenient, allowing you to drop a fin into the fin box channel and secure it quickly by tightening the attached screw with your fingers.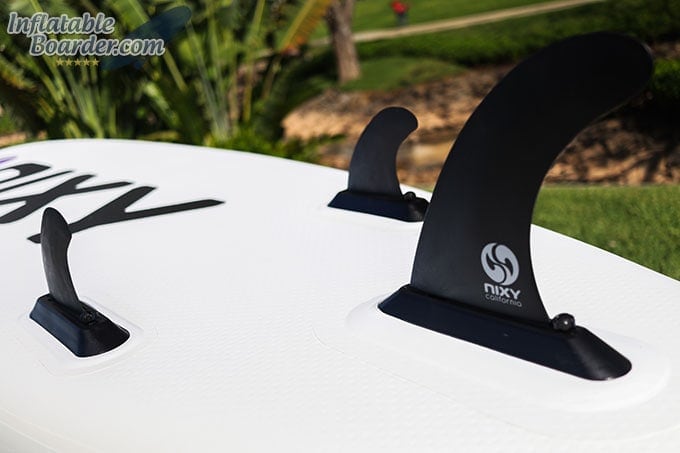 The bottom of the board also features a bold, oversized NIXY logo and a final D-ring located at the nose. This is really nice to have if you're planning to tow the board behind a boat or another SUP.
Construction
New for 2018 is the incorporation of cutting-edge Fusion technology. By fusing an additional layer of liquid PVC to the Newport's drop stitch core, it results in dramatic weight savings and an elimination of the problems that can arise due to hand gluing errors.
NIXY's new Fusion-constructed inflatable paddle boards are also extremely rigid due to the fact that they can be inflated all the way to 20 PSI. These new models are super lightweight and offer excellent performance thanks to their incredible stiffness.
NIXY Newport Ratings
Durability

Features

Versatility

Stability

Speed

Portability

Warranty

Customer Support

Price
Specs
| | |
| --- | --- |
| Length | 10'6″ |
| Width | 33″ |
| Thickness | 6″ |
| Weight | 17 pounds |
| Max Capacity | 300 pounds |
| Price | |
What's Included
Included with the Newport is NIXY's brand new, premium wheeled SUP backpack. This is a top-shelf iSUP carrying bag that is well-built and loaded with great features…
The front exterior of the bag features a large, zippered storage compartment that's sized perfectly for the included SUP pump. There's also plenty of room to store the inflation hose and other small accessories. On the outside of the storage pocket is a see-through luggage ID tag window which is great if you're planning to fly with your board.
On one side of the bag is a large, open storage pouch that you can use to hold your SUP paddle. The shaft of your paddle can then be secured with the bag's adjustable compression straps.
The bottom of the bag features three oversized roller wheels which make it so easy to get this bag from point A to point B. The roller wheels feature a deeply grooved traction pattern which is perfect for pulling the bag through grass, sand, and dirt, and the inclusion of a third wheel prevents the middle of the bag from bottoming out and getting damaged when pulling it over curbs, rocks, and other obstacles.
There are four grab handles on the bag, located at the top, side, bottom, and back. The heavy duty grab handles on the top and side of the backpack are heavily padded and super comfortable. The bottom grab handle is made out of a durable plastic and is convenient for pulling the bag in and out of the car. On the backside of the bag is a basic handle made out of nylon webbing — you really only use this handle when you're putting the backpack on.
The shoulder straps on NIXY's backpack are padded and fully adjustable. There's also an adjustable waist strap for stabilizing the bag when it's on your shoulders and a heavily padded back cushion for added comfort. The only improvements we'd really make to the bag is the addition of some attachment points on the shoulder straps and a sternum strap.
NIXY also includes a floating, 3-piece travel paddle with the Newport. The paddle is made out of aluminum and features a black finish…
New for 2018 is the addition of a SUP leash with all of NIXY's inflatable paddle boards. This is a nice coiled leash with a comfortable neoprene ankle cuff, and there are dual, stainless steel swivels to prevent tangles. The leash also has a built-in key storage pocket which is very handy.
The included BRAVO inflation pump is a dual-action model that efficiently inflates your board on the up strokes and down strokes when in dual-action mode. As the pressure increases and pumping becomes more difficult, just flip the switch over to single-action mode to continue inflating it to the recommended pressure of 15-20 PSI. The pump has a convenient built-in pressure gauge which tells you exactly how much air is in your board as you're inflating it.
Last but not least, NIXY includes a user manual and an inflatable paddle board repair kit. The repair kit comes with a valve wrench, PVC patches, and a tube of glue.
Warranty
NIXY backs all of their inflatable SUPs up with a full 2-year warranty which covers any manufacturer defects. They also throw in a 30-day money back guarantee so you don't have to worry about getting stuck with a board that doesn't meet your expectations.
Where to Buy it
You can buy the new NIXY Newport direct through the company's official website. NIXY's website always has the lowest prices, and the company offers free shipping, a 30-day money back guarantee, and no sales tax on orders outside of California. They also provide excellent customer support, both before and after a sale is made.

Final Thoughts
We're very impressed with NIXY's new 2018 inflatable SUP lineup, and the Newport is a fantastic choice if you're looking for a great all-around board that can pretty much do it all. This isn't the fastest board in the water (be sure to check out our NIXY Manhattan review if speed is your thing), but it glides well and offers an extremely stable platform for a wide variety of paddling activities.
The first thing that you'll notice when picking the Newport up is just how lightweight this board is. The Newport weighs it at only 17 pounds — a huge weight reduction when compared with the previous Newport model (25 pounds). In addition to the impressive weight savings offered by their new Fusion construction process, the 2018 Newport can also handle higher inflation pressures which results in a much stiffer board.
Some of the other great improvements that NIXY has made to the 2018 Newport iSUP are the addition of a comfortable neoprene carrying handle, their completely revamped wheeled travel backpack, and the inclusion of a SUP leash in their accessory bundle. We also really like the board's attractive new design and wide range of color options.
If given the chance, there are really only a few things that we'd change about this board. First of all, it would be nice to have a grab handle at the nose for pulling the board in and out of the water. Secondly, a raised kick tail would come in handy for pivot turns and other advanced moves. Lastly, it would be great if the neoprene cover on the carrying handle was removable as this would give you the option of having a lay-flat handle (great for activities like SUP fitness). Keep in mind that our mention of these things is nitpicking and that these features are definitely not considered "essentials" — the 2018 Newport is a really great board as-is.
All in all, this is a fantastic new model that is absolutely perfect for anyone who is looking for an extremely lightweight, rigid, and affordable inflatable SUP. This board is really fun in the water and it's a great option if you're planning to paddle with your dog or children.