MTI Adventurewear SUP Leash Release Belt Review
Inflatable Boarder is reader-supported and may earn a commission when you buy through links on our site. Learn more
The MTI Adventurewear SUP Leash Release Belt is an important safety accessory to have for whitewater paddling. While SUP leashes are perfect for flatwater paddling, surfing waves, etc., they can actually be really dangerous when you're dealing with river rapids…
MTI's quick release belt is designed to work with your regular SUP leash, giving you a quick and easy way to safely disconnect from your leash in the event that it gets caught or tangled. The use of standalone SUP leashes in whitewater conditions has resulted in paddler deaths, and these unfortunate tragedies could have been prevented by using this simple and affordable SUP safety accessory.
MTI SUP Leash Release Belt Design, Installation, and Use
The design of MTI's SUP Leash Release Belt is actually quite simple, and it pairs extremely well with this year's best SUP life jacket — the MTI Vibe. The belt itself is made from super tough 1.5″ webbing, and it features a heavy-duty plastic buckle with an easy-to-grab, quick release pull cord.
To attach the quick release belt to your life jacket, simply insert it through the life vest's belt loops, making sure that the buckle is on the side of your dominant hand. Next, just wrap your SUP leash's velcro ankle cuff around the quick release belt on the rear of the life jacket. That's literally all there is to it.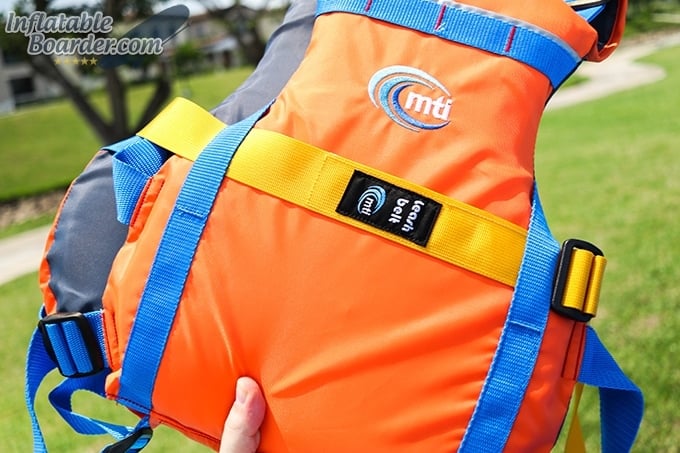 Using MTI's SUP Leash Release Belt is also very straightforward. If you find yourself in a situation where your leash gets caught on rocks, sticks, or other objects and you cannot get it untangled, just grab the yellow ball attached to the quick release belt's pull cord and give it a good, hard tug. The belt will instantly come apart, preventing a dangerous situation by effectively separating you from your SUP leash.
Final Thoughts
MTI's SUP Leash Quick Release Belt is a must-have accessory if you spend any time at all in rough and unpredictable whitewater conditions. This simple but extremely effective belt is a life-saver and can help to prevent unnecessary drownings due to tangled leashes.
MTI is a great company that is extremely passionate about water safety, and we highly recommend their gear if you want the best. All of MTI's life jackets, PFDs, and water safety accessories are extremely well-designed, thoroughly tested, and backed with a lifetime warranty which covers any/all manufacturer defects.