MTI Adventurewear Vibe PFD Life Jacket Review
Inflatable Boarder is reader-supported and may earn a commission when you buy through links on our site. Learn more
If you're looking for a more traditional SUP life jacket to wear while paddling, the MTI Adventurewear Vibe PFD is an excellent choice. MTI's Vibe is a USCG-approved type III PFD (personal flotation device) life vest that's extremely well-designed and is currently our top-rated SUP life jacket.
Massachusetts-based MTI Adventurewear is a well-known name in the world of PFDs, with an extensive lineup of products built for all types of watersport activities. MTI (Marine Technologies International) is a family-owned company that has been making some of the best life jackets on the market for more than twenty-five years, and the company continues to push the envelope when it comes to producing comfortable, great-looking PFDs that are both innovative and affordable.
In this MTI Adventurewear Vibe PFD review, we'll discuss the best features of this life jacket, why it's a great choice for stand up paddleboarding, the materials and construction, build quality, warranty, and more.
MTI Adventurewear Vibe Review: PFD Overview
The MTI Adventurewear Vibe life jacket features an eye-catching design that really stands out from the pack. The Vibe is currently available in two attractive colors: High-visibility orange, and turquoise.
On the front of the life vest is a convenient mesh storage pocket with a quality YKK zippered closure. Inside of the pocket is an elastic strap with a key clip attachment for securing your keys, as well as a piece of bungee cord tied to a plastic safety whistle. We love the mesh storage pocket design as it's the perfect place to stash your phone and other small accessories — everything stays out of your way but is always within reach for easy access.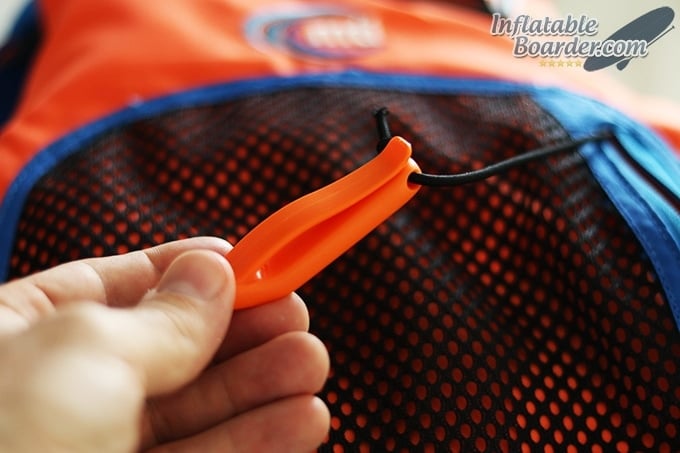 The back of the mesh storage area also features a pass-through pocket that is compatible with MTI's SUP Leash Release Belt — this setup is ideal for whitewater paddling. We've also found that this pass-through pocket works well as a paddle holder, giving you a secure place to stash your paddle when you're out on the water and need both hands free.
On the chest of the Vibe is a lash tab for attaching accessories, as well as the MTI logo which is nicely embroidered into the life jacket. "Vibe" and "Z-Strap Technology" are also embroidered on the front of the vest.
For additional safety, MTI included five reflective strips located on the front and back of the Vibe which increase visibility when you're out on the water at night.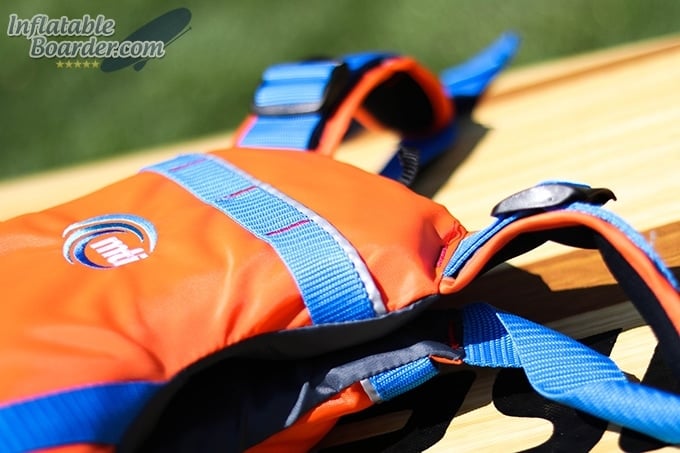 Located on the back of the life jacket is another nicely embroidered MTI logo, as well as a convenient hang tab for drying. There's also a daisy chain strip made of durable nylon webbing — another good spot to attach accessories with a carabiner or to secure the Vibe to your bag or board.
Materials and Construction
The MTI Adventurewear Vibe PFD is extremely well made, and the stitching and overall build quality is top-notch.
MTI used a 300 denier polyester material for the outer shell of the Vibe, and the inner liner is made from 200 denier polyester. PVC foam was used to give the jacket buoyancy, and the buckles, zipper, and other hardware are all of excellent quality.
Comfort
MTI Adventurewear definitely had comfort in mind when they designed the Vibe. This PFD features a nice, slim fit that makes it extremely comfortable to wear while paddling. Unlike many life jackets on the market that are bulky and restrict freedom of movement, the Vibe allows for full range of motion.
At 1.6 pounds, the Vibe is also lightweight and the fully adjustable strap system makes it super easy to dial in the perfect fit.
SUP Life Jacket or Belt PFD – Which is Best?
Of course when it comes to SUP PFDs, another great option is MTI's Fluid 2.0 belt PFD. This is a completely different type of personal flotation device that features a belt pack design and allows you to automatically inflate an emergency life vest by pulling a cord.
The belt design is a popular PFD choice in the SUP community, but there are pros and cons. As far as cons go, the belt itself provides no flotation — you have to pull the jerk cord in order to activate the inflatable vest. If a situation arises where you're unable to pull the cord for some reason, the belt PFD would provide no safety benefit.
Another downside to the PFD belt design is the fact that once you pull the cord and activate the life vest, you'll need to run out and purchase another CO2 cartridge (~$20). The CO2 cartridges that automatically inflate these life vests are single-use only.
Of course, the main advantages of a belt PFD is that they're smaller in size and offer additional comfort. In fact, when paddling with a belt PFD it's easy to forget that you even have it on.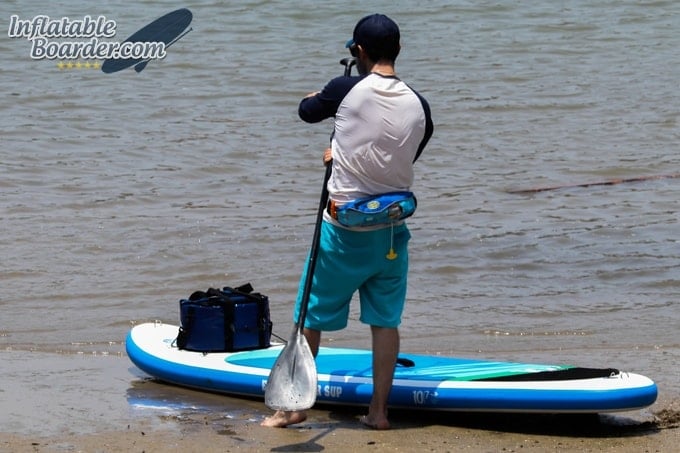 At the end of the day, choosing a PFD will largely depend on what type of paddling you're going to do and what features you value the most. Before you buy a SUP PFD, make sure that you understand the pros and cons of each design and identify which will be the best option for your style of paddling.
Warranty
MTI is a company that is serious about making the best life jackets and PFDs that money can buy, and they stand behind their gear with a rock solid lifetime warranty. The MTI warranty covers the original purchaser for any manufacturer defects, and the company's customer service is friendly and super responsive.
Final Thoughts
If you're searching for an amazing SUP life jacket that looks great and provides the ultimate in comfort, MTI's Vibe PFD is the perfect choice. In addition to being a great paddleboarding PFD, the Vibe is also an excellent choice for sailing, whitewater SUP, and other paddle sports where range of motion is vital.
Additionally, the Vibe's convenient pocket design and additional accessory attachment points add increased utility and versatility. This SUP PFD isn't just great when it comes to water safety — it also provides a secure, easy to access spot for stashing gear.
Unlike other companies who sell life jackets and PFDs as "add on" accessories to their existing product line, MTI Adventurewear is a company that focuses solely on one thing — designing and manufacturing the highest quality PFDs on the market today. The company is passionate about water safety and the gear they make, and we love the fact that they back their products with a lifetime warranty against manufacturing defects.
At the end of the day, if you're looking for a high-quality SUP life jacket that has all the bells and whistles and is built to last, the Vibe really is a tough PFD to beat.