Earth River SUP 10L Dry Bag Review
Inflatable Boarder is reader-supported and may earn a commission when you buy through links on our site. Learn more
In addition to Earth River SUP's great lineup of inflatable paddle boards, The company has a nice range of accessories including waterproof dry bags. The Earth River SUP dry bag line is currently available in four sizes (5L, 10L, 20L, and 30L), and in this review, we'll be taking a look at their 10L bag…
Earth River SUP's 10L bag is the perfect size for an afternoon on the water, offering plenty of room for a DSLR camera, towel, change of clothes, and other small accessories.
Earth River SUP 10L Dry Bag Overview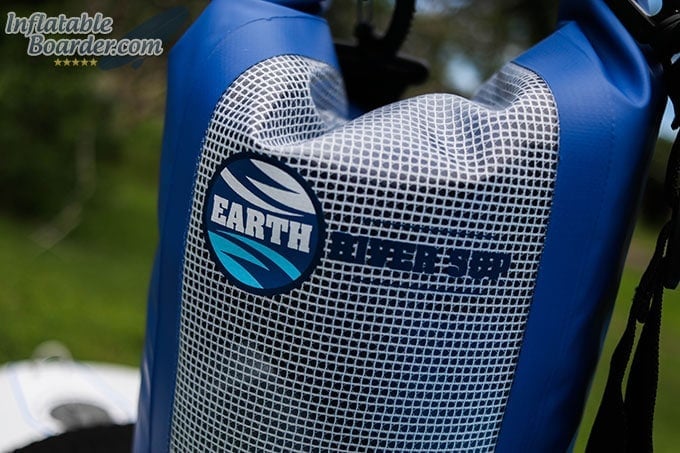 The 10L Earth River SUP Dry Bag has some really nice features which differentiates it from many of the other waterproof bags on the market.
For starters, this bag has a see-through panel on the front which extends from the bottom of the bag all the way to the top. This really comes in handy as it allows you to take a quick peek at the bag's contents without having to actually open the bag up. Despite being able to see through the panel, it still provides some privacy thanks to the patterned design which helps to conceal things a bit — a well-thought out feature which gives you a nice blend of convenience and security. Also, Earth River SUP only used the translucent panel on one side of the bag, allowing you to turn the bag around and keep the contents private when you're wearing it on your back.
Another nice feature about this bag is the dual shoulder straps. Having two adjustable shoulder straps is super convenient as it allows you to use the bag like a backpack, throw it over a shoulder, wear it like a messenger bag, or simply carry it like a small duffel. This is a really versatile little dry bag that is equally at home on the deck of your board or on your back, and the size is perfect for slipping under the bungee cord storage area on your board.
Construction and Build Quality
This is a tough, well-made dry bag that is built to hold up to serious use. The marine-grade, ultrasonically welded flex PVC construction ensures that this durable bag is totally waterproof and will keep all of your gear completely dry in the most demanding of environments. Earth River SUP dry bags are also lightweight and super easy to roll up for packing and storage.
All of the plastic buckles, straps, and other hardware on the bag are solid and should hold up well for many years…
Functionality
Like many dry bags, Earth River SUP's line of waterproof sacks utilizes a secure roll top closure system which effectively seals the inside of the bag off from moisture exposure. After you're done packing the bag, simply roll the top of the bag down tightly three times and buckle — the bag is now completely waterproof.
In addition to being waterproof, the bag is also airtight when sealed. Allowing some air to remain trapped inside of the bag will enable it to float — a nice feature if you're at all concerned about losing the bag while on the water.
Waterproof Performance
We've thoroughly tested Earth River SUP's 10L dry bag in a variety of environments, and it's performed perfectly to date. In addition to full submersion tests, the bag has also spent a considerable amount of time strapped to the deck of our boards and being rigorously rinsed with a hose. It has always done a great job of keeping our gear totally dry, and we feel completely comfortable recommending this bag if you're looking for a reliable dry bag to bring along while paddling.
Where to Buy Earth River SUP Dry Bags
Earth River SUP dry bags can be purchased from Pumped Up SUP or through Amazon. We'd recommend comparing the final price at both stores and then ordering it from the one with the lowest final price once shipping and taxes are factored in.
Final Thoughts
If you're looking for a small paddleboarding dry bag that is built well and has some nice features, Earth River SUP's 10L model is a good choice. We like the versatility of this bag and the variety of ways it can be carried, thanks to its two adjustable (and removable) shoulder straps.
The see-through window is also really nice to have. We love the fact that it gives you the ability to see what's inside without actually advertising to the world what's in your bag — the white pattern on the see-through panel does a great job of reducing the overall transparency of the window. This is especially important when you're going to be traveling or walking around town with the bag.
It's also great that the see-through window is only used on one side of the bag. This gives you the ability to wear the bag on your back or over your shoulder with the clear panel positioned against your body, keeping the contents of the bag shielded from others around you.
All in all, this is a solid option as far as waterproof SUP bags go. The bag is currently available in blue, black, and yellow, and if you need something a bit bigger than 10L, Earth River SUP also offers 20L and 30L versions.