Earth River SUP 10-7 SKYLAKE GREEN Review
Inflatable Boarder is reader-supported and may earn a commission when you buy through links on our site. Learn more
The
Earth River SUP 10-7 SKYLAKE
is an extremely well-made inflatable paddle board that ticks all of the boxes when it comes to high-quality construction, features, and all-around performance. Measuring 10'7″ x 32″ x 5″, this iSUP is a great choice for paddlers who need a lightweight, durable board that can pretty much handle it all.
Earth River SUP is a company that's still flying under the radar of most, but the company has a top-shelf lineup of inflatable paddle boards and SUP accessories. Founded in 2012, the Maryland-based SUP company remains fully dedicated to their mission of producing the industry's best line of inflatables, and their boards are currently in use at paddleboarding schools throughout the United States.
Over the past few years, Earth River SUP has continued to expand their lineup of inflatable SUPs and the company currently has 11 different models ranging in size from 7'2″ to 12'6″. While the SKYLAKE series is designed for all-around use, Earth River SUP also has models for everything from touring to river surfing.
In this Earth River SUP 10-7 SKYLAKE review, we'll take an in-depth look at this iSUP's construction, top features, pros and cons, included SUP accessories, and more. We'll also share an Earth River SUP discount code that will give you $75 off the 10-7 SKYLAKE.
In a Hurry? Here's a Quick Summary…
Pros

Lightweight design


Good rigidity


Top-shelf build quality


Durable


Extremely versatile


Extended-length, dual texture traction pad


Raised kick tail and foot bar


D-ring at nose for towing


Fusion construction is more environmentally friendly


Super high-quality SUP backpack included


Excellent customer service


2-year warranty
Cons

Tracking (three small fins)


No paddle included Buy it here and get a free paddle
Price & Where to Buy it
Earth River SUP 10-7 SKYLAKE Review: Board Overview
ARVE Error: src mismatch
url: https://www.youtube.com/watch?v=CXxXL7hwbiY
src in: https://www.youtube-nocookie.com/embed/CXxXL7hwbiY?feature=oembed&enablejsapi=1&origin=https://www.inflatableboarder.com
src gen: https://www.youtube-nocookie.com/embed/CXxXL7hwbiYActual comparison
url: https://www.youtube.com/watch?v=CXxXL7hwbiY
src in: https://www.youtube-nocookie.com/embed/CXxXL7hwbiY?enablejsapi=1&origin=https%3A%2F%2Fwww.inflatableboarder.com
src gen: https://www.youtube-nocookie.com/embed/CXxXL7hwbiY

Weighing in at 22 pounds and capable of supporting up to 270 pounds of weight, the Earth River SUP 10-7 SKYLAKE is a great choice for paddlers of all skill levels who need a well-built, all-around board for a variety of conditions and uses.
This board is a very well-designed iSUP that has a lot of great features. The top deck of the board is covered by an extremely high-quality, dual texture, EVA foam traction pad that is super comfortable to stand on.
The rear third of the 10-7 SKYLAKE's attractive, multi-colored deck pad features a diamond pattern which provides excellent traction, while the front two-thirds incorporates a smoother crocodile pattern for increased comfort. Earth River SUP also added a nice raised kick tail and foot bar at the rear of the pad for additional control when performing pivot turns and other advanced maneuvers.
Located in the middle of the traction pad is a convenient carrying handle which makes it super easy to carry the board when it's fully pumped up. The heavy duty handle is made out of tough nylon webbing and is covered by a comfortable padded cover that is removable. This is great for activities like SUP fitness where you'd like the handle to lay flat — just pull the velcro cover off and toss it in your bag.
Moving up toward the board's nose are four stainless steel D-rings and a bungee cord storage area for securing your dry bag, footwear, snorkeling gear, etc. There is also an additional D-ring located at the tip of the nose for towing the board.
At the board's tail is one last D-ring for attaching your SUP leash and a Halkey Roberts air valve.
On the flip side, the Earth River SUP 10-7 SKYLAKE features three permanently fixed fins in a thruster configuration. The flexible fins are unbreakable, and they come with three inflatable covers that slip on to protect everything when the board is deflated and rolled up.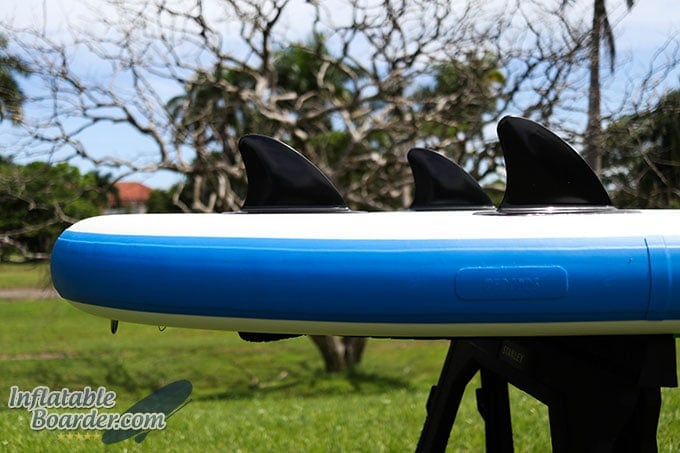 Construction
New for 2017 is Earth River SUP's fusion technology which has resulted in a lighter, higher-quality board that's also more environmentally friendly. In a nutshell, this process utilizes a high-tensile inner core that is fusion bonded to a layer of super tough PVC.
The ERS Tech Dual Fused Laminate Construction process helped the 10-7 to shed a noticeable 3 pounds of weight, and it's also improved the overall consistency of the material by eliminating creases and bubbles. The 2017 10-7 SKYLAKE is easier to roll up when it's deflated as a result of these improvements, and the reduced usage of glue has made the manufacturing process more environmentally friendly through the reduction of VOC's.
As far as build quality goes, the fit and finish of our board right out of the bag was flawless. All of the hardware is top-notch and we didn't notice any of the sloppiness that's often seen in lower-priced, budget iSUPs.
Performance
The Earth River SUP 10-7 SKYLAKE was designed to be a fun, versatile board that can pretty much do it all. This isn't the fastest or the best tracking board in the water, but that's not what it was built for.
If you're looking to buy a single inflatable paddle board that can handle flat water paddling, SUP fitness, surfing small waves, whitewater, exploration, and more, the 10-7 SKYLAKE won't disappoint. When fully inflated to 15 PSI, this board offers good stability and overall rigidity, and it's a really fun board to paddle.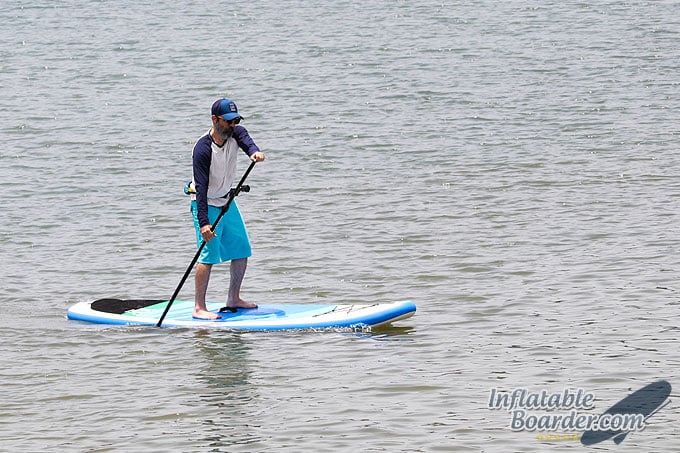 SUP fitness enthusiasts will also fall in love with the amazing traction pad on this board. In addition to its extended-length and crocodile pattern (which is much more comfortable on the hands), it's also approximately 40% thicker.
Earth River SUP 10-7 SKYLAKE
Durability

Features

Versatility

Stability

Speed

Portability

Warranty

Customer Support

Price
Specs
| | | |
| --- | --- | --- |
| | Length | 10'7" |
| | Width | 32" |
| | Thickness | 5" |
| | Weight | 22 pounds |
| | Max Capacity | 270 pounds |
| | Price | |
What's Included
The 10-7 SKYLAKE comes with Earth River SUP's impressive rolling backpack, a dual-action hand pump with built-in pressure gauge, and an iSUP repair kit. The company also includes a 2-year warranty which covers all manufacturer defects.
The included backpack is one of the nicest we've ever had the chance to review. It's constructed out of very high-quality materials and is absolutely loaded with great features.
The backpack has super sturdy grab handles on the top, side, bottom, and back of the bag, giving you plenty of places to grab onto when you're picking it up or pulling it out of your vehicle. There are also several external compression straps which allow you to tighten everything up once the bag is fully packed. The straps are fully adjustable and come with heavy duty plastic buckles.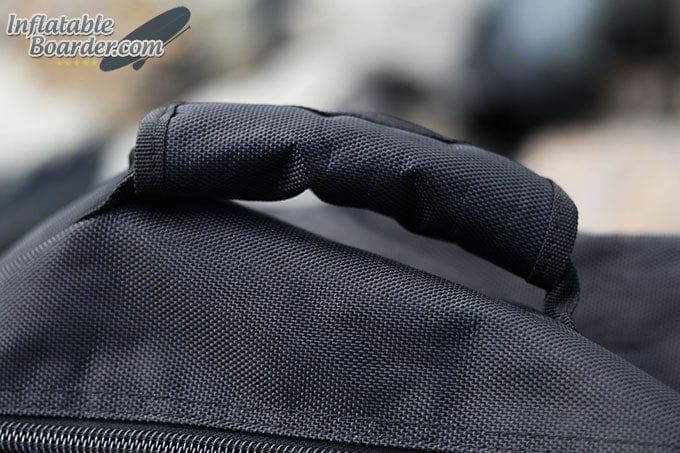 The Earth River SUP logo is nicely embroidered on the front of the bag, and there's a large external storage compartment that is roomy enough to hold the pump, inflation hose, SUP repair kit, and other small accessories.
Located on the back of the bag are two adjustable padded backpack straps, along with a sternum strap and waist stabilization strap. The back of the bag has a nice velcro opening that allows you to stash the backpack straps out of sight when they're not in use. The waist strap also tucks neatly into a little pocket, giving the bag a much cleaner appearance with all of the additional straps secured away and hidden from view.
The back of the bag also has a see through luggage ID window…
On the bottom of the backpack are two oversized roller wheels. These are massive wheels that are much bigger than the wheels used on other rolling SUP backpacks (shown next to the wheels on Red Paddle Co's bag for comparison), and we also love the fact that the wheels have a deep, grooved tread which is great if you're rolling the bag on dirt, sand, or grass.
As you would expect, the zippers on this backpack are high-quality and the bag's clamshell design allows you to easily pack and unpack it. On the interior of the bag is a triple pocket storage area along with two additional internal compression straps.
There is one minor thing that we would change on Earth River SUP's backpack, and that's the sternum strap. The current sternum strap is attached to the backpack's shoulder straps with plastic clips and they pop off too easily in our opinion. The company probably used these clips instead of permanently sewing them on so customers would have the option of removing the sternum strap altogether, but it'd definitely be better if they were securely sewn on.
Where to Buy it + Earth River SUP Discount Code
For a special 5% discount on the Earth River SUP 10-7 SKYLAKE, click here and use the promo code BOARDER when checking out. In addition to saving 5%, you'll also get free shipping, a free 3-piece travel paddle, and pay zero sales tax (unless you're in Maryland).
Final Thoughts
The Earth River SUP 10-7 SKYLAKE is a very well-built inflatable SUP that left us extremely impressed. From the board's construction and features to the included backpack, the overall design and build quality is all top-shelf.
The 10-7 SKYLAKE is a good choice for beginner and intermediate paddlers, as well as those individuals who have been paddling for many years. This is a very nice all-around iSUP that was well-thought out, and it has the nicest traction pad we've ever paddled on.
When it comes to our wish list of things we'd change about this board, we'd probably switch out the small center fin for a large removable fin which would increase tracking performance. Also, we'd permanently stitch the sternum strap to the backpack shoulder straps — but these are very minor things.
All in all, this board really delivers what the company set out to accomplish — a lightweight, durable inflatable SUP that does a lot of things very well. The Earth River SUP 10-7 SKYLAKE does cost slightly more than many other boards on the market, but we feel that the fusion technology, additional features, and high build quality definitely justify any premium.