Body Glove Performer 11 Review
Inflatable Boarder is reader-supported and may earn a commission when you buy through links on our site. Learn more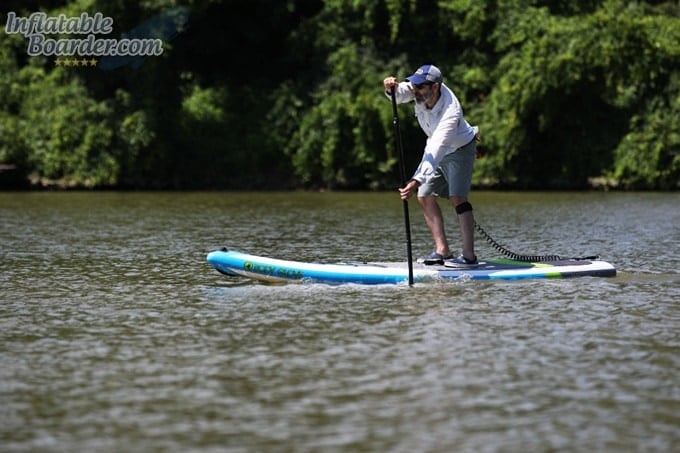 The Body Glove Performer 11 is a versatile, all-around inflatable paddle board that is durable and perfect for family fun. Freshly updated for this season, the latest version of the Performer 11 offers some nice improvements and continues to be an excellent value for those who are looking for an affordable and durable inflatable SUP.
Body Glove is a well-known name on the global watersports scene and the company has a wide range of popular gear and apparel for outdoor adventure seekers. Their growing lineup of inflatable paddle boards features ten models for 2019, ranging in size from 10 feet to 15 feet in length.
In this review of the Body Glove Performer 11 iSUP, we'll cover all of this board's great features, the construction and build quality, how it paddles in the water, pros and cons, specs, included accessories, and more.
In a Hurry? Here's a Quick Summary…
Pros

Affordable price point


Durable


Good stability


Rigid


Versatile


Great looking design


Adjustable bungee storage area


Unique rubber bumper protects underside of nose


Nice carrying handle can secure paddle, water bottle, etc.


Nice bundle of accessories included
Cons

Warranty is only 1-year


Bungee storage doesn't have D-rings


Tracking could be improved


No grab handle at nose or tail


Would prefer GoPro camera mount instead of leash connector
Price & Where to Buy it
Body Glove Performer 11 Review: SUP Overview
Measuring 11′ x 34″ x 6″ and weighing in at 24 pounds, the Body Glove Performer 11 is a stable and confidence-inspiring board on the water. Perfect for beginners, this board is a lot of fun and it can be used for a wide range of paddling activities and conditions.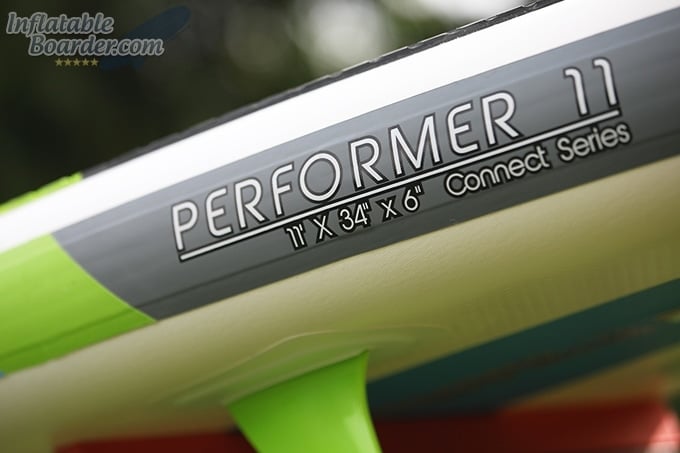 The Performer 11 has a max weight capacity of 320 pounds which is more than enough to support your dog or a child (or two!). It also offers good rigidity and feels very stiff under the feet thanks to Body Glove's triple-layer stringer construction.
Features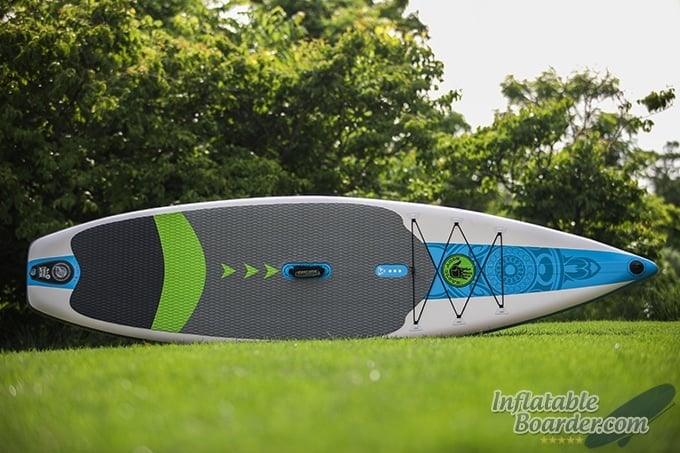 The top of this year's Body Glove Performer 11 features a diamond pattern EVA foam traction pad with a super comfortable carrying handle which is located at the middle of the board. The handle has a velcro closure and it opens up nice and wide, giving you the ability to secure your paddle, water bottle, or the included waterproof cell phone pouch. Also attached to the center carry handle are two stainless steel D-rings — it's not a place where you typically find D-rings on a SUP, but they do give you a few more places to clip on small accessories.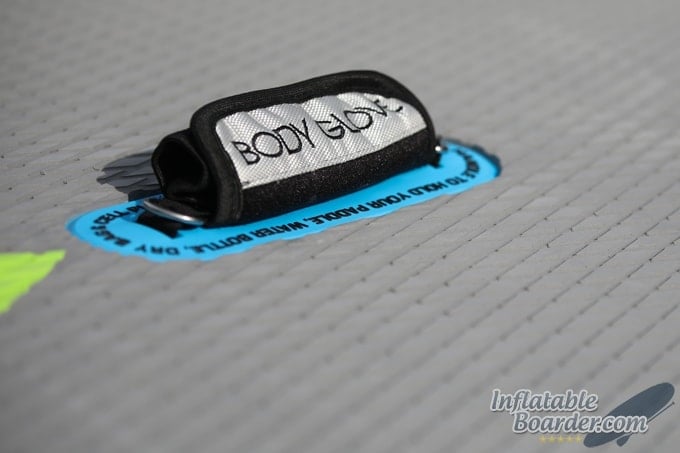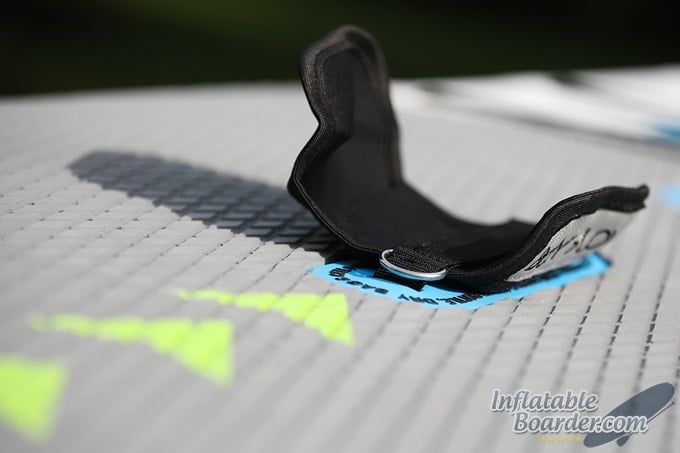 Located at the board's nose is a large bungee cord storage area for securing a dry bag, backpack, flip-flops, and other gear. The bungee cord is fully adjustable thanks to a small plastic clip — a nice little feature that allows you to loosen or tighten the bungee to better accommodate your gear. One detail that we would change in regards to the bungee storage area is the way that the cord is attached to the board — Body Glove used webbed nylon loops instead of metal D-rings, and we just find these to be slightly inconvenient when tying down additional gear such as a SUP cooler.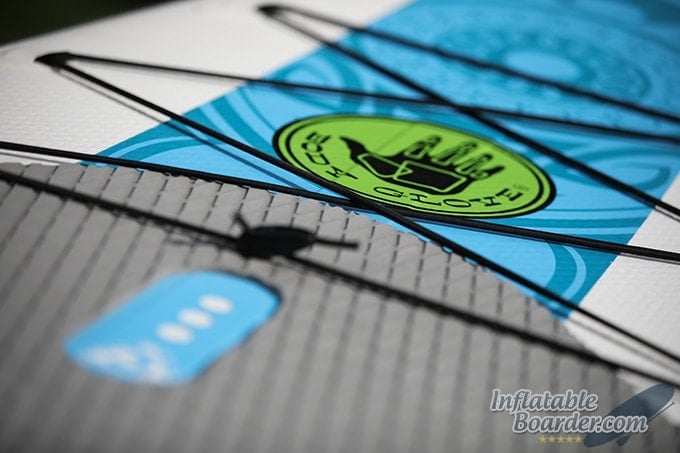 The nose of the Performer 11 also features a GoPro camera leash mount. While this is a neat feature, we would definitely have preferred to see an actual GoPro camera mount instead. If you want to mount a GoPro to the nose of the Performer 11, you'll still have to use an adhesive mount and affix it to the board yourself.
At the tail of the board is a high-quality Halkey Roberts-style inflation valve as well as a durable stainless steel D-ring for attaching your SUP leash.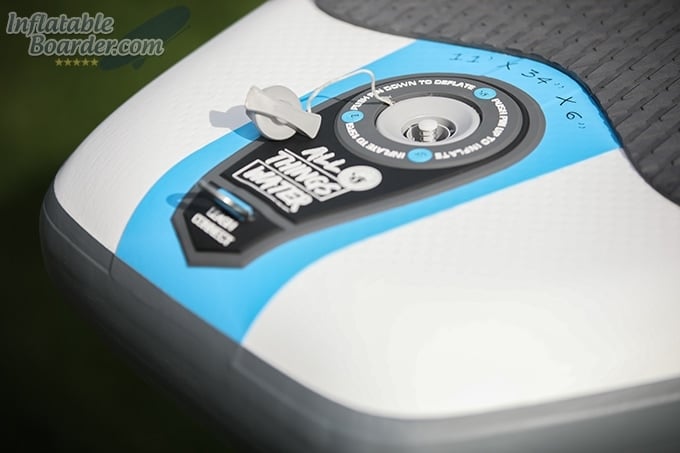 On the bottom of the Body Glove Performer 11 is a tri fin setup with three small fixed fins. Last year, the fins were more "rubbery" and a lot more flexible. This year, they are much stiffer and made out of rigid plastic.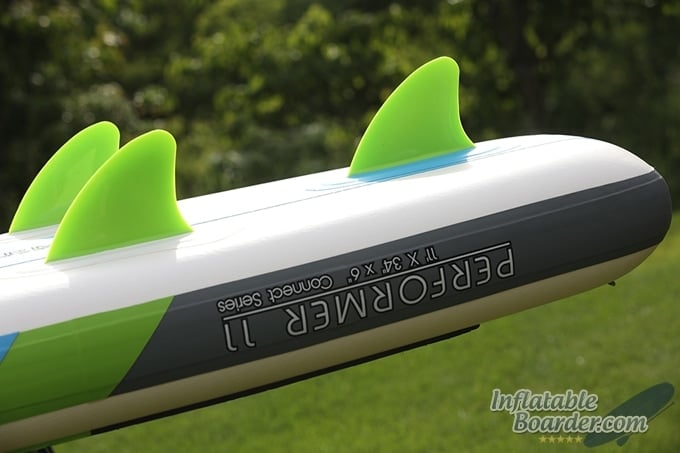 Lastly, the underside of the Performer 11's nose is protected by a thick rubber bumper. The rubber prevents damage to one of the most vulnerable areas on an inflatable SUP, and it's a great feature to include on a board like this as many beginners tend to be harder on their gear.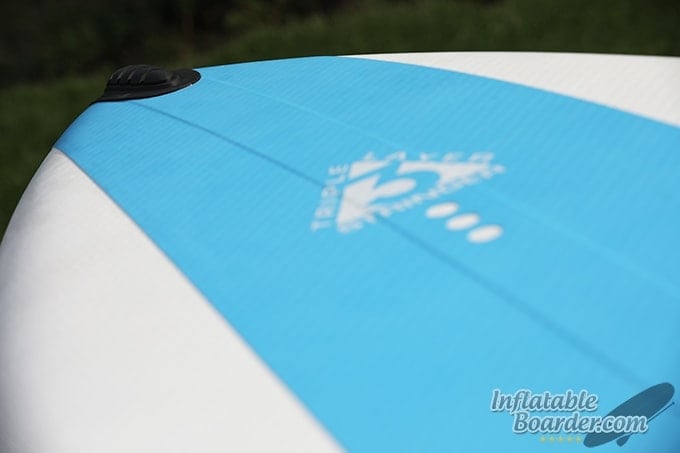 Construction
Overall, the Body Glove Performer 11 seems to be a very well-built board. Rigidity is excellent, thanks to the company's triple-layer stringer construction, and we were impressed with the quality of all the hardware used.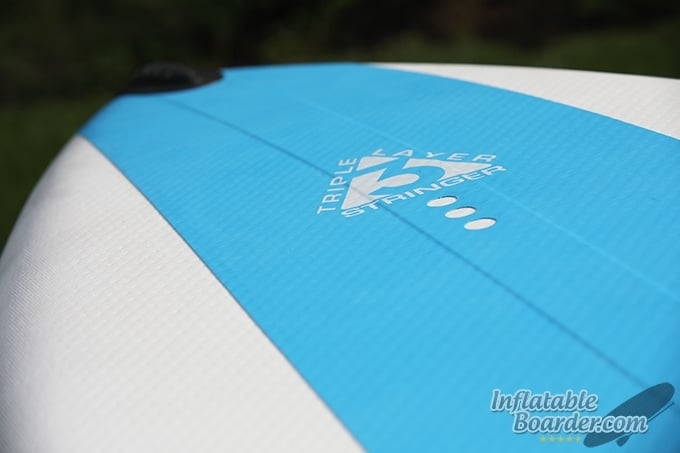 Paddling Performance
If you're looking for a fast paddling board that tracks as straight as an arrow, the Performer 11 would most likely leave you feeling a bit disappointed. This is an all-around board that is designed for versatility and recreational fun, so it's just not going to deliver the top line performance that a specialty touring or racing SUP is capable of.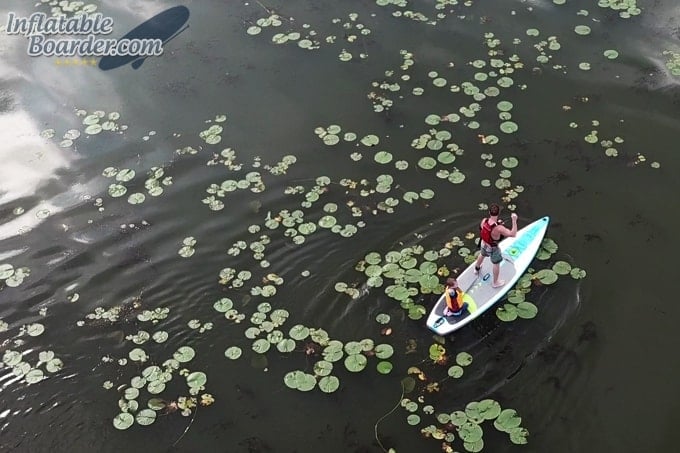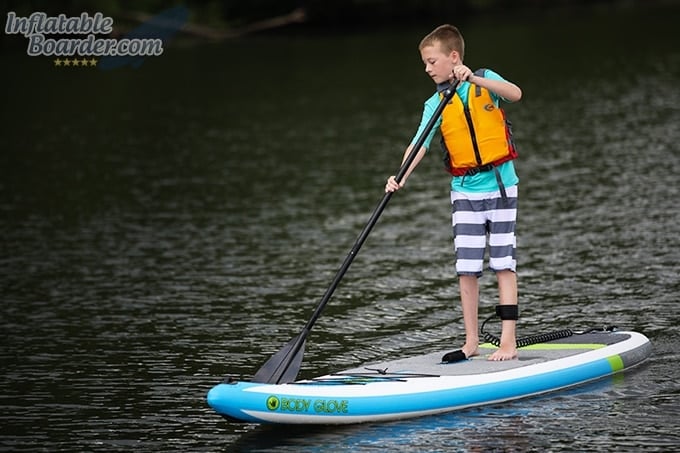 Having said that, this board is a ton of fun on the water and would be a great choice if you're interested in recreational paddling and general family fun. It's stable under the feet and perfect for paddling around pets and small children, and the board's tapered shape really helps it to cut through wind and chop much better than boards with a more rounded nose profile.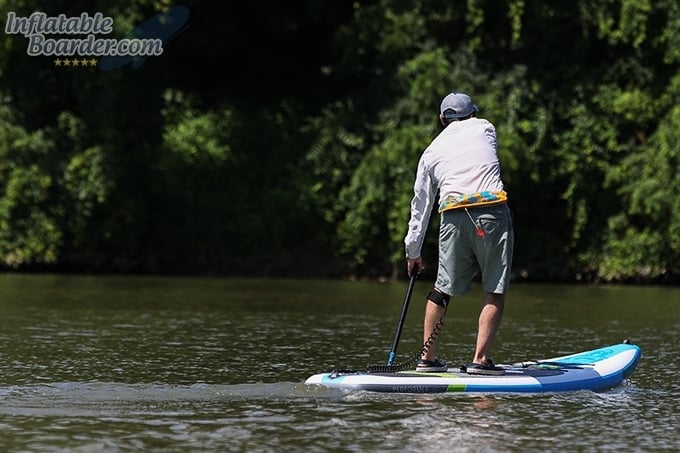 Likes and Dislikes
There are several things that we really like about the Performer 11. First of all, the price point is super affordable and the board packs a ton of value. Overall, this SUP is built much better than most of the other boards we've reviewed in this price range and we love the fact that it comes with everything that you need to start paddling (aside from a PFD of course).
We also really appreciate the attention to detail on this board. The well-thought-out carrying handle, the adjustable bungee cord storage area, the rubber nose bumper — these are nice little details that help to set the Performer 11 apart from a lot of the other inflatable paddle boards on the market.
The final thing that we'd like to make mention of is the design of the Performer 11 — this is a great looking board. While we're not particularly fond of the standard Yellow color, the Blue Ocean Edition that we reviewed is stunning and looks far better in real life than in the standard stock photos you'll find online. The blue and green accenting looks really good and the board has a sporty, tropical vibe.
As far as dislikes go, we'd love to see a grab handle at the tail which would really come in handy whenever you're pulling the board in and out of the water. Another potential improvement would be the addition of metal D-rings which would make it much easier to tie down a SUP cooler and other gear.
Also, we're not big fans of the three small fixed fins and would prefer to see the center fin swapped out for a large removable center fin. This would improve the board's tracking capabilities and add more versatility as you'd be able to experiment with various fin configurations.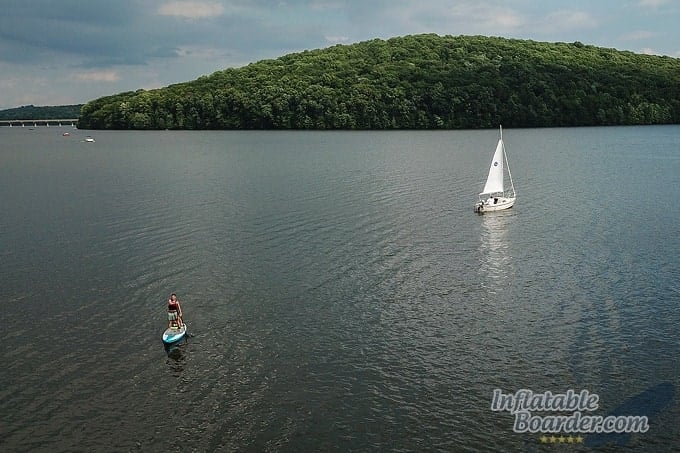 Lastly, as we already mentioned, the GoPro leash connector is nice but an actual camera mount would be far better. Perhaps this is something that Body Glove would consider adding to the next version of the Performer 11.

Body Glove Performer 11
Durability

Features

Versatility

Stability

Speed

Portability

Warranty

Customer Support

Price
Specs
| | | |
| --- | --- | --- |
| | Length | 11" |
| | Width | 34" |
| | Thickness | 6" |
| | Weight | 24 pounds |
| | Max Capacity | 320 pounds |
| | Price | |
What's Included
Body Glove includes a full range of SUP accessories with the Performer 11. In the box, you'll find a SUP backpack for convenient transport and storage, three-piece aluminum paddle, dual-action pump, coiled leash, waterproof cell phone dry bag pouch, and iSUP repair kit.
Backpack
Included with the Performer 11 is a SUP travel backpack. This is a fairly basic bag that features a clear external storage pocket for small accessories and grab handles on the top and both sides. On the back of the bag is another grab handle, two fully adjustable shoulder straps with an integrated sternum strap, a padded back cushion that is covered by a breathable mesh liner, and an adjustable waist belt for stabilizing the bag when it's on your shoulders.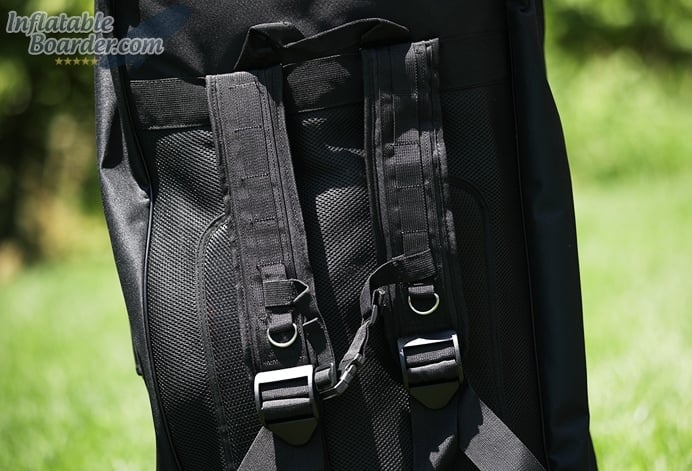 The bag has dual zippers and it opens up with a nice wide opening for easy access. Lastly, there are two internal compression straps to secure the bag's contents when it's packed out, and Body Glove beefed up the construction of their backpack this year by adding a second layer of material for increased durability.
Paddle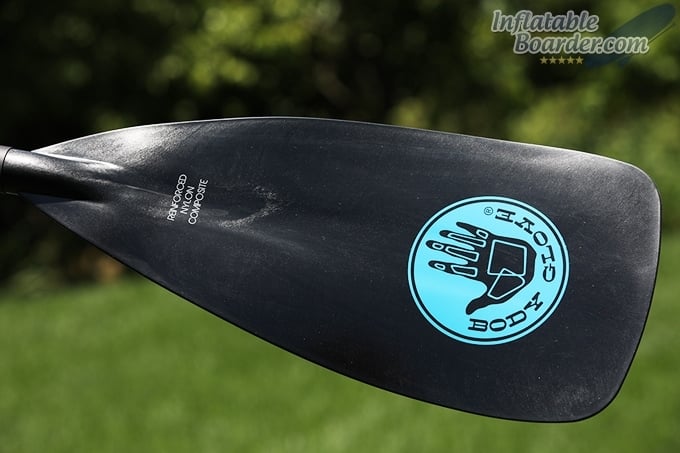 The included 3-piece paddle is a decent entry-level model that features a black aluminum shaft and a durable nylon blade that is on the smaller side size-wise. The paddle quickly and easily assembles by lining up the locking pins with the holes, and once put together and locked down, there's no twisting as is often seen with other SUP travel paddles.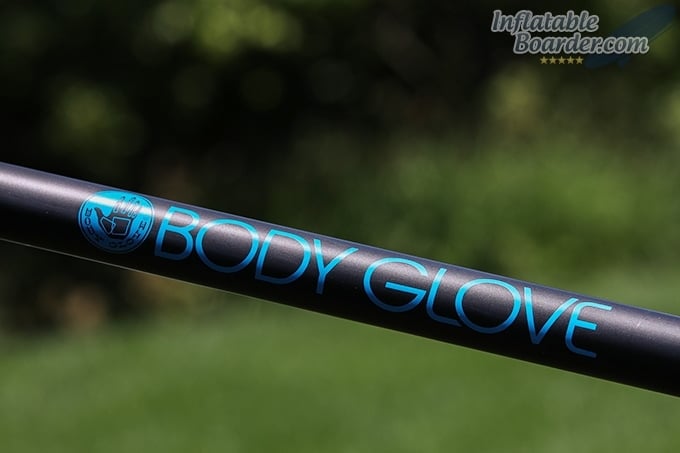 Pump
Body Glove also includes a nice dual-action SUP pump. This pump does a good job when it comes to pumping the board up, and it features a convenient built-in pressure gauge at the handle so you know exactly how much air is in your board as you're inflating it.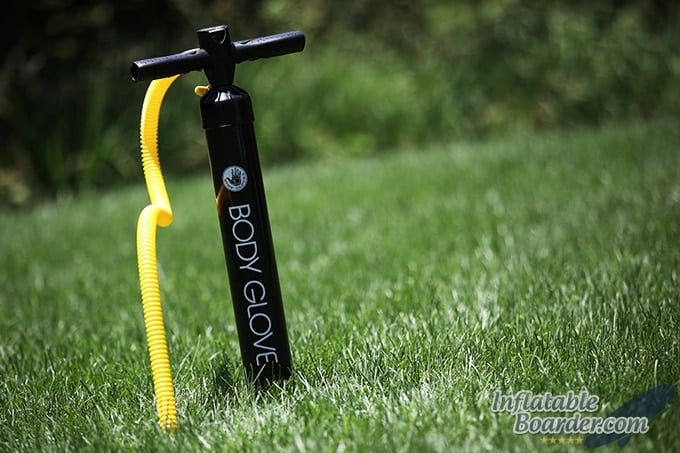 Leash
Also included with Performer 11 is a coiled SUP leash. The leash has a padded neoprene ankle cuff with an integrated key storage pouch, and there are stainless steel swivels at both ends of the leash to prevent tangling.
Waterproof Phone Pouch
Body Glove throws in a nice waterproof cell phone pouch that can be secured by using the velcro closure on the board's carrying handle. Having the ability to bring your smartphone along on paddles is great, as you can log your paddle adventures on an app, take photos and videos on the water, or be available for emergency calls.
Repair Kit
Last but not least, the Body Glove Performer 11 comes with an iSUP repair kit. The kit is housed in a plastic canister with a screw on lid, and inside is a valve wrench as well as two oversized PVC patches.
Warranty & Customer Service
All of Body Glove's 2019 inflatable paddle boards are backed by a one-year warranty which covers all manufacturing defects. We'd really love to see another year added on to the warranty's duration, but at the current price point, a single year of warranty coverage is totally understandable.
Also, we've had very good dealings with Body Glove in terms of customer service. When our board arrived, the bundled SUP leash wasn't in the box so we reached out to them and a leash was quickly shipped out same-day. It's great to see the high value that Body Glove places on SUP safety by getting our leash out so quickly, and we love the fact that they promptly addressed our issue with no questions asked.
Where to Buy it
If you happen to have a Costco membership, they currently have the lowest price on the Body Glove Performer 11. If you're not a Costco member, the board is also on sale and ready to ship at Amazon.
Final Thoughts
The Performer 11 was the first Body Glove iSUP that we've had an opportunity to review, and we were really pleased with the overall quality and value being offered. This is an extremely affordable all-around board that has far better construction than most other similarly priced boards, and the big bundle of accessories and fine attention to detail left a very good impression on us.