Body Glove SUP – Paddle Board Reviews 2022
Inflatable Boarder is reader-supported and may earn a commission when you buy through links on our site. Learn more
An International leader in the world of watersports, Body Glove was founded in 1953 by twin brothers Bill and Bob Meistrell in Booneville, Missouri. Over the past several years, the company has launched a popular line of stand up inflatable paddle boards and their lineup consists of 10 iSUP models ranging in size from 10′ to 15′.
Body Glove iSUPs are covered by a 1-year warranty and come with a complete bundle of accessories including a 3-piece travel paddle, backpack, hand pump, phone dry bag, repair kit, and safety leash.
Where to Buy Body Glove Inflatable SUPs
United States
Some of Body Glove's inflatable SUPS can be bought at big box retailers like Costco and Dick's Sporting Goods. They are no longer available online at Amazon, but they can now be purchased directly on Body Glove's ecommerce site.
Body Glove Paddle Board Comparison Chart
Body Glove SUP Reviews
Body Glove Performer 11′ 2020
Body Glove's most popular inflatable SUP board, the Performer 11′ is a really fun all-around iSUP that's priced very affordably. Perfect for beginners and families, this board offers good stability and the tapered nose allows the board to cut through wind and chow well.
Like Body Glove's other iSUPs, the Performer 11′ comes with everything you need to get on the water and it's extremely easy to set up. The front bungee storage area provides a secure place to stash your gear while you're paddling and the rubber bumper on the underside of the board's nose adds additional durability.
For more details on this popular SUP, be sure to check out our detailed Body Glove Performer 11′ SUP board review.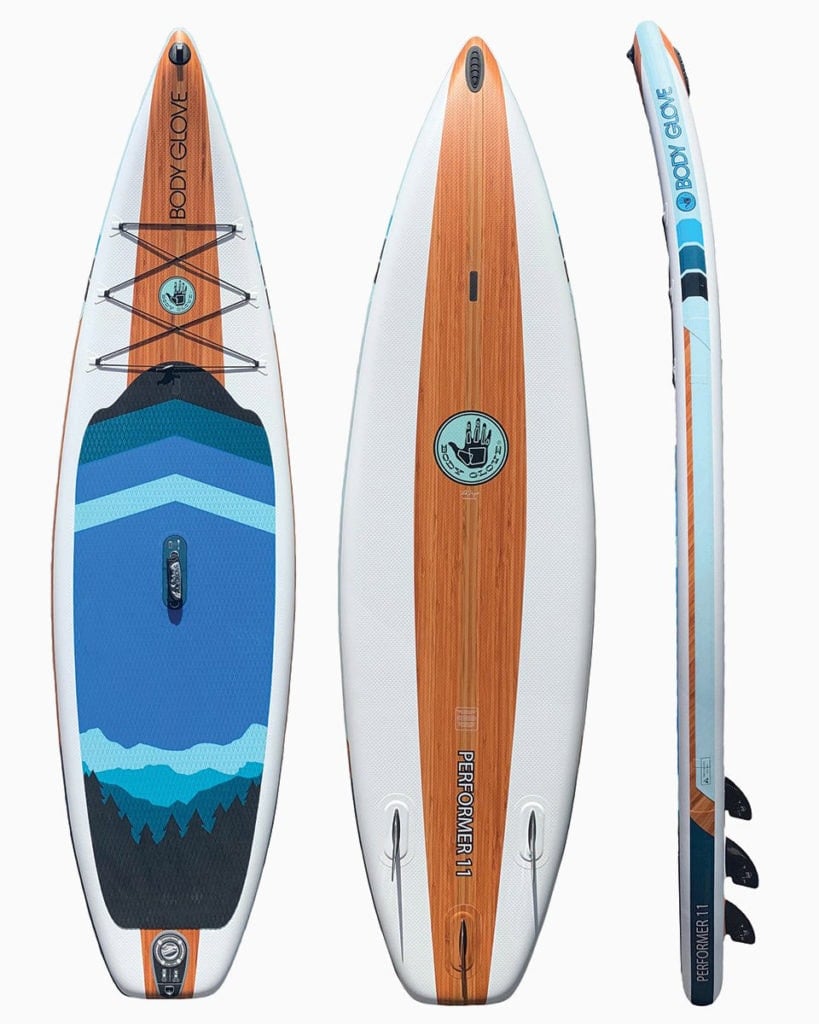 Body Glove Raptor Plus
A board that is very similar to the popular Performer 11′ but designed for smaller paddlers, the Body Glove Raptor Plus is another versatile all-around iSUP that can pretty much do it all. Measuring 10'8″ x 33″ x 5″ and weighing in at 22 pounds, the Raptor Plus can support up to 300 pounds of weight.
This is another excellent board for SUP newcomers and families. It's slightly shorter, narrower, and thinner than the Performer 11′ and also comes with a full bundle of SUP accessories. The Raptor Plus features a front bungee cargo area, multi-purpose carry handle which can secure your water bottle, durable nose bumper, and fixed tri-fin configuration.
Body Glove Mariner XL
The Body Glove Mariner XL offers the same great design as the regular Mariner fishing iSUP but adds an extra inch of thickness for increased rigidity and buoyancy. This board is ideal for larger anglers and it packs the same great features as the thinner Mariner — front bungee cargo area, Railblaza mounts, D-ring attachment points on the rails, and more.
SUP fishing has really caught on over the past several years as more and more anglers are discovering that paddle boards are the ultimate fishing platform when it comes to maneuverability, portability, and affordability.
Check out our in-depth Body Glove Mariner XL SUP board review for more info on this SUP fishing board.
Body Glove Oasis
The Body Glove Oasis is a model that was designed specifically with SUP fitness workouts in mind. Featuring a comfortable brushed traction pad that extends from the nose all the way to the tail, the Oasis is an extremely stable board that provides a massive surface area to perform stretches and exercises on.
Located at the nose of the board is a grab handle and small 4-point bungee storage area for securing your water bottle or dry bag. There's a second grab handle at the board's tail and located mid-board are paddle holders which can be used to secure your SUP paddle while you're working out.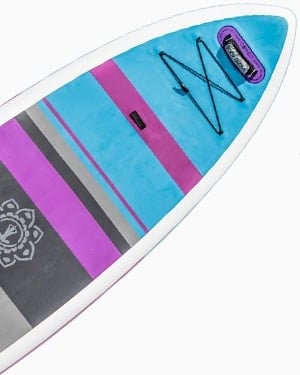 Body Glove Navigator Plus
The Body Glove Navigator Plus offers the same basic design as the company's Mantra model but shaves an inch off the overall width and features a design that is less female-focused.
The Navigator Plus measures 10'6″ x 33″ x 5.4″ and it weighs in at 24 pounds. Due to the fact that this board is slightly narrower than the 34″ wide Mantra, it won't offer quite as much stability but it's still an incredibly stable board on the water.
If you're looking for a versatile and stable all-around board that will work well for a variety of activities and conditions, the Body Glove Navigator Plus is a model worth considering.
Body Glove iSkiff
The new Body Glove iSkiff is a complete family-oriented package made for fun on the river, lake or at the beach. The board weighs 24 lbs. and can hold up to 320 lbs. Measuring 10' x 33" x 5.4", the board has a stiffness that rivals a hardboard and yet the layering system provides a light, fast board that is rigid.
The construction includes a heavy-duty drop-stitch materials, triple-layer stringers and side rails that make the board stable for all levels of skill. They included a unique patented water-bottle holder that is in the center handle. The extra D-rings and 6-point bungee provide great storage and
The complete package includes a dual-action pump, 3-piece adjustable paddle, ankle leash, repair kit, carry-all backpack, cell phone dry bag.
Body Glove EZ 8′ 2″
The Body Glove EZ 8'2" inflatable longboard, while technically not a standup paddleboard, is a Body Glove best-seller made with surfing in mind. With a high-pressure 20 PSI, the drop-stitch and rigid double-layer construction lends itself to great performance in cutting waves with speed. The EZ surfboard is 2.75 inches thick, with a narrow pintail, which for surfers means they can edge and carve with greater ease. Due to being lighter than a hardboard means you can paddle and maneuver this board faster.
This board is easy to pack and provides hassle-free travel. No matter your skill level you'll enjoy catching waves with this board. The package includes a dual-action high-pressure pump and gauge, a backpack carrying and storage bag, 8-foot coil ankle leash and a repair kit.
Body Glove Bullet 10′ 6″
The Body Glove Bullet iSUP/Kayak package Body Glove Bullet 10'6″ give you two boards in one while still being light and convenient. By just unclipping the kayak seat, it converts to an iSUP, suited to both surfing and flatwater paddling.
The construction uses a heavy-duty drop-stitch material with triple-layer stringers and triple-layer side rails. They added 30% more surface area with four ergonomic footrests. The 6-point bungee on the front of the board ensures ample storage. Body Glove upgraded the construction of the 3 fixed Dura-fins.
The Bullet Package includes a dual-action pump, 4-piece adjustable paddle, ankle leash, repair kit, carry-all backpack, cell phone dry pouch.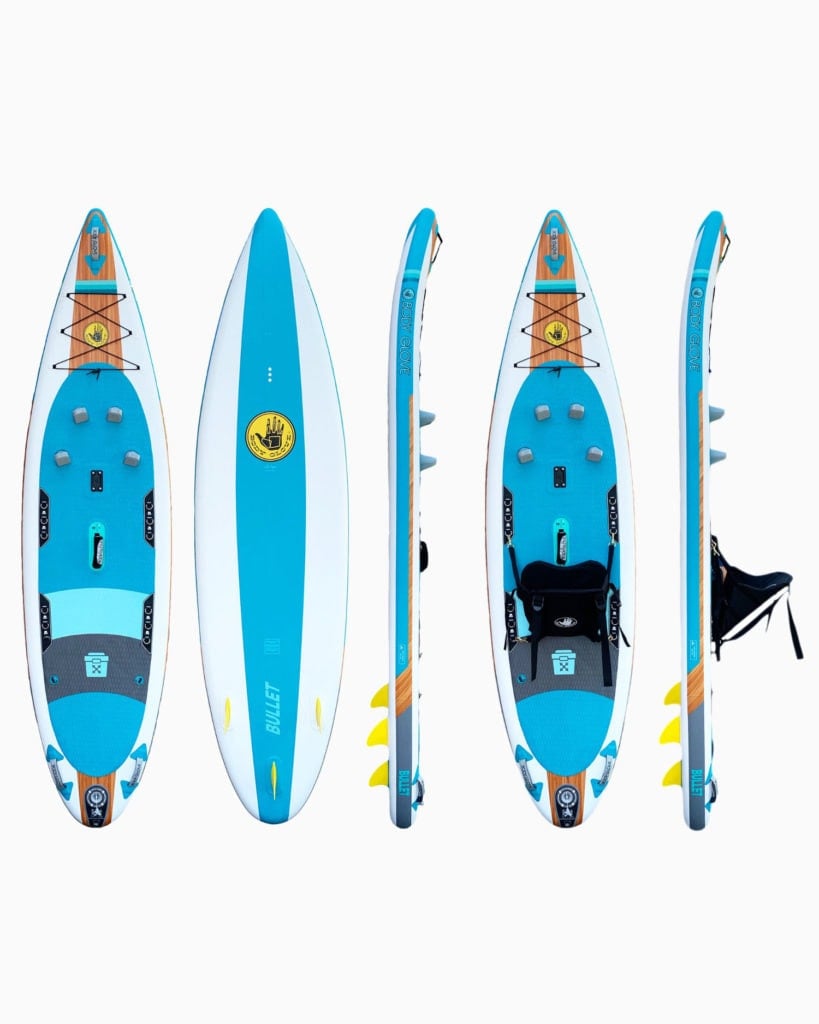 Body Glove Porter 9′ 6″
The new Porter 9' 6" was designed for quality, performance and portability. The board can be a kayak or a stand-up paddle board by unclipping the kayak seat. Due to the triple-fixed-fin and flat-bottom hull, the board adapts well to both flat water or carving waves.
The Porter offers high quality construction and unique design elements, meeting the needs of all skill levels. An upgraded carbon stringer makes the kayak lighter and faster. Weighing in at 26 lbs., the board has a 300 lb. capacity. The fixed and very tough Dura-fins make for excellent tracking. The center carry handle doubles as a paddle or bottle holder and there is a six-point bungee for storage.
Body Glove Hybrid 46″
The Body Glove Hybrid 46, while not a paddleboard, could be a fun additional to your inflatable boards family. It was designed for multi-purpose adventures due to being short (only 46" long), its shape and the fishtail design. This board can be used as a surf-board, body board, wake board or kneeboard behind your boat. It's strength and durability are due to the double-layer construction and double dura fin design.
The board has a full-deck pad that provides comfort whether laying down, standing or kneeling.
The Hybrid 46 package includes dual-action high-pressure pump and gauge, durable backpack for carrying and storage, straight leash, and repair kit.
Body Glove Waterpark Inflatable Dock
The Body Glove Waterpark 15 is meant to provide an ideal floating dock for getting family and friends together on the water. It measures 15' x 66" x 4" and is easy to maneuver with seven carry handles and front and rear mounted D-rings for multiple tie-downs.
The Waterpark holds up to 800 lbs. and with an added nose rocker, the dock can be used as a multi-person paddle board. The construction uses a heavy-duty drop-stitch material and a lightweight single-layer construction with impact-resistant PVC. It is strong enough to ensure years of enjoyment. The design of the board features a bouncy platform to slide or dive from a dock or boat.
The Waterpark has a full accessory package with dual-action pump, repair kit, carry-all bag and a cell-phone dry pouch.
Body Glove Crusader
Last but not least is the Body Glove Crusader, a massive 15-foot multi-paddler model that is designed with group fun in mind. This huge inflatable SUP board is 66″ wide and packs an impressive maximum capacity rating of 1,000 pounds.
Perfect for families and small group outings, the Crusader can accommodate 2-6 paddlers and is also fun for paddling around pets. There's a bungee storage area at the nose, multiple grab handles, and D-ring attachment points for securing your cooler.
Included with Body Glove's Crusader are 2 high-pressure hand pumps, 4 3-piece paddles, a backpack, and phone dry bag.
Body Glove Warranty Information
There is no published return policy for Body Glove that we could find. Body Glove boards that we've previously reviewed carried a 1-year warranty, but we haven't been able to confirm any current warranty information on their website.
Known for their wetsuits and PFDs, the website warranty specifically addresses those products but doesn't mention iSUPs.
We are disappointed that they sell their boards online without support information so we suggest having a thorough conversation with the staff at your place of purchase before you buy.
Body Glove Sales and Discounts Codes
Body Glove frequently has sales or promotions going on. Check our SUP Deals Page for the most current deals available from Body Glove and other top inflatable SUP brands.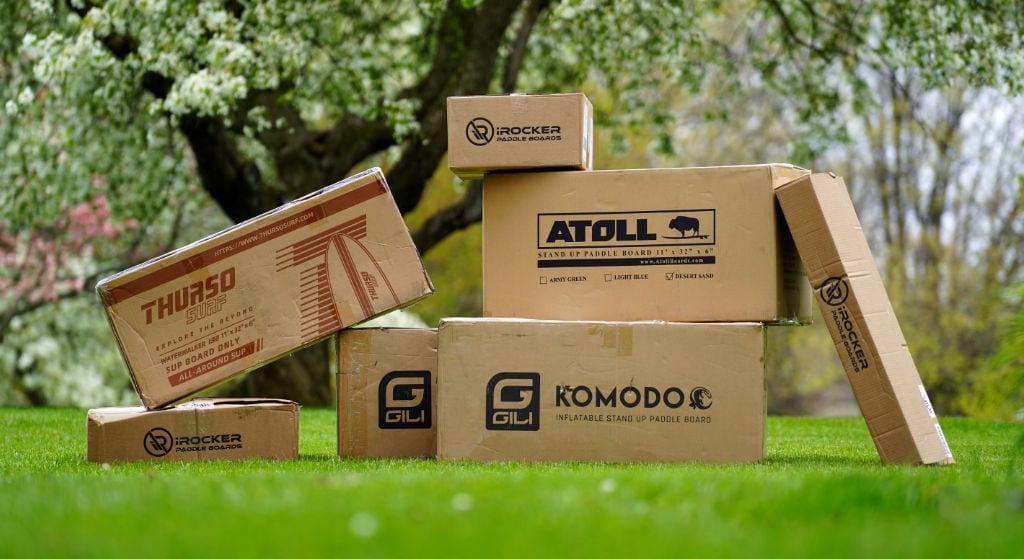 We've Found the Best SUP Sales For You
Check out our Ultimate SUP Deals Page for even more of best SUP sales and paddle board discounts from this and many other top inflatable SUP brands.