Aqua Marina Breeze Review
Inflatable Boarder is reader-supported and may earn a commission when you buy through links on our site. Learn more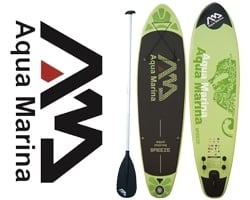 The Aqua Marina Breeze inflatable paddle board is an affordable entry-level SUP that is recommended for women, children, and lightweight paddlers. It's a board that is best suited for SUP fitness and recreational paddling. The Aqua Marina brand is owned by ORPC (Oriental Recreational Products (Shanghai) Co., Ltd.). In addition to stand up paddle boards, Aqua Marina also has a line of inflatable boats, canoes, and kayaks. In this Aqua Marina Breeze review, we'll go over the top features of this iSUP, the construction, what materials were used, the overall dimensions and technical specs, the Aqua Marina SUP accessories that are included with the board, the warranty, and more.
In a Hurry? Here's a Quick Summary…
Pros

Very affordable


Recommended for beginners


Plenty of D-rings


Lots of fun for lighter paddlers


Includes nice bundle of SUP accessories
Cons

Warranty is only 12 months


Less rigid due to 4″ thickness
Price & Where to Buy it
Aqua Marina Breeze Review: SUP Overview
The Aqua Marina Breeze is an all-purpose SUP that is a lot of fun for lighter paddlers. Being that the Breeze is 4″ thick and has a volume of only 178 liters, it's obviously not a board for larger individuals. The Aqua Marina Breeze SUP is 9'9″ in length and weighs in at just under 18 pounds. It has a classic shape and performs pretty well in a wide variety of conditions.
The top deck of the Breeze has a nice EVA foam traction pad that covers the majority of the board's surface area, which we really like. The additional coverage is great if you are planning to bring your dog along for a paddle. The deck pad is comfortable, and the honeycomb traction pattern provides good grip. At the nose of the board are four stainless steel D-rings along with a bungee cord for securely stashing your stuff while out on the water, and the Breeze has a convenient center grab handle for carrying the board when it's inflated. This SUP is really light, and even the smallest of adults (and children) will find it super easy to carry around. There are also two additional D-rings located near the center of the board
for attaching an optional kayak seat
. At the rear of the Breeze is a seventh D-ring for towing the board or attaching a SUP leash. The tail of the board is also where the air valve is located.
On the flip side, the Aqua Marina Breeze features a 2+1 fin setup. All three fins are removable which gives you a lot of versatility — you can remove the center fin for more movement in the tail, or experiment with a classic single fin configuration. Having the ability to remove the fins is also nice if you'll be paddling around in super shallow water. The Aqua Marina Breeze features double wall drop stitch PVC construction for increased durability. The drop stitch core also adds rigidity, which is especially important on thinner 4″ boards.
Aqua Marina Breeze
Durability

Features

Versatility

Stability

Speed

Portability

Warranty

Customer Support

Price
SUP Dimensions and Specs
| | | |
| --- | --- | --- |
| | BOARD LENGTH | 9'9″ |
| | BOARD WIDTH | 30″ |
| | BOARD THICKNESS | 4″ |
| | BOARD WEIGHT | 18 pounds |
| | MAX CAPACITY | 209 pounds |
Included Accessories
We really like the SUP accessories that Aqua Marina bundles with their boards. They include everything that you need to get paddling, which is especially great for beginners. In the box, you'll find an adjustable aluminum SUP paddle, a high-pressure pump with built-in pressure gauge, the three removable skegs, a backpack, and an inflatable SUP repair kit. Also,
all Aqua Marina SUP boards
include a 1 year warranty against manufacturer defects. We would love to see a longer warranty offered (such as 2 or 3 years), but being that this is an entry-level board that is sold at a very cheap price point, the shorter 1 year warranty is understandable.
FAQ
Does the included Aqua Marina SUP paddle float?
Yes, the included aluminum paddle floats. Keep in mind that the included aluminum paddle is very basic, so if you're looking for something that is lighter and offers better performance, we'd recommend checking out the new Aqua Marina Carbon Guide and
Carbon Pro paddle
.
Can I bring my dog on the Aqua Marina Breeze?
Absolutely! The Breeze is made out of a super tough PVC material that is nearly indestructible, so your dog's nails won't hurt the board. Also, the top of the Breeze features a nice EVA traction pad that covers most of the surface area — this gives you added protection. Just remember that whenever you bring your pup along for a paddle,
it's really important to use a dog life vest
!
What is the best way to clean and maintain the Aqua Marina Breeze paddle board?
There's really not much to do. After each use, just rinse the board off with fresh water and dry it completely before rolling it up. If you find that a little additional cleaning power is needed, just use some mild soap and water.
Can I leave the board pumped up?
Absolutely! Just be sure that you don't leave it out in the hot sun for extended periods of time.
Additional Aqua Marina Breeze Pictures
Final Thoughts
The Aqua Marina Breeze is an affordable all-purpose SUP that is a good choice for women and children. It's a board that is best suited for lightweight paddlers, and is a lot of fun for recreational paddling and SUP fitness. Aqua Marina packs a lot of value into this board. Included with the iSUP is everything you need to start paddling, so there's really nothing else you need to purchase. We really like the fact that the board includes a nice bundle of SUP accessories, as this is especially great for beginners. All in all, the Aqua Marina Breeze is a good board to consider if you're in the market for an entry-level SUP that is geared towards lighter paddlers. The board is backed by a 1 year warranty and should last for many years if well-taken care of.