Tree Tribe Floating Bamboo Sunglasses Review
Inflatable Boarder is reader-supported and may earn a commission when you buy through links on our site. Learn more
If you're looking for the best SUP sunglasses, the Tree Tribe floating bamboo sunglasses are a pair to seriously consider. These super high-quality bamboo sunglasses feature UV400 polarized lenses, and in addition to looking great, they float and are extremely comfortable to boot…
6/19 UPDATE!
Unfortunately, Tree Tribe recently discontinued their lineup of floating sunglasses. Check out our Rheos sunglasses review to find out why we feel they're currently the best option for 2019.
While our pair has a beautiful natural bamboo finish with black lenses, the Tree Tribe's bamboo shades are offered in several different color combinations. Currently, Tree Tribe offers this classic style in:
Natural with pink mirror lenses
Natural with green mirror lenses
Natural with ice blue mirror lenses
Natural with blue mirror lenses
Black with black lenses
Dark brown with black lenses
Natural with orange mirror lenses
Black with pink lenses
Tree Tribe Bamboo Sunglasses Construction
Tree Tribe uses sustainable organic bamboo wood to construct their floating sunglasses. The fastest growing plant in the world, bamboo is known for being both strong and lightweight. This is the reason why these sunglasses are so durable and also float.
We also love that Tree Tribe uses flexible stainless steel hinges on these sunglasses. The fact that the hinges hyperextend not only makes these shades more durable and prevents breakage, they're also more comfortable to wear.
Last but not least, the UV400 polarized lenses on these are very nice and are ideal for paddleboarding. Polarized lenses eliminate the reflection of light coming from above the water's surface, making the water appear more transparent and improving overall visibility.
What's Included
Tree Tribe's floating bamboo sunglasses come nicely packaged in a handsome wooden storage case. When you pop off the lid and look inside, you'll find the wooden sunglasses, a soft microfiber pouch, and a card insert.
Tree Tribe also backs their sunglasses with a 100% satisfaction guarantee and a no-hassle, 30-day free return policy. They have an awesome reputation for providing outstanding customer service, and the company will even send you a pre-paid shipping label if for some reason you decide that the shades are not for you.
Tree Tribe's Mission
In addition to making a great product, Tree Tribe is also dedicated to making the world a better place.
For every pair of Tree Tribe shades sold, the company plant 1 tree which helps developing communities grow food, resources, and income. Tree Tribe also sells a range of comfortable, eco-friendly clothing, and they also plant a tree for every item sold from their clothing line.
Where to Buy 'em + Promo Code
Tree Tribe's bamboo sunglasses
are available at Amazon
or
directly from Tree Tribe
. If you decide to pick a pair up from Tree Tribe, use the coupon code BOARDER10 and you'll get a special 10% discount off your entire order.
Final Thoughts
If you're searching for the ultimate SUP shades, we think Tree Tribe's floating bamboo sunglasses are one of the best options for paddleboarding on the market today. In addition to their natural vibe and classic good looks, these are well-built, high-quality sunglasses that are versatile enough to wear on the water and around town.
The bamboo construction gives these shades great durability, and the fact that they float is a huge plus for paddle boarders. This is one pair of sunglasses that you'll never have to worry about losing while you're out for a paddle.
We also really like the company's packaging. The durable bamboo storage case is a nice touch, and the microfiber pouch will help to keep your sunglasses clean and scratch-free for years to come.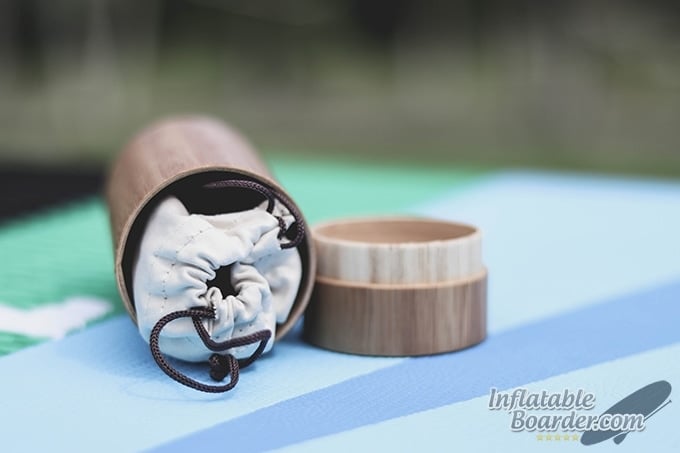 Last but not least, we always love to see great companies who are dedicated to giving back. Tree Tribe's awesome tree planting program is making a difference by planting millions of trees all over the world, and we love the fact that the company uses eco-friendly materials in all of their products.