Rheos Gear Best Floating Sunglasses Review
Inflatable Boarder is reader-supported and may earn a commission when you buy through links on our site. Learn more
When it comes to SUP accessories, floating sunglasses are a must-have for any serious paddler. We know from firsthand experience that it's all too easy to lose regular shades in the water and that's why we highly recommend investing in a pair that float…
We've been using floating sunglasses for the past several years and since making the switch, we haven't lost a single pair while out on the water. While we've really been pleased with our original pairs of floating shades, the time had come to replace them. Since that line has since been discontinued, we set out to find the best floating sunglasses available in 2019.
That search led us to Charleston, SC-based Rheos Gear, maker of high-quality floating sunglasses…
Rheos Floating Sunglasses Review
One of the first things that impressed us with Rheos Gear is their wide selection of styles and colors. A lot of other companies who are making floating sunglasses these days have a very limited range and not everyone will find the same pair to be a comfortable (or great-looking) fit.
Currently, Rheos Gear has 8 different models of floating sunglasses for men and women in over 35 different color combinations. Needless to say, this makes it really easy to find a pair that's just right for you.
There is a downside to having so many options to choose from, however — it can be really difficult to choose just one! We ended up going with three different models:
Design & Overall Quality
We found all three pairs of our Rheos' floating sunglasses to be well-built and extremely comfortable. As you'd expect, they're extremely lightweight and stay on the face well. Unlike other sunglasses, these can be worn for hours at a time without causing discomfort or headaches.
We also really appreciate the great attention to detail on these shades. Rheos has incorporated rubber nose pads into the frame to keep them well-positioned on your face and some of the models also feature rubber anti-slip pads on the arms as well as holes for attaching a retainer cord.
The lenses on these floating sunglasses are also incredibly nice. In addition to being polarized, they are anti-fog, anti-scratch, and offer 100% UV protection. We can attest to the durability of these lenses as we've dropped them several times on the concrete and they still look as good as the day we received them.
Whether you're paddling, boating, or fishing from your SUP, having a pair of polarized lenses when you're out on the water makes a big difference. The clarity and visibility offered by Rheos' polarized lens is outstanding and they make it easy to see right through the water — something that's important when it comes to spotting fish and other marine life.
Affordability
Another thing that we love about Rheos' floating sunglasses is the affordable pricing. While other polarized sunglasses that have been designed specifically with watersports in mind can cost well over $100, Rheos' floating sunglasses are incredibly affordable with an MSRP of only $50. Shipping is also free on your order, regardless of how many pairs you purchase.
What's Included
Every pair or Rheos Gear shades includes a handy microfiber cloth carrying pouch to keep your new sunglasses clean and well-protected.
Free Returns, Lifetime Warranty, & Loss Replacement
Buying sunglasses online can sometimes be a little tricky since it's difficult to judge the overall look and fit of a pair without actually trying them on. Rheos gets that, which is why they offer a generous free returns policy. After receiving your Rheos Gear shades, you can return them at any time and for any reason within the first 30 days (assuming they are still in new, resellable condition.
We also love the fact that Rheos stands behind all of their floating sunglasses with a rock-solid lifetime warranty and if you should lose or damage your sunglasses at some point in time, they offer a simple $20 replacement guarantee.
Customer Service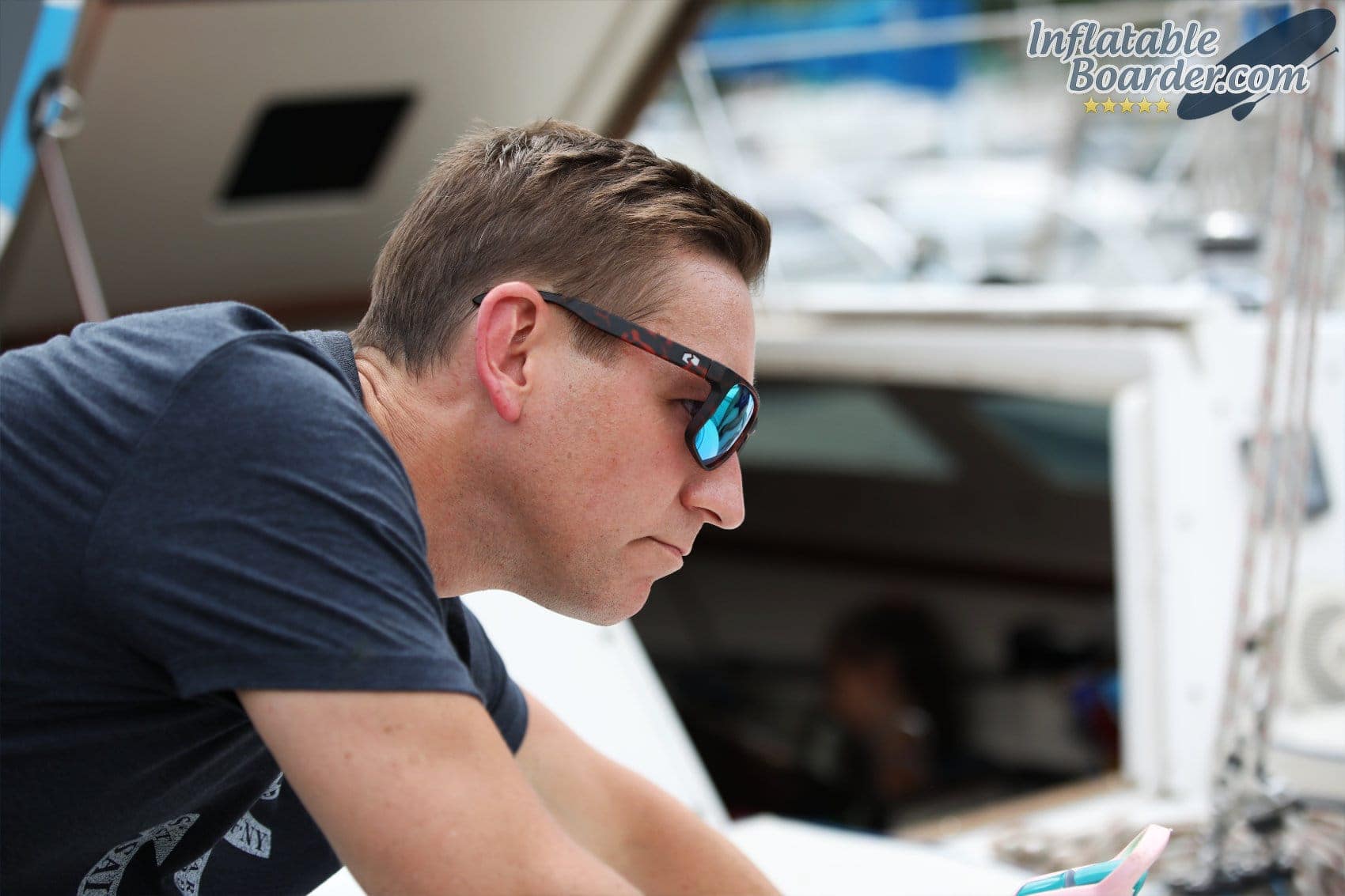 As mentioned, Rheos is a company that stands behind the gear they make and they genuinely understand the importance of keeping customers happy. The company has an excellent reputation for providing fast, friendly customer support, and they're easy to get in touch with via email, text, or by calling their headquarters in Charleston.
Final Thoughts
Overall, we're extremely impressed with Rheos' shades and feel they're the best floating sunglasses for stand up paddleboarding at the moment. These comfortable sunglasses are incredibly lightweight, durable, and surprisingly affordable. Additionally, the generous 30-day free return policy and lifetime warranty is great for added peace of mind, making these high-quality $50 floating sunnies a complete no-brainer.