SealLine Seal Pak Waterproof Hip Pack Review
Inflatable Boarder is reader-supported and may earn a commission when you buy through links on our site. Learn more
PVC-free and made in the U.S.A., the SealLine Seal Pak waterproof hip pack is perfect for anyone who needs a small, hands-free dry bag solution. If you've always wanted a super reliable waterproof fanny pack to bring along when you go paddling, the SealLine Seal Pak will be right up your alley.
Headquartered in Seattle, WA and owned by Cascade Designs, SealLine is an extremely well-respected brand that's well-known for making some of the best waterproof bags. Built to keep gear dry in the harshest of conditions, SealLine dry bags are rigorously tested and backed by a limited lifetime warranty.
In this review of the SealLine Seal Pak waterproof hip bag, we'll take a look at the construction and features, waterproof performance, the pros and cons, and more.
SealLine Seal Pak Review: Dry Bag Overview
Sized perfectly for carrying first aid supplies, a cell phone or walkie talkie, keys, wallet, camera, etc., the SealLine Seal Pak is a versatile little waterproof waist pouch that is super comfortable and won't interfere with your paddle stroke.
Featuring an eco-friendly, PVC-free design, the Seal Pak is constructed out of ultra-durable 600D polyurethane coated polyester. Measuring 3″ x 8″ x 8″ and weighing in at only 7.3 ounces, this 4L fanny pack dry bag is large enough to carry a nice assortment of small accessories. For those who are looking for something a bit larger, we highly recommend the SealLine Discovery Deck Dry Bag which is available in 10L, 20L, 30L, and 50L.
Currently available in five colors (red, black, blue, green, and orange), SealLine's Seal Pak has an external front zippered storage compartment, high-visibility reflective SealLine logo, adjustable (and removable) nylon belt, D-rings for attaching a shoulder strap, and a watertight rolltop closure system. To seal the bag, just roll the top down three times, snap the buckles into place, and then tighten the compression straps to cinch everything down.
Waterproof Performance
As far as performance goes, SealLine's Seal Pak has been nothing short of stellar. In addition to paddleboarding with the pack on, we've exposed it to saltwater, the harsh Panama sun, and put it through several full submersion tests. The Seal Pak waterproof waist pack has never failed to keep our gear completely dry, and despite all of the use, it still looks nearly as good as it did when it was brand new.
What We Don't Like About it
While the SealLine Seal Pak is perfect in just about every way, there is one thing that we would change. The pack currently comes with a very basic nylon webbed belt, and while SealLine chose this belt style so it could be easily removed, we'd trade the additional versatility offered by the removable belt for a higher-quality, permanent one. Functionality-wise, the current belt works just fine and does what it's supposed to do — we just think the pack would be even better with a fixed, permanent belt.
Final Thoughts
Overall, SealLine has done a really nice job with this waterproof fanny pack. As one would expect, the build quality is top-shelf and the Seal Pak feels like it will hold up to many years of hard use.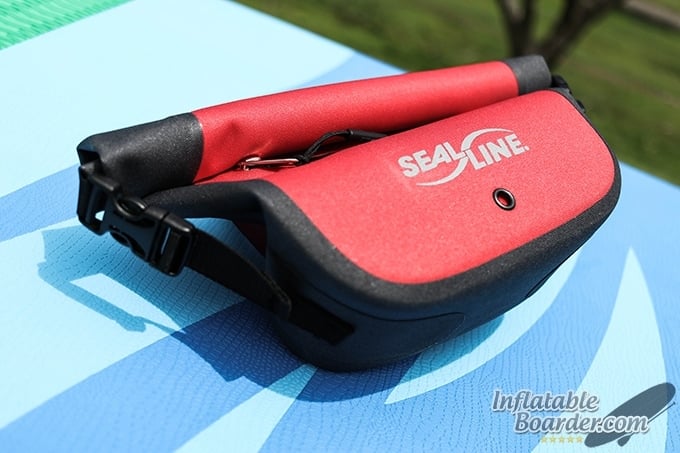 In addition to being a great paddleboarding dry bag, this versatile little hip pack would also work well for snowboarding/skiing, sailing, hiking, or just a day at the zoo with the kids. The 4L capacity is large enough to hold plenty of small items, and it'll never get in the way thanks to the fact that the pack can be worn in the front or back.
When it comes to waterproof bags, don't cut corners. Saving a few dollars by buying low-quality dry bags might seem like a good idea initially, but it could quickly prove to be a costly mistake if a bag fails and your expensive smart phone and other valuables get wet. SealLine is a well-established leader with a long track record of producing some of the best dry bags money can buy — these guys make serious gear that you can use with full confidence.