SealLine Discovery Deck Dry Bag Review
Inflatable Boarder is reader-supported and may earn a commission when you buy through links on our site. Learn more
The SealLine Discovery Deck Dry Bag is a rugged waterproof bag that is perfect for a day out on the water or multi-day paddling expeditions. Available in seven different colors and four different sizes (10L, 20L, 30L, and 50L), this dry bag is extremely well-built and has some very nice design features.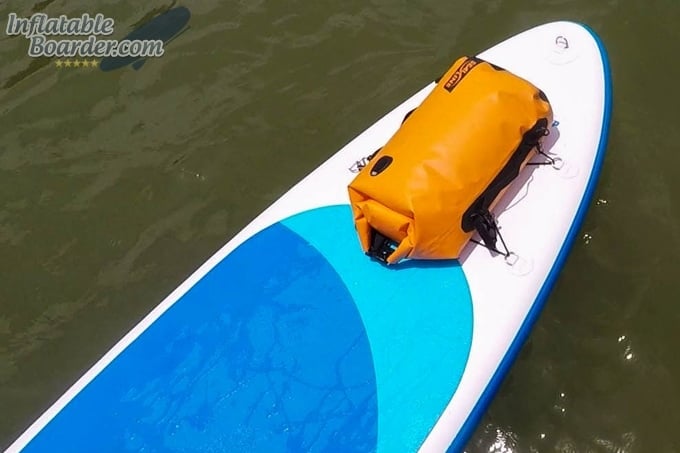 SealLine is a well-known and respected brand owned by Cascade Designs. The Seattle-based company also owns several other outdoor adventure gear brands, including MSR, Therma-Rest, and Platypus.
In this article, we'll be doing an in-depth review of the high-visibility orange 30L SealLine Discovery Deck Dry Bag. We will discuss the bag's top features and construction, pros and cons, warranty coverage, waterproof performance, and more.
SealLine Discovery Deck Dry Bag Review: Overview
SealLine is known for making some of the highest-quality dry bags on the market, and the SealLine Discovery Deck Bag does not disappoint. Made in the U.S.A., this bag is PVC-free and crafted from 18-ounce, 300D polyurethane-coated polyester.
The 30L bag (1831 cubic inches) weighs in at just over 1 pound 5 ounces and it measures 7″ x 12″ x 22″. All seams are welded for the ultimate in durability and waterproof protection, and SealLine guarantees that their Discovery Deck Dry Bag will be free from manufacturing defects for the useful life of the product.
Features
The SealLine Discovery Deck Dry Bag features the popular roll top closure design that is very popular in the world of waterproof bags. This is a secure and ultra-effective method for locking a bag down, and it ensures that water won't seep into the bag while in use.
Unlike other dry bags that have a round shape, the SealLine Discovery Deck Dry Bag has an oval profile that allows it to lay more securely on the deck of your SUP. The slightly flattened profile also makes it easier to stack multiple bags if you need to bring along additional gear.
Running along both sides of the bag are strips with lash points and handles, as well as two plastic D-rings for attaching the included adjustable shoulder strap. Using the shoulder strap, you can comfortably carry the bag over your shoulder or as a messenger bag.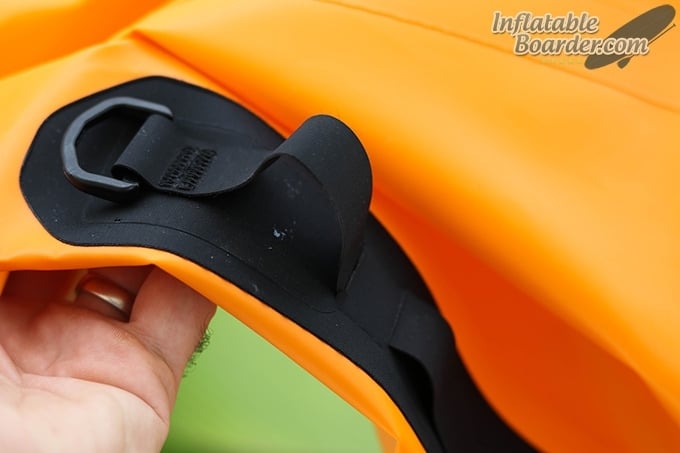 On the front of the bag is SealLine's Purge Air one way valve which allows you to expel excess air from the bag when rolling it up. While there are some cases where you'd want some excess air in the bag (enabling it to float, for example), this is a nice feature for those times when you really want to compress the bag and reduce its overall size.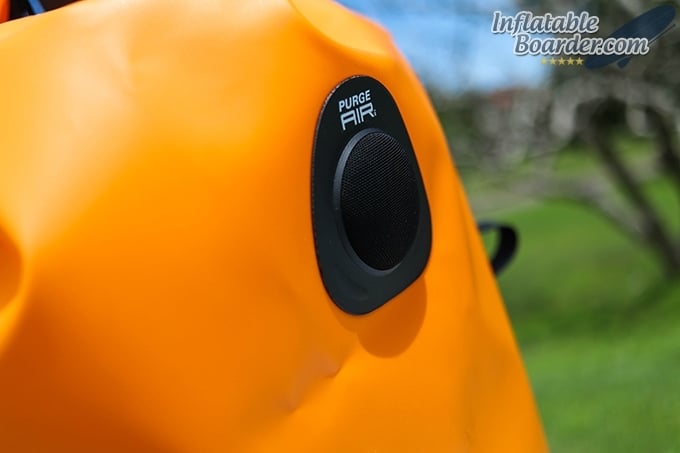 SealLine used black material for the bottom of the bag, which is great as the bottom of the bag always gets the most wear. Also, the inside of the bag has a light-colored interior which makes it much easier to find items when the bag is filled with gear.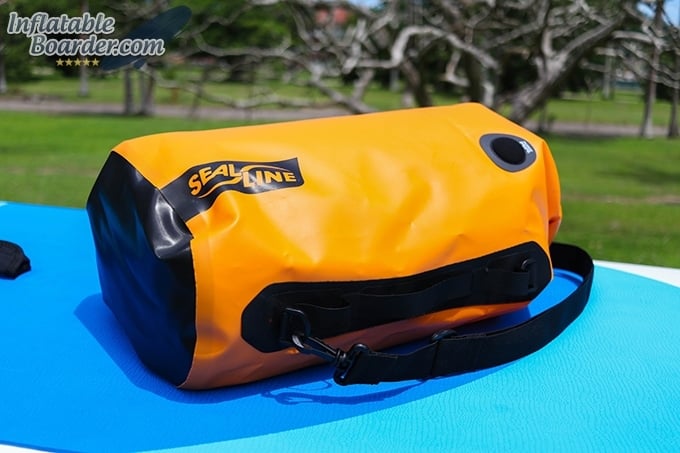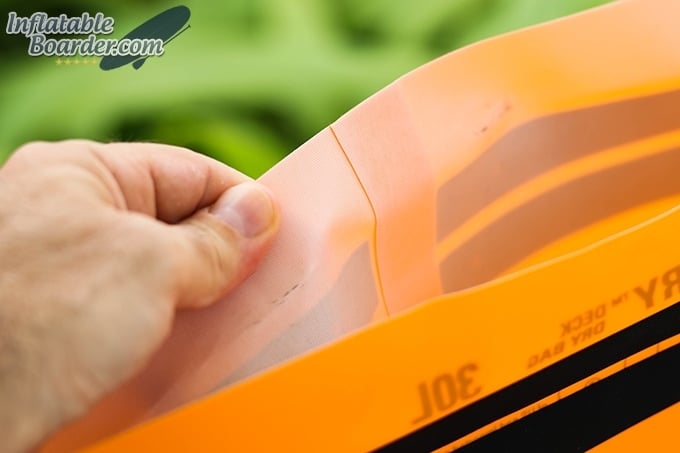 How to Seal the Bag
The SealLine Discovery Deck Dry Bag is extremely easy to use. After packing your bag, make sure that the stiff sealing straps along the top of the bag's exterior are straight with no wrinkles. Fold the bag tightly between the two black strips. At this point, you can push the bag down if you want to purge out some of the excess air inside of it.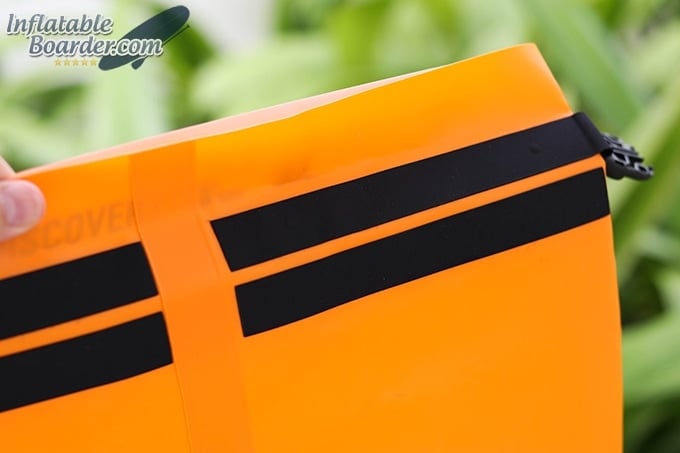 Next, continue folding the top tightly until you've completed at least three folds.
Last but not least, snap the buckles together in the opposite direction that you folded the bag. Your bag is now tightly sealed and 100% waterproof.
Waterproof Performance
SealLine rates the Discovery Deck Dry Bag as being "waterproof", which means that it is designed to float and also withstand quick submersions. In our tests (which included being strapped to the deck of our SUP, fully submersed, and sprayed with a powerful hose), the Discovery Deck Dry Bag performed flawlessly and kept the contents of our bag completely dry in every situation.
What We Didn't Like
We love practically everything about this bag, but there are a few things that we'd like to see SealLine add in the future.
First of all, we'd really love to see a second shoulder strap added. While the bag does come with an adjustable strap that allows you to carry it over your shoulder or as a messenger bag, a second strap would give you the ability to wear it like a backpack, adding even more versatility. It'd be really nice to have this option.
Secondly, we'd love to see some reflective strips added to the bag for improved nighttime visibility. While the high-visibility orange color of our bag really stands out, some reflective strips would be a nice safety feature for those times when you're out paddling or walking with the bag at night. It would also make it easier to locate the bag when it's dark outside.
Final Thoughts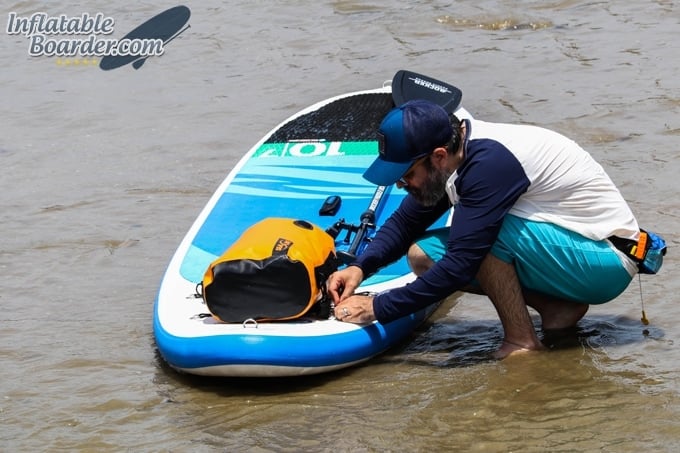 Overall, we really love this bag. The construction and features are all top-shelf and the 30L size gives you the ability to bring along a nice amount of gear for extended-length adventures.
We also like the fact that this bag is made in the U.S.A. — a rarity these days in a market that has become flooded with inexpensive, low-quality bags imported from Asia. A dry bag is an extremely important piece of gear and something that you certainly don't want to skimp on, especially if you're going to be using it to keep camera gear and other expensive valuables dry.
If you're in the market for a paddleboarding dry bag and want something that is versatile, super durable, and backed by a fantastic warranty, you simply can't go wrong with SealLine's Discovery Deck Dry Bag.