Sea to Summit SUP Deck Bag Review
Inflatable Boarder is reader-supported and may earn a commission when you buy through links on our site. Learn more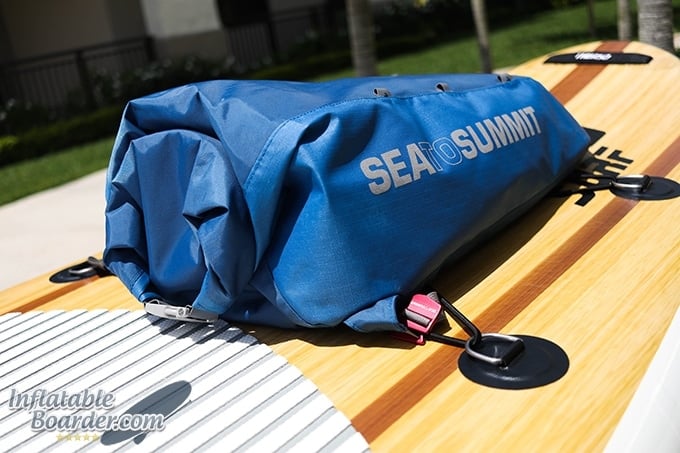 The Sea to Summit SUP Deck Bag is a great choice if you need to keep your gear dry while paddleboarding. The Sea to Summit Deck Bag is available in both 12L and 24L sizes, and the bag that we'll be reviewing is the larger of the two…
Sea to Summit is an International company that produces some of the best outdoor products on the market today. From dependable waterproof gear to top-shelf camping supplies, Sea to Summit has a well-deserved reputation for designing and manufacturing products that die-hard enthusiasts can rely on, day in and day out.
In this review of the Sea to Summit 24L SUP Deck Bag, we'll talk about this dry bag's design and best features, the overall build quality, performance, warranty, what we'd like to see improved, and more.
Sea to Summit SUP Deck Bag Review: Dry Bag Overview
The Sea to Summit SUP Deck Bag is a good-looking dry bag that looks fantastic when strapped to the nose of a paddle board. The bag can easily be attached to rigid paddle boards with Sea to Summit's self-adhesive lash points, or you can secure it to the D-rings or bungee storage area on your inflatable SUP.
This dry bag is available in an attractive blue color and it's constructed from a durable 420D fabric. We really like the fact that the interior is white which makes it super easy to look inside the bag and find exactly what you need. The top of the bag features 6 tie down loops, while the bottom of the bag has 3 red aluminum hook ladderlock buckles. Also, the Sea to Summit logo along the side of the bag is reflective which is great for increased nighttime visibility.
Sea to Summit used the popular roll top closure system on this dry bag, allowing you to securely seal the bag up to keep water out. To seal the bag, just tightly roll the top down at least three times and buckle.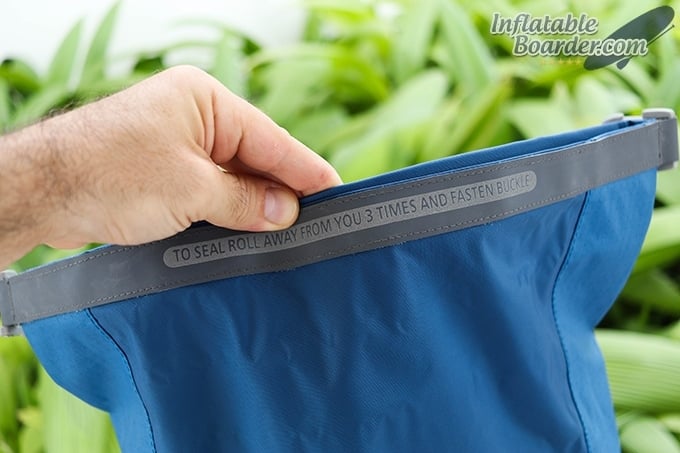 Inside, the bag features an arched, plastic insert that gives the bag its shape. The insert is removable and while it is quite flexible, it does provide some light protection for the bag's contents against knocks and bumps.
Build Quality
Sea to Summit did a wonderful job on the design and construction of this dry bag. The materials used are high-quality, and the buckles, straps, and loops are all extremely sturdy and designed for serious use.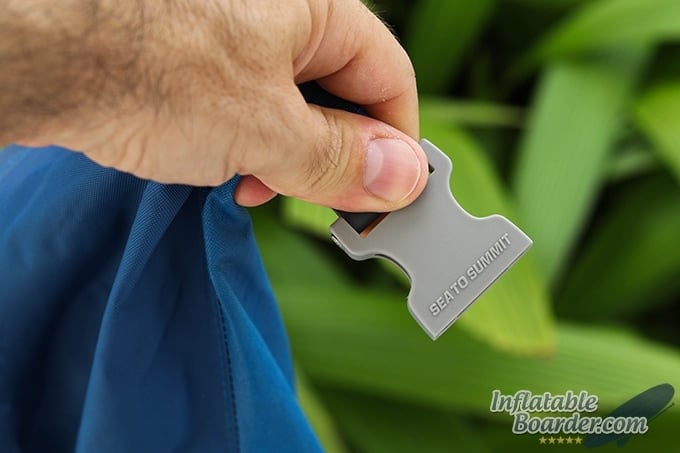 The Sea to Summit SUP Deck Bag is a premium dry bag that really stands out from the multitude of low-quality bags that are flooding the market these days. The stitching and overall fit and finish of our bag is absolutely perfect, and there's nothing negative that we can say regarding the quality of construction.
Waterproof Performance
In addition to paddling with the Sea to Summit SUP Deck Bag strapped to the deck of our paddle board, we also performed several full-submersion tests. In every instance, this dry bag kept the contents 100% dry with no leakage.
Warranty
Sea to Summit guarantees their SUP Deck Bag to be free from manufacturer defects for the intended life of the product. Obviously, this leaves a lot of discretion up to the company when it comes to replacing a problematic bag, but I don't get the impression that you'll run into problems with a warranty claim unless the bag has been abused in some manner.
What We Didn't Like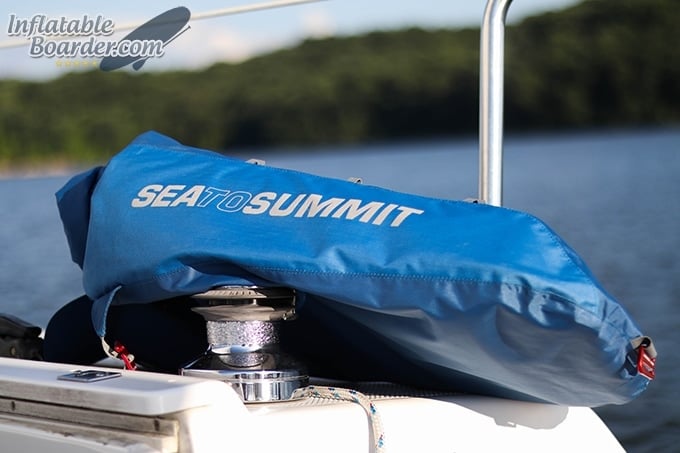 While this really is a great dry bag, there are a few things that we'd love to see improved.
First of all, the Sea to Summit SUP Deck Bag doesn't come with a shoulder strap. This is something that we really miss having, as it's so convenient when you can throw the bag over your shoulder and carry it around. Adding a shoulder strap would be a super simple upgrade that wouldn't a negative impact on the bag's design or function, so we think that's a no-brainer addition that would make the bag more versatile.
Secondly, while we really like the internal plastic arch as it gives the bag shape and provides some protection, we'd choose a plastic that would better retain its shape. When anything is piled on top of the bag, the arched plastic insert tends to get smashed and loses the original shape. I'm confident that a sturdier plastic would solve this issue, although it would add an extra bit of weight.
Final Thoughts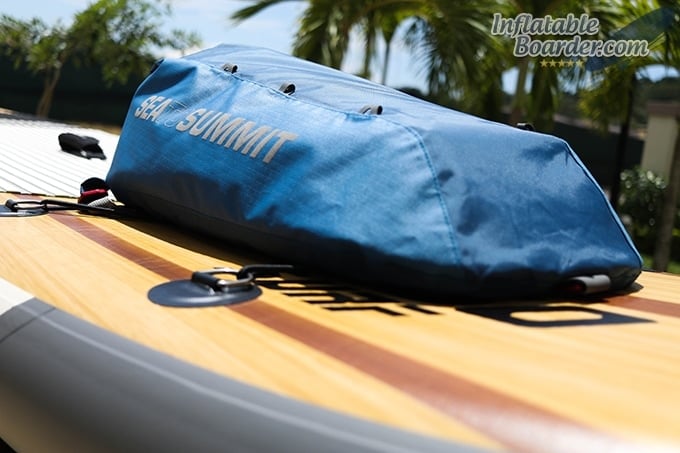 While not perfect, the Sea to Summit SUP Deck Bag is an excellent choice if you're looking for an attractive dry bag that will keep your gear completely dry on the water. This is a very well-made dry bag that is roomy and does exactly what it's supposed to do.
While there are better options if you want a more versatile bag that can be carried on your back or over your shoulder, we highly recommend the Sea to Summit SUP Deck Bag for those who simply need a bag to strap to their paddle board.
To learn more about Sea to Summit, visit www.seatosummit.com