Ruffwear Float Coat Dog Life Jacket Review
Inflatable Boarder is reader-supported and may earn a commission when you buy through links on our site. Learn more
If you want the very best for your four-legged paddling partner, the Ruffwear Float Coat is the Rolls-Royce of dog life jackets. This doggy life vest is built incredibly well and is designed for maximum comfort and long-term durability.
Many newcomers to the sport of stand up paddle boarding are unaware of the importance of using a dog life jacket for SUP pup safety. It is widely believed that dogs don't need a PFD (personal flotation device) if they are good swimmers, but nothing could be further from the truth.
There are basically three main reasons why it's important to get a life jacket for your dog…
The brightly-colored vest and reflective material help boaters to spot your dog in the water
It will support your dog in the event that he or she is too tired to swim back to your SUP
The top grab handle makes it super easy to pull your dog back onto your paddle board
When it comes to life jackets for dogs, there are several great options available on the market today. However, the Ruffwear Float Coat is currently the best dog life jacket in our opinion for several reasons.
In this Ruffwear Float Coat review, we'll cover the top features of this popular doggy life jacket, the sizing and color options, Ruffwear's awesome warranty, how to make sure that you buy the right size, how to properly fit it, and the overall pros and cons.
In a Hurry? Here's a Quick Summary…
Pros

High-quality construction


Great fit


Attractive design


Nice color options


High-visibility reflective trim for increased safety


Light loop for attaching The Beacon


Supports natural swimming position


Lifetime warranty
Cons

Premium price tag
Price & Where to Buy it
Ruffwear Float Coat Review: Life Vest Overview
Available in three high-visibility colors (Blue Atoll, Sockeye Red, and Wave Orange), the Ruffwear Float Coat is extremely popular in the stand up paddle board world for good reason — it is an incredibly well-built, extremely durable dog life vest that won't interfere at all with your dog's movement.
The Ruffwear Float Coat is made out of materials that are highly resistant to cuts and tears. It's critically important that a dog life jacket is extremely durable, and Ruffwear's meets that requirement nicely.
This top of the line doggy life jacket features a heavy-duty, reinforced grab handle that you can use to pull your pup back onto your SUP. It is designed to hold up even while hoisting heavier dogs, and is securely attached to the main body of the life vest.
The buckles and straps on the Ruffwear Float Coat are all top-notch, and there's an easy-to-adjust neck closure that telescopes open and closed for a perfect, customizable fit. The buckles are neatly tucked and covered by the vest's fabric which is a really nice touch — this feature keeps the buckles from getting snagged and caught.
Ruffwear's dog life vest also includes reflective trim for great low-light and nighttime visibility. This is especially important when your dog is swimming, as it will help other paddlers and boaters to spot your dog in the water. As far as sizing goes, the Float Coat comes in XXS, XS, S, M, L, and XL (see sizing chart further down in this review).
The Ruffwear Float Coat also features a light loop for attaching The Beacon, closed-cell buoyant foam panels for supporting your dog's natural swimming position, and it's backed by an impressive lifetime warranty.
Ruffwear Float Coat Size Chart
How to Fit the Ruffwear Dog Life Jacket: VIDEO
FAQ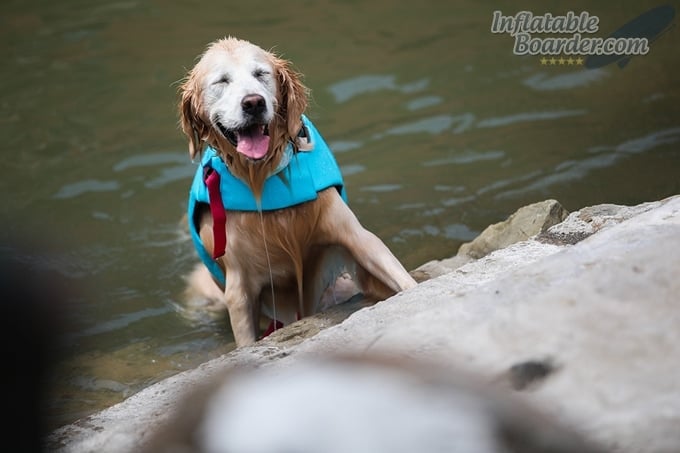 How do you clean the Ruffwear Float Coat?
The Ruffwear dog life jacket is super easy to care for — just handwash your Float Coat with some mild detergent, rinse well, and hang it up to air dry.
Where is the Ruffwear Float Coat made?
Ruffwear's Float Coat is made in Vietnam.
I'm afraid that my dog will overheat if he wears a dog life jacket while paddle boarding. Is this anything to be worried about?
Absolutely not — a dog life vest isn't going to make your dog overheat. Just remember to bring along plenty of drinking water for your pup, and if they seem to be getting a little warm, a quick dip in the water will take care of that!
Final Thoughts
Overall, we absolutely love the Ruffwear Float Coat. It's an extremely well-designed dog life jacket, and Ruffwear has great attention to detail.
The look of this life vest is eye-catching, and the construction and durability are top-notch. Unlike many other dog life jackets on the market, you won't have to worry about it falling apart on you — this one is built to last.
We also love the fact that Ruffwear backs the Float Coat with a lifetime warranty. This definitely shows that the company is 100% committed to their customers and truly believe in the durability of their products. If you ever run into any issues, their great customer service department is ready and willing to make it right.
If you're in the market for a SUP life jacket for your dog and don't mind spending a little more for the best quality option available, we highly recommend the Ruffwear Float Coat!