Paddle North SUP Dry Deck Bag Review
Inflatable Boarder is reader-supported and may earn a commission when you buy through links on our site. Learn more
The Paddle North SUP Dry Deck Bag is a great choice if you're looking for a paddleboarding dry bag that is well-designed and rich in features. This bag is actually two bags in one — on the outside is a durable exterior shell (not waterproof), and the inside features a 100% waterproof sack with a roll top closure system.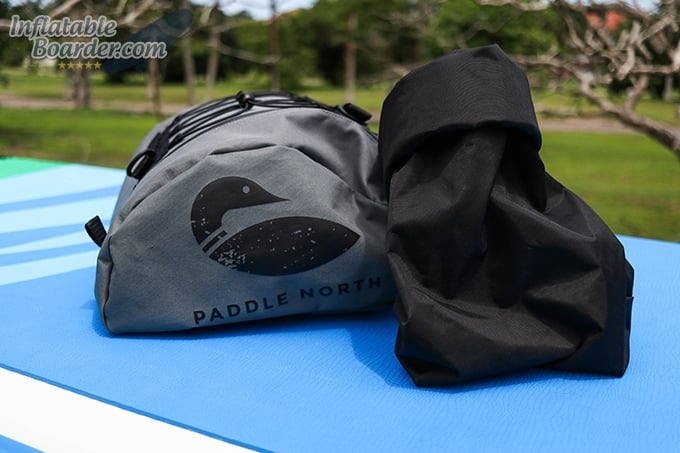 Whether you have a rigid SUP or an inflatable paddle board, Paddle North's deck bag is extremely easy to attach to your board. If you have an existing bungee cord storage area, you can simply slide the bag under the bungees. Alternatively, you can secure the deck bag to your board by lashing the four tabs on the bottom of the bag to D-rings or suction cups.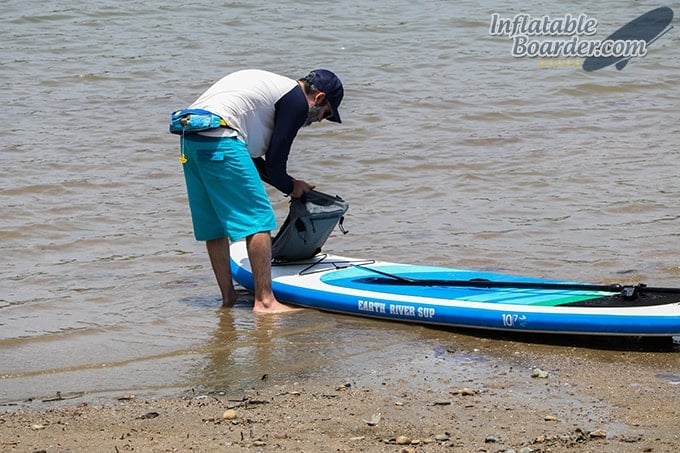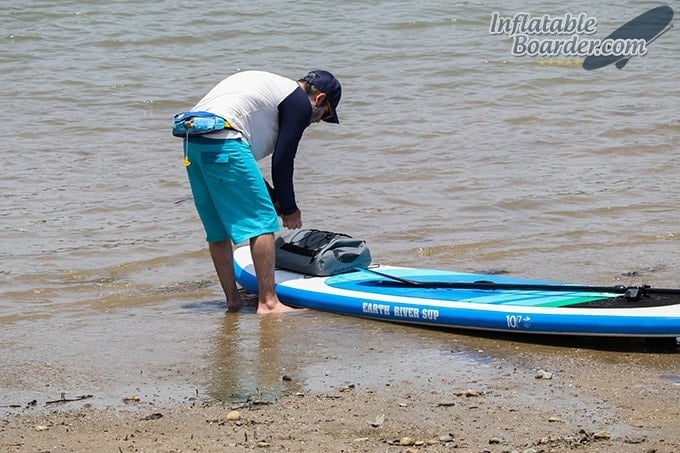 This is a very nice looking bag that looks great on the deck of a SUP. At this time, it's only available in gray, and the bag has black Paddle North logos on the front and on the lid.
Stitched to the front of the deck bag are two strips with multiple loops and D-rings for attaching accessories, and there's a bungee storage area between the two strips for stashing additional gear. On the bottom of the bag is a single lash tab.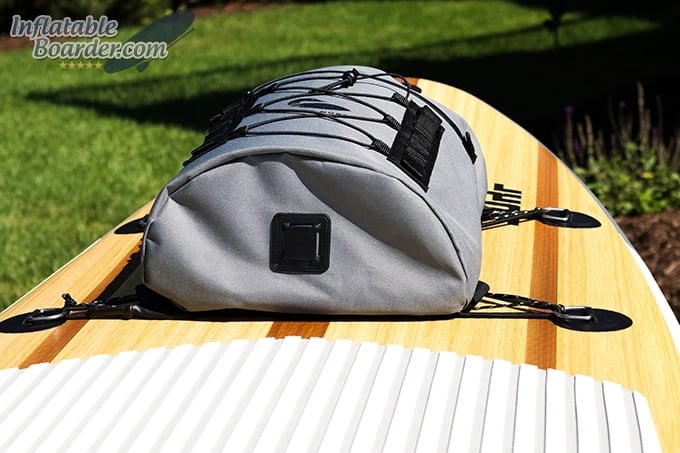 On the back of the bag is a zippered pocket that conceals a single shoulder strap — a feature that we absolutely love and one that improves the overall versatility of the bag. Being able to throw the Paddle North deck bag over your shoulder is super convenient, and when the strap isn't needed, you can simply tuck it away out of sight.
The Paddle North SUP Deck Bag measures 7″ x 12″ x 16″ and the inner roll top dry bag is big enough to keep your DSLR camera and other small accessories nice and dry. In addition to strapping the bag onto the nose of our SUP, our rigorous dry bag testing department gave it a full submersion test and the contents of the inner roll top dry bag stayed completely dry.
Overall, this is a fantastic SUP deck bag that does exactly what it's supposed to do — keep your gear 100% dry. We really like the design of this bag and love the fact that there's a built-in shoulder strap for carrying the bag around when it's not strapped to your board.
In addition to being a super easy bag to secure to your board, it's also nice that there are a number of loops and D-rings for attaching additional accessories. If you're looking for a quality SUP deck bag to keep your gear totally dry when you're out paddling, the Paddle North SUP Deck Bag is an excellent option.