OverBoard Classic Waterproof Backpack Review
Inflatable Boarder is reader-supported and may earn a commission when you buy through links on our site. Learn more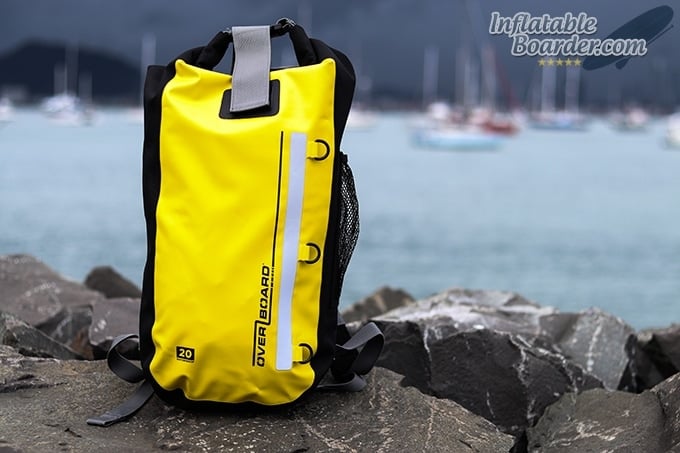 The OverBoard Classic Waterproof Backpack is an extremely well-made bag that looks great and does a fantastic job of protecting gear from water, dust, dirt, and sand. Available in 20L, 30L, and 45L sizes, this versatile, backpack-style dry bag is loaded with impressive features that serious paddlers are sure to appreciate, and it has quickly become our go-to backpack for daily use.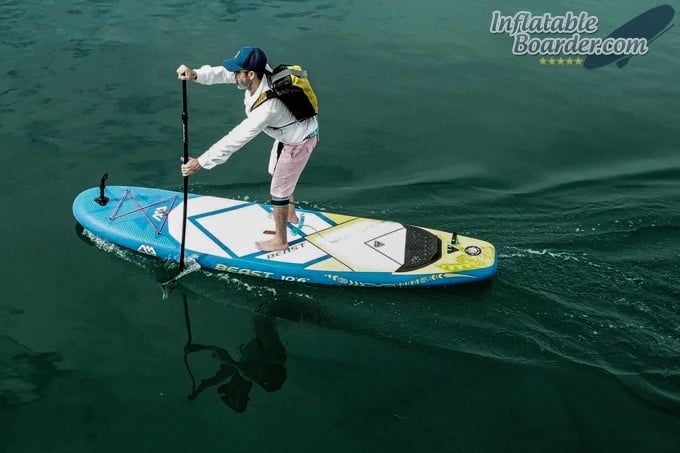 OverBoard is a global company that's widely recognized as an industry leader when it comes to waterproof bags. Their growing lineup of high-quality dry bags and waterproof cases is subjected to rigorous testing, resulting in a product line that's built to withstand the most extreme of conditions.
OverBoard takes product design and testing very seriously, and to ensure that their product line meets the highest performance and build-quality standards, they put all of their waterproof bag designs through the following product testing and quality control checks:
Temperature testing
Depth testing
Strength testing
Dust, dirt, and sand testing
Dunk testing
Weld pressure testing
Load break testing
Repetitive stress testing
In this review of OverBoard's 20L Classic Waterproof Backpack, we'll discuss this bag's best features, construction, versatility, waterproof performance, what we like about it, what we'd change, and more.
OverBoard Classic Backpack Review: Bag Overview
Featuring an IP66 Ingress Protection Rating, OverBoard's Classic Waterproof Backpack is completely waterproof and built to handle quick submersions. Once the bag is fully locked down, you can be confident that your gear is extremely well-protected.
In addition to keeping your gear clean and dry, this bag also floats which makes it a wonderful choice for stand up paddleboarding, kayaking, sailing, etc.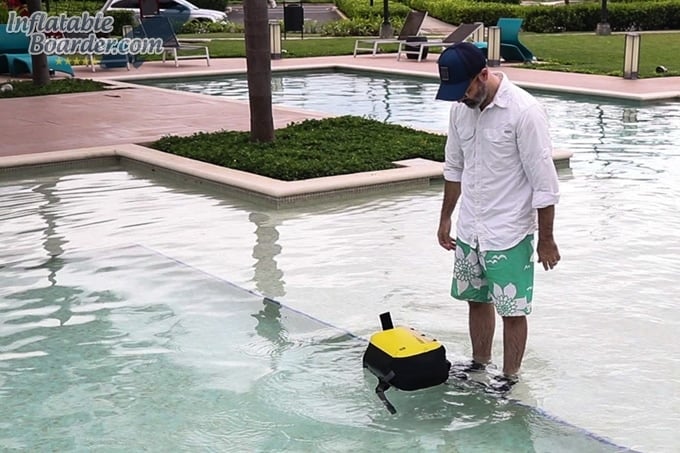 As mentioned, the OverBoard Classic Waterproof Backpack is currently available in three different sizes: 20L, 30L, and 45L. Our 20L bag is the ideal size for daily use, providing ample room for books, camera gear, dry clothing, a laptop, and other similarly-sized items.
This backpack is one of the most versatile dry bags we've tested. It's a great choice for paddleboarding as you can easily secure it to the deck of your SUP or slip it under the bungee cord storage area at the nose of your board. Of course, the fact that it's configured as a backpack also gives you the option to wear it on your shoulders, and we found the bag incredibly comfortable to wear while paddling with absolutely no negative impact on paddling stroke.
The OverBoard Classic Waterproof Backpack is also a great choice for photographers, students, bikers, hikers, skiers/snowboarders, boaters, and just about anyone else you can imagine. It is truly a versatile bag that you can use for a wide variety of activities, making it an exceptional value as it's a bag you'll undoubtedly use day in and day out.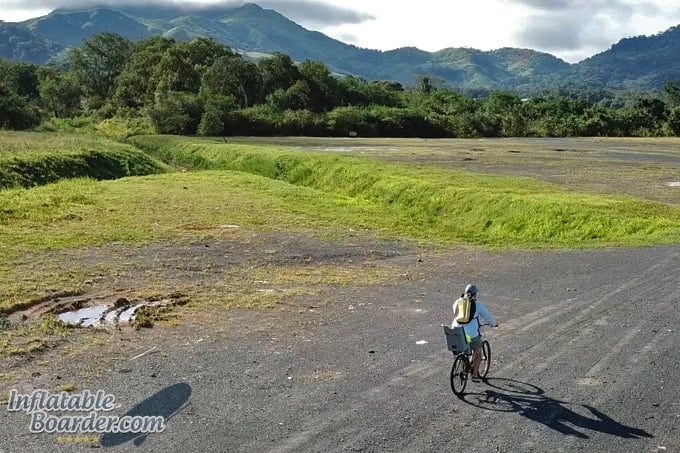 Backpack Features
This bag features the popular roll top closure system which securely seals the bag's contents up and protects them from moisture. To close the bag, just roll the top down tightly three times and lock the heavy-duty plastic buckles together. There's also a 2″ nylon velcro strap that you can pull over the top of the bag to keep everything tight and tidy.
The front of the backpack has a high-visibility reflective safety strip along with three plastic D-ring attachment points. The reflective strip and bright yellow color of our bag are a great combination as they really increase your overall visibility — a great safety feature for cyclists and anyone else who needs to stand out.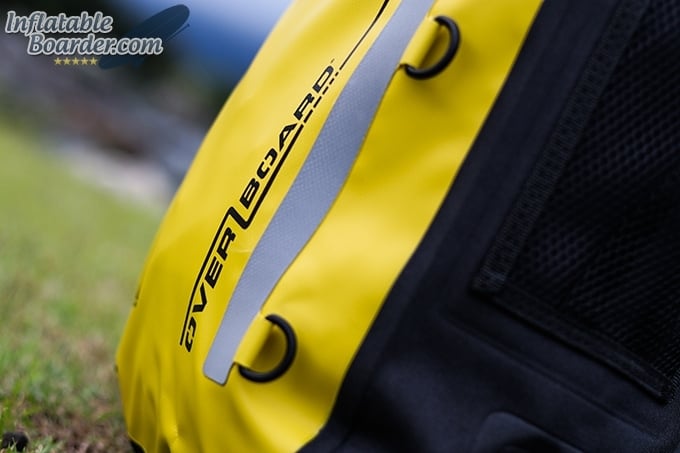 On one side of the bag is a handy mesh storage pocket with an elastic opening. This pocket is large enough to hold a water bottle, GoPro camera and some accessories, lightweight rain jacket, or other small items that you don't necessarily need to keep dry. The edge of the pocket features a long rubber tab that states "waterproof" and includes the OverBoard logo.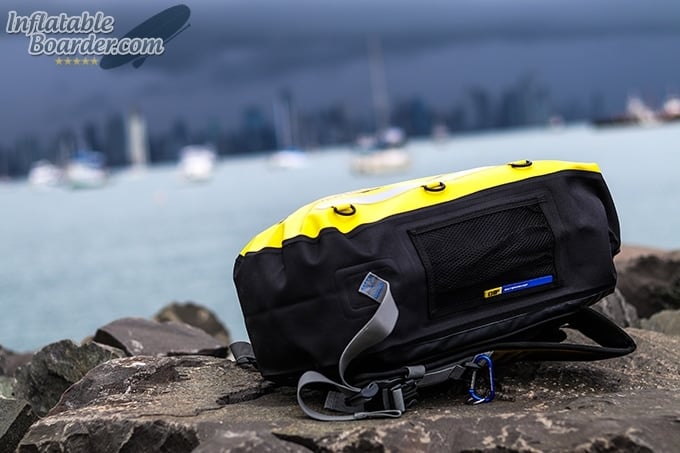 On the back of the pack is a heavily-padded, ergonomic back panel that is super comfy. The high-quality back panel is well-ventilated which allows air to freely flow and helps to keep you nice and cool. There is also a nylon webbed grab handle which is super convenient for picking the bag up, carrying it around, and pulling it in and out of the car.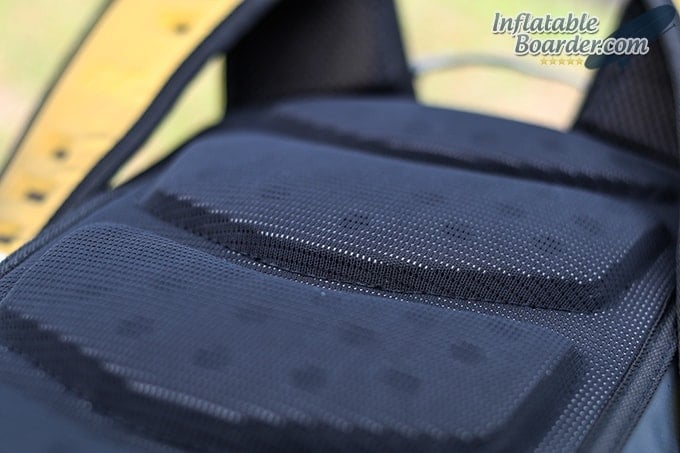 The fully adjustable backpack straps on this bag are also top-notch. They are color-coordinated with the yellow front of the pack and are also breathable and well-padded. There is a small reflective strip on each strap with the OverBoard logo, two thick plastic attachment points, an OverBoard carabiner, and a fully adjustable sternum strap for stabilizing the bag when it's on your back.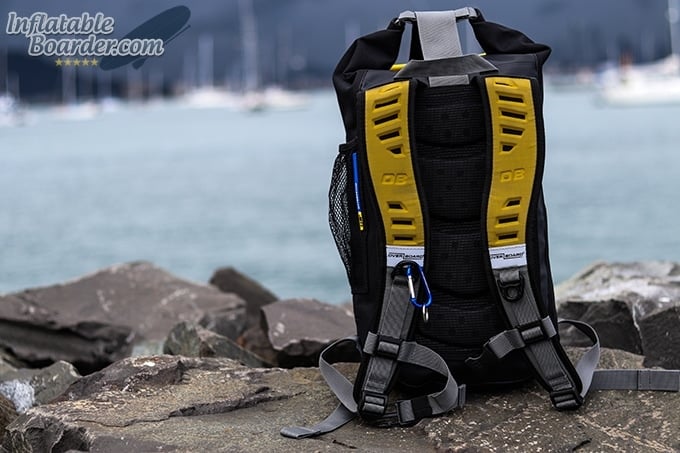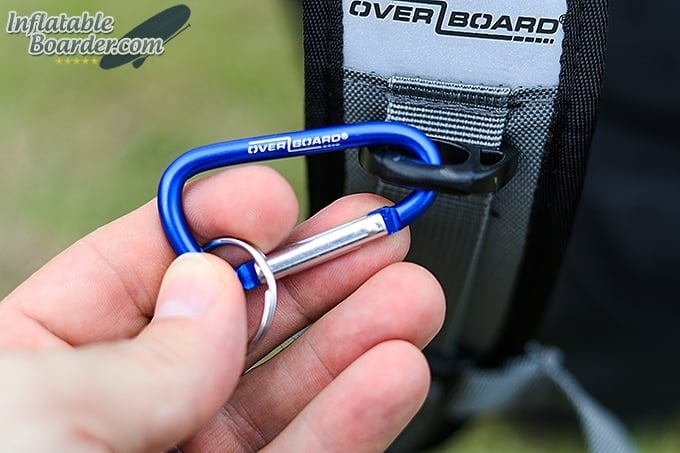 Dimensions, Specs, Materials, and Construction
Our 20L (1,200 cubic inches) bag measures 17.3″ x 9.4″ x 7.4″ (44cm x 24cm x 19cm) and it weighs in at 1.58 pounds (.72 kg). The bag features high frequency welded seam construction, a durable PVC front and back, and PVC bonded nylon sides and bottom.
Overall Build Quality
We're extremely impressed with this bag's design and overall build quality. All of the straps, stitching, and hardware are top-shelf, and you can instantly tell that this is a well-made bag that's built to last.
We also really like the PVC bonded nylon that OverBoard used on the sides and bottom of the bag — these are areas which are normally subjected to a substantial amount of wear and tear, and the heavier fabric should help to increase the longterm durability of the bag.
Comfort
This backpack is extremely comfortable, thanks to OverBoard's use of a heavily padded back panel and shoulder straps. The bag feels very balanced on the shoulders and the adjustable sternum strap helps to keep the pack in place when you're moving around.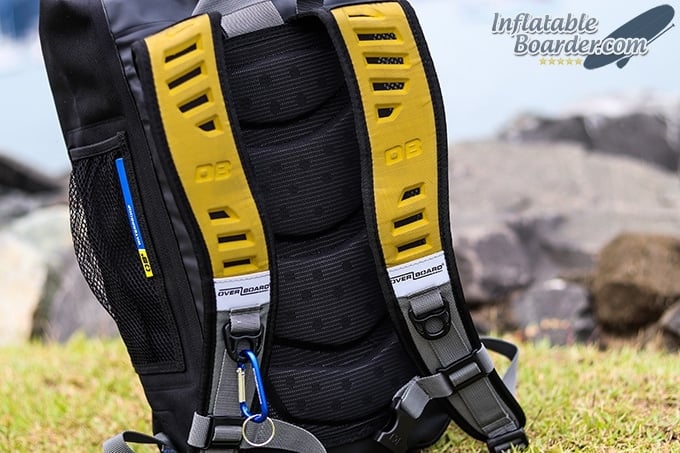 As we mentioned, this bag is even comfortable enough to wear on your back while paddling. Unlike many other dry bags which come with an uncomfortable nylon webbed strap, the fully padded backpack straps on this pack don't dig in to your shoulders and the padded back panel adds additional cushioning.
Waterproof Performance
In addition to paddling with this bag, we also performed full submersion tests and sprayed it with a high-pressure hose. The OverBoard Classic Waterproof Backpack performed flawlessly in all situations, keeping the contents of the bag completely dry regardless of what we subjected it to.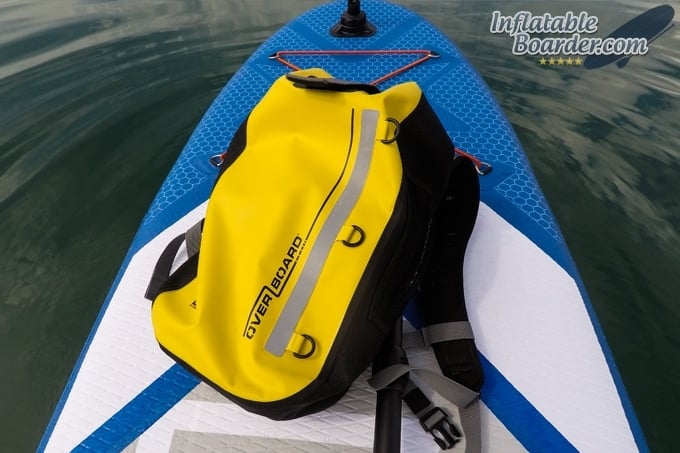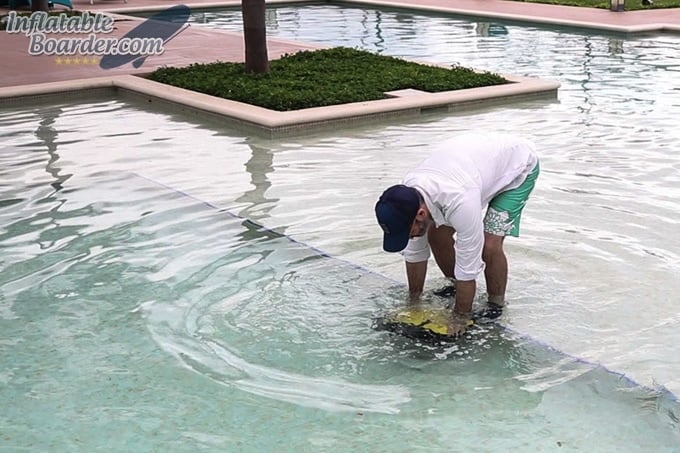 What We Like about the Bag
As-is, the OverBoard Classic Waterproof Backpack is nearly perfect. It's a great-looking dry bag that is well-built, extremely versatile, and super comfortable to wear.
We really like the reflective safety strips used on the front and straps of the bag — these make it much easier for boaters and motorists to spot you during low-visibility evening hours when many accidents take place.
Other standout features of this bag are the back panel and shoulder straps. In addition to looking super cool, they really make this a comfortable bag to carry around.
What We'd Change
When it comes to things we'd change if given the chance, there are really just three things that come to mind. First of all, it would be nice to have an internal pocket or two for organizing small items, but there are easy ways to get around this shortcoming such as using your own internal organizer in the bag.
Secondly, we'd love to see some additional color options offered. Currently, the OverBoard Classic Waterproof Backpack is only available in yellow and black, and while both colors look nice, it'd be great to have some other color options.
Last but not least, the roll top closure on this bag is definitely a lot less convenient than the HydroLok zipper you see on the YETI waterproof Panga backpack. This isn't a huge deal, as long as you can afford the extra time it takes to open and close the roll top design.
Final Thoughts
In addition to making a great waterproof SUP backpack, the 20L OverBoard Classic Waterproof Backpack is a perfect choice for just about anything else you can imagine. The 20L size is perfect for keeping a drone or camera gear dry, carrying around a laptop and some books, or stuffing it with some dry clothes and a smartphone.
While slightly less convenient than zippered dry bags, the roll top closure system on this bag is tried-and-true, and it provides a reliable and secure seal that has proven to be ultra-effective in keeping water, sand, dirt, and debris out. This is a bag that you can have full confidence in, and and the durable materials and high frequency welded seams mean it'll be a workhorse for years to come.
If you're looking for a high-quality SUP dry bag that can be comfortably carried as a backpack, the OverBoard Classic Waterproof Backpack sits at the top of our list. The attractive design, high-visibility, and versatility of this bag are all huge pluses, and this is a bag that you'll definitely find yourself reaching for even when you're not going paddling. Highly recommended.