GILI Adventure 11′ SUP Review
Inflatable Boarder is reader-supported and may earn a commission when you buy through links on our site. Learn more
Brand new for 2019 and GILI Sports' second inflatable SUP model, the 11′ GILI Adventure is an all-around board that is also excellent for touring, fishing, and even SUP fitness. This board offers some nice upgrades over the company's 10'6″ AIR, and we'll cover all of that and more in this review…
A fresh name on the inflatable SUP scene last season, GILI Sports is spearheaded by founder Jay Regan. GILI currently has two models in their SUP lineup as well as a growing collection of accessories, and there are additional iSUP boards currently in the works.
In this review of GILI's 11′ Adventure paddle board, we'll cover the improvements made in this new model, the board's construction and features, specs, paddling performance, pros and cons, and more.
In a Hurry? Here's a Quick Summary…
Pros

Beautiful design


Two eye-catching color options


Color-coded leash and paddle


Lightweight MSL dual-layer PVC construction


Stable


Good rigidity


Versatile


Offers improved tracking performance over company's 10'6″ AIR


Very comfortable brushed traction pad that's easy on hands/feet


Convenient toolless fin system (nothing to lose)


Dual bungee areas for easy storage


Plenty of D-rings for optional kayak seat + more gear


Convenient grab handles at nose and tail


Premium carbon shaft paddle


Backpack offers slight improvements over previous version


Accessory bundle includes everything needed
Cons

Backpack could use additional grab handles


Warranty is only 1-year Now includes extended 2-year warranty
Price & Where to Buy it
GILI Adventure Review: SUP Overview
ARVE Error: src mismatch
url: https://www.youtube.com/watch?v=h00ELtH7Dyg
src in: https://www.youtube-nocookie.com/embed/h00ELtH7Dyg?feature=oembed&enablejsapi=1&origin=https://www.inflatableboarder.com
src gen: https://www.youtube-nocookie.com/embed/h00ELtH7DygActual comparison
url: https://www.youtube.com/watch?v=h00ELtH7Dyg
src in: https://www.youtube-nocookie.com/embed/h00ELtH7Dyg?enablejsapi=1&origin=https%3A%2F%2Fwww.inflatableboarder.com
src gen: https://www.youtube-nocookie.com/embed/h00ELtH7Dyg

Measuring 11′ x 32″ x 6″ and weighing in at a lightweight 19 pounds, the GILI Adventure is a board that offers even more versatility than the 10'6″ AIR which we reviewed last season. A faster board that's loaded with features, the 11′ Adventure is a great choice for paddlers who enjoy a wide range of SUP activities and the eye-catching design looks fantastic on the water.
While GILI's first board was initially offered in only one color (blue), the company quickly responded to our request for additional color options by adding two more options: red and teal. We're happy to report that the new Adventure comes fresh out of the gate with two beautiful colorways: yellow/gray, and blue/gray.
As with any new SUP company, it's always interesting to see how things evolve after a line is initially launched. GILI's second iSUP model is clearly targeting a different segment of the market than their entry-level 10'6″ AIR, moving beyond the bare bones budget niche to a more premium offering.
The Adventure offers big improvements over the 10'6″ AIR in terms of board construction, features, and an upgraded carbon fiber shaft paddle. As expected, all of this does come at a price — one that's approximately double the cost of their 10'6″ all-around model.
So, is the $749.95 price tag justified? (3/13/19 UPDATE: GILI now has the board listed at only $645) While the original pricing put the Adventure in a challenging spot in terms of firmly-established competition, the new $645 price point makes it a much more compelling buy and we feel that this board is a good value (we'll explain why below).
Features
The top deck of the Adventure is covered by an extremely comfortable EVA foam traction pad. Unlike the diamond grooved pattern on their 10'6″ all-around board, the Adventure features a soft, brushed surface which is very easy on the hands and feet. Obviously, this is great news for yoga and SUP fitness fans, and it only adds to the board's excellent versatility rating.
Located at the middle of the board is a comfy carrying handle that is well-positioned and covered by a sewn-in neoprene cover. GILI elected to go a different direction than the velcro handle used on their first model, so if you're looking for a place to secure your paddle while out on the water, we'd recommend slipping both ends of the paddle under the bungee storage areas.
Running along both sides of the traction pad are 6 stainless steel D-rings which can be used to attach an optional kayak seat or for additional tie-down points for camping and fishing gear, dry bags, or a SUP cooler.
At the nose of the board is a large 6-point bungee storage area as well as a neoprene covered grab handle. We love the attention to detail on this board — the D-rings are nicely color-coded to match the stripes on the deck of the SUP which helps them to blend seamlessly into the board's overall design.
Located at the tail of the Adventure is a second bungee storage area along with a high-quality inflation valve, leash D-ring, and a second grab handle which is super convenient when it comes to pulling the board in and out of the water. The second bungee cord at the tail is obviously great if you need to bring along additional gear, but it also gives you a secure place to stash your dry bag during those times when you've got a small child or dog occupying the nose of your board.
On the underside of the Adventure 11′ is a tri-fin setup with two smaller fixed side fins and a large removable center fin. The center fin uses the same toolless system that's currently being used by iROCKER and THURSO SURF, and we really like how quick and convenient it is to snap the fin securely into place.
Construction
GILI went with a dual-layer MSL construction on the Adventure, resulting in a board that is very lightweight. While this board is larger than the 10'6″ AIR, it weighs the same thanks to the weight savings contributed by the fusion technology.
In terms of hardware, everything is top-notch — from the inflation valve right down to the D-rings…
Paddling Performance
In the water, the GILI Adventure is a blast to paddle. The board glides well and offers plenty of stability thanks to the 32″ width.
We're happy to report that tracking performance is better than on our 10'6″ GILI AIR, thanks to the Adventure's shape and triple fin configuration. The company has since added two fixed side fins to their 10'6″ board, so that undoubtedly improved tracking when compared with the single fin version that we reviewed.
In terms of rigidity, we inflate this board to the maximum recommendation of 15psi and find the board to be nice and stiff at that pressure.
Likes and Dislikes
Our overall impressions of the 2019 GILI Adventure were very positive. This is an extremely fun inflatable paddle board that has a beautiful design and comes loaded with great features. If you enjoy a wide variety of paddling activities but don't have the wallet for a quiver of specialty boards, the Adventure is a fantastic choice. Whether you're in the mood for yoga/pilates/SUP fitness, fishing, multi-day camping excursions, or just some all-around flatwater fun, this board can handle all of that and more.
GILI did a great job of listening to feedback after their first board's release, and they've improved upon a number of things with the 11′ Adventure. This board is being manufactured at a different factory, and in addition to the added features, the overall build quality is definitely better.
We really appreciate the fine attention to detail on this board and are honestly hard-pressed to find anything other than a few minor details that we'd change. For starters, we actually preferred the handy velcro closure used on the company's first carry handle as it's really convenient for securing your paddle when you're out on the water. While it's not difficult to slip your paddle under the bungee cords located at the Adventure's nose and tail, we just find the velcro handle to be easier and a bit more secure.
Secondly, we'd really love to see a longer warranty period offered by GILI. Currently, GILI offers a 1-year warranty (and 60-day money back guarantee) for both of their inflatable SUPs, and while that's acceptable on a lower-priced board, an iSUP in the $700-$800 range should include at least a 2-year warranty in our opinion. As previously mentioned, there are some very good boards on the market in this price range, and a longer warranty would make the Adventure a more compelling buy and also give consumers added confidence — something that is especially valuable when it comes to SUP company startups.
Update 1/8/19: GILI just contacted us and notified us that they've gone ahead and increased their standard 1-year warranty to a full 2 years across the entire SUP lineup. This is great news as it adds additional value and peace of mind for customers, and it also shows that the company is serious about standing behind their iSUPs.
GILI Adventure 11
Durability

Features

Versatility

Stability

Speed

Portability

Warranty

Customer Support

Price
Specs
| | | |
| --- | --- | --- |
| | Length | 11′ |
| | Width | 32″ |
| | Thickness | 6″ |
| | Weight | 19 pounds |
| | Max Capacity | 285 pounds |
| | Price | |
What's Included
Included with the GILI Adventure is a full package of SUP accessories. In the box, you'll find:
Travel backpack
3-piece carbon fiber shaft travel paddle
GRI high-pressure dual-action pump
Color-coded 10′ coiled ankle leash
iSUP repair kit
Backpack
GILI's travel bag is a great looking backpack that makes it really easy to store and transport your board. While it's essentially the same bag that they launched a year ago, this bag features an updated design and better-placed compression straps (something that we found inconvenient with the previous version of the bag).
Located along the front and sides of the bag are adjustable compression straps which do a good job of tightening everything up once the bag is fully packed. Previously, the side straps were mounted over the zipper which required you to completely undo the straps whenever opening the bag — a poor design which GILI has addressed with their updated bag.
Also located on one side of the bag is an elastic mesh storage pocket which is perfect for stashing your paddle. Just slip the ends of your paddle into the mesh pocket and secure the top pieces of the paddle by tucking them under the compression straps. In addition to saving you some space on the inside of the backpack, this will also prevent the ends of the paddle pieces from cutting holes in your bag.
At the top of the bag is a see-through luggage ID window which is handy if you're planning on flying with your board. On the other end of the bag are four rubber feet as well as a metal grommet which allows dirt and moisture on the inside of the bag to drain.
Located on the back of the bag is a grab handle as well as two padded backpack straps that are fully adjustable. The bag also features a chest strap and padded waist belt for additional stabilization when the bag is on your shoulders. For added comfort, GILI also integrated a breathable mesh back pad into the rear of the pack.
The only thing that we'd really like to see added to GILI's bag at this point is the addition of a carrying handle to the side of the bag without the mesh storage pouch.
Paddle
The included 3-piece travel paddle is well-designed and very nice. GILI paired a durable nylon blade with a lightweight carbon fiber shaft, resulting in a paddle that is tough and performs well.
This paddle is fully adjustable and extremely easy to assemble. The bottom two pieces are secured with a locking pin mechanism, while the top of the paddle incorporates a locking lever design. While a locking pin could have been used at both ends, it's nice to have the ability to change handle angles — something that the current lever closure allows.
The only thing that we'd really change about the paddle is exchanging the high-gloss carbon fiber finish for matte — but that's nitpicking.
Pump
GILI includes a high-quality GRI dual-action pump with the Adventure. The pump has a removable plug that you screw in during the beginning stages of the inflation process and remove once the pumping becomes difficult. When the plastic screw is in place, air is added to your board on both up and downstrokes which allows you to quickly add air to a fully deflated board. Once the screw is out, air will only be pumped into your board on the downstrokes which will give you the leverage needed to pump the board up to 15psi.
Included with the pump is a flexible inflation hose, and there's also a handy pressure gauge integrated into the pump's handle.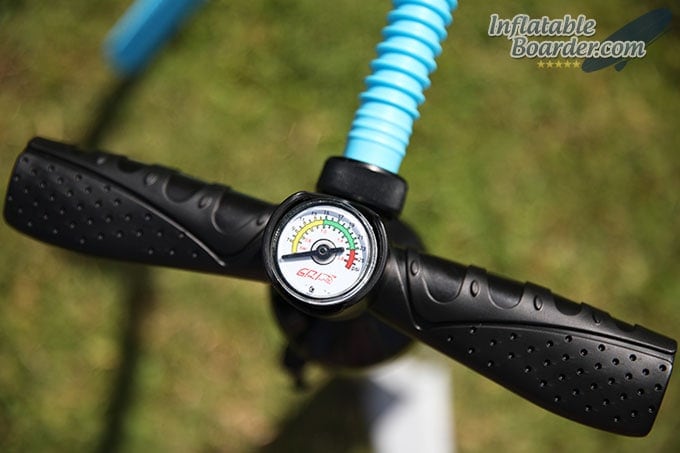 Leash
Also in the box is a 10′ coiled ankle leash with a durable, color-coded cord and comfortable neoprene cuff. There are metal swivels at both ends of the leash to prevent tangles, as well as a small hidden storage pouch in the cuff for your keys.
Repair Kit
Last but not least, GILI includes a basic iSUP repair kit with the board. The repair kit is housed in an orange plastic canister, and it comes with a valve wrench and two small PVC repair patches.
Warranty
As mentioned, both of GILI's inflatable paddle boards now come with an upgraded 2-year warranty which covers you in the event of a manufacturer defect. They also throw in a 60-day money back guarantee for added peace of mind. Lastly, each of the included accessories is covered by a 90-day warranty.
Where to Buy it + Discount
The 2019 GILI Adventure is now in stock and ready to ship at the company's official online store. Buying directly from GILI not only guarantees you'll get the best price, you'll also enjoy free shipping and no sales tax (unless you happen to be in Wyoming).
*SPECIAL LIMITED TIME OFFER
GILI is currently running a special promo through their website which you can take advantage of. Just click here to get the special coupon code, then add any two GILI SUP boards to your cart and enter the special promo code when checking out. A nice $80 discount will be automatically applied to your order.
Final Thoughts
Overall, we're really impressed with GILI's new 11′ SUP. This board can pretty much do it all, and it's definitely one of the nicer looking inflatables on the market right now. While it's true that GILI is a new company and the longterm durability of their boards has yet to be proven, it's reassuring to know that the Adventure is being manufactured by a top-rated factory that produces boards by some of today's best selling brands.