THURSO Waterwalker 132 Review | 2021
Inflatable Boarder is reader-supported and may earn a commission when you buy through links on our site. Learn more
The 2021 THURSO Waterwalker 132 is a popular all-around inflatable paddle board that is lightweight, sports a distinctive woodgrain look, and comes with a great set of accessories. The first SUP board ever released by THURSO, the 11′ member of the Waterwalker family has received several key refinements after major upgrades in 2020 and we'll cover it all in this THURSO Waterwalker 132 review.
THURSO SURF was founded in 2016 and has quickly gained a reputation within the paddleboarding industry for producing beautiful inflatable SUPs that are affordable and loaded with value. Currently, the company's lineup consists of a total of 7 inflatable SUP models including a fitness board, youth iSUP, touring board, cruiser SUP, and three all-around models.
In this updated THURSO Waterwalker 132 review, we'll take a look at the board's new design and features, construction, pros and cons, included accessories, how it performs, warranty, and more. We'll also tell you where you can buy the board as well as highlight current sales and discounts.
Specifications
Dimensions
Length
11'
Width
32"
Thickness
6"
Weight
Max Capacity
330 pounds
Board Weight
26 pounds
Kit Weight
(SUP & accessories)
44.5 pounds
Buying Info
List Price
$849
Warranty
2 years
Returns period
30 days
— In a Hurry? Here's a Quick Summary —
THURSO Waterwalker 132
Durability

Features

Versatility

Stability

Speed

Portability

Warranty

Customer Support

Price
Summary
The THURSO Waterwalker 132 is a 2021 Top Pick for anyone who wants an affordable, value-packed all-around inflatable SUP with high quality accessories.
Pros
New lighter woven drop stitch construction
New lighter carbon fiber paddle
New 3-stage pump with removable handles and folding feet
Convenient paddle holder along right rail
Beautiful wood grain design
Good rigidity
Excellent build quality
High quality set of included accessories
Cons
No exterior paddle pockets on backpack
Only one action mount
Not available in Australia
THURSO Waterwalker 132 Review: SUP Overview
Measuring 11′ x 32″ x 6″ and weighing 26 pounds, the THURSO Waterwalker 132 is a classic all-around paddle board that can be enjoyed by first-timers and advanced paddlers alike. The company has done a wonderful job of listening to customer feedback over the years and this version of the WW132 includes a variety of features and small details that make it a pleasure to use.
The WW132 has two other smaller siblings: the Waterwalker 126 which measures 10'6″x 31″ x 6″ and the Waterwalker 120 which measures 10′ x 30″ x 6″. Unlike most brands who only shorten the length of their shorter all-around boards while keeping the width the same, THURSO also scales down the width of these two smaller boards. While this makes them more responsive for smaller paddlers and kids, it makes them less stable for taller paddlers who might otherwise consider a 10′ SUP.
Appearance
We've always been big fans of THURSO's inflatable SUP designs and we think the new Waterwalker look introduced in 2020 was a real head-turner. For 2021 it is slightly refined, removing the center stripe from the deck pad and introducing more of the color to the bottom of the board. Importantly, THURSO's signature natural woodgrain look on the deck continues to be the star of the show and looks sharp on the water. While aesthetics are obviously a very subjective area, THURSO makes some of the best-looking inflatable paddle boards on the market today in our opinion, and it's certainly a distinctive design.
— Drag slider below to compare the 2020 and 2021 Waterwalker 132 —
Perhaps more importantly, they've updated their color scheme. Up until this year the color denoted the length of the board so you didn't have any choice of color. After hearing enough requests for more options from their customers, for 2021 THURSO has made all three lengths of the Waterwalkers available in three colors: Tangerine, Crimson, and Turquiose. Our review board is in the Tangerine color.
Features
— Click on hotspots for additional details —
The board features are largely unchanged from 2020 to 2021 (if you're already familiar with them you may want to jump to the construction section where there are big changes).
At the very front of the nose is the board's sole action mount. This can be used for attaching optional accessories like GoPro cameras and have become increasing popular in recent years. Just behind it is the front grab handle which is helpful for pulling the board in and out of the water.
Behind that is a massive 6-point bungee cord storage area which can be used to secure your dry bag, backpack, Crocs, or fishing gear. The bungee is tied with a simple overhand knot and is not sealed with any shrink tubing, so it could be removed if you'd prefer to have the space open.
Covering the top deck of the Waterwalker 132 is a comfortable EVA foam traction pad textured with tiny THURSO logos. This deck pad provides excellent grip while also being easy on the hands and feet. The pad is unobstructed by hardware anywhere you'd be likely to stand — something that can become a problem on SUPs that go overboard with the accessory mounts.
Located at the center of the Waterwalker 132 is a tough webbing carrying handle with a neoprene bottom that makes it easy to carry the board around when fully inflated.
There are also 4 stainless steel D-rings located along the board's rails surrounding the center handle which make it easy to attach optional accessories like the company's kayak seat kit. These can also be used as attachment points for tying down a SUP cooler, camping gear, etc.
One of our favorite features: THURSO has paddle holders to the right rail of the board. These nylon webbed loops feature secure velcro closures and are super convenient for those times when you want to set your paddle down and take a swim, shoot some photos, or just lay out and relax. We've yet to find a paddle holder solution on another brand of SUP that works as well as these.
At the tail of the board is a second much smaller 4-point bungee cargo storage area. There's also a grab handle which is great for pulling the board along the beach as it elevates the fins up off the ground, preventing damage caused by rocky beaches and other hard objects. The tail also features a D-ring for securing the included leash as well as an inflation valve.
Located on the underside of the board are the three removable fins in a 2+1 arrangement that use a convenient tool-less lever lock system to attach. Being able to remove all three fins not only gives you the ability to play around with different fin configurations — it also allows you to roll the board up into a smaller footprint for easier packing, storage, and transport. Additionally, stacking SUPs on the roof of your vehicle is also a lot easier when all of the fins are removable.
Construction
The 2021 THURSO Waterwalker 132 continues to feature dual-layer PVC construction for its outer layers. However, it introduces a significant new technology to its design, woven drop-stitching.
Drop stitch is the internal material construction that enables an inflatable paddle board to keep its distinct shape even under high pressure. Woven drop stitch is an advanced version of this process with several distinct benefits: it's lighter than standard drop stitch, it makes the SUP easier to roll up when deflated, yet the board is stronger and more rigid when inflated. You can see why this is a benefit on all fronts.
In addition, the Waterwalker 132 also features carbon fiber reinforced side rails introduced in 2020. These provide the SUP additional lateral rigidity as well as abrasion resistance where you need it the most.
Paddling Performance
The Waterwalker 132 has excellent rigidity thanks to its woven drop stitch construction and carbon fiber reinforced side rails. At 32 inches wide, this model offers greater stability than the 31 inch wide Waterwalker 126 or 30 inch wide Waterwalker 120 and its versatile design is suitable for beginner to advanced paddlers. For those in need of even more stability, we recommend checking out the 34 inch wide THURSO SURF Max for a cruiser SUP or the THURSO Tranquility for a fitness/yoga SUP.
Capable of doing a lot well, this board is fun on flatwater, small surf, and it can even be used for fishing. The Waterwalker 132 glides well although in our testing we found the tracking to not be quite as straight as the the NIXY and BLACKFIN boards.
Our Impressions: Likes and Dislikes
The Waterwalker 132 has been a regular on our all-around Top Picks list for a number of years now, so we're pleased to see that they continue to find ways to improve an already great board.
The highlights for 2021 for the SUP itself are undoubtedly the upgrade to woven drop stitch construction and the introduction of color choices. That might not sound like much, but the change trimmed four pounds off the board's weight and comes on the back of more substantial changes in 2020 that included the introduction of an action mount, and carbon fiber reinforced side rails.
Some of our favorite details continue to be:
the excellent paddle holders on the right side rail
the massive front storage area
the iconic woodgrain look and stylish design
the high quality included accessories
Important updates were made to the included accessories too, which we'll cover below.
As far as cons go, we do have a few quibbles. As mentioned, the tracking, while not bad, was not as straight as we expected. Also, the single action mount is lagging behind the competition as the action mount wars heat up — whether this is an issue for the buyer will depend on the individual paddler's needs.
Finally, we wish THURSO would consider making the cargo bungee cords adjustable and removable like NIXY SPORT's. These are all minor details, though, and overall the 2021 Waterwalker 132 is a strong update.
Acessories: What's Included
The SUP accessory bundle is another area where THURSO SURF has always shined. THURSO has a reputation for packing a lot of added value into the included accessories and they've continued to do that in 2021.
When you open the box, you'll find the board, a premium wheeled roller backpack, improved 3-piece carbon fiber shaft paddle, high-quality triple-action pump, SUP leash, iSUP repair kit, and user manual. This is an incredibly nice package of accessories that really sets the Waterwalker 132 apart from most other options in this price range.
Roller Backpack
Unlike many other iSUP backpacks that you see included in accessory bundles, THURSO used a thicker material to construct the bag with which should definitely result in impressive long-term durability. It's also fully lined on the inside to further reduce wear and snags. Overall the bag has the look and feel of a nice piece of soft sided luggage, rather than the typical SUP bag.
On the front of the pack is a large zippered storage pocket for organizing accessories and there's even a clear storage pouch on the front of it with a velcro closure.
On both sides of the bag are compression straps for cinching up your gear when the bag is fully packed. There are handy and well padded grab handles — the handles are really useful for those times when you're loading and unloading the bag.
On the bottom of the backpack are two roller wheels. These wheels are smooth rather than treaded, so tend to do well on hard surfaces like sidewalks and might struggle in sand or thick grass. Also located on the bottom of the bag are two plastic feet and the entire bottom of the backpack is heavily reinforced which helps it to stand up on its own nicely. If you're looking for a tough iSUP backpack that will hold up well to travel and serious use, THURSO's newest version won't disappoint.
On the top of the bag is another grab handle and there is also a transparent luggage ID window on the top of the back of the bag.
The rear of the backpack features two lightly padded straps. The straps are fully adjustable. Another nice feature is the adjustable padded waist belt which also helps to keep the weight well-balanced when it's on your shoulders. There's also a back cushion covering the rear of the pack which is covered in breathable mesh material for added comfort.
This bag has two zippers which zip all the way open on both sides for a nice wide opening which gives you great access to the interior compartment. On the inside, there are two more compression straps as well as a large mesh organization pocket.
All in all, THURSO's bag is a sharp looking and highly functional bag. We only wish that the wheels were bigger with more tread to better handle rough terrain and that there was more padding on the shoulder and waist straps. Also it would be nice to have some external paddle pockets on the sides of the bag.
Paddle
The included paddle is a 3-piece floating carbon fiber paddle in a matte finish. THURSO's previous carbon fiber paddle was quite nice – in fact our favorite of the 2020 season. However the new paddle is shockingly lighter, introducing a new carbon nylon blend blade to replace the old nylon blade.
This lighter weight is critical since the paddle is the piece of equipment you're lifting hundreds or thousands of times a day. In practice, it made as big or a bigger difference in the experience of the SUP as the actual weight reduction in the board itself from the construction changes.
Although the blade's area is slightly less than the previous one, we didn't notice any loss of power when paddling and the blade was just as stiff. The carbon fiber shaft remained the same.
Most importantly, THURSO's t-grip with the grippy rubber finish remained unchanged. They appear to be the only brand using this grip and nearly every paddler we have try it finds it far superior to grips on the included paddles from the other major brands.
Dual Chamber Pump
Also included is THURSO's dual-chamber, three-stage hand pump. New for this year, the pump's feet now fold up and the handles can be unscrewed and stowed on the back of the pump's housing. This creates a streamlined shape that's easier to fit in the backpack or other small spaces.
If you're not familiar with how a three stage pump works, it's quite easy. You start with the control paddles (previously a control dial) in the first position and start pumping. This allows you to add air to the board on the upstrokes and on the downstrokes for quick inflation.
Once pumping begins to get more difficult, just switch the paddles to stage #2. In this mode, air will only be added to the board on the downstrokes for easier pumping. Once this becomes too difficult, you'll set the paddles to stage #3 to finish inflating the board.
The pump also has a built-in pressure gauge which is super convenient. You'll never have to guess what the inflation pressure is or disconnect the hose to check — it's displayed right there on the pump's body.
You can also use the deflation port to help remove air from your SUP as well. At the end of the day once you've rolled most of the air out of your board, attach the hose to the deflation port on your pump and to the valve on your board. Pump just as if you were going to inflate the board. Instead, it will suck the last remaining air out of the board to give you a factory-like vacuumed-flat board. Once all the air is removed, detach the hose and close the valve. You can now easily roll up the board smaller than you thought possible!
Leash
We also love the fact that THURSO promotes paddling safety by including a SUP leash with all of their inflatable paddle boards. SUP leashes are an important SUP safety accessory that saves lives and more companies should be including them in their package of SUP accessories.
The included leash features a durable coiled cord that stays out of the water when you're paddling. There are dual metal swivels at both ends to prevent tangles.
Repair Kit
Lastly, the board comes with a user guide and an iSUP repair kit. The repair kit is housed in a high-visibility orange plastic container and includes a brush for applying adhesive, PVC patches, valve wrench, and replacement lever lock for the fins.
Warranty & Returns Info
THURSO's inflatable SUPs include a 2-year warranty which covers manufacturer defects. Should you run into any issues in the first 24 months of ownership, the company will refund or replace your board. We should also mention that THURSO is one of the best companies we've ever dealt with in terms of customer service — this is a company that really stands behind their gear and they place a very high value on their customers' satisfaction.
Where to Buy it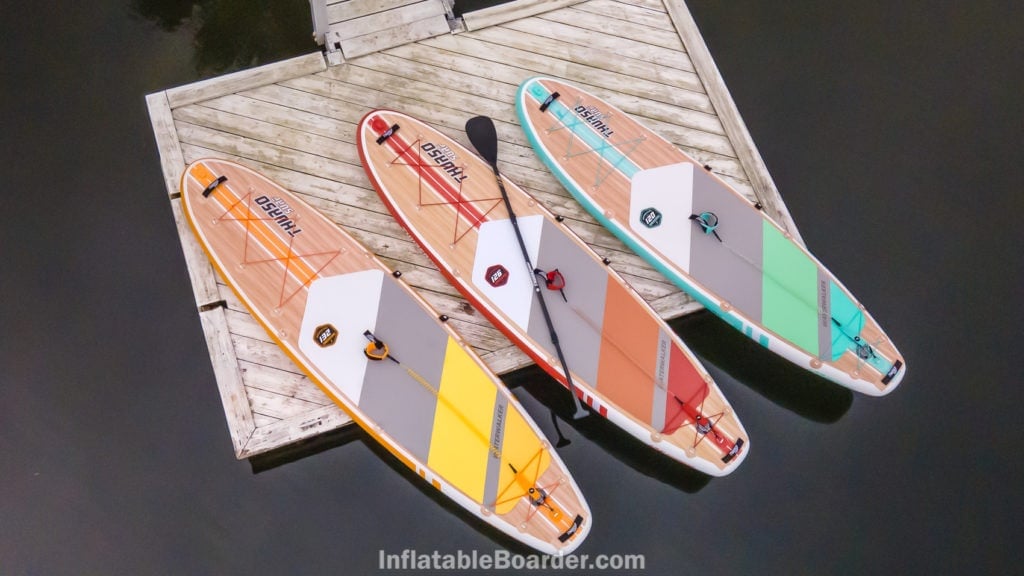 THURSO SURF sells the Waterwalker directly through their official online store. In addition to giving you the lowest price, THURSO will also ship the board to your doorstep for free and won't charge you sales tax. THURSO sells and supports their SUPs in the United States, Canada, the UK, and Europe.
Sales and Discount Codes
At times during the year, THURSO will have special sales or discounts. The best way to stay current on the latest deals is to check out our SUP sales and paddle board discounts page.
Final Thoughts
The 2021 THURSO Waterwalker 132 is a fantastic choice for anyone who wants an affordable, value-packed all-around inflatable SUP that's versatile enough for a wide variety of paddling activities and conditions.
After major changes in 2020, THURSO has refined the Waterwalker family in 2021 with a key update to woven drop stitch construction, new color options, and some nice enhancements to their already top-class included accessories.
So if you're in the market for a handsome inflatable SUP that ticks all the boxes when it comes to beautiful design, affordability, overall value, and versatility, the Top Pick THURSO SURF Waterwalker 132 is a board that we highly recommend. We only hope that they make it back to the Australia market soon.
More Paddle Boards from THURSO Surf