The THURSO SURF Waterwalker 11′ inflatable SUP is a brand new board for 2017 by an up-and-coming company on the paddleboarding scene. Measuring 11′ x 32″ x 6″ and weighing in at 26 pounds, this is a nice all-around iSUP that is stable and great for a variety of water conditions and paddling activities.
THURSO SURF was founded in 2016 and while this is their only model at the moment, the company has several new boards in the works including a 10'6″ all-around board, a 12'6″ cruising iSUP, and an inflatable paddle board for kids. The company's goal is to provide extremely high value at affordable price points, and with the release of their 11′ iSUP, they're doing just that.
In this THURSO SURF 11′ inflatable SUP review, we'll take a look at the overall design of this board, the construction and standout features, the pros and cons, what SUP accessories are included with the board, and more.
In a Hurry? Here's a Quick Summary…
Pros
Beautiful design
Very rigid
Good durability
Stable
Glides well
Versatile, all-around board
Easy-to-use, toolless fin system
D-ring at nose for towing
Extremely nice bundle of SUP accessories included
Great overall value
Excellent customer service
2-year warranty
Cons
Tracking (single fin) THURSO just upgraded the board to a 2+1 fin setup
Price & Where to Buy it
THURSO SURF 11′ Inflatable SUP Review: Board Overview
The THURSO SURF Waterwalker 132 features one of the most beautiful designs we've ever seen on an inflatable SUP. The top deck of the board has a handsome natural wood grain appearance and a good-looking 2-piece EVA foam traction pad. The front and rear section of the rails is gray, while the middle is white with a silver pinstripe and the THURSO SURF logo in black. The bottom of the board is entirely white, and there's another black THURSO SURF logo placed near the board's fins.
The 2-piece foam deck pad has a grooved pattern that is very comfortable to stand on and provides great traction while paddling. The larger of the two pieces is white and gray, while the smaller section is black with white and gray accents.
At the nose of the board is a reinforced stainless steel D-ring for towing, as well as four additional D-rings and a bungee cord storage area. This is a great place to secure your dry bag, Crocs, and other gear.
The middle of the board features a durable carrying handle that makes it easy to carry the board around when it's fully pumped up. The handle is constructed out of black nylon webbing and has the THURSO logo embroidered on it in white. We'd love to see some additional D-rings located along the sides of the traction pad for tying down more gear or attaching a kayak seat, perhaps that's something that the company will incorporate in the future.
At the board's tail is another D-ring for attaching a SUP leash, as well as the inflation valve. The air valve on the THURSO SURF Waterwalker 11′ iSUP is the popular Halkey Roberts-style that is compatible with many different pumps being sold today.
On the flip side, our board features a large, removable single fin setup. The fin is made out of very hard, durable plastic and uses a toolless "clip" system. Installing the fin is very easy to do — it just slides into place and is secured by sliding the locking plastic clip into place. The company has since upgraded the board to a 2+1 fin configuration, and all three fins share the same toolless fin system. It's super convenient, and there are no tools to lose.
Construction
The THURSO SURF 11′ inflatable paddle board is constructed out of a bombproof, military grade drop stitch material. This board has dual layer construction, and the outer PVC layer is designed to withstand cuts, scrapes, and punctures. Unlike rigid boards that ding, crack, and require costly repairs, the THURSO SURF 11′ Waterwalker is ding-proof and can bounce off rocks, sticks, and other objects without being damaged.
The fin and hardware are also high-quality and built to last.
Inflation and Setup
Setting up the THURSO Waterwalker 11′ inflatable paddle board is an easy, straightforward process. After rolling the board out, just unscrew the valve cover, make sure that the stem is in the up position, twist on the pump's inflation hose, then start pumping.
The total inflation time varies depending on the individual, but you should have the board pumped up in less than 10 minutes. Once the board reaches the recommend inflation pressure of 15 PSI, just twist off the hose and tightly screw on the valve cover.
Last but not least, attach your SUP leash and then flip the board over to install the fin.
Deflating and Packing it up
When you're done paddling, we'd recommend rinsing your board off well with fresh water and wiping it down with a dry towel. Next, unscrew the valve cover and press the stem down for a few seconds, leaving it in the down position (you'll hear a loud rush of air when you do this). The THURSO SURF Waterwalker 11′ will deflate on its own for several minutes, then you can simply remove the fins and roll the board up (starting at the nose) to push out any remaining air.
Once your board has been rolled up, place the included nylon compression strap around the middle of the board and tighten it to keep your board neatly compressed.
Paddling Performance
This board has excellent rigidity and plenty of buoyancy for supporting heavier paddlers, carrying gear, children, dogs, etc. The THURSO SURF 11′ glides well in the water, and it has a versatile design that is suitable for beginner to advanced paddlers.
This board features a nice nose rocker profile and a squared off tail. It's a good choice for surfing small waves, flat water paddling, touring, and even SUP fitness.
While not terrible, tracking is an area where things could be (and have been) improved. Our board features a single fin setup and it just doesn't track in flat water as well boards with three fins. The company quickly addressed this fact, and the board now ships with a 2+1 configuration which improves overall tracking capabilities. Also, the newly-released THURSO 10'6″ Waterwalker and THURSO SURF 11'6″ Expedition both feature the same tri-fin setup.

THURSO SURF Waterwalker 11' Rating
Durability
Features
Versatility
Stability
Speed
Portability
Warranty
Customer Support
Price
Specs
| | |
| --- | --- |
| Length | 11' |
| Width | 32" |
| Thickness | 6" |
| Weight | 26 pounds |
| Max Capacity | 330 pounds |
| Price | |
What's Included
This is another area where the THURSO SURF 11′ SUP really shines. The company has done a fantastic job of packing an extreme amount of value into this board by including everything you need to start paddling (and then some).
When you open the box, you'll find the board, a 3-piece carbon fiber shaft SUP paddle, a high-quality dual-action pump, a SUP leash, backpack, iSUP repair kit, and insulated deck bag. This is a super nice package of accessories that really sets the THURSO SURF Waterwalker 11′ apart from other options in this price range. THURSO also includes a solid 2-year warranty which covers manufacturer defects. Should you run into any manufacturer defects in the first 24 months of ownership, the company will refund or replace your board on the spot.
The 3-piece carbon shaft travel paddle is a nice upgrade over the usual aluminum or fiberglass paddles that you typically see included with boards in this price range. It has a sporty, nice-looking design and is both stiff and lightweight.
THURSO's HP2 dual-action hand pump makes it easy to inflate the board to the recommended pressure of 15 PSI. The dual-action mode allows you to pump air into the board on the up strokes and on the down strokes. When pumping begins to get more difficult, just switch the pump over to single-action mode to finish inflating the board to 15 PSI.
The pump also has a built-in pressure gauge which is convenient and easy to use. You don't have to guess what the inflation pressure is or disconnect the hose to check — it's displayed right there on the pump.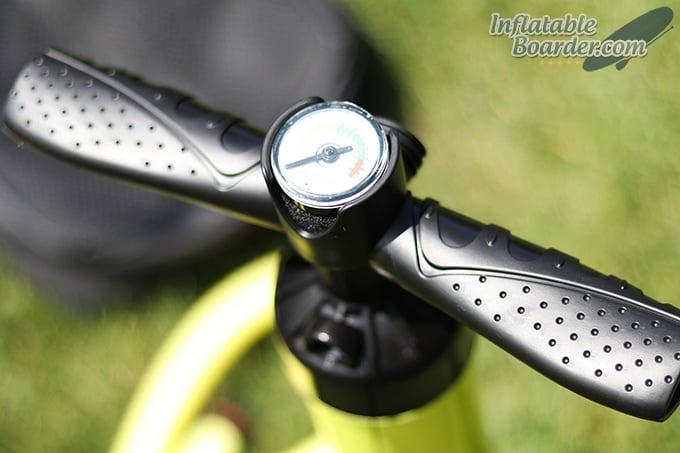 We also love the fact that THURSO included a SUP leash with this board. SUP leashes are important SUP safety accessories that saves lives, and more companies should be including them in their package of SUP accessories.
The included leash is basic, but it definitely gets the job done. It has a straight cord design that is great for surfing, but for flat water paddling we prefer a coiled SUP leash with less drag. Shipping a coiled leash with the board instead of the straight cord is something else that we feel would be a nice improvement.
THURSO's SUP backpack is very nice, and it's perfect for storing and transporting the bag. The backpack holds the board and all included accessories, and it has a well-thought out design.
On the exterior of the bag is a clear zippered storage pocket which is perfect for stashing your fins and other small accessories. There are heavy duty grab handles located at the top, sides, and back of the bag — these really come in handy when you're pulling the bag out of the car or picking it up.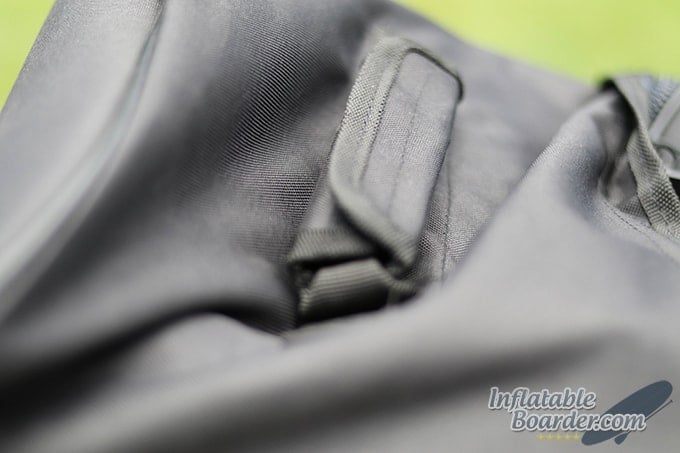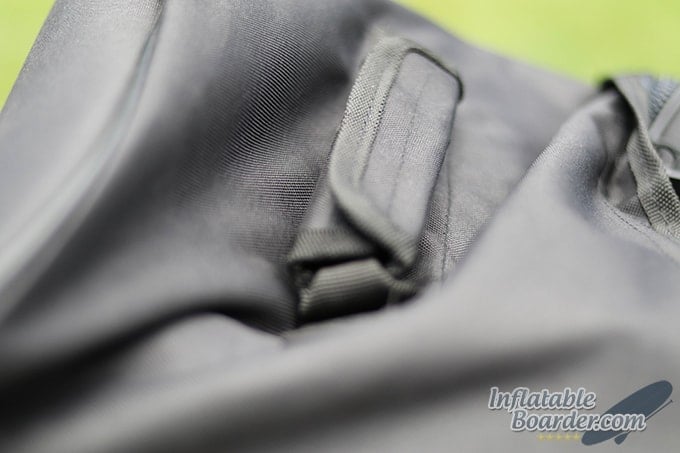 The zippers on the bag are good quality, and there are two padded backstraps, padded back supports, a sternum strap, and a waist strap. The backpack straps are fully adjustable and have nylon webbing and a few D-rings to clip accessories to.
Packing and unpacking the bag is very easy, thanks to the convenient clamshell design. Just unzip the bag completely and lay open the top lid.
Overall, this is a very nice SUP backpack that gets the job done well. One area where we think improvements could be made is incorporating some exterior compression straps to cinch the bag down once it's fully packed.
Last but not least, the THURSO 11′ SUP comes with a nice insulated deck bag. This bag is great for bringing along drinks and food, and it can hold 10 aluminum cans and enough ice to keep things cool.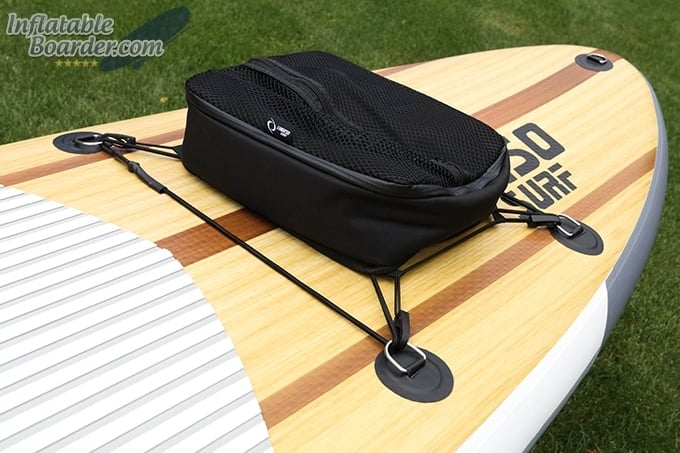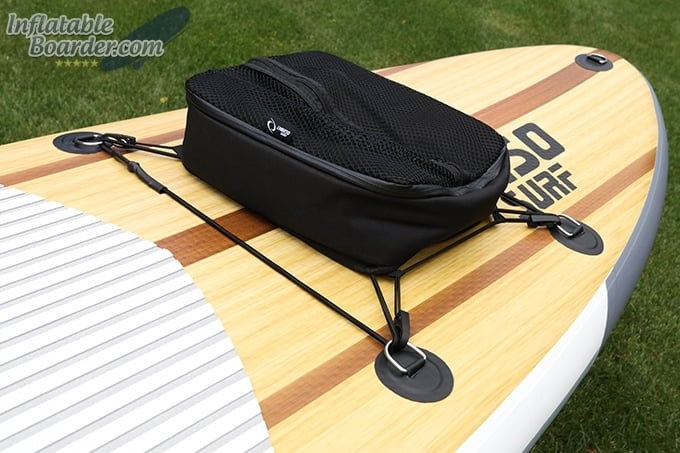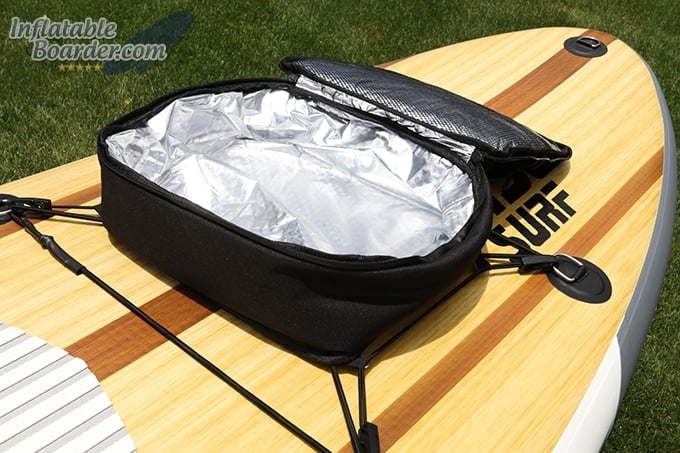 Final Thoughts
All in all, this inflatable paddle board is a fantastic choice for anyone who wants an affordable, value-packed iSUP that's versatile enough for a wide variety of paddling activities and conditions.
This promising up-and-coming SUP company has done a wonderful job with the launch of their first model, and we're really excited to see what they have in store for the future. This is a company that is obviously tuned in to what the market wants, and they are doing a great job so far of overdelivering when it comes to value.
While aesthetics is obviously a very subjective area, this is one of the best looking inflatable paddle boards on the market today in our opinion. The natural woodgrain appearance of the top deck paired with the gray and white rails is eye-catching, and we hope that this is a look that the company continues to utilize with their future models. This is an inflatable SUP that really stands out from the crowd and looks absolutely stunning in the water.
If you're looking for a unique inflatable SUP that ticks all the boxes when it comes to beautiful design, affordability, overall value, and versatility, the THURSO SURF Waterwalker 11′ is a board that we highly recommend.