THURSO SURF Waterwalker 11′ Review | 2020
Inflatable Boarder is reader-supported and may earn a commission when you buy through links on our site. Learn more
The first inflatable SUP board released by THURSO SURF, the popular Waterwalker 11′ has gotten a complete makeover for 2019 and comes loaded with several exciting new features…
THURSO SURF was founded in 2016 and has quickly gained a reputation within the paddleboarding industry for producing beautiful inflatable SUPs that are affordable and loaded with value. Currently, the company has a total of 5 inflatable SUP models including a fitness board, youth iSUP, touring board, and all-around models.
In this updated 2019 THURSO SURF Waterwalker 11′ review, we'll take a look at the board's beautiful new design and features, construction, pros and cons, included accessories, how it performs, warranty, and more. We'll also highlight several optional add-ons that the company has made available for 2019 and tell you where you can find the board for the best price. Lastly, for our readers who prefer video, we've added several to this write-up including in-depth review, setup, and unboxing videos.
In a Hurry? Here's a Quick Summary…
Pros
Beautiful new design for 2019
Rigid
Durable
Good stability
Glides and tracks well
Versatile
Three removable fins for easier packing, racking, and storage
Handy front and rear grab handles
Enlarged front bungee storage area
Second bungee storage area at tail
Convenient paddle holders along right rail
New and improved bundle of SUP
Great overall value
Excellent customer service
2-year warranty
Cons
A bit on the heavy side
Price & Where to Buy it
THURSO Waterwalker 11′ Review: SUP Overview
Subscribe to our YouTube Channel!
Measuring 11′ x 32″ x 6″ and weighing in at 29 pounds, the new THURSO Waterwalker 132 is a fun and incredibly versatile board that can be enjoyed by first-timers and advanced paddlers alike. The company has done a wonderful job of listening to customer feedback and this latest version of the WW132 includes a variety of new features and improvements.
(*Drag slider below to compare the 2018 and 2019 Waterwalker 11')
Features
We've always been big fans of THURSO's inflatable SUP designs and we think the new Waterwalker 11′ is a real head-turner. As you'd expect from the company, the deck sports a handsome natural woodgrain appearance that looks absolutely stunning on the water when paired with the board's white and gray rails. While aesthetics is obviously a very subjective area, THURSO makes some of the best-looking inflatable paddle boards on the market today in our opinion…
(*Hover over hotspots for additional details)
Massive front bungee storage area for your dry bag, backpack, Crocs, and other gear.
1 of 8
A new addition for 2019, the rear bungee storage area gives you additional carrying capacity and is great for those times when there's a passenger or pup at the nose.
2 of 8
Center carrying handle makes it easy to carry the Waterwalker 11′ when fully inflated.
3 of 8
Convenient rear grab handle allows you to pull your board along the beach with the fins elevated, preventing damage caused by rocks and other hard objects.
4 of 8
Handy front grab handle makes it easy to pull the Waterwalker 11′ in and out of the water.
5 of 8
D-rings along rails for quick attachment of optional accessories or tying down a cooler or other gear.
6 of 8
Paddle holders along right rail to secure your paddle for those times when you want to take a swim, shoot some photos, or just lay out and relax.
7 of 8
Super comfy EVA foam traction pad provides excellent grip while being easy on hands and feet.
8 of 8
Covering the top deck of the WW132 is a handsome EVA foam traction pad with a comfortable ribbed design. This deck pad provides excellent grip while also being easy on the hands and feet.
Located at the center of the Waterwalker 11′ is a tough carrying handle that makes it easy to carry the board around when fully inflated.
There are also 4 stainless steel D-rings located along the board's rails which make it easy to attach optional accessories like the company's kayak seat kit. These can also be used as attachment points for tying down a SUP cooler, camping gear, etc.
One of our favorite new features for 2019, THURSO has added paddle holders to the right rail of the board. These nylon webbed loops feature secure velcro closures and are super convenient for those times when you want to set your paddle down and take a swim, shoot some photos, or just lay out and relax.
At the nose of the Waterwalker 11′ is a massive bungee cord storage area which can be used to secure your dry bag, backpack, Crocs, or fishing gear. THURSO added 2 more D-rings to the front bungee area for 2019 (for a total of 6), greatly expanding its storage capacity.
Also located at the board's nose is a newly improved grab handle which is helpful for pulling the board in and out of the water.
The company has also made some big improvements to the tail of the Waterwalker 11′ this year. New for 2019 is a second bungee storage area at the rear of the board with 4 D-ring attachment points. There's also a new grab handle which is great for pulling the board along the beach as it elevates the fins up off the ground, preventing damage caused by rocky beaches and other hard objects.
The tail also features a final D-ring for securing the included leash as well as a BRAVO inflation valve.
Located on the underside of the board are three removable fins that use a convenient toolless lever lock system to attach…
Being able to remove all three fins not only gives you the ability to play around with different fin configurations — it also allows you to roll the board up into a smaller footprint for easier packing, storage, and transport. Additionally, stacking SUPs on the roof of your vehicle is also a lot easier when all of the fins are removable.
Construction
The THURSO SURF Waterwalker 11′ is constructed out of a bombproof, military-grade drop-stitch material. This board has dual-layer construction and the outer PVC layer is designed to withstand cuts, scrapes, and punctures. Unlike rigid boards that ding, crack, and require costly repairs, the Waterwalker 11′ is ding-proof and can easily bounce off rocks, sticks, and other objects without being damaged.
THURSO also added two reinforcement seams along the sides of the board which cover the joining area between the top and rails. The result is a board that's even tougher than last season's.
Paddling Performance
The Waterwalker 11′ has excellent rigidity and plenty of buoyancy for supporting heavier paddlers, carrying gear, children, dogs, etc. This model offers greater stability than the company's smaller Waterwalker 10'6″ and its versatile design is suitable for beginner to advanced paddlers. For those in need of even more stability, we recommend checking out the 34″ wide THURSO SURF Max.
Capable of doing a lot well, this board is fun on flatwater, small surf, and it can even be used for fishing and SUP fitness. The Waterwalker 11′ glides and tracks well in the water and we find that it paddles better than many other all-around boards due to the fact that THURSO incorporated more of a touring shape. For paddlers who are looking for even greater performance, we highly recommend checking out the company's brand new Expedition touring SUP.
Setup Video
Subscribe to our YouTube Channel!
Likes and Dislikes
We're really happy with all of the changes that have been made to this board for 2019. While the original version of this model was nice, the new features and improvements for this season have really added value and versatility.
For those who enjoy camping or bringing along a lot of extra gear, the 2019 Waterwalker 11′ has an abundance of onboard storage capacity. The front and rear bungee areas give you a quick and convenient place to secure dry bags and backpacks and the D-rings located along the board's rails can also be used to tie down larger items such as a SUP cooler.
We're also a big fan of the new paddle holders located along the right rail of the board. While the previous velcro carrying handle did a fine job of securing your paddle, it positioned the paddle directly in the center of the board's deck which made it incredibly uncomfortable to sit or lay down on. Now, you can secure your paddle out of the way along the rail, leaving the entire traction pad free and clear.
We also happy to see that a rear grab handle has been added as this is the one that we reach for the most. Having a grab handle at the tail allows you to pull the board with fins elevated, avoiding potential damage caused by rough or hard objects.
Lastly, the company has made some great improvements to their SUP accessory bundle — we'll discuss those in detail below.
As far as cons go, the only thing we can fault the board for at this point is weight — at 29 pounds, it's a bit on the heavy side. While not at all unmanageable, it would be nice to see a few pounds shaved off in the future. Of course, the increased weight is due to the new features and reinforcement layers, so you do get a tougher, more feature-rich board as a result — it's a trade-off that's worthwhile in our opinion.
THURSO SURF Waterwalker 11' Rating
Durability

Features

Versatility

Stability

Speed

Portability

Warranty

Customer Support

Price
Specs
| | | |
| --- | --- | --- |
| | Length | 11′ |
| | Width | 32″ |
| | Thickness | 6″ |
| | Weight | 29 pounds |
| | Max Capacity | 330 pounds |
| | Price | |
What's Included
The SUP accessory bundle is another area where THURSO SURF has always shined. THURSO has a reputation for packing a lot of added value into the included accessories and they've continued to do that in 2019.
When you open the box, you'll find the board, a brand new premium wheeled roller backpack, improved 3-piece carbon fiber shaft paddle, high-quality dual-action pump, SUP leash, iSUP repair kit, and user manual. This is an incredibly nice package of accessories that really sets the Waterwalker 11′ apart from most other options in this price range.
Unboxing Video
Subscribe to our YouTube Channel!
Backpack
THURSO's previous SUP backpack was a basic, no-frills bag that got the job done. This year, the company has pulled out all of the stops and included a premium-level wheeled roller bag that is built incredibly well and has a ton of great features.
Unlike many other iSUP backpacks that you see included in accessory bundles, THURSO used a thicker material to construct the bag with which should definitely result in impressive long-term durability. On the front of the pack is a large zippered storage pocket for organizing accessories and there's even a clear storage pouch on the front of it with a velcro closure.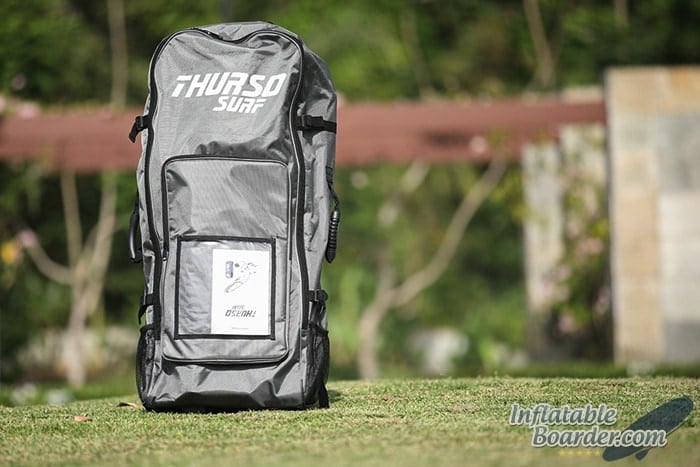 Also located on the bag's exterior are compression straps for cinching up your gear when the bag is fully packed. There are handy grab handles and elastic mesh storage pockets located along both sides of the bag — the handles are really useful for those times when you're loading and unloading the bag, and the pockets can be used to secure your paddle, towel, change of clothes, water bottle, etc.
On the bottom of the backpack are massive roller wheels with deeply grooved traction. Whether you're pulling the bag behind you on a sidewalk or off-road, these wheels roll nicely and make it so much easier to transport your board.
Also located along the bottom of the bag is another heavy-duty plastic grab handle and the entire bottom of the backpack is heavily reinforced which helps it to stand up on its own nicely. Additionally, since the bottom is the highest wear area on a SUP backpack, we're happy to report that it's well-covered by a thick dimpled rubber material. If you're looking for a tough iSUP backpack that will hold up well to travel and serious use, THURSO's newest version won't disappoint.
On the top of the bag is another grab handle and there is also a transparent luggage ID window…
The rear of the backpack features two heavily-padded straps with nylon webbed loops and plastic D-rings for attaching small accessories. The straps are fully adjustable and there's also a sternum strap for stabilizing the pack when it's on your back.
Another nice feature is the adjustable padded waist belt which also helps to keep the bag centered and well-balanced when it's on your shoulders. There's also a thick back cushion covering the rear of the pack which is covered in breathable mesh material for added comfort.
This bag has two zippers and a nice wide opening which gives you great access to the interior compartment. On the inside, there are two more compression straps as well as a large mesh organization pocket and a smaller clear pouch.
All in all, THURSO's new bag is awesome and a massive improvement over their previous backpack. The only thing we'd like to see changed in the future is repositioning the wheels to the opposite side of the bag — this would make the bag even more comfortable when it's on your back as the roller wheels won't dig into your backside. Another advantage to repositioning the wheels is the straps won't drag on the ground when you're rolling the bag behind you.
Paddle
THURSO's previous 3-piece carbon fiber shaft SUP paddle was quite nice, but we did have some issues with it due to a less-than-reliable design. As we reported in our previous review, on more than one occasion the paddle actually came apart on us while we were on the water and we're happy to report that this issue has been completely addressed by THURSO with their 2019 paddle.
THURSO's new carbon fiber shaft travel paddle is a big upgrade over the usual aluminum or fiberglass paddles that you typically see included with boards in this price range. It has a sporty design that looks great and it's lightweight and floats.
The blade of this year's paddle is the same as last season — it's a very durable, rigid nylon blade that is nicely branded with the THURSO logo on one side.
Previously, the carbon fiber shaft of THURSO's paddle featured a glossy finish and we're happy to report that this year the company has transitioned to a matte finish. In our opinion, the matte shaft feels so much nicer in the hands and just has a more "premium" look to it.
Pump
Also included with the Waterwalker 11′ is THURSO's dual-action hand pump. This is a reliable pump that allows you to add air to the board on the upstrokes and on the downstrokes.
Once pumping begins to get more difficult during the inflation process, just switch over to single-action mode to finish inflating the board to 15 PSI. In this mode, air will only be added to the board on the downstrokes.
The pump also has a built-in pressure gauge which is super convenient. You'll never have to guess what the inflation pressure is or disconnect the hose to check — it's displayed right there on the pump's handle.
Leash
We also love the fact that THURSO promotes paddling safety by including a SUP leash with all of their inflatable paddle boards. SUP leashes are an important SUP safety accessory that saves lives and more companies should be including them in their package of SUP accessories.
The included leash features a durable coiled cord that stays out of the water when you're paddling. There are dual metal swivels at both ends to prevent tangles, and the comfortable neoprene ankle leash has a built-in hidden key storage pocket.
Repair Kit
Lastly, the WW132 comes with a user guide and an iSUP repair kit. The repair kit is housed in a high-visibility orange plastic container and includes a brush for applying adhesive, PVC patches, valve wrench, and a replacement lever lock for the fins.
Optional Add-ons
THURSO also has a growing line of paddling accessories and we wanted to mention a few optional add-ons that you may want to consider.
Electric Pump
New for 2019 is THURSO's electric iSUP pump. The most compact electric paddle board pump we've reviewed to date, this pump will conveniently fit inside of your SUP backpack or car and is incredibly lightweight.
The pump has a digital LCD display and easy-to-use push-button operation. Just plug the pump into the cigarette lighter adapter in your vehicle, set it to your desired inflation pressure, and hit the on button — the pump will quickly inflate the Waterwalker 11′ and the auto shutoff feature safely turns it off once the process is complete. It's incredibly convenient and once you use an electric pump, you'll wonder how you ever got along without one.
Kayak Seat
Another great accessory to consider is THURSO's kayak seat. This is a comfortable seat that folds down compactly and will fit into your backpack.
This accessory adds a lot of versatility to the Waterwalker 11′ as you'll be able to paddle it standing up and seated — kayak-style. It attaches quickly and easily by clipping the metal hooks to the D-rings along the Waterwalker 11's rails. Also, the creative design of THURSO's new carbon fiber shaft paddle allows a second blade to be quickly attached to the handle end of the paddle, transforming your SUP paddle into a kayak paddle.
Full Carbon Fiber Paddle
For those who want an even lighter weight paddle with a greater emphasis on performance, THURSO SURF offers an affordable full carbon fiber paddle.
This paddle shares the same shaft as the included paddle but replaces the standard nylon blade with a lightweight full carbon version.
Paddlers who favor toughness in a paddle blade should stick with the standard paddle — this full carbon model is designed for those who are interested in better performance.
SUP Cooler Deck Bag
THURSO previously included a basic SUP cooler deck bag in their accessory bundle, but that's gone for 2019 as the company has instead decided to focus its efforts on improving the quality of their backpack and paddle.
Replacing their previous insulated cooler bag is a new premium version which we really like. This is a really versatile cooler bag with a soft-sided lunchbox design — in addition to paddling with it, you can also bring it along to ballgames, work, day trips, etc.
The top of the bag features a handy carrying handle as well as two mesh storage pockets with velcro closures. There are also clips along the sides of the bag for attaching the included shoulder strap — a really convenient option that we love.
Located on the bottom of the bag are four attachment points and handy mounting hardware for quickly securing the bag to the deck of your SUP. You can attach this bag to the front or tail of your Waterwalker 11′.
Lastly, the interior of the bag features a large mesh storage pocket as well as a fully insulated liner to keep your food and drinks cool.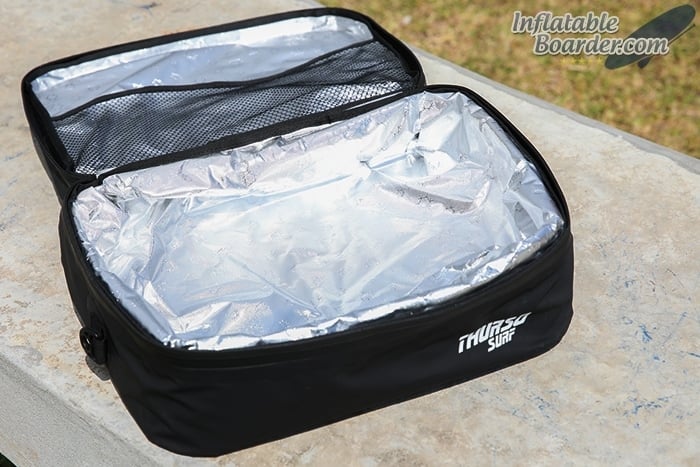 Apparel
THURSO is also launching an apparel line this season. So far, they've introduced newly-designed hats, t-shirts, and sunglasses — perfect casual wear for a fun day of paddling…
Warranty
THURSO's inflatable SUPs include a rock-solid 2-year warranty which covers manufacturer defects. Should you run into any issues in the first 24 months of ownership, the company will refund or replace your board on the spot (your choice). We should also mention that THURSO is one of the best companies we've ever dealt with in terms of customer service — this is a company that really stands behind their gear and they place a very high value on their customers' satisfaction.
Where to Buy it + Discount
You can order the 2019 THURSO SURF Waterwalker 11′ SUP directly from the company through their official online store. In addition to giving you the lowest price, THURSO will also ship the board to your doorstep for free and won't charge you sales tax. For those who happen to be in Canada, the board can be purchased direct through the company's new Canadian website.
*SPECIAL LIMITED TIME OFFER
THURSO is running a special promotion at the moment which you can take advantage of to save even more money on your board. Just click here, add any two THURSO SUPs to your shopping cart, and a $50 discount will be automatically applied to your order.
Final Thoughts
Bottom line: The new Waterwalker 11′ is a fantastic choice for anyone who wants an affordable, value-packed iSUP that's versatile enough for a wide variety of paddling activities and conditions. The company has made a number of fantastic improvements to the board and accessory bundle for 2019, so if you're in the market for a handsome inflatable SUP that ticks all the boxes when it comes to beautiful design, affordability, overall value, and versatility, the THURSO SURF Waterwalker 11′ is a board that we highly recommend.