Best Labor Day Paddle Board Sales | 2021
Inflatable Boarder is reader-supported and may earn a commission when you buy through links on our site. Learn more
Labor Day Sales Are Over: Find SUP Discounts For the Rest of the Year
Labor Day 2021 sales may all be officially over, but it's not too late to land a great deal on an inflatable paddle boards. We track the best SUP sales from the top brands throughout the year here…
UPDATE 9/9/2021: Several brands like iROCKER and Glide have extended their Labor Day sales for an unexpected extra day, while others have continued their deals without the Labor Day name. In either case we don't know how long they'll last, so don't wait too long!
It's hard to believe that it's back-to-school time and that fall is just around the corner. But there's still plenty of great weather left for paddle boarding and now is a great time to find a deal on a new inflatable SUP and accessories. In fact the Labor Day sales are starting early enough for 2021 that you can buy your board in time to take it out on the water on Labor Day weekend! We're tracking all the best inflatable paddle board Labor Day sales from top SUP brands including iROCKER, THURSO, NIXY, and more.
We'll keep adding to the this list as they're announced up to and through the holiday…
Tips for Shopping Labor Day SUP Sales
Pro Tip 1 – Don't Wait Too Long or You Might Miss Out
We're still seeing many brands struggle to maintain inventories due to shipping and port delays. Specific colors of certain SUP models may be out of stock and sometimes entire models are unavailable. So if you see a good deal on the model you want, lock it down! If the model you want isn't available, check out our SUP buying guides for comparable boards.
Pro Tip 2 – Don't Forget About SUP Accessories
Most SUPs come with a package of accessories that include most of what you need to get on the water — paddle, leash, backpack, repair kit, and a manual pump. However, you'll definitely want to get a PFD for safety and there are lots of great add-on accessories to make your iSUP even more fun. Now's the perfect time to pick up items like an electric pump, kayak kit conversion kit, fishing rod holders, drink holders, GoPro mounts, SUP coolers, and more. Check out our list of accessory top picks for more ideas.
Often you can bundle accessories with your new SUP for even more discounts.
Now that you're prepared, let's jump into the deals…
The Best 2021 Labor Day Paddle Board Deals
iROCKER SUP –
EXTENDED
iROCKER's is out the gate first this year with the Labor Day sales and they're not messing around! Even to countries that don't celebrate Labor Day they've cranked up the deals (so if you're in the UK, EU or Australia be sure to check out our main deals page).
iROCKER is one of our Top Pick SUP Brands for 2021 and their boards are available in the US, Canada, UK, EU, and Australia. For more info about iROCKER, specs on each model, and links to our hands-on thoughts, check out our iROCKER SUP reviews and comparison.
US: iROCKER Labor Day Sale
Canada: iROCKER Labor Day Sale
NIXY SUP –
EXTENDED
NIXY Sports has had a strong year with the launch of their G4 (4th generation) SUPs. These lightweight and high performance boards impressed us with their great features and top-of-the-line accessories. They're pulling out all of the stops for a rare storewide sale on all their paddle boards and accessories. There's rarely been a time so good to buy a NIXY SUP (or a couple)!
NIXY is one of our Top Pick SUP Brands for 2021 and their boards are available in the US and Canada. For more info about NIXY Sports, specs on each model, and links to our hands-on thoughts, check out our NIXY SUPs reviews and comparison.
NIXY "Keep Summer Going" Sale
NIXY Outlet
THURSO SUP –
EXTENDED
THURSO Surf is celebrating Labor Day in the United States and Canada with discounts on their top-rated Waterwalker all-around SUP. The 2021 model is lighter than ever thanks to a new woven drop-stitch construction and upgraded carbon fiber paddle.
THURSO is one of our Top Pick SUP Brands for 2021 and their boards are available in the US, Canada, UK, and Europe. For more info about Thurso Surf, specs on each model, and links to our hands-on thoughts, check out our Thurso SUPs reviews and comparison.
THURSO US Fall Sale
THURSO Canada Fall Sale
THURSO UK & EU: Fall Sale
GLIDE Paddle Sports –
EXTENDED
GLIDE's recently gotten in fresh inventory on most of their boards, so if you've been waiting to buy a GLIDE SUP now's your chance! To sweeten the deal, they kicked off their Labor Day sales early so the savings are big and there's not reason to wait.
GLIDE Labor Day Sale
GLIDE "Buy 2 SUPs" Discount
GILI Sports –
EXTENDED
GILI Sports has just announced their Labor Day promotion, sweetening the deal with a free electric pump. They had big year this season with several new additions to their lineup as well as a number of updates to their existing SUPs. All boards are now in stock and shipping.
For more information about GILI Sports and specs of each model, see our GILI SUPs reviews and comparison.
GILI Sports Fall Sale
GILI SUPs Coupon Code
Outdoor Master Discount Code – EXTENDED
Outdoor Master is having a blowout end-of-season sale on their Shark II electric SUP pump. It connects to the 12 volt plug on your vehicle and inflates your paddle board up to 20 PSI. It also does a handy job of fully deflating your board, making it easier to roll up and fit in the bag.
It comes with a variety of adaptors for inflating other inflatable water toys as well. It survived our hour-long stress-test of non-stop inflating and deflating without an issue.
Shark II Pump Discount Code
Other Retailers
Looking For Even More Deals beyond the 2021 Labor Day SUP Sales?
While it may be a bit early we're definitely expecting the deals to heat up this 2021 Labor Day compared to last year when there were no SUPs still around by this point to sell. Of course, we'll keep updating this page as new sales are announced up to and through the holiday weekend. So be sure to check back often and share this page with your friends and family.
Questions? Thoughts? Find a deal we haven't posted yet? Be sure to tell us in the comments below.
If you need even more deals and discounts, be sure to check out our Ultimate SUP Sales and Paddle Board Discounts page — which we keep updated year-round — for a complete list of current promotions, bundles, and discount codes. There are still a number of summer promotions going on too!
Also check out our clearance sales page for deals on used/demo gear and previous model year SUPs.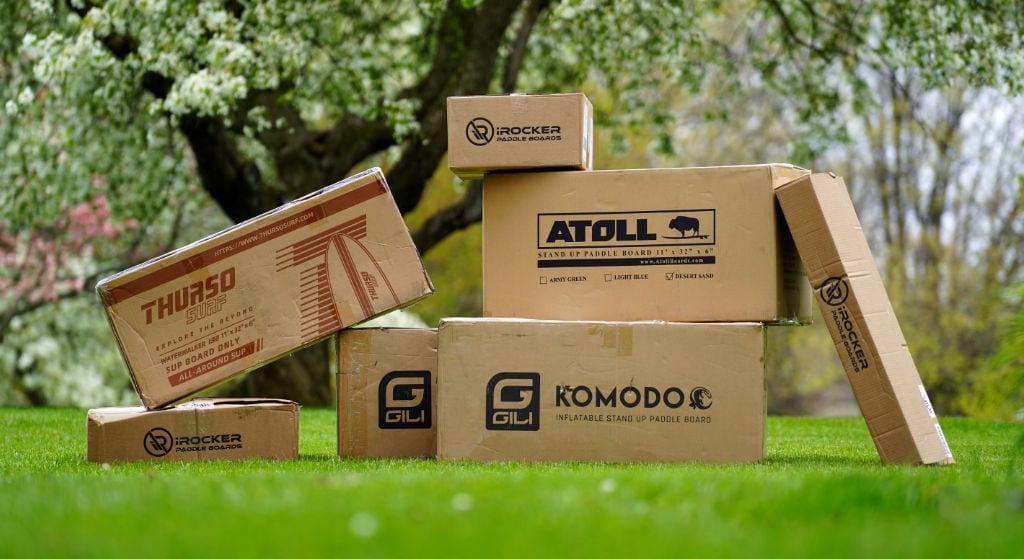 We've Found the Best SUP Sales For You
Check out our Ultimate SUP Deals Page for even more of best SUP sales and paddle board discounts from this and many other top inflatable SUP brands.