AO Coolers SUP Cooler Review
Inflatable Boarder is reader-supported and may earn a commission when you buy through links on our site. Learn more
If you're looking for an extremely high-quality, soft-sided cooler to bring along when you go paddling, the AO Coolers SUP Cooler is a fantastic choice. This is a cooler that was specifically designed for stand up paddleboarding, and it features top-shelf construction and a lifetime warranty.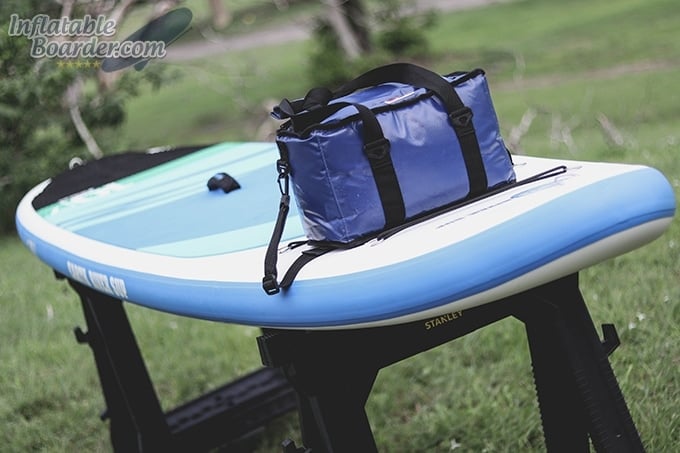 Based out of Corona, CA, AO Coolers is well-known for their extensive line of premium quality soft-sided coolers and accessories. The company's lineup currently consists of coolers in six different sizes and a wide variety of colors and materials.
In this AO Coolers SUP Cooler review, we'll go over the design and top features, materials and construction, warranty, total capacity, and why we listed it as one of this year's best SUP coolers.
AO Coolers SUP Cooler Review: Overview
The AO Coolers SUP Cooler measures 15″ x 9.5″ x 9″, and the company lists it as being capable of holding 15 standard sized cans and 5 pounds of ice. When we tested the cooler for the first time, we loaded it up with 15 cans and a full 8 pound bag of ice which it handled like a champ.
The cooler is made out of an extremely durable vinyl material that is built to withstand a ton of use. It features a top loading design which closes securely with a high-quality YKK zipper, and the lid of the cooler has a nice zippered storage pocket which is a great place to stash small items.
There are two carrying handles on the sides of the cooler which make it super easy to carry around, and the handles can be joined together by using the included velcro closure. There is also a convenient adjustable shoulder strap that is removable.
There are a few different ways to attach the AO Coolers SUP Cooler to your paddle board. The first option, is to simply slide it under the bungee cord storage area on your board's nose (if you have one). Alternatively, there are four plastic hooks on the exterior of the cooler which can be used to securely tie it down to D-rings on your board.
Construction
AO Coolers used very high-quality materials for the construction of this cooler, and it feels like it will hold up to extreme use for many years. 1000 x 1300 denier vinyl was used for the exterior, and it has a tear resistance of 375 pounds. The cooler also has an impressive heat resistance to 175 degrees, and is UV protective and anti-mildew.
The eco-friendly TPU liner on this cooler is also top-notch and it's resistant to punctures, cuts, and tears. The inner high-density, closed cell foam insulation is 3/4″ thick and it does a fantastic job of keeping the contents chilled.
Unlike lower-quality coolers on the market, the AO Coolers SUP Cooler will never leak or sweat and the company guarantees it for life. From the flawless stitching and welded seams to the outstanding materials used, everything about this cooler is first-rate.
Final Thoughts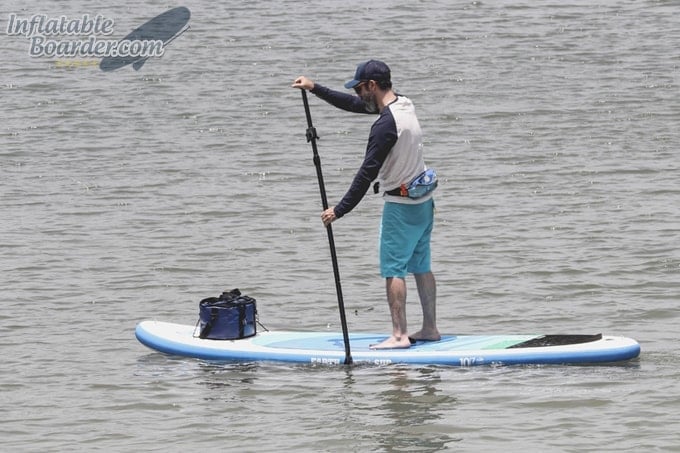 We were extremely impressed by the overall quality of this cooler. We pushed it to the limits by packing it beyond what it was listed as being capable of holding, and it did a great job of keeping everything cold even while roasting in the hot sun on the nose of our board.
As advertised, our cooler didn't leak or sweat and the carrying handles and adjustable shoulder strap make it super easy to carry around. Securing the cooler to your board is simple to do, and the company also sells an optional suction cup mount kit (for hard SUPs) and a tiedown kit (for inflatables).
AO Coolers currently offers the SUP Cooler in two colors: silver, and blue. Between the two, we highly recommend the blue version as it won't show dirt or scuffs over time like the lighter silver color will.
All in all, this is a fantastic soft-sided cooler that is guaranteed not to let you down. The top-shelf build quality feels bombproof, and we love the fact that it's made by a company that stands behind everything they make. If you need a cooler that is low maintenance, easy to clean, and will hold up to extreme sun and saltwater exposure, this is it.