2020 THURSO SUP Accessories Review
Inflatable Boarder is reader-supported and may earn a commission when you buy through links on our site. Learn more
Optional Accessories
In addition to their growing range of inflatable SUPs, THURSO SURF also offers a nice line of accessories to add even more value and features to your Thurso paddle board purchase. Check out some of our favorites below.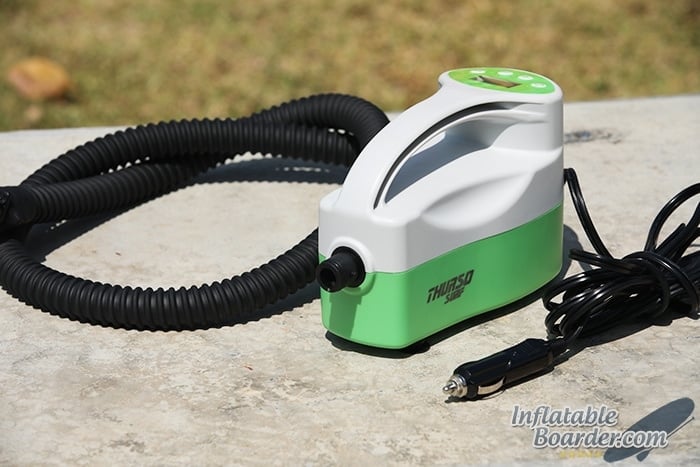 THURSO's electric iSUP pump is definitely the most compact model we've reviewed to date. This pump weighs next to nothing and the small form factor makes it a handy accessory to bring along on your paddling adventures.
This pump has an easy to read digital display and an auto-shutoff feature for added safety and convenience. Just set the pump to your desired pressure, press the on button, and walk away. For more information read our roundup of the best electric pumps for iSUPs for 2020.
Kayak Seat Kit
One of the most popular accessories for any inflatable paddle board is a kayak seat kit. This gives your Thurso iSUP added versatility as you can also paddle the board like a seated kayak. It's a relaxing way to get out on the water and allows paddlers who aren't confident in their balancing skills to join the fun.  
This Thurso kayak seat kit is comfortable and it folds down neatly for easy packing. We also like the quick installation as it conveniently clips to the D-rings along the rails of the board.
Lastly, the design of THURSO's new and improved carbon fiber shaft SUP paddle allows you to replace the handle with a second blade, instantly transforming your SUP paddle into a kayak paddle.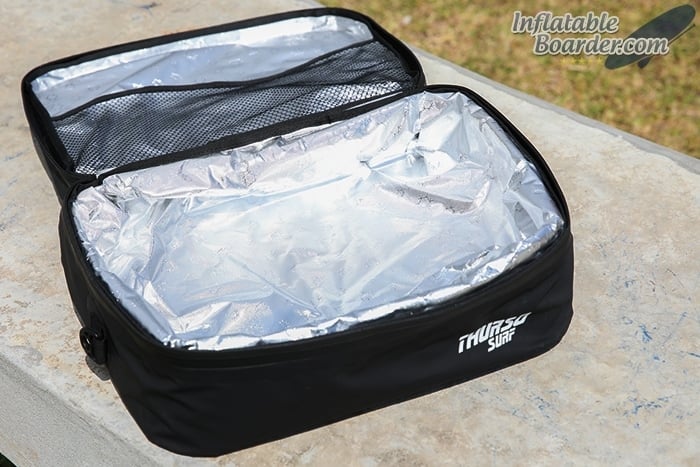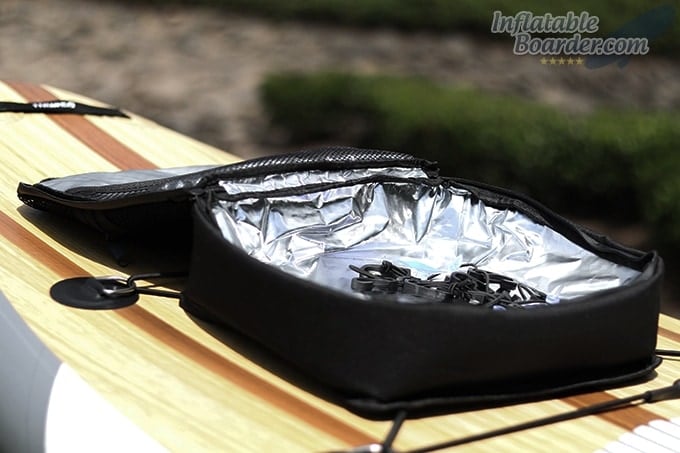 THURSO's new and improved SUP cooler deck bag is a great add-on to consider if you're looking for a convenient way to keep your drinks and snacks cool on the water. This bag has a versatile soft-sided lunchbox design that is also perfect for bringing along to work, ballgames, day trips, and other outings.
This bag features a water-resistant design and there's a carrying handle on the top as well as an included shoulder strap. Also located along the top of the bag are two velcro mesh storage pockets which can be used to stash small items.
The bottom of the bag features mounting hardware for quick and easy attachment to the deck of your board. Lastly, there's also a mesh storage pocket on the bag's interior as well as a fully insulated liner.
For more information and options, read our roundup of the best SUP coolers for 2020.

Full Carbon Paddle
THURSO also offers a full carbon paddle that's an affordable option for those who want something even lighter and more performance-oriented than the included paddle. This paddle uses the same carbon fiber shaft as the bundled paddle but the nylon blade is replaced with a lighter weight carbon fiber blade.
Apparel
Lastly, THURSO SURF offers a growing range of apparel including sunglasses, hats, and t-shirts.
Where to Buy THURSO Paddle Board Accessories
United States
If you're looking for the best price on THURSO SURF's inflatable SUPs and paddling accessories, we highly recommend purchasing your board directly from the company through their official online store. In addition to their outstanding customer support, you'll always get the lowest price and THURSO doesn't charge shipping or sales tax.
International
THURSO SUPs and accessories are also available in Canada, United Kingdom, Germany, Europe (France, Spain, and Italy), and Japan. To order, click here and you'll be automatically directed to THURSO's official online store for your country.
Thurso Sales and Discounts Codes
THURSO SURF often has a special promotion going on. Click here to check our "Ultimate Deals Page" for the most current sales and discount codes available from Thurso and other top inflatable SUP brands.