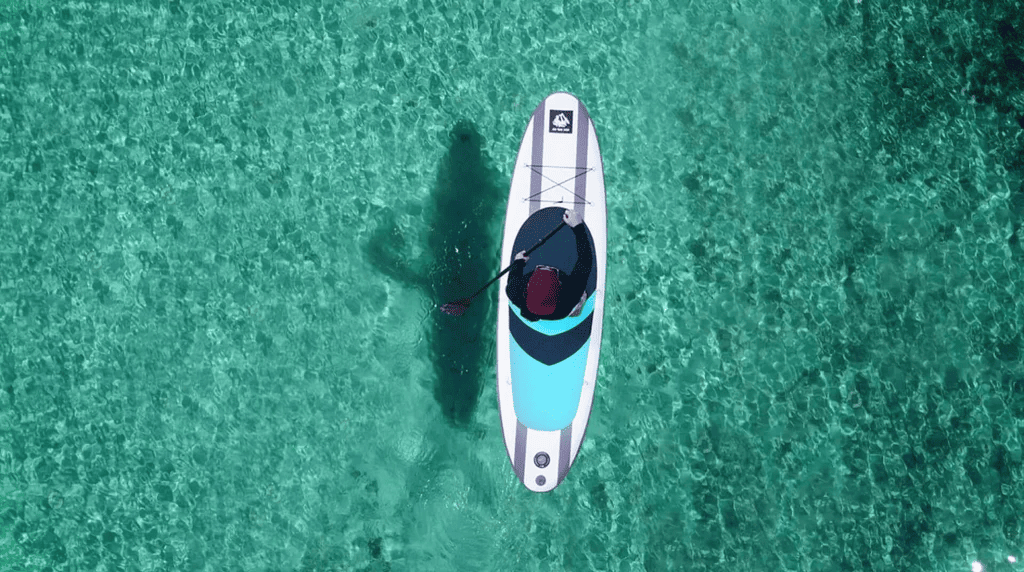 ROC Scout 10' iSUP: First Impressions Overview
The ROC Scout 10' iSUP is a entry-level, budget-friendly all-around board that comes with a helpful set of accessories. The shorter length of the board and lightweight construction are well suited to average size and smaller paddlers, but paddle boarders over 5'10" or over 180 lbs may be better served by a larger or more rigid board. Considering the Scout's construction, performance, accessory kit, and price, we do recommend checking out our list of the best budget-friendly iSUPs for an overall better value without breaking the bank.
— ROC Scout 10' Spec Ratings and Review —
ROC Scout 10'
Construction & Durability

Features and Versatility

Stability

Speed

Maneuverability

Tracking
Overall Score
The ROC Scout is a low-cost all-around paddle board kit for entry level paddlers on a budget.
Pros
Lightweight construction is easy to carry
Low cost for a complete kit
Simple setup and teardown
Kayak seat compatible
Includes a kayak paddle conversion
Includes a dry bag for your phone, keys, etc.
Diamond groove deck pad for extra traction
2 year warranty
Cons
There isn't much storage room available nor additional accessory mounting options
Poor tracking due to its shorter size and surf-style fin
Overuse of marketing lingo and lack of true construction details leave customers guessing
Construction and Durability
The ROC Scout touts an impressively light weight specification at just 17.5 lbs. This makes it one of the lightest board's we've reviewed, but doesn't quite square with how ROC says it is built.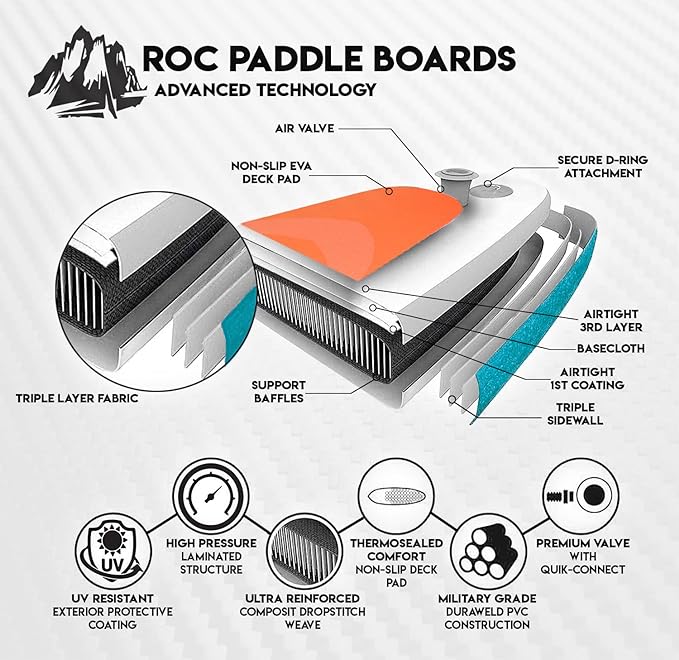 ROC is very sparse with the actual technical details of their construction, but they do provide some information. According to their website, the ROC Scout has a "quad-core PVC" shell, but also according to their website it has three layers of PVC for the shell. They also claim that their rails are made with three layers of PVC. All of this at an incredibly light weight of just 17.5 lbs. The next closest iSUP in weight that we've tested is the Honu Byron at a measured 17.6 lbs, and Honu is very up front about the construction details of their equipment.
I'm very skeptical that the face value of this description is accurate, but rather I think that ROC may be using a little bit of marketing speak here. Based on my experience with personally testing over 100 different iSUPs, I've got a good feeling that the ROC Scout is actually made with a standard dual-layer fusion PVC shell with a relatively thin outer layer, and dual layer PVC rails. Here's why:
With the list weight being so low, there's no possible way that the Scout is made with 3 or 4 individual layers of PVC. Rather, my money is that the Scout is made with a base coat of liquid PVC (as alluded to in their graphics) and a layer of reinforced PVC tarpaulin that may be a little on the thinner side. The tarpaulin layer is made of PVC and a fabric scrim. Depending on how creative you want to be with your counting, some could try to claim this material as two layers (the PVC and scrim). With that creative accounting you'd get 3 "layers" of PVC and then the inner fabric of the drop stitch would be number 4 for "quad-core PVC" construction.
It is possible that the rails are made with three individual layers of PVC. However this is not something that is commonly done and definitely not at the price point of this board. I think once again we are seeing the marketing speak being used to claim the tarpaulin material as multiple layers.
Is this a bad thing? No and yes. No in that this dual-layer fusion construction is actually quite common and not bad on its own. If it is being made with a thinner material, then it could become an issue of durability and longevity. What isn't great is the purposeful obfuscation of the board construction. It would be better if ROC were simply more upfront about the construction rather than trying to inflate the product specs (pun intended).
At these light weights it is extremely difficult to keep an inflatable paddle board feeling rigid. While it's not impossible, it usually takes more advanced drop stitch core materials and additional stiffening elements (like stringers) to do so. Neither of these are available in paddle boards at this price point. From my personal experience with the ROC paddle boards (though not in a testing environment) they are not very rigid feeling on the water.
But that's not to say they aren't rigid enough for many paddlers. Smaller paddlers (under 180 lbs) aren't going to notice as much flex in the board as heavier paddlers. With a generous 33" of width, the right size paddler may not notice much flex at all. I would not recommend it for heavy paddlers though, and certainly not anyone above 220 lbs.
Specifications
Dimensions
Length
10' 0"
Width
33"
Thickness
6"
Weight
Max Capacity
300 pounds
Board Weight
17.5 pounds
Kit Weight

30 pounds
Buying Info
List Price
Warranty
2 years
Returns period
30 days
Features, Accessories and Versatility
The ROC Scout is a wide, all-around iSUP with a simplified set of features to support you for short, fun paddle trips.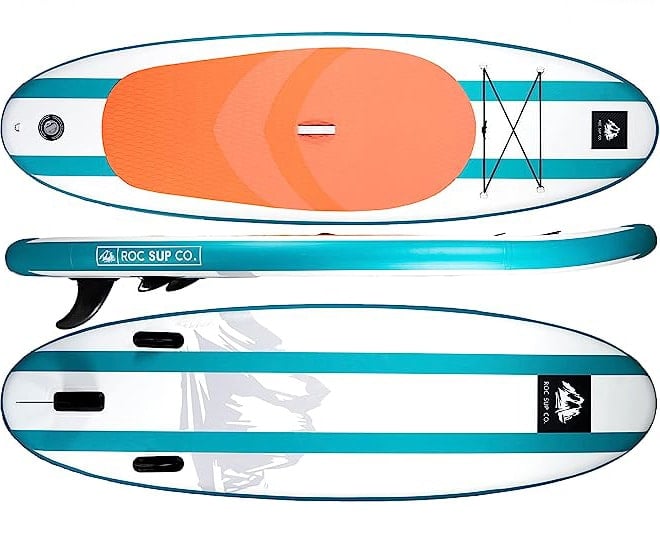 At the front of the board there is a four-point bungee cargo area for a small dry bag, water bottle, or other small items. The deck pad has a light diamond texture for increased traction without being rough on your skin.
There are two D-rings in the middle of the board and two more toward the rear that can be used with a kayak seat or to tie down coolers or other large items.
Finally there is a leash D-ring just behind the inflation valve on the tail of the board.
The Scout comes with a nylon backpack style storage bag, aluminum and nylon paddle with an extra blade for kayak paddle conversion, a coiled leash, single-chamber hand pump, a 9" surf-style slide-in fin, and a small dry bag. Add a well-fit life jacket and you are ready to hit the water with this kit.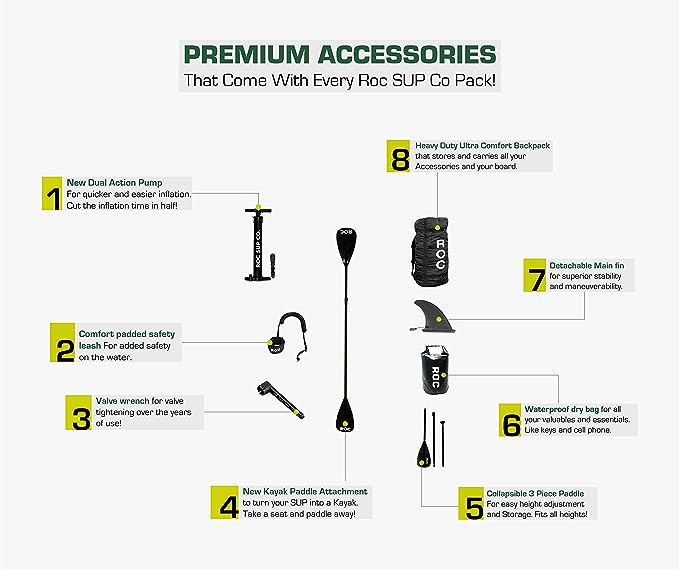 ROC also makes a few other models of iSUP, all very similar to the Scout. In fact, they are all available on the same Amazon product page as different color options, but are only differentiated by their photos. This can get a little confusing, so make sure you are selecting the board you want, not just the color. The Scout is only available in the "Aqua", "Desert", and "Ocean" colorways.
The other models available from ROC are:
Explorer – Also 10' x 33", but has a larger cargo area and a square tail (Black and Navy colors only)
Cruiser – 10'6" x 33" with a semi-square tail, double cargo area, 3 carry handles and 2 sets of passenger handles (Charcoal color only)
Kahuna – 10'6" x 33" with a square tail, double cargo area and 3 handles (Lime, Royal, Violet colors only)
Though the shapes and sizes are slightly different, the construction and accessory kits are the same for each model.
Paddle
The Scout comes with an aluminum and nylon paddle that is convertible to a kayak paddle with the included attachment.
Aluminum paddles are a budget friendly way for companies to offer low-cost paddle board kits. They are heavier than most fiberglass paddles and are noticeably stiff as well. The biggest downside to an aluminum paddle is its durability. While composite paddles will flex and then straighten back out, if you do bend an aluminum paddle shaft it's more or less permanent. This can happen on or off the water. Setting something heavy on your paddle or getting it caught on something hard can cause it to bend. It is very difficult to bend the paddle back straight, and each time the aluminum shaft is bent it does become weaker and easier for it to happen again.
However, for casual paddling, the ROC paddle is more than sufficient to get you moving on the water. With the included kayak blade attachment it also makes it a good tool for those who prefer to sit and paddle from time to time. The nylon blade is shaped for low cadence paddling and is durable. Plastic blades resist cracking and breaking better than carbon fiber or fiberglass blades.
Shape and Performance
The Scout has a wide, round shape that is essentially symmetrical from front to back. At 33" wide it's meant to provide more stability than speed. Both the nose and tail of the board are rather wide, which helps increase that stability compared to more tapered shapes, though not quite as well as a square-tailed board.
At only 10' long, the Scout is highly maneuverable, but will struggle to move quickly and efficiently through the water compared to longer iSUPs. The single removable 9" surf-style fin is quite common for all-around iSUPs and combined with the board's size and shape keeps it very agile on the water. However, this does come at the sacrifice of straight-line tracking. The two fixed side fins are primarily aesthetic. In our experience this style fin is too small to materially aid in tracking performance or stability.
With a lower tracking performance and slower speed, the ROC Scout is best used for short paddling excursions rather than long touring trips.
Warranty and Customer Support
ROC offers a 2 year warranty for the Scout iSUP and has a 30-day return policy when purchased through Amazon.com. You can reach ROC for questions and warranty claims through their website via customer service chat or web form, or you can reach out to them through their social media channels.
Overall Impressions/Review Summary
The ROC Scout is a nimble casual cruising iSUP for paddlers on a strict budget. While it doesn't have as many features or the performance quality of the Nautical 10'6", the ROC Scout does still offer a stable ride and a decent kit of accessories included with the board at a very low price. ROC's claims of industry-leading performance, warranties, and other superlatives is a bit inflated. However, they do have many positive customer reviews and recommendations by and for casual paddlers.
ROC Scout iSUP FAQ
Is the ROC Scout iSUP good for beginners?
The ROC Scout's 33" width and wide shape makes it more stable for beginners than smaller boards. However, it is limited in both features and intermediate-level performance compared to other entry-level iSUPs like the Nautical 10'6".
Is the ROC Scout iSUP good for fishing?
With little cargo space and no real mounting options for accessories, the ROC Scout is not ideal for SUP fishing. It's 33" width does give it extra stability and if you don't plan to bring the kitchen sink, there is enough room to secure a fishing rod and small tackle box.
Can I paddle with a child or pet on the ROC Scout?
You can paddle with a small child or pet on the ROC Scout. The 350 lbs weight limit and 33" width should provide plenty of volume and space, however the moderate size deck pad may limit how much of that space can be used comfortably.
Can I use the ROC Scout with a kayak seat?
Yes, there are four D-rings near the middle of the board to use with a kayak seat. The Scout also includes an extra paddle blade to convert your SUP paddle into a kayak paddle.