KIALOA Insanity 3-Piece Travel Paddle Review
Inflatable Boarder is reader-supported and may earn a commission when you buy through links on our site. Learn more
One of the main advantages of inflatable paddle boards is the fact that they're so portable — traveling with an iSUP gives you a level of freedom that's simply not possible with traditional hard boards. Inflatables can be rolled up and checked with luggage, easily transported in any vehicle (including taxis!), and stored in the smallest of spaces…
For paddlers who frequently travel, one seriously important piece of gear is a collapsible 3-piece paddle. While it's true that many inflatable SUPs come with a paddle these days, they're usually entry-level paddles that leave a lot to be desired when it comes to performance and overall durability.
An obvious solution to this problem is to simply upgrade your SUP paddle, and one excellent option to consider is KIALOA's popular Insanity travel paddle. This well-constructed paddle conveniently breaks down into 3 pieces and is fully adjustable from 70″-86″.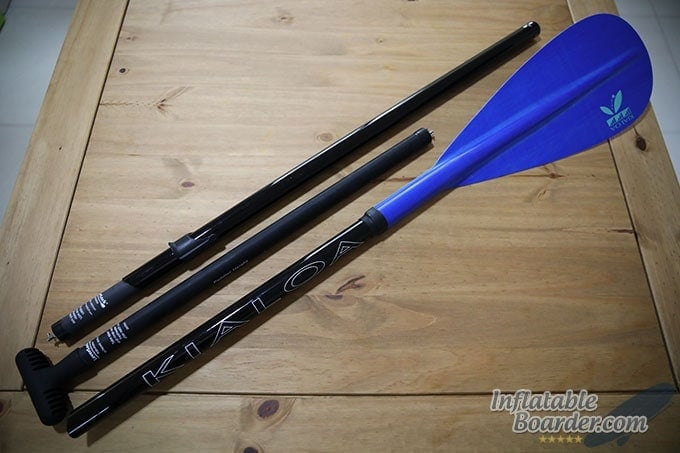 The durable shaft of KIALOA's Insanity paddle is constructed from lightweight fiberglass, while the blade is made from Fibrlite — a recycled, environmentally-friendly material that's made from post-manufactured diaper scraps. The Fibrlite blade is light, incredibly tough, and makes great use of material which would otherwise be disposed of in our landfills.
To assemble KIALOA's Insanity travel paddle, simply open the levers integrated into the handle and shaft, slide the pieces of the shaft together, and close the levers. The patented LeverLock design is extremely secure and allows the paddle to be quickly and easily adjusted on the fly with a single hand to a variety of lengths and angles. When locked, it provides a watertight seal and feels just like a fixed paddle — a brilliant design that gives you the best of both worlds.
While KIALOA's Insanity 3-piece travel paddle is currently only available in blue, the blade is offered in two different sizes. The larger size provides 91 square inches of blade surface, while the smaller size comes in at 83 square inches.
Performance
We're very impressed with the performance of KIALOA's 3-piece Insanity paddle. While obviously not as light as a carbon fiber paddle, it's very comfortable to paddle with and the blade performs extremely well for flatwater paddling.
Another aspect of this paddle that really pleased us is the paddle's overall design and reliability. Many 3-piece travel paddles have major issues with twist and play in the shaft, and we've even had a few paddles completely fall apart on us like Aqua Marina's Carbon Pro paddle and the paddle that's included with THURSO's 10'6″ Waterwalker (for 2019, THURSO has an improved design that addresses the issue). We're happy to report that the design of KIALOA's Insanity travel paddle is rock solid and it doesn't suffer from any of these commonly seen issues.
We also found the rubber coated grip to be very comfortable, and love the fact that you can adjust the handle's angle to best suit your paddling style — something which is not an option with 3-piece paddles that utilize a locking pin.
Paddle Specs
| | | |
| --- | --- | --- |
| | Length | 70"-86" |
| | Weight | 29 oz |
| | Break Apart Length | 38" |
| | Shaft Material | Fiberglass |
| | Blade Material | Fibrlite (post-manufactured diaper scraps) |
| | Blade Surface Area | 91 sq in (large), 83 sq in (small) |
| | Blade Length | 16.5" |
| | Blade Angle | 10 degrees |
| | Price | Check Price |
Final Thoughts
While the Insanity travel paddle is slightly heavier than carbon fiber options, it's also more affordable. The fiberglass shaft and Fibrlite blade offer a nice blend of performance, durability, and affordability, and this paddle is a fantastic choice for paddlers who are looking to upgrade their existing paddle.
If you're looking for a compact travel paddle that is really solid, performs great, and won't break the bank, KIALOA's 3-piece Insanity paddle is an excellent choice.