Aquapac Upano Waterproof Duffel Bag Review
Inflatable Boarder is reader-supported and may earn a commission when you buy through links on our site. Learn more
The Aquapac Upano waterproof duffel bag is an extremely versatile dry bag that is great for stand up paddleboarding as well as a variety of other activities. Aquapac currently offers the Upano bag in three different sizes (40 liters, 70 liters, and 90 liters), and the bag that we'll be reviewing is the 40L model which weighs in at 19.3 ounces and measures 11″ x 18.1″ x 11.8″.
Aquapac has been making high quality waterproof cases and bags since 1983, and the company has sold more than 5 million bags in over 60 countries. Aquapac currently has an extensive lineup of dry bags and other waterproof accessories, and their bags are used daily by demanding organizations such as the US Navy, US Forest Service, London Fire Brigade, Korean Coast Guard, and the LA County Lifeguard.
In this Aquapac Upano duffel bag review, we'll look at the best features of this impressive waterproof bag, the materials and construction, various uses for it, warranty, and more.
Aquapac Upano Waterproof Duffel Review: Bag Overview
The Aquapac Upano waterproof duffel is a beautifully designed bag that is super versatile. In addition to being a great waterproof SUP bag, the Upano is also excellent for sailing, travel, whitewater rafting, camping, and more.
In the time that we've owned the Aquapac Upano, we've paddled with it, sailed with it, taken it on International flights as a carry-on, and even used it as a waterproof outer shell for our fully padded camera bag. In all situations and environments, the Upano held up amazingly well and did exactly what it's supposed to do — kept all of our stuff bone dry.
Materials and Construction
The Aquapac Upano is an extremely lightweight bag that features durable, welded construction and is made from 420D PU-coated nylon. The Upano duffel is PVC-free, and no vinyl was used in its construction.
There are no zippers on the Upano — it features a roll top design with a secure velcro closure and plastic buckles to lock everything down. The bag also has four compression straps with durable plastic buckles that can be used to tighten up the load once it's packed.
When rolling the top of the bag down to close it, you can purge out excess air by slightly turning the bag's air release valve. This will allow you to release excess air in the bag, and then you can tighten the air release valve back up once you're done. Regarding the air release valve, there are two important things to keep in mind:
Don't unscrew the air valve completely as it will come off
After purging excess air, be sure to retighten the valve or else your gear may get wet
The exterior of the bag has several attachment points for tying the bag down to your SUP or attaching other gear. There's also a see-through luggage ID window on one end of the Upano which is accessible from the bag's interior.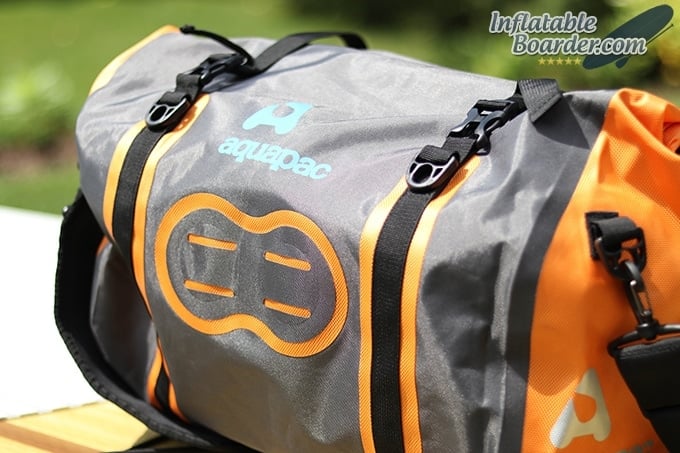 Lastly, there are two padded shoulders straps that can be joined together with a Velcro handle. This design gives you added versatility, as you can carry the Upano like a traditional duffel or throw it over your shoulders like a backpack or messenger bag. The straps are removable and fully adjustable so you can dial in the perfect fit.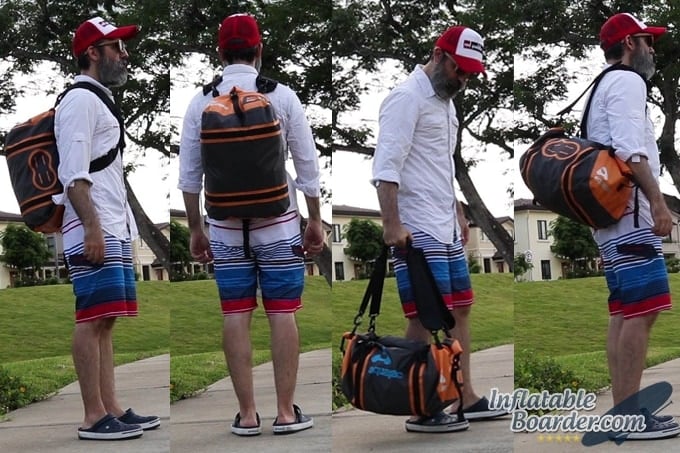 Design
As far as appearance goes, the Aquapac Upano bag features a handsome multi-colored design. The ends of the bag are a high-visibility orange color with the Aquapac logo in silver. The middle of the Upano is a dark gray color with blue Aquapac logos on each side and some additional orange accents. All straps on the bag are black.
We really like the fact that the bag's color scheme uses dark gray for the bottom of the bag which is a high-wear area that is the first to show dirt. The bottom of our Upano still looks amazing even after a considerable amount of use.
One thing that we'd love to see added in the future to the Upano are some reflective strips for additional nighttime visibility.
Performance
As far as the Upano's waterproof rating goes, Aquapac lists the bag's rating as IPX6 ("stormproof"). This means that it's not really designed for total submersion — it is capable of withstanding water blasted by powerful water jets through a 12.5mm nozzle.
Even though the Upano is not designed to withstand total submersion, we were curious how the bag would perform. Our rigorous dry bag testing crew gave the bag a dunk, and the Upano kept the contents of our bag nice and dry.
Warranty
Aquapac includes a full five-year warranty with the Upano duffel which covers any manufacturing defects. In addition to this generous period of warranty coverage, the company also covers all owners (not just the original purchaser).
Final Thoughts
Overall, the Aquapac Upano duffel is a fantastic option if you're looking for a high-quality, versatile waterproof bag to bring along when you paddle. With the 40L, 70L, and 90L size options, the lightweight Upano duffel line can handle anything from a day on the water to multi-week paddling excursions.
The build quality and materials used by Aquapac on this bag are all top-notch, and we love the fact that the Upano duffel can be used for way more than just stand up paddleboarding. This is literally a bag that you can take with you anywhere, which means it will be a lot more useful than one that is strictly designed for SUP. We found that the 40L size even makes a great waterproof shell for padded camera bags.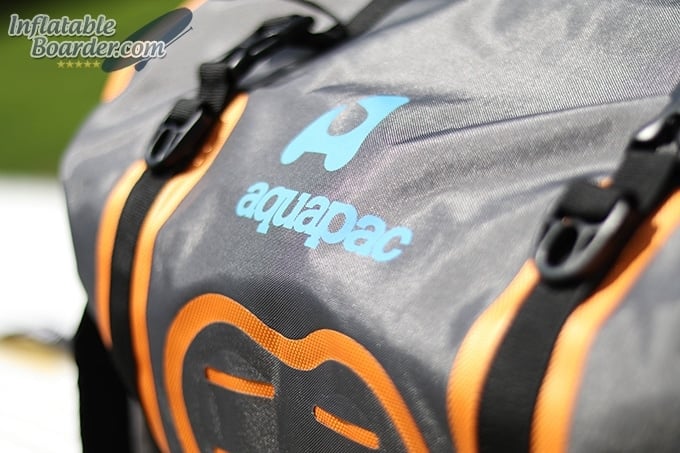 As far as performance goes, the Upano exceeded our expectations in all areas and even kept the contents of the bag dry during a full submersion test.
Lastly, we love the fact that Aquapac stands behind their gear with a rock solid five-year warranty. In addition to repairing, replacing, or refunding any bag that is found to have manufacturing defects, Aquapac will also pick up the return shipping costs when you send the bag back.
At the end of the day, if you're searching for a lightweight, extremely well-built waterproof bag that you can confidently strap to your SUP, the Aquapac Ulpano range of waterproof duffels is a wonderful choice.