Aqua Marina Premium Wheely Backpack Review
Inflatable Boarder is reader-supported and may earn a commission when you buy through links on our site. Learn more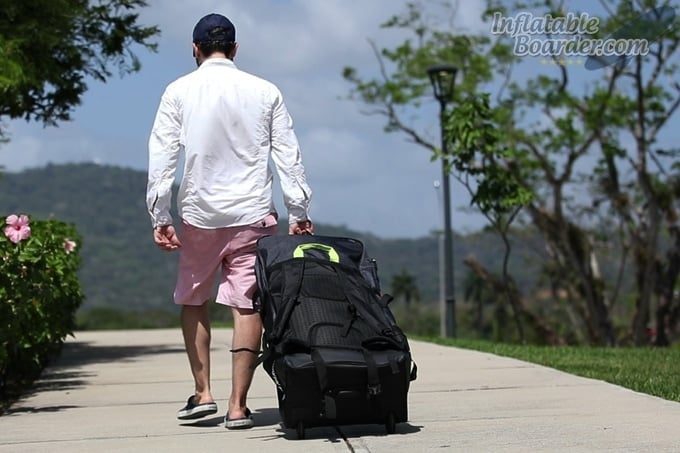 Brand new for 2018, the Aqua Marina Premium Wheely Backpack is a great option for those who need a more substantial carrying bag than the company's standard Magic Backpack. The Magic Backpack is currently the backpack that comes with most of this year's Aqua Marina SUPs, and while it definitely does the job, it's quite basic and isn't an ideal solution if you're planning to do some serious traveling with your board.
Aqua Marina Wheeled SUP Backpack Review: Bag Overview
Featuring twin roller wheels and a durable build, Aqua Marina's Premium Wheely SUP Backpack makes it so easy to transport your board. This eye-catching SUP carrying bag has a super accessible clamshell design that opens up nice and wide, giving you the ability to easily pack and unpack your board.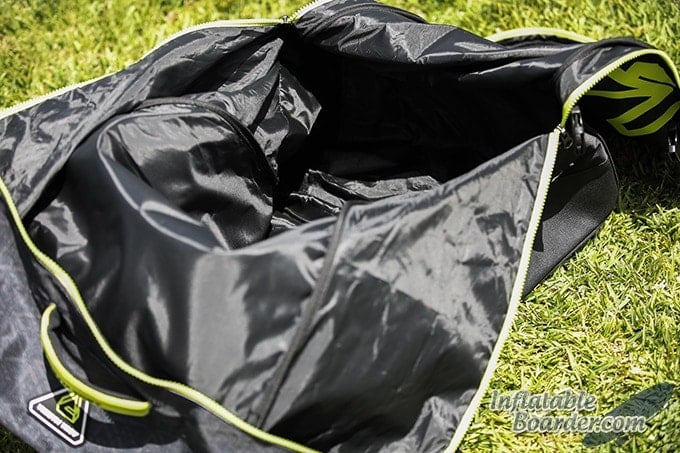 Aqua Marina positioned the wheels on the front of this bag instead of the back — a design tweak which addresses two issues that many other SUP backpacks have:
Wheels getting in the way when wearing the pack on your back
Straps dragging on the ground when pulling the bag around
Located on the lower front of the bag is a see through luggage ID window which is super handy if you're planning to fly with this bag. On the lower sides of the bag are deep open pockets which can be used to hold your paddle blade and SUP pump. On one side, there's also a velcro loop at the top which is helpful for securing the three pieces of your travel paddle.
Also located on the sides of the bag are heavy-duty compression straps which make it easy to tighten the bag up once it's fully packed out. These compression straps can also be used to keep your paddle and pump in place if you're using the side storage pockets.
On the top of Aqua Marina's Wheeled SUP Backpack is a thickly padded carrying handle which is where you hold the bag when rolling it around. There's an identical handle sewn into one of the sides of the bag, as well as a plastic handle on the bottom and a fourth handle on the rear of the bag made from nylon webbing.
The wheels that Aqua Marina used on this bag are quite large and feature a deeply grooved traction pattern — perfect for those times when you're rolling the bag through grass, dirt, or sand. We also love the fact that the bottom of the bag is made out of a rubberized plastic material — in our experience, this is one of the first areas to wear out on SUP backpacks, so this should really help when it comes to longterm durability.
Located at the rear of the bag are lightly padded backpack straps that are lined with a breathable mesh material. There's also a removable and fully adjustable sternum strap clipped to the shoulder straps which can help to stabilize the bag when it's on your back.
The back is well padded with rubber cushioning, and this area also features a breathable mesh covering.
Last but not least, this bag comes with an adjustable padded waist strap for additional stabilization.
The interior of the bag has a triple layer organization pocket on the inside of the front lid. This is the perfect place to stash your SUP fins, and each layer features a velcro closure to keep the contents in place.
Unlike most of the other SUP backpacks we've reviewed, Aqua Marina's bag lacks internal compression straps. This is probably due to the fact that the bag isn't quite as roomy as other bags, and the external straps do a fine enough job of locking everything down.
Final Thoughts
Aqua Marina's 2018 Premium Wheely SUP Backpack is a solid (and very affordable) option if you're in the market for a wheeled SUP backpack. This bag comes with a lot of nice features, and it's definitely a huge upgrade over Aqua Marina's standard Magic Backpack.
There are a few things that we'd like to see added to this bag in the future, however. First of all, one thing that this bag is really missing is a zippered external storage pocket. This is really useful for stashing gear and small accessories, and it'd be a great addition in our opinion. Having said that, if you're a minimalist who appreciates bags with streamlined exteriors, you'll be quite happy with this backpack just the way it is.
Another thing that we'd love to see is a slightly larger interior. While our bag was easily able to accommodate Aqua Marina's BEAST and RAPID models, it's definitely not as roomy as other bags we've tested. Having a little extra room on the inside really comes in handy, but again, this is purely subjective as there are others who prefer a bag with the least amount of bulk possible.
At the end of the day, Aqua Marina has done a fantastic job of designing an affordable and feature-rich wheeled SUP backpack that does exactly what it's supposed to do — make it easier to transport inflatable paddle boards from point A to point B. Whether you've got an Aqua Marina board and are thinking about upgrading your Magic Backpack or you've got another company's board and want a wheeled backpack without the high price tag, this bag is a great choice.