Moscow, Idaho-based NRS is a well-known maker of inflatable paddle boards, rafts, kayaks, and other outdoor gear. Founded in 1972 by Bill Parks, Northwest River Supplies has grown over the years to become one of the industry's leading water sport brands. In addition to manufacturing their popular line of rugged outdoor gear, NRS is also actively involved with several preservation projects on the national and local level. We love the fact that NRS takes an active role in helping to preserve rivers, lakes, and oceans, showing that this is a company that's passionate about the water and not in it just to make a buck.
NRS has expanded their inflatable SUP lineup over the past several years and the current range consists of 19 models. All of the company's STAR SUP models are backed by a 1-year warranty while the regular NRS boards are covered for a full 3-years against manufacturer defects.
NRS Inflatable Paddle Board Comparison Chart
NRS Inflatable SUP Reviews
NRS' most versatile, all-around iSUP range, the NRS Thrive models can handle everything from recreational paddling to SUP fitness workouts and light river running. All of NRS' Thrive paddle boards inflate to 20 PSI and are constructed from heavy duty PVC drop-stitch material.
There are currently 4 models in the Thrive lineup, ranging in size from 9'10" to 11′ in length and 30″ to 36″ in width. All of the boards feature top-shelf hardware including Leafield D7 valves and secondary pressure relief valves for added safety.
If you're looking for a tough board that you can pretty much take anywhere, the NRS Thrive is a solid option.
Designed for speed and paddling longer distances, the NRS Escape inflatable SUP line is perfect for flatwater cruising and multi-day paddling excursions. These durable inflatable touring SUPs come loaded with front and rear bungee storage areas for maximum carrying capacity and there are grab handles at the nose and tail for added convenience.
The Escape line consists of three models ranging in size from 11'6″ to 14′ in length, giving paddlers of all sizes and skill levels something to choose from.
The NRS Quiver line is built with stability and maneuverability in mind, giving river runners a performance-oriented board that excels in the toughest of whitewater conditions.
There are two models in the Quiver lineup this season, a 9'8″ x 36″ board and a larger 10'4″ x 35″ model. Both boards are equipped with front and rear grab handles as well as three mid-board. There's also a raised kick tail at the rear of the EVA foam traction pad for added control.
Both Quiver SUPs are designed with the most demanding of conditions in mind and are built to last.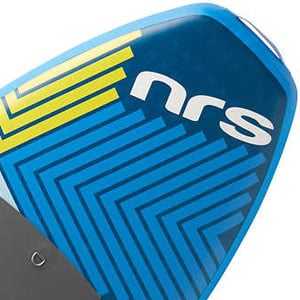 Sure to be a popular sight at whitewater parks, the NRS Whip models are easy-to-carve river surfers that feature a rounder, shorter shape than the company's Quiver boards.
There are two Whip models this year, a smaller 7'8″ board and its 8'4″ bigger brother. Both lack the front and rear grab handles seen on the Quiver models, but there are three nylon webbed grab handles mid-board.
The Whip SUPs also feature a raised kick tail at the rear and a removable twin fin setup.
NRS' budget-priced all-around lineup, the NRS STAR Phase boards are an affordable choice for paddlers who need one board that'll do it all.
This season, NRS has included three models in the STAR Phase lineup ranging in size from 10'2″ to 10'8″ in length and 32″ to 35″ in width. This gives paddlers of varying sizes and skill levels several options to choose from, and all three of the boards are constructed from an ultra-durable PVC-coated drop-stitch material.
If you're in the market for a well-built all-around SUP but don't need the bells and whistles (or extended warranty) of the company's Thrive iSUPs, the STAR Phase boards are a more affordable option.
Another budget-friendly option for paddlers, the NRS STAR Photon is a touring board that's designed to go faster and farther. A board that works well for cruising lakes and overnight paddleboarding trips, the STAR Photon measures 11'6″ x 32″ x 6″ and weighs in at a lightweight 18 pounds.
If you're looking for a board that does what the NRS Escape series is designed for but need something that's a little easier on the wallet, the STAR Photon delivers similar performance in a cheaper, more basic package.
A SUP fitness paddle board that was built to deliver maximum stability on the water, the NRS Mayra measures 10'4″ x 34″ x 5″ and weighs in at 26 pounds. The Mayra's comfortable brushed EVA foam deck pad is extremely easy on the hands and feet and there's a front bungee storage area for stashing your jacket, dry bag, and other gear.
As with NRS' other premium inflatable SUPs, the Mayra is constructed from an incredibly durable PVC drop-stitch material and it features a Leafield D7 inflation valve and secondary pressure relief valve for improved safety.
One of two inflatable fishing SUPs offered by the company, the NRS Osprey is a wide and incredibly stable board that provides a perfect platform for SUP fishing enthusiasts.
With front and rear bungee storage areas as well as daisy-chain rigging at the board's tail, there's plenty of onboard storage capacity for all of your fishing gear. Three built-in Scotty mounts also give you the ability to attach accessories like rod holders and your Fishfinder.
Lastly, the Osprey features grab handles at the nose and tail which are helpful for pulling the board in and out of the water.
The other inflatable fishing paddle board offered by the company this season, the NRS Heron is a larger model that measures 11′ x 39″ and it weighs 30 pounds. The Heron features twin side chambers which act like outriggers and dramatically increase the board's overall stability. If you're looking for an inflatable fishing SUP that provides the ultimate in stability, this is one to seriously consider.
Like the Osprey, the Heron also comes with front and rear bungee cargo storage areas, plenty of daisy-chain attachment points for securing your tackle box and cooler, and Scotty mounts for attaching accessories.
Last but not least, the NRS Youth Amp is a high-quality inflatable SUP designed specifically with kids in mind. This board measures 9'2″ x 29″ x 4″ and it weighs in at 21 pounds.
Ideal for children up to 120 pounds, the Youth Amp offers the same durable construction as NRS' other iSUPs but in a smaller form factor. There is a front bungee storage area for securing gear and three convenient grab handles mid-board for carrying, maintaining balance, or climbing on.
Built to withstand the knocks and abuse that kids are known for dishing out, the NRS Youth Amp is also backed by the company's rock-solid 3-year warranty.
Location of NRS Headquarters (Moscow, ID)